Vietnam fines cruise ship for service scam reported by Australian tourist
Owner of a cruise ship in northern Vietnam has been fined VND15 million (US$660) following complaints from an Australian tourist of "horrific" experience during a tour on the famous Ha Long Bay.
Tourism officials in Hai Phong said on May 25 that they have fined the tour operator after confirming that the tourist's report was "valid."
Lynne Ryan, who was among a group of six Australian tourists visiting Vietnam early this month, came back with disappointment. "Horror trip, Ha Long Bay," she wrote in a Facebook post which drew the attention from many news outlets who published the story last week.
Ryan said her group booked a cruise tour on Ha Long Bay in Quang Ninh Province, which neighbors Hai Phong, with a travel company in Hanoi. She said she had been shown a glossy brochure with beautiful pictures of a boat and its services, but they were not what she and her friends actually received.
They had a "junk boat," she said, listing a rat house under the sink in the bathroom, a rat coming through a window, and rat droppings in the room. One of their rooms had the toilet, door and air-con all broken down.
"Sun decks on the top of boat had wood borers and were falling to pieces," she said, as cited by News.
Her group described their Ha Long Bay tour as a "nightmare" trip.
Hai Phong authorities said the ship providing the tour was registered in the city and has operated in Ha Long Bay without permission. They confirmed that the ship has been downgraded with poor hygiene in the kitchen and rooms for passengers.
The ship was suspended earlier this week and Hai Phong authorities have also ordered the operator to apologize and compensate the tourists.
Ha Long in Quang Ninh Province is one of Vietnam's biggest tourism magnets. The bay has been hailed by the U.S. travel guide site Smarter Travel as one of the best ecological spots in the world, while Business Insider said that an overnight Ha Long cruise trip is a "must-try" travel experience in Asia. The bay welcomed more than 28,000 foreigners during the first four months this year, according to Quang Ninh's tourism department.
Australia is one of the biggest source of foreign tourists to Vietnam. The country received nearly 147,600 Australian visitors in the first four months this year, up 13% from a year ago.
Vietnam's internet to crawl as repair work starts on infamous cable
Internet connections in Vietnam are expected to run at snail's pace in the coming week as a major undersea cable will go under repair.
A local internet service provider said the Asia America Gateway (AAG) is being fixed and work will reach the part connected to Vietnam' southern beach town Vung Tau on May 27. It is scheduled to finish on June 5.
The incident would affect all service providers in Vietnam, meaning that internet users will have to face the sluggish speed on international websites.
Several internet service providers are ready to reroute and transfer signals to other cables to minimize the impacts on users.
This is the second time the AAG encountered a technical problem this year, following a reset last January, and at least five similar incidents in 2017.
Connected in November 2009, the US$560-million AAG handles more than 60% of the country's international internet traffic. The system runs more than 20,000 kilometers (12,420 miles), connecting Southeast Asia and the US, passing through Brunei, Hong Kong, Malaysia, the Philippines, Singapore, Thailand and Vietnam.
Vietnam currently has six submarine cable systems, as well as a 120 gigabit channel that runs overland through China. With a download speed of 5.46 megabytes per second, Vietnam's internet speed was ranked 74th out of 189 countries and territories in a global survey of broadband speeds compiled by Cable.co.uk, a UK broadband, TV, phone and mobile provider, last August.
Vietnam's average broadband speed was 10 times lower than its Southeast Asian neighbor Singapore, according to the survey. However, the country still managed to trump six other countries in the region.
More than 50 million people in Vietnam, or more than half of the country's population, are online.
Russian man detained for trying to hack ATM in Vietnam
Police in the central resort town Nha Trang in Khanh Hoa Province have detained a Russian man for trying to break into an ATM in the town's backpacker area.
Leksii Vackvasaki, 35, was allegedly trying to pry open the control panel of an ATM on Nguyen Thien Thuat Street on May 24 when a local discovered his act and reported it to the police.
Police said the man was carrying screwdrivers, a roll of black electrical tape and devices to access and read card information. Vackvasaki claimed he used the tape to block the ATM's security camera and was trying to steal card information of the ATM's previous users, according to Tuoi Tre newspaper.
Police are still investigating the case, and would propose charges of "deliberate destruction of property" and "theft" against the foreigner.
Despite calls from IT experts to raise security around payment systems, ATM networks in Vietnam remain a usual theft target. In March, police in Da Nang arrested two Chinese nationals who were attempting to install devices at local ATMs to steal users' card information. Another gang including members from Malaysia, Singapore, the US and Vietnam were arrested by police in the southern city of Can Tho the same month for similar crimes. Last December, a court in Ho Chi Minh City sentenced a Peruvian man to 18 years in prison as investigation found his gang had cracked open many ATMs across the country in 2014 and 2015 and stolen a total of VND6 billion (US$264,000).
Nearly 500 youth join "Blue Vietnamese Sea" campaign in Da Nang
"Blue Vietnamese Sea", a marine environment protection campaign, was launched at an event at Thanh Khe beach in central Da Nang City on May 26.
The campaign is jointly organized by the Secretariat of the Ho Chi Minh Communist Youth Union (HCYU) Central Committee, the Ministry of Culture, Sports and Tourism and the Hanoi Beer Alcohol and Beverage Joint Stock Corporation. It is taking place from May 18 to 26 in Da Nang city and the provinces of Thanh Hoa, Nghe An, Quang Binh, and Quang Tri. 
The campaign aims to call on youth, organisations, and individuals to work together in cleaning up the sea for a future without rubbish filled oceans, and raising public awareness of the importance of protecting the marine environment. It contributes to promoting youth solidarity and enthusiasm in implementing the Party and State's policies for building new-style rural areas and civilized urban areas.
At the launch ceremony, Nguyen Manh Dung, Deputy Secretary of the HCYU Committee of Da Nang, said the central city has 92km of coastline and many famous beaches. Recently, Da Nang was selected as having one of six most beautiful beaches on the planet by the US magazine Forbes.
In recent years, the Da Nang HCYU has organized many weekly and monthly campaigns to clean up the sea in response to the "Make the world cleaner" campaign. It will continue to intensify its efforts to spread information about environmental protection and hold activities to clean up the sea and collect waste to make Da Nang beaches cleaner and more attractive, said Mr Dung.
On the occasion, the municipal HCYU presented a youth project to Thanh Khe district's HCYU.
Two Lao drug traffickers captured in Dien Bien
Border guards in the northern province of Dien Bien have arrested two Lao nationals who were in the process of smuggling around 3kg of heroin.
The two men who were apprehended on May 25 and have been named as Po Lia, 25, and Sa Tu, 23, both residing in Muang May district, Phongsaly province, Laos.
Exhibits include 3kg of heroin, one mobile phone, and other evidence related to the case.
The two men initially confessed that they are drug users and had bought the heroin in their home village before transporting them to Vietnam where they intended to profit from the sale and distribution of the drugs.
The case is still under investigation.
HCM City introduces southern fruit at 40 high-end hotels
As many as 40 hotels of 4-and 5-star standards in Ho Chi Minh City will offer guests fresh southern fruits and welcome drinks made from these fruits from June 1 to 17.
Huynh Khanh Thuy Nguyen, deputy director of the HCMC Center of Agricultural Consultancy and Support, talks about the Safe and Delicious Fruit contest, an event of the Southern Fruit Festival
In addition, in the first week of June, many supermarkets in the city will introduce to customers Vietnamese fruit at separate corners. They will also show buyers how to distinguish between safe and unsafe fruit, and offer discounts for Vietnamese fruit.
These are activities to promote southern fruit as part of the Southern Fruit Festival scheduled for June 1 to 17 at Suoi Tien Theme Park in Ho Chi Minh City's District 9.
Nguyen Thi Anh Hoa, deputy director of the HCM City Department of Tourism, said the organizers will cooperate with tour operators to lure more tourists to the festival by offering 50% discount on entrance tickets for groups of tourists.
"We expect there will be 1.6 million tourists coming to Suoi Tien Theme Park during the festival this year, up 50% year-on-year," she said.
According to Suoi Tien Cultural Tourism JSC, the festival will feature many activities like "Safe and Delicious Southern Fruit" contest with about 500 participants, giant fruit parade, farm tools showcase, fruit art and fruit fair.
The company buys fruit from quality farms to provide guests with safe and high-quality products.
During the summer, visitors to the park will be able to buy a variety of Southern fruit at prices 20-30% lower than the average prices on the market.
The festival is jointly organized by the HCMC Departments of Tourism and Trade-Industry, and Suoi Tien Cultural Tourism JSC. On International Children's Day (June 1), children will enjoy free admission.
Da Nang welcomes more than 3.2 million visitors in 5 months
Central Da Nang City received more than 3.2 million visitors, including around 1.3 million foreigners and over 1.8 million domestic tourists, during the first five months of 2018, a year-on-year rise of 30.4%.
The total income from tourism revenue is estimated at more than VND11.1 trillion, up 53.6% against the same period of last year.
The municipal Department of Tourism has implemented procedures to build a headquarters of tourism promotion centre and continues to finalize the plan for a city-wide tourism accommodation database by 2025 with a vision to 2030.
In addition, it submitted a tourism development plan to the People's Committee and directly carried out many activities to support visitors to the city, such as introducing chatbot applications and publishing images and information about Da Nang through different channels.
More than 35,000 visitors have been supported with tourism information, over 60% of whom sought out information on Da Nang during the first five months of this year.
Da Nang is expected to lure around 7.4 million visitors this year.
Lord Buddha's 2,562nd birthday celebrated in HCM City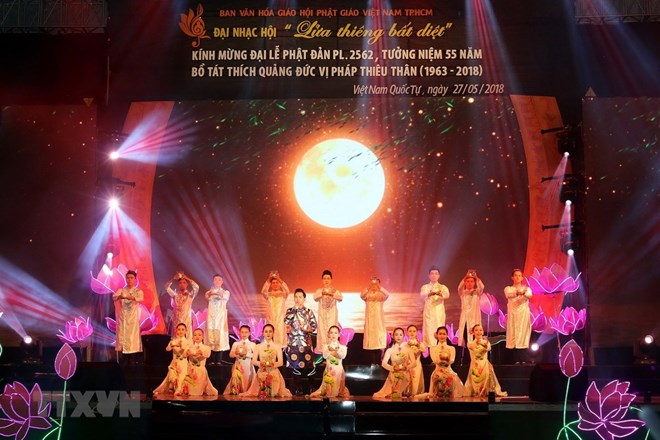 A musical performance at the event 
The Ho Chi Minh City Buddhist Sangha held a music gala named "Lua thieng bat diet" (Eternal sacred fire) on May 27 as part of the activities to celebrate Lord Buddha's 2,562nd birthday.
More than 20 art performances at the programme extolled Lord Buddha, the Most Venerable Thich Quang Duc who immolated himself to oppose against Buddhist suppression 55 years ago, as well as praise patriotism.
The event drew the participation of monks, nuns, Buddhist followers and local people from all walks of life.
A Buddhist cultural week is underway in Ho Chi Minh City from May 22-29 with a wide range of activities, including Buddha bathing ceremonies, presenting 1,000 gifts to disadvantaged households in District 10, and incense offering at the monument dedicated to Most Venerable Thich Quang Duc.
An exhibition on life and religious career of the Most Venerable Thich Quang Duc is part of the activities as well. 
Works on Buddhist culture and art are also on display on the occasion.
Rescuers recall 50 hours of retrieving body of dead VN trekker from deep forest
A rescue team worked hard for more than two days to bring home the body of a backpacker who was found dead after getting lost while trekking through a forest path in southern Vietnam over a week ago.
​T.A.K. went missing on May 11 while trekking in a group on the 60-kilometer Ta Nang-Phan Dung trail, which runs from Lam Dong Province in Vietnam's Central Highlands to the south-central province of Binh Thuan.
The forest covering the trail is famous for its scenic beauty but poses potential danger to first-time explorers, as it has a number of waterfalls and fast-flowing streams.
Over 100 people had joined in the efforts to search for the missing 24-year-old trekker, before he was finally found dead and trapped at the bottom of the Lao Phao waterfall in the jungle on May 20.
It was not until May 23 that the rescuers managed to transport the body to the end of the Ta Nang-Phan Dung trail in Binh Thuan, after a strenuous bid that lasted about 50 hours.
The victim's mother was there to receive her son's corpse and took him to Ho Chi Minh City.
K.'s body had lain at the waterfall for more than ten days as attempts to retrieve it met with hindrances of accessibility to the forest.
A group of volunteers knowing the trail well and mastering rescue skills was formed for the purpose, including Nguyen Quoc Huy and Tran Ly Tuong, who felt sorry for the plight of the victim.
Now that the search and rescue efforts ended, the group recalled the tough task and explained why it took them more than two days to be able to retrieve the body.
On the first day after knowing of the location of the deceased trekker, the group set off in the early morning in Da Lat, the capital of Lam Dong, walked along devious paths in the jungle for nearly five hours before reaching the three-story waterfall, where K. was lying, according to Huy.
"This is a completely deserted place that even no natives have ever got to," Huy said.
All members had to wear face masks and put on medicated oil to protect themselves from the assault of the odor emanating from the badly decomposing body, which they were unable to stand near for 30 seconds with a bare nose.
Tuong said they anchored ropes at several points up the waterfall cliff, which he estimated to be 90 meters high, and manually pulled the body to the top gradually.
​The body was left at one-third of the height of the waterfall from the bottom when night fell and the volunteers became exhausted.
They stayed awake through the night, shivering in icy cold winds in the jungle.
"We initially thought the job would be done within a day, so we didn't bring much food," he admitted.
"But it turned out to be too difficult and lasted longer than expected.
"At the end of the day, our stomach was rumbling ravenously."
Huy added that the rescuers were worried they had to start afresh if there was a problem with the anchors and ropes.
"We were all nervous and just wanted the morning to come quickly," he said.
The volunteers resumed at dawn and continued hard into the late afternoon, when they again felt worn out as a result of moving the rope system and pulling the body to the top.
The body was then carried on a motorbike down a one-meter-wide slope which they said can only be maneuvered by the most skillful riders.
Huy recalled that surrounding the vehicle was four subgroups; one cleared the path at its front, two kept the motorbike in balance and the other held the body in place at the rear.
​"We inched down along the way, hands all numb," he continued.
They reached the end of the Ta Nang-Phan Dung trail fatigued at 10:00 pm on May 25, around 50 hours since the strenuous effort was initiated.
The victim's mother collapsed at the sight of her son's body, and the volunteers were moved to tears at the moment.
"The mother had wept copiously for over ten days. Her voice was choked while she was saying the child's name," Tuong said.