VietNamNet Bridge – Workers at industrial zones have shouldered increasing financial burdens as prices of necessaries including food and fuel rises.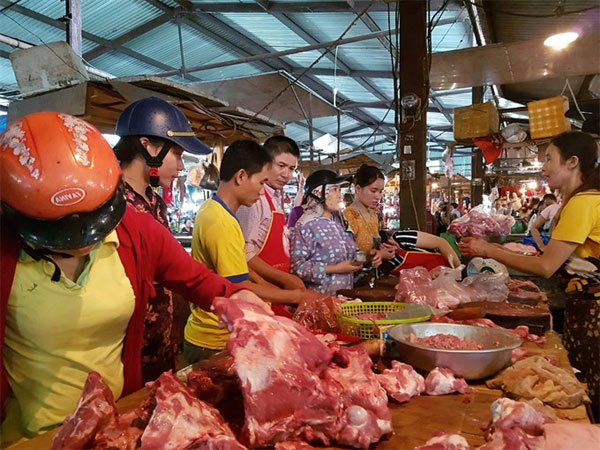 Residents in the central province of Ha Tinh at a local market. Labourers across the country have had to tighten their spending in recent months as food and fuel prices rise. — VNA/VNS Photo Hoang Nga
While some people decide to tighten their spending habits, others have been forced to ask their families for help.
Nguyen Thi Tham, a worker of Nissei Company in the outlying district of Dong Anh, Hanoi, told Lao Dong (Labour) newspaper that she found food prices climbing significantly.
At the village market near where her family stay, a bunch of water spinach has raised from VND3,000 (US$0.13) to VND5,000 ($0.22). A kilogram of fish now costs VND100,000 ($4.4) compared to VND90,000 ($3.9).
"Prices are rising, making our lives more difficult," she said.
"We spend about VND2 million ($88) a month on food, increasing VND200,000 – 400,000 ($8.8 - 17.5), not to mention rental cost and other bills. Therefore, our monthly income of VND7 to 8 million ($300 - 350) enables us only to make ends meet," she added.
To deal with the financial shortage, Tham sent her five-year-old son to her hometown, asking her parents to take care of him.
After her husband pass away, Dang Thi Thuy, a worker of Asti Company in Quang Minh Industrial Zone, struggles to bring up her three children with a monthly salary of VND6 million ($260).
"Many products have witnessed an increase in price. Therefore, I decided to tighten my spending and reduce my diet portion. Otherwise, it will be a huge problem when my kids fall ill," she said.
Food prices at HCM City's markets are also rising, the newspaper reports. My, a worker of a garment factory near Thanh Xuan Market in District 12 said pork and vegetable cost more than before.
To avoid budget deficit, she stops buying expensive vegetables such as cauliflower and bell pepper, reduces the amount of pork and fish in meals and looks for alternatives.
Hoa, another worker at Tan Thoi Hiep Industrial Zone in District 12, said the increase of VND1,000 ($0.04) for one product sounded small but could still impose a burden when considering the total spending on food.
"If the price keeps rising, I will have to change my spending habit and find a part-time job. I must try to work harder to secure my children's diet," she said.
Not only food, workers are facing struggles to make pay bills. Khong Thi Loan, a worker staying in Me Linh District, Hanoi, said rental cost increased by more than VND100,000.
"We spend all our income of VND12 million ($530) on renting a house, buying food, paying bills and tutor fees for the kids," she said.
Facing the same problem, Dinh Thi Thanh Tuyen, a worker of Viet – Nhat Company in Hung Yen Province, needs help from her family. As her parents still live in the countryside, Tuyen usually gets vegetables and rice from them.
Responding to the phenomenon, Tran Thu Phuong, deputy head of Ha Noi Industrial Zone Labour Union, said they asked owners of houses for rent to not raise electricity and water cost. Nguyen Duc Chung, head of Ha Noi People's Committee, tasked Department of Industry and Trade to handle the case.
"I think Hanoi authorities need to tighten management on service providers and markets around industrial zones, preventing them from raising prices of necessaries too high. In addition, it is essential that the Government have to impose policies of price stabilisation.
Source: VNS