A plane on the way from Hanoi to Da Lat City had to make an emergency landing at Da Nang International Airport as a male passenger fainted at 10,000m in the air.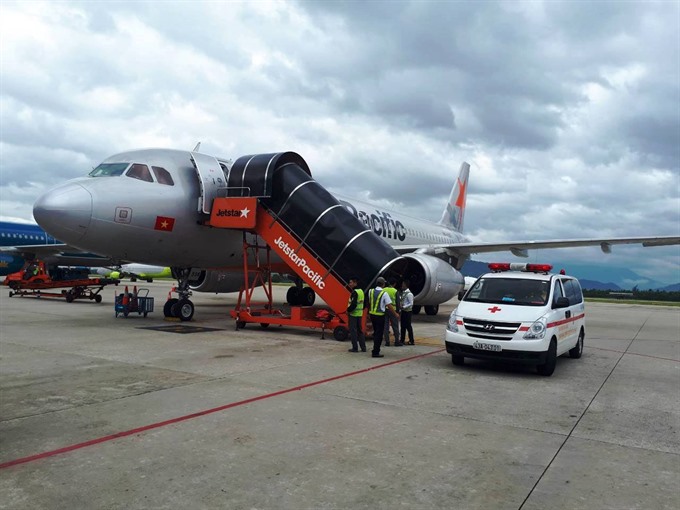 A plane of Jestar Pacific lands at Da Nang International Airport yesterday as a male passenger fainted. — Photo courtesy Jetstar Paficic
Jetstar Pacific announced that the passenger, 39, fainted an hour after the plane, BL211, took off from Hanoi's Noi Bai Airport, carrying 170 passengers.
Crew members were called to assist the victim on the plane, and the pilot decided to land at Da Nang Airport at 11.25am yesterday.
The passenger was then taken to Hoan My-Da Nang hospital for treatment.
According to doctors, the male passenger had long suffered vertigo, and had taken his prescribed medication before the flight.
The flight was allowed to leave Da Nang airport for Da Lat in the Central Highland province of Lam Dong Province at about 12pm the same day.
Jetstar Pacific said it would offer free tickets for the passenger and his relative on the flight when he fully recovers his health.
Last month, a Jetstar Pacific plane had to stop at the taxiway of Da Nang Airport and go back to the terminal after a pregnant Czech woman fell ill on-board.
Two years ago, while on a flight from HCM City to Da Nang, a woman went into labour at 10,000 metres, and delivered a baby on board.–– VNS