VietNamNet Bridge – HCM City's investigation police on May 17 started legal proceedings against three men arrested in connection with the murder of two volunteers from a team set up to protect residents.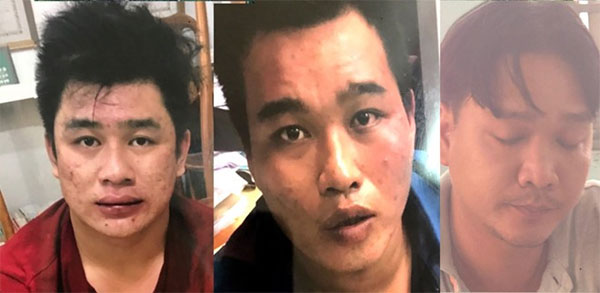 Three suspects -Nguyen Tan Tai, Nguyen Hoang Chau Phu and Ngo Van Hung were arrested in connection with the murders of two robber-hunting volunteers in HCM City. — Photo provided by HCM City Police
Two suspects, Nguyen Tan Tai, 24, from District 12, and Nguyen Hoang Chau Phu, 24, from Hoc Mon District were arrested on suspicion of stealing and murder. The other suspect Ngo Van Hung, 32, from Go Vap District is being prosecuted for concealing a criminal.
On Sunday night, Phu and Tai were attempting to steal a Honda SH scooter parked in front of clothing store on Cach Mang Thang 8 Street in District 3 when they were detected by a team of seven "street knights" or robber-hunter group.
After being besieged by the team, the two suspects allegedly took out knives and aggressively fought back.
Two members of the volunteer team, Nguyen Hoang Nam, a 29-year-old truck driver, and Nguyen Van Thoi, a 42-year-old motorbike taxi driver, died immediately after being stabbed. Three other men were injured.
A camera that recorded the incident showed Tai stabbing five of the so-called "street knights" within 13 seconds. After the incident, Tai and Phu ran away but on Monday morning, Phu was summoned by police and reported the place where Tai was hiding. Tai was detected at Hung's house in the evening of the same day.
According to police, Tai, Phu and Hung had previous convictions for gambling, stealing and robbing respectively.
HCM City has been notorious for street robbery for years. The robber hunter groups in the city were established by local volunteers to curb crime. 
Source: VNS