Meeting looks to improve legal aid provision at citizen reception centres
Vice President of the VFF Central Committee Ngo Sach Thuc speaks at the meeting (Photo: daidoanket.vn)
A meeting was held in Hanoi on May 14 for lawyers to share experience in providing legal aid at citizen reception centres of the Party Central Committee and the State.
The event was organised by the standing board of the Vietnam Fatherland Front (VFF) Central Committee, the Government Inspectorate, the Ministry of Justice, the Vietnam Bar Federation and the Vietnam Lawyers Association. About 170 lawyers from across the nation attended.
Vice President of the VFF Central Committee Ngo Sach Thuc said when providing legal aid at the centres, lawyers are performing political and legal tasks as members of the VFF. Accordingly, they give legal advice to ensure citizens' interests while helping citizens fulfill their obligations and protecting the law.
Chairman of the Vietnam Bar Federation Do Ngoc Thinh said in 2017, the citizen reception centres received 1,500 arrivals who came to seek advice in many different fields such as land seizure, granting of land use rights certificates, site clearance, compensation and resettlement and benefits for national contributors. More than 70 percent of the cases related to land issues.
Most citizens had a better understanding of their rights and obligations after receiving legal aid, he noted.
On difficulties facing lawyers while providing legal aid, Nguyen Hong Diep, head of the central citizen board of the Government Inspectorate, mentioned the increase of citizens coming to the reception centres to file complaints and denunciations before each session of the National Assembly. Therefore, legal aid given by lawyers is considerably useful to them.
He asked each lawyer to offer thorough advice and analysis to help citizens understand relevant circulars, decrees and legal basis so they can choose suitable ways to have their issues solved.
At the meeting, participants shared experience in handling cases and suggested ways to improve people's legal awareness.
More than 500 youths join Vietnam-China border friendship exchange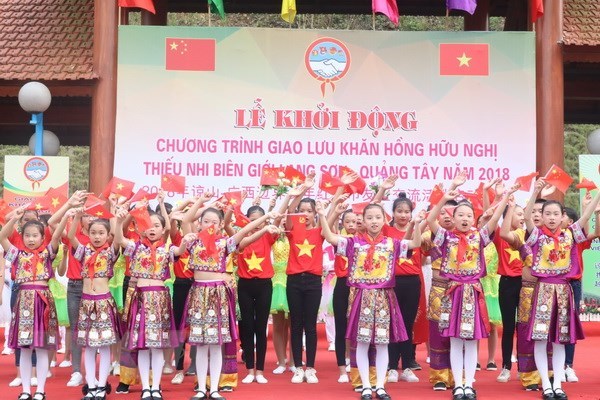 At the third border youth friendship exchange programme betweem Vietnamese and Chinese children 

Some 500 youths of the northern mountainous province of Lang Son and 54 others from China's Guangxi province joined in the third border youth friendship exchange programme which began at Huu Nghi (friendship) International Border Gate on May 14.

The two-day event aims to enhance friendship between the two Parties and States as well as authorities of the two provinces, said Deputy Secretary of the provincial Ho Chi Minh Communist Youth Union Dinh Thi Anh at the opening ceremony.

The programme offers opportunities to youths of both sides to bolster mutual understanding, Anh said, noting that the programme also helps local children popularise their hometown's land and people.

Meanwhile, secretary of the communist youth league of Guangxi province's Chongzuo city Yang Zhi Ling hoped that the youths will continue to treasure and contribute to Vietnam-China ties.

Art performances, talks on the friendship between border youths and incense offering at the statue of President Ho Chi Minh will be held during the programme.

Also, the youths will visit Hoang Van Thu relic site, Phai Ve historic relic site and Lang Son Children's Palace.

200 photos featuring Quang Ninh tourism on display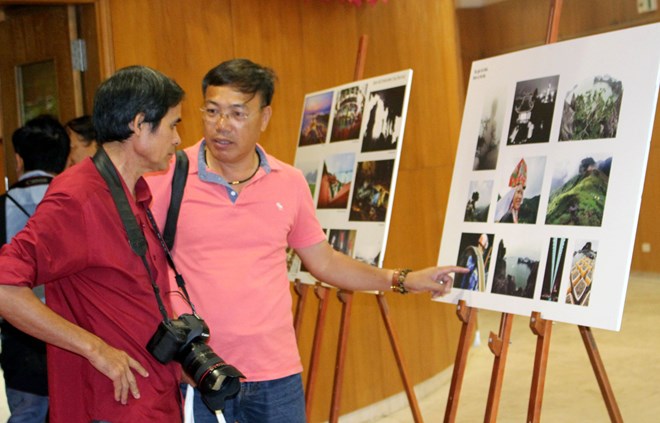 Visitors to the exhibition 

Up to 200 photos by 20 photographers were on display in the northern province of Quang Ninh from May 4-14. 

Co-hosted by the Ministry of Culture, Sports and Tourism's Agency of Art, Photography and Exhibition, the provincial Tourism Department, the provincial Department of Culture and Sports and the provincial Association of Literature and Arts, the exhibition was in response to the National Tourism Year 2018 Ha Long – Quang Ninh. 

After a 10-day fact-finding trip to all 14 localities in the province, photographers vividly depicted portraits of mining workers, the lives and beauty of local people, culture, landscapes and tourism in ethnic minorities groups as well as the world natural wonder Ha Long Bay. 

The closing ceremony was held on May 14.

German-funded project on smart power network development approved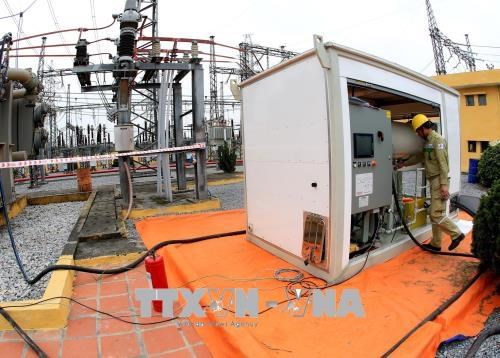 Deputy Prime Minister Pham Binh Minh has signed Decision 519/QD-TTg approving the proposal on a German-funded project to apply smart power network to develop renewable energy and energy efficiency in Vietnam.

The project, which will use non-refundable Official Development Assistance (ODA) capital of the German Government, aims to complete legal framework related to promoting and supporting the development of various sources of renewable energy in the power system as well as a smart energy network in Vietnam.

It is expected to help the country fulfill the Government's targets set in the national power development programme, the green growth strategy, and the green growth action plan, towards ensuring reliable supply of energy and improving power quality along with sustainable development of the power and energy sector.

The project will enhance partnership and technology transfer among universities, research institutes and enterprises of Vietnam and Germany in renewable energy and energy efficiency, while establishing networks for cooperation and experience sharing among policy-makers, management officials as well as other project development units.

Research affiliation will focus on latest technologies and technology products and software for energy efficiency for application in building smart houses and smart cities.

To be implemented from 2018 to 2022 nationwide, the project will have total investment of nearly 5.3 million EUR, of which 5 million EUR is sourced by non-refundable ODA of the German Government, while 297,980 USD is Vietnam's corresponding capital.

Prime Minister Nguyen Xuan Phuc has assigned the Ministry of Planning and Investment to send an official notice to the German side on this decision. Meanwhile, the Ministry of Industry and Trade was asked to gather ideas of relevant agencies to complete, verify and ratify the project's document in order to issue a decision on the project.

Fishing boats requested to turn on positioning devices round the clock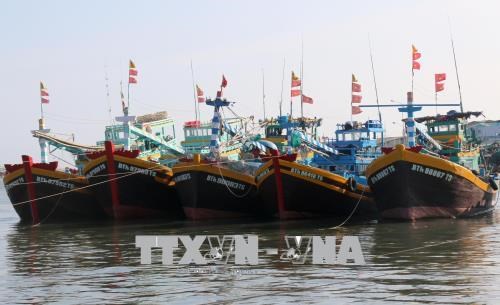 Ship owners and captains are requested to turn on satellite-positioning devices (Movimar) round the clock when going fishing offshore.

The Ministry of Agriculture and Rural Development (MARD) has sent a document to People's Committees of coastal provinces and cities, requesting ship owners and captains to turn on satellite-positioning devices (Movimar) round the clock when going fishing offshore.

It was the latest move by the MARD to fight illegal, unreported and unregulated (IUU) fishing in an effort to have European Commission (EC)'s "yellow card" lifted on Vietnamese seafood.

All fishing boats with a total length of 15 metres or above must be equipped with a satellite-positioning device which must be switched on for 24 hours a day and connected to monitoring centres run by local Fisheries Departments, according to the MARD.

The ship owners and captains who fail to comply with this regulation will get strict penalties.

The ministry also asked the municipal and provincial Departments of Agriculture and Rural Development to review and record the number of Movimar devices being used by fishing vessels and those being damaged or lost. The fishing vessels will have their devices repaired or replaced if necessary.

On October 23, 2017, the EC issued a "yellow card" warning to Vietnam, after the country failed to demonstrate sufficient progress in the fight against fishing worldwide. Though the measure was considered a warning, which would not technically affect the EC trade policy, the Vietnamese fishing industry was concerned that the yellow card would seriously harm the reputation of Vietnamese seafood worldwide, thus weakening sales. 

According to EC's requirement, the Vietnamese seafood sector had to implement nine recommendations in six months from October 23, 2017, to April 23, 2018.

The nine recommendations included revision of the legal framework to ensure compliance with international and regional rules applicable to the conservation and management of fisheries resources, ensuring the effective implementation and enforcement of the country's revised laws, and strengthening the effective implementation of international rules and management measures.

As the yellow card could affect the reputation and trade of Vietnamese seafood in the European and global markets, the Vietnam Association of Seafood Exporters and Producers (VASEP) and businesses have also made every effort to cooperate with authorised agencies and with one another to fight IUU fishing over the last six months.

"Thanks to such drastic measures, the number of fishing boats and fishermen caught fishing illegally on foreign waters reduced sharply. Particularly, zero case of boats going illegal fishing in foreign waters of Pacific island nations was reported," said Deputy Ministry of Agriculture and Rural Development Ha Cong Tuan, adding that breaches are only found at disputed waters as the boundaries in these areas have yet to be fixed.

A working delegation from the EC Directorate-General for Maritime Affairs and Fisheries will visit Vietnam from May 16 to 23 to inspect the country's implementation of the EC's nine recommendations related to the fight against IUU fishing.

After the inspection, the EU will give its final decision over whether it seeks to withdraw the "yellow card" from Vietnamese offshore seafood.

HCM City needs 27,000 labourers in May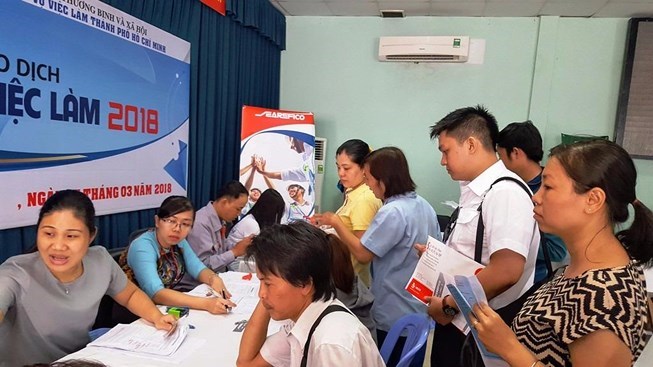 Ho Chi Minh City has more than 27,000 job vacancies in May, according to Tran Anh Tuan, Vice Director of the municipal Centre of Forecasting Manpower Needs and Labour Market Information.

Of the total, 19.93 percent are in sale sector, while 15.09 percent are in the service sector, and 18.94 percent in the garment-textile and footwear industry. The rest are jobs related to transportation, storage, mechanics and import-export.

Tuan said that to satisfy the demand, the Ho Chi Minh City Employment Service Centre will organise a second mobile job fair in District 4, which expects to draw 25 enterprises who will recruit 1,000 labourers.

Meanwhile, more than 4,800 labourers of the central province of Thua Thien Hue found jobs in the first quarter of 2018, equivalent to 30.46 percent of the area's yearly target. Of the total, 168 local labourers were sent abroad, mostly to Japan, the Republic of Korea and Taiwan (China).

According to the provincial Department of Labour, Invalids and Social Affairs, in April, an event was held to recruit labourers for vocational training courses under the province's manpower contracts.

In the first quarter of this year, the province also recruited 3,016 trainees for vocational training courses at different levels.

Road to hilltop unfinished for 6 years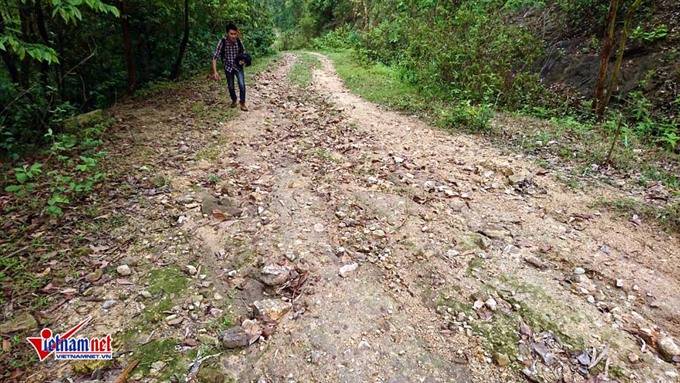 The bumpy road that leads to a local temple in Vĩnh Phúc Province's Bồ Lý Commune. The road remains inaccessible for motorbikes despite the commune's decision to upgrade it in 2012. — Photo vietnamnet.vn

A road in the mountainous Vĩnh Phúc Province has remained under construction for the past six years despite receiving a fund of VNĐ9 billion (US$395,300).

The 1km road was sanctioned to help local residents travel easily to a temple located on top of a hill in Bồ Lý Commune in Tam Đảo District, some 100km northwest of Hà Nội.

The temple was constructed to honour the seven Lỗ brothers who fought against the Mongol enemy in 1258.

It has been accessible only through a bumpy road, which filled with mud every time it rains. In such conditions, commuters take half an hour to reach the temple from the base of the hill.

In February 2012, the People's Committee of Bồ Lý Commune decided to upgrade the road and planned a two-phase road expansion project, which was funded by Vĩnh Phúc's People's Committee, Vietnamnet online newspaper reported.

According to the plan, the first phase involved levelling the road, creating drainage ditches and installing some 200 stone steps, while the entire road would be concretised in the second phase.

But to the surprise of the local people, the road looks pretty much the same after the completion of the first phase. It is still covered with rocks and was inaccessible for motorbikes.

Residents living in adjacent areas have to manually fill the holes on the road caused by landslides and erosion whenever it rains.

"We were so excited when the project started. But now we feel disappointed that nothing has changed," said a resident of Bồ Lý Commune.

Nguyễn Trọng Dân, chairman of Bồ Lý People's Committee, attributed the unfinished road to lack of funds.

Some VNĐ7 billion ($307,400), or 78 per cent, of the total funds were spent on the first phase of the project, he said, adding that the second phase could not be implemented with the remaining funds.

"We had requested financial support from the province's People's Committee but have not received any," he said.

Gót ferry terminal to remain open 24 hours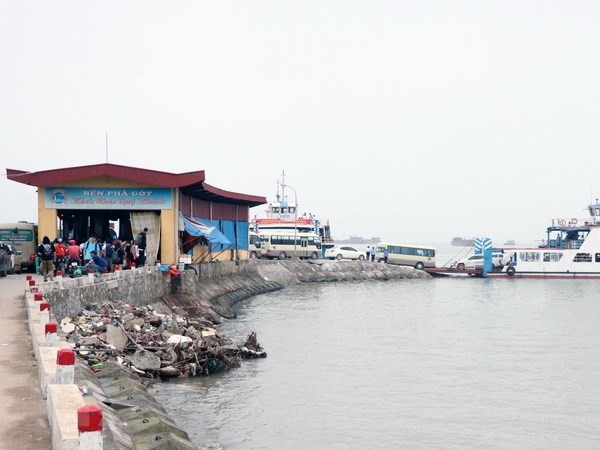 Vehicles and visitors used to be stuck at Gót ferry terminal earlier. Now, they can ferry from Hải Phòng to Cát Bà Island 24 hours a day, throughout the week. 
Hải Phòng City's Department of Transport has decided to allow the Gót ferry terminal to operate for 24 hours throughout the week.
According to the decision on May 12, 2018 on the temporary traffic flow at Gót ferry terminal in Cát Hải District, the ferry terminal will operate round the clock every day from May 12 to serve the increasing tourist demand during the summer vacation, director of the city's Department of Transport Vũ Duy Tùng confirmed to vietnamplus.vn online newspaper.
The terminal from Tân Vũ Bridge across the island will ferry tourists to Cát Bà tourim island 24 hours a day, so there are no time constraints for visitors to get back to the mainland.
However, two-way trucks passing through the terminal are prohibited from 2pm to 9pm on Fridays and from 5am to 9pm on Saturdays and Sundays.
The Tân Vũ-Lạch Huyện Bridge has shortened the travel time from Hải Phòng City centre to Cát Bà Island to two hours from the previous three hours.
It took 15 minutes for vehicles to go to Cát Bà Island, Cát Hải District from Gót ferry terminal but the ferry-awaiting time was up to several hours because there were many vehicles as long queues.
This is good news for visitors to Cát Bà Island as well as for residents living on the island district. The route from Hải Phòng to Cát Bà is now officially connected 24x7, said an official of the city's Transport Department.
Previously, the ferry terminal was closed at 17h every day, so many vehicles and visitors were stuck on the island if they didn't timely present at the terminal before 17h to come back land.  
The ferry terminal remains crowded on weekends and holidays, especially summer. Such loss of time, besides causing inconvenience, affects tourism as well as socio-economic development of Cát Hải Island District.
The number of people and means of transport going to Cát Hải District and Cát Bà Island through Gót ferry has increased significantly, especially in the peak times, from 1,000 to 2,000 cars; from 1,000 to 2,500 motorcycles and about 7,000 to 14,000 people, according to the city's Department of Transport.
Kiệt takes cycling tour's fifth stage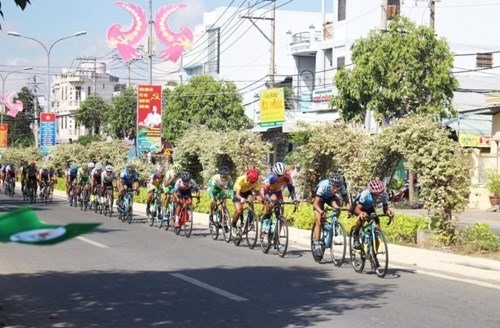 Cyclists at the fifth stage of the Return to the Countryside tournament. 

Trần Tuấn Kiệt of Domesco Đồng Tháp won the fifth stage of the Return to the Countryside cycling tournament yesterday.

Kiệt completed the 50.4km stage in Sóc Trăng City with a time of 1 hour, 20.02 minutes.

He was followed by Nguyễn Hoàng Giang of Gạo Hạt Ngọc Trời-An Giang and Joshua Mari Bonifacio of the Philippines' team Go for Gold.

The overall ranking remained the same after the fifth stage.

Quách Tiến Dũng of Military Zone 7 was on top with a total time of 10:48.56.

Nguyễn Phạm Quốc Khang from Bike Life Đồng Nai and Phạm Minh Triết of Gạo Hạt Ngọc Trời-An Giang were second and third, respectively.

Gạo Hạt Ngọc Trời-AN Giang took the lead in the team ranking. Bike Life Đồng Nai and Team Go For Gold were close behind. 

The sixth stage today will be 30 laps around Hoà Bình Boulevard in Cần Thơ City totalling 42km.

Giang starts with a win at F3 Futures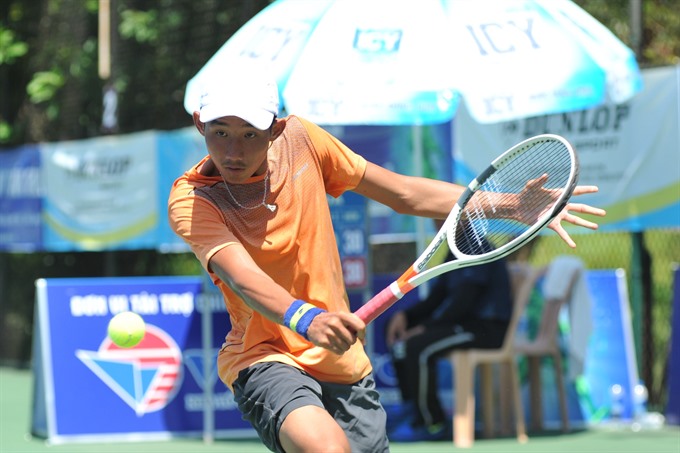 Trịnh Linh Giang of Việt Nam wins first round match at the F3 Futures event in Huế. — Photo VTF

Trịnh Linh Giang defeated Nguyễn Đắc Tiến in the first round all-Vietnamese match at the Vietnam F3 Futures tennis tournament yesterday in Huế.

Giang won the singles match 6-4, 6-1 within 80 minutes and set up a rendezvous with No 2 seed Karunuday Singh of India in the second round. Singh overcame his countryman Nitin Kumar Sinha 6-3, 6-2 in another match yesterday.

In another match, Vietnamese player Trần Quang Trường lost 1-6, 1-6 to No 8 Song Min-kyung of South Korea.

Takashi Saito of Japan beat Australian Matthew Romios 7-6 (2), 6-1; No 4 Alexios Halebia from the US won 6-3, 6-7 (3), 7-5 over Adrian Andrzejczuk of Poland.

No 1 seed Lý Hoàng Nam of Việt Nam will play today against Son Ji-hoon of South Korea. His partner in the F1 Futures' doubles win Phạm Văn Phương will face Japan's Gengo Kikuchi.

According to latest world ranking release, Nam has jumped to No 433—his highest position ever and the highest spot ever held by a Vietnamese player.

Phương is No 1,430, a leap of 153 spots.

In the doubles event, Giang paired with Phương lost 5-7, 6-2, 7-10 to the Thai team Chantha Thanapet and Rakpuangchon Vorachon. Lê Quốc Khánh and Trần Ngọc Quốc Vinh were beaten 6-7 (3), 7-5, 7-10 by mixed pair Jayden Court from Australia and Nguyễn Bùi Trí of Việt Nam.

Hải Phương Nam Gia Định University beat veteran Sanna Khánh Hoà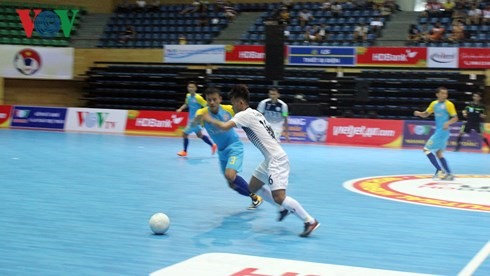 Hải Phương Nam Gia Định University (in white) win 3-2 over Sanna Khánh Hoà in the first-round match of the National Futsal HDBank Championship in Đà Nẵng on Sunday. — Photo vov.vn

Hải Phương Nam Gia Định University fought back to win 3-2 over Sanna Khánh Hoà in the first-round match of the National Futsal HDBank Championship in Đà Nẵng on Sunday.

As one of the senior clubs, Sanna Khánh Hoà had no difficulty in dominating the young team since the beginning of the match.

They quickly made a 2-0 lead, thanks to goals by Khắc Chí and Quốc Hiền in the first set. But they underestimated their rivals, who bounced back with three goals by Tấn Phát, Quốc Hưng and Tấn Tiếp in the second half.

"I told my players to keep playing while fixing our mistakes. We had better ball procession in the second half (and scored goals). My players competed with great spirit to win this match," said coach Nguyễn Tuấn Anh of Hải Phương Nam Gia Định University.

In an earlier match, runner-up Sanatech-Sanest Khánh Hoà lost 0-1 to Sài Gòn FC.

The only goal belonged to Bá Tiến with a close-range finish.

Speaking about their shocking loss, head of Sanatech-Sanest Khánh Hoà football delegation Trần Duy Hiếu said it was an unlucky match.

"Sanatech-Sanest Khánh Hoà had a good start, but there were times when the players lost focus in defending, while strikers did not finish well, leading to the goal for Sài Gòn. I do not understand why we could not score a single goal. We regret this match," Hiếu said.

Coach assistant Phan Trần Tuấn Anh of Sài Gòn said the key reason for their win was the high performance of goalkeeper Châu Bảo Giang, whose skills have improved a lot. Other players are also at their peak owing to careful preparation months ahead of the tournament.

In another match, Hoàng Thư Đà Nẵng drew 1-1 with Cao Bằng.

The championship will officially begin this afternoon at Tiên Sơn Sports Palace.

Defending champions Thái Sơn Nam will begin the tournament against Thái Sơn Bắc. Tân Hiệp Hưng will play Kim Toàn Đà Nẵng in the second match of the day today.

Bad luck after bad luck

Phạm Duy Hưng, 32, of the northern province of Hà Nam's fell into deep distress when he learned he'd been cuckolded last Friday, as he learned his girlfriend was having a sexual relationship with another man.

Hưng was so angry that he grabbed a shotgun, a scimitar and then drove his car to the hotel his girlfriend was staying in with her new partner to punish the man and win his lover back.

Luckily, fortune doesn't always favour the bold or potentially murderous.

Hưng was arrested on the way to go to the hotel by local police for illegal possession of weapons.

Losing your lover and liberty on the same day has to be a bitter pill to swallow!

Dance and music show celebrate President Hồ Chí Minh's birthday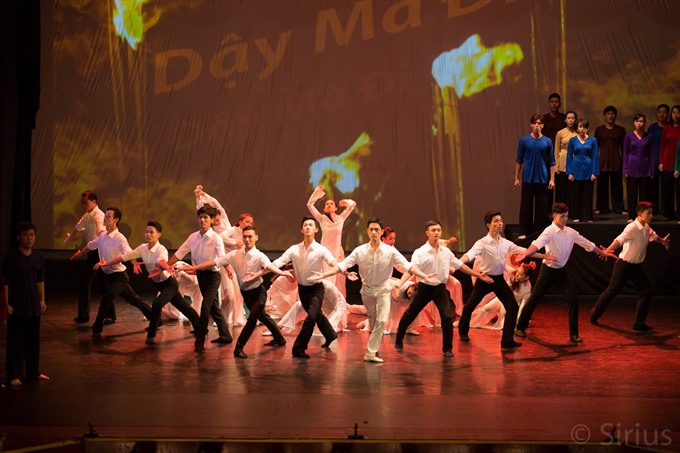 Contemporary Còn Mãi Bản Hùng Ca (The Legends Live On) will be staged at HCM City Opera House on May 19 to celebrate the 128th birthday of President Hồ Chí Minh. — Photo courtesy of HBSO

Còn Mãi Bản Hùng Ca (The Legends Live On), a special music and dance show to celebrate the 128th birthday of President Hồ Chí Minh (May 19), will be staged at the city's Opera House on May 19.

The show will open with composer Nguyễn Mạnh Duy Linh's latest symphony Huyền Thoại Mùa Xuân (Legend of the Spring), which will be performed by the HCM City Ballet Symphony Orchestra and Opera (HBSO).

Linh studied composing at Magnitogorsk State Conservatory in Russia from 2000 and graduated in 2008 with a Master of Arts degree.

In 2007, he won the Best Composer prize at the 4th International Festival of Music in Chelyabinsk in Russia for his concerto for violin and chamber orchestra.

Linh's compositions have been performed by famous Vietnamese and foreign soloists like Bùi Công Duy and Sergei Sivolgin.

He has also composed music for HBSO's ballets, HCM City Television's serials and a few movies.

In 2013, he won the Best Composer award at the Golden Kite Film Festival for his score for the movie Đường Đua (The Race).

He now works as a manager of the performing arts department and a stage manager at HBSO, and as a lecturer at the HCM City Conservatory of Music.

The show will continue with the ballet Còn Mãi Bản Hùng Ca, which portrays soldiers and people in Southern Việt Nam in the resistance war against the Americans. 

The play was choreographed by People's Artists Vũ Việt Cường and Kim Quy, and their students Phúc Hùng and Phúc Hải. Its music was composed by Meritorious Artist Trần Vương Thạch

Cường and Quy have made a great contributions to the development of HBSO and the country's dance sector.

Hùng and Hải have choreographed many contemporary ballets, such as Ru Đêm (Night Lullaby), Chạm Tay Vào Quá Khứ (Touching the Past) and Những Mảnh Ghép Của Giấc Mơ (Dream Puzzles). All have received high praise from critics and audiences.

The 60-minute ballet will feature HBSO's dancers and orchestra.

The show will begin at 8pm at 7 Lam Sơn Square in District 1. Tickets are available at the venue and at www.ticketbox.vn.

Sixth GEF Assembly to be held in Da Nang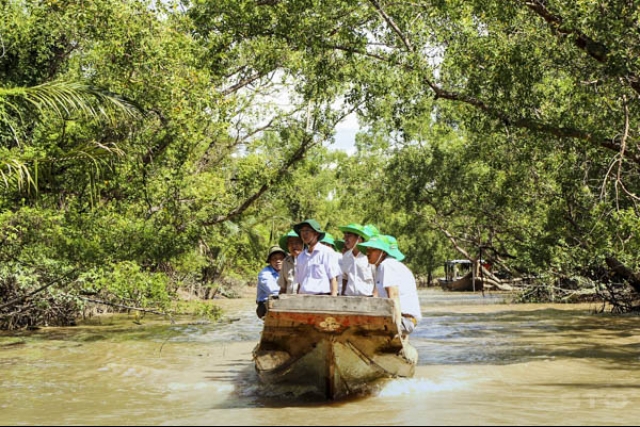 The Sixth Assembly of the Global Environment Facility (GEF) will take place from June 27-28, 2018 at the Furama International Conference Center in Da Nang, Vietnam. This assembly was set up to tackle the planet's most pressing environmental problems.

Held every four years, the GEF Assembly brings together environment ministers and other senior officials from its 183 member countries, along with heads of UN agencies, regional development backs, civil society organizations and business leaders to share ideas, solutions and actions needed to protect the global environment.

"A clear majority of donors have stepped up their support for the GEF, signaling the urgency of the global environmental agenda, and trust in the GEF to help tackle the problem and achieve even greater results," said Naoko Ishii, GEF CEO and Chairperson.

Last month, close to 30 countries jointly pledged $4.1 billion to the GEF for its new four-year investment cycle, (known as GEF-7), to better protect the future of the planet and its inhabitants.

With the health of the global environment worsening, the GEF received strong support in its efforts to help safeguard the world's forests, land, water, climate, and oceans in order to build green cities, protect threatened wildlife, and tackle new environmental threats like marine plastic pollution.   

These issues and more will be on the agenda of the GEF Assembly.

The GEF Assembly, with all sessions open to the media unless otherwise indicated, will include statements from current and former heads of state, expert presentations and a series of interactive roundtables on the new themes of GEF-7.

The opening plenary sessions on June 27 will cover the state of the global environment, the ambition needed to help transform the systems that support how we live, how we eat, how we move, how we produce and consume, and how implementation of GEF-7 can contribute to the necessary systems change.

Fourteen interactive high-level round tables will dig deeper into new themes in GEF-7 and other global environment issues. Each round table will feature well-known speakers and interventions from ministers, to discuss the challenge, what needs to be done, and how the GEF and others can address the problem.

The GEF Assembly will be preceded by the 54th GEF Council Meeting on June 24-26 and the 24th Least Developed Countries Fund/Special Climate Change Fund Council Meeting and a Civil Society Forum on June 26. There is an opportunity to visit GEF projects surrounding Da Nang on June 29.  The week will also feature numerous side events and exhibitions.

Ten teams vie for trophy at National Futsal Championship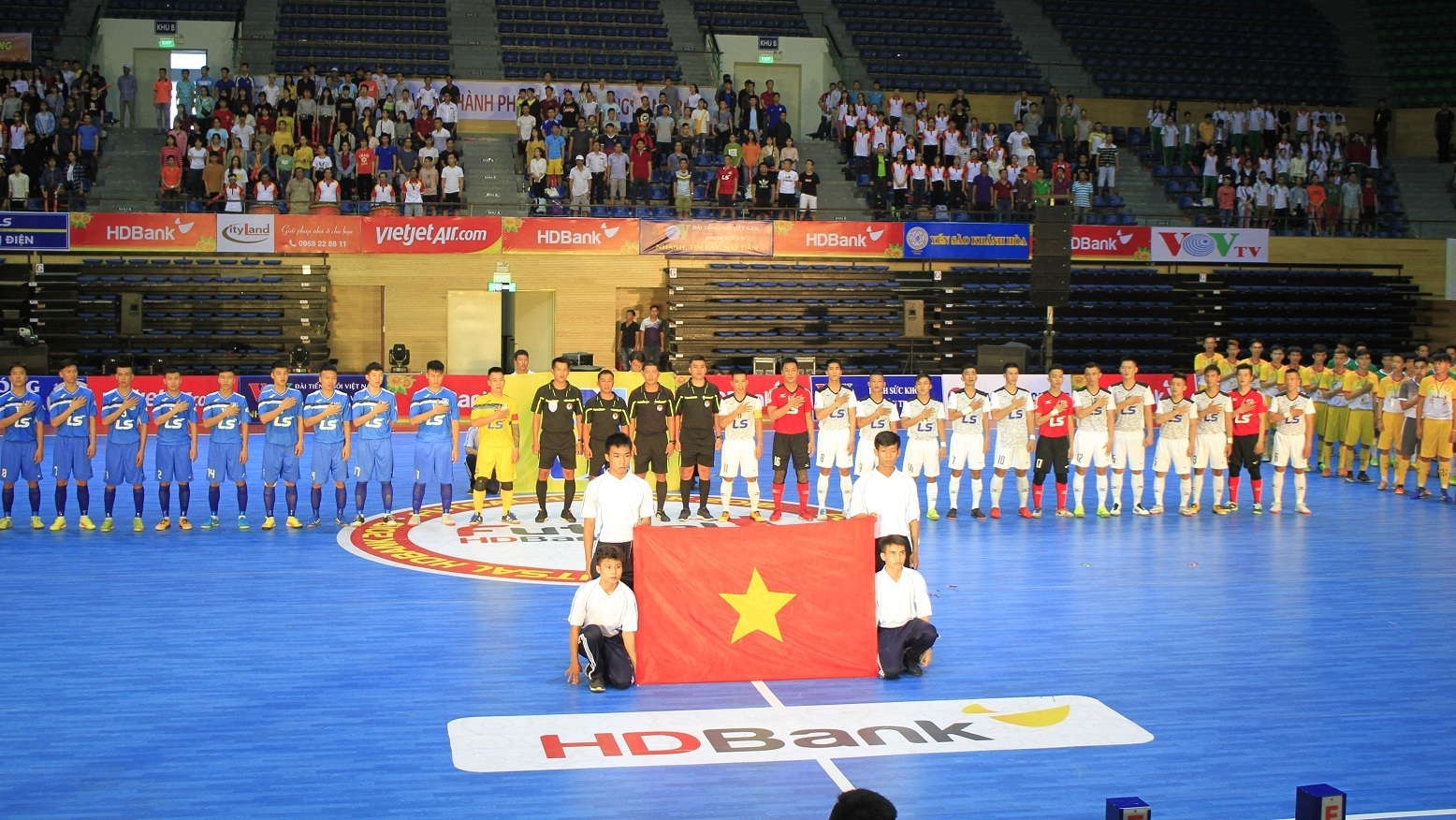 At the opening ceremony of the 2018 National Futsal Championship. 

The 2018 National Futsal Championship officially opened at the Tien Son Sports Palace, in the central coastal city of Da Nang on May 14, with a total of ten teams battling it out for the overall trophy.

The participants include the top six finishers at last year's tournament, including reigning champions Thai Son Nam, defending runners-up Sanatech Khanh Hoa, Hai Phuong Nam Phu Nhuan, Sanna Khanh Hoa, Saigon FC, and Thai Son Bac, and the four qualifiers, namely Cao Bang, Tan Hiep Hung, Hoang Thu Da Nang, and Kim Toan Da Nang.

According to the regulations, the teams will be competing in a double round robin format, both at home and away, to decide the title holders. Those finishing from first to sixth place will receive automatic byes to the second stage of next year's championship, while the others will have to play in the qualification round.

The overall champions will represent Vietnam at the AFC Futsal Clubs Championship, while the second-place team will represent the country in the AFF Futsal Clubs Championship, if they fully meet the requirements, in terms of finance and other criteria, from the AFC or the AFF.

The first leg of the 2018 National Futsal Championship will take place from May 13 to June 3 at Da Nang's Tien Son Sports Palace, while the second leg is scheduled for September 7-29 at the Lanh Binh Thang Gymnasium in Ho Chi Minh City.

Vietnam's northern, central provinces hit by heat wave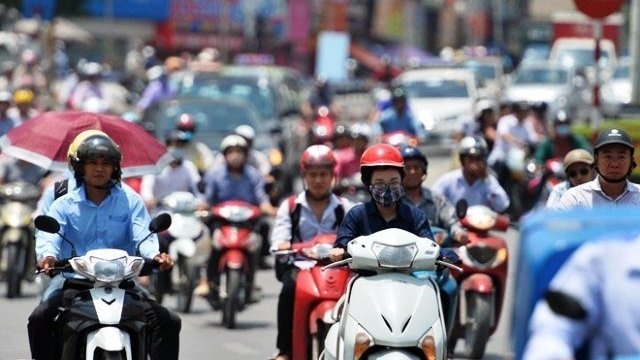 The temperatures could reach over 38C in some areas. 

The first heat wave of 2018, with highest temperatures recorded at 35-37C, is spreading to provinces and cities in the northern and central regions, the national weather service has stated.

The mercury could reach over 38C in some areas, the National Centre for Hydro-Meteorological Forecasting has forecast.

The heat wave is the result of a phenomenon known as foehn caused by a low pressure expanding eastwards and southwest winds.

In the capital Hanoi, the highest temperatures hit 36C on May 15, up 2C from the previous day, and will rise to 37C the next day, remaining until May 20.

The heat wave, which has arrived late compared with previous years, is forecast to let up after May 20 in the northern region and after May 21 in the central region.

Heavy showers and thunderstorms, coupled with whirlwinds and strong gusts, are expected in the late afternoon and evenings after a day of hot weather.

Work begins on flyover at Nguyen Van Linh intersection in Hai Phong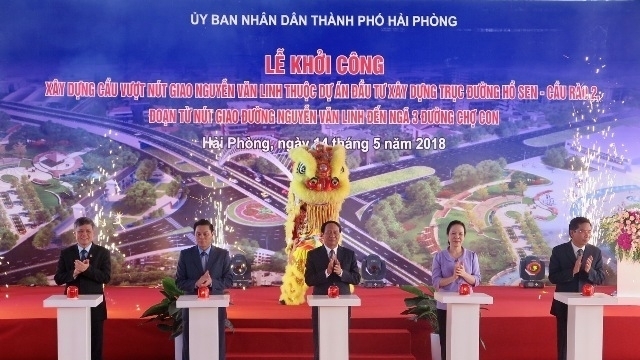 Delegates at the ground-breaking ceremony 

The northern port city of Hai Phong kick started the construction of a flyover at the Nguyen Van Linh intersection on May 14.

The flyover features seven lanes measuring 288.2 metres in length and 19 metres in width, and is built at a total investment of VND360 billion (US$16.9 million) sourced from the city's budget.

The construction of the project is expected to be completed and opened to traffic by 2020.

The facility will be built as an important arterial part of the construction of the Ho Sen - Cau Rao 2 route, which has a total investment of VND1,405 billion (US$61.5 million).

The Ho Sen Cau Rao 2 - Nguyen Van Linh intersection project is designed to complete the city's traffic system, creating a main road connecting the city centre with Highway No 5, Pham Van Dong Street and the city's southern area.

It will also help to reduce heavy traffic on the Cau Dat – Lach Tray – Cau Rao route.

Germany provides EUR5 million for Vietnam's smart grids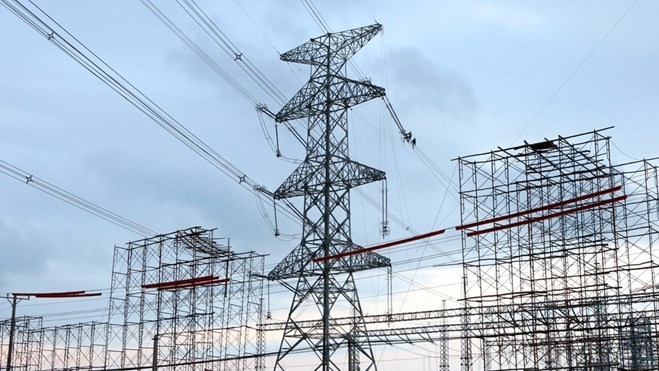 Deputy Prime Minister Pham Binh Minh has approved a project in which Germany will provide EUR5 million to help Vietnam develop smart grids for renewable energy and energy efficiency.
 
The project will be implemented over four years from 2018.

The project, known as SGRE-EE, costs nearly EUR5.3 million and will be implemented during the 2018-2022 period.

The remainder of the cost will be accounted for by Vietnam's Ministry of Industry and Trade.

SGRE-EE is designed to perfect the legal framework for promoting and supporting the development of renewable energy sources and smart grids in Vietnam, thereby helping to achieve the goals of the national power development plan and the green growth strategy.

The project will focus on the application of information technology in managing renewable energy sources and optimising energy use.

Professional staff at state management agencies and power experts will also have their capacities enhanced as part of the project to form a network of experts with knowledge in the area of smart power grids.

At the same time, cooperation and technology transfer in the field between Vietnam and Germany will be increased.

Seas, islands week 2018 to be held in Quang Ninh

The Viet Nam Seas and Islands Week 2018 will be held in the northern province of Quang Ninh in June in response to World Oceans Day (June 8).

In the framework of the launch ceremony on June 2, the Ministry of Natural Resources and Environment will organize a live performance to keep the ocean clean, followed by a "Clean up the sea" movement and a song contest for the maritime environment.

In addition,  there will be art performances and a seminar on youth's role in the sustainable development and protection of the country's seas and islands sovereignty, along with the launch of a contest to compose songs for national seas and islands protection.

The event aims to raise public awareness of the importance of seas and islands in national building and protection, encouraging organisations and individuals to take action to protect marine resources and the environment for the country's growth, and its seas and islands sovereignty.

Tay Ninh, Cambodian Prey Veng province strengthen cooperation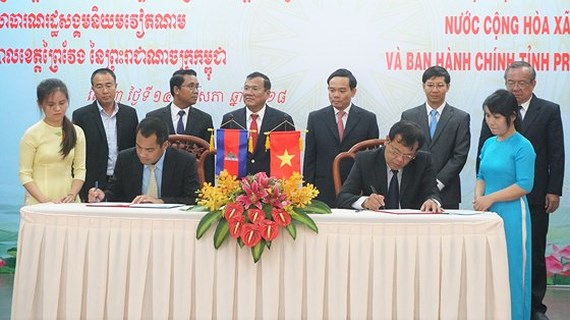 The signing ceremony of cooperation agreement between Vietnam's Tay Ninh province and Prey Veng province of Cambodia was held at the head office of the Military High Command of the southern Tay Ninh province on May 14.
Under the agreement, the two sides will strengthen diplomatic relations in fields of trade and investment, agriculture, forestry, fishery, culture and society, environment, border security management, planting of border pillars; and cooperate to implement targets and projects to develop the economy, society, security and public order, as well as protect the border area between the two provinces.
On this occasion, Vice Governor of Prey Veng province Chhan Tha conferred Friendship Medals of the Kingdom of Cambodia on Secretary of Party Committee of Tay Ninh province Tran Luu Quang, Chairman of the provincial People's Committee Pham Van Tan and former Chairwoman of the provincial People's Committee Nguyen Thi Thu Thuy for their outstanding contribution to the promotion of friendship and solidarity between the two countries and two provinces.
HCM City dweller grateful for chivalrous deed of "street knights": Party Chief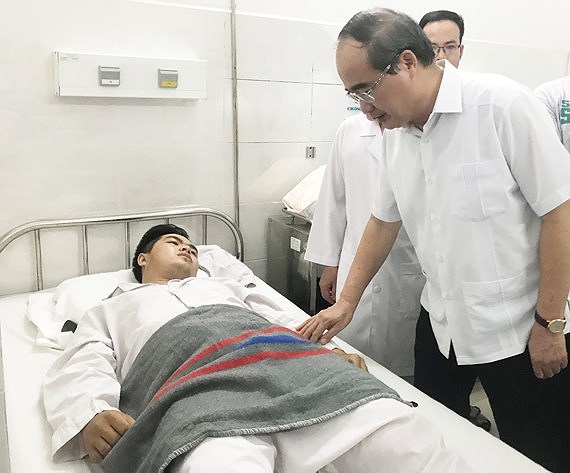 Politburo member, Secretary of Ho Chi Minh City Party Committee Nguyen Thien Nhan yesterday paid a visit to "street guardians" who were injured while trying to stop a gang of robbers in the night of May 13 in district 3.

Street knights Nguyen Duc Huy and Dinh Phu Quy both born in 1996 are being treated in the Heart Department in Thong Nhat Hospital. Nguyen Duc Huy was stabbed in the lung and Dinh Phu Quy's right hand was slashed.

Medical workers tried their best to save the two men. Their health condition is stable.

Visiting the two young men at their beds in the hospital, Party Chief Nhan said city inhabitants were grateful for their chivalrous deed of the street guardians, wishing they will be soon better.

He asked medical workers to take best care of the street guardians and promissed the city leaders would call for financial assistance for their best treatment. Mr. Nhan stressed all HCMC dwellers are indignant at cruel acts of robbers.

He added that the police have detained a suspect in the robbery, promising that these robbers would incur a punishment appropriate to their cruelties as per the law.

Street knight Nguyen Duc Huy expected that city residents would join in the fight against crimes to keep the city safe and peaceful.

"Street knights" are the name city inhabitants call the volunteers who often prevent or catch robbers in the street. They are bike drivers, bike mechanics, students, greengrocers, construction workers, carpenters…

Foot-mouth disease in cattle spreading in nine central districts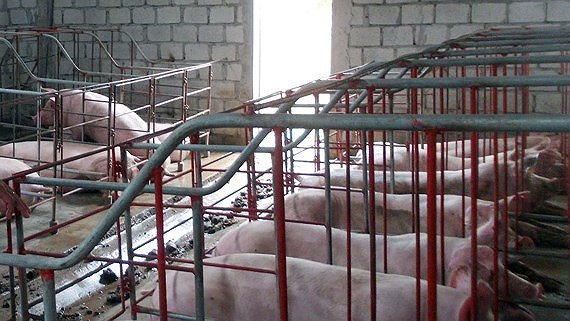 Since the beginning of the year, 22 communes in districts in the central provinces of Quang Ngai reported foot-mouth disease amongst cattle.
The disease affected 415 local cattle including 150 buffaloes, 244 oxen and 21 pigs.
People's Committee in Quang Ngai directed relevant agencies and local administrations to enhance measures against the disease amongst cattle. Though the disease was under control, it is likely to spread to other communes in the current seasonal transaction.
To curb fresh outbreaks of the disease, Quang Ngai People's Committee sent its document to the Ministry of Agriculture and Rural Development asking for supplying chemicals to prevent the disease.
Traffic safety committee gives helmets to all first graders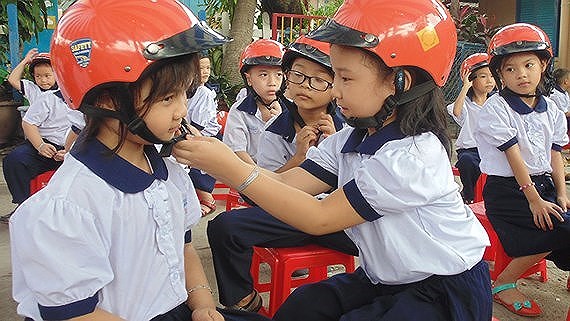 The National Traffic Safety Committee, the Ministry of Education and Training and Honda Vietnam will give helmets to all first graders, aiming to help all first graders to protect their life.
The Committee will preside the kick-off helmet giving meeting to publicize the helmet program for first graders in the academic year 2018-2019.
The program will start after June 15 with the theme " Giu tron uoc mo" (Acquitting oneself of a promise) contributing to increasing public awareness of child helmet legislation when on motorbikes and electric bikes.
Historical plays celebrate 100th anniversary of Cai Luong Stage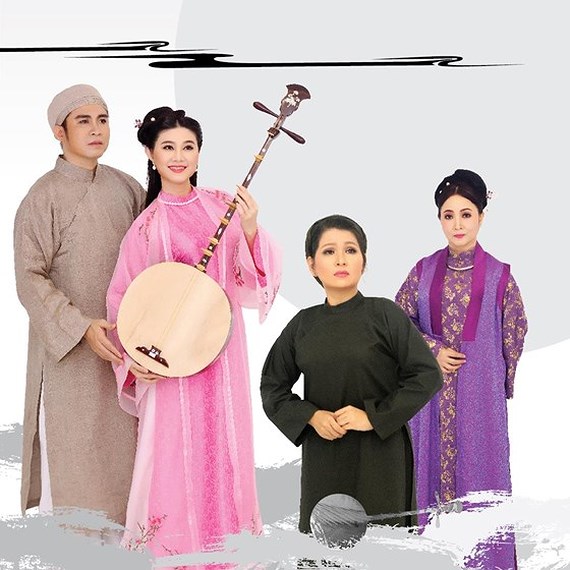 More than 60 cai luong actors and actresses of the Vietnam Cai Luong Theater in Hanoi and Tran Huu Trang Cai Luong Theater of Ho Chi Minh City will join in a play titled Thay Ba Doi (Musician Ba Doi) celebrating the 100th anniversary of Cai Luong Stage.

The 150-minute play will take place at Hanoi Opera House on May 27-28 with the participation of artists, such as People's Artists Vuong Ha, Hoang Dat, Meritorious Artists Xuan Vinh, Que Tran, Le Tu, Huu Quoc, Quynh Huong and others.

The play honors musician Nguyen Quang Dai who made outstanding contribution to the development of southern amateur traditional music.

Musician Nguyen Quang Dai was a mandarin under Nguyen dynasty. He moved from his birthplace, Hue ancient city, to Sai Gon (HCM City now) to promote Hue royal music and teach tai tu amateur traditional music.

In addition, Cai Luong devotees had a chance to enjoy one of the most popular historical cai luong plays, Thai hau Duong Van Nga (Empress Dowager Duong Van Nga) at Ben Thanh Theater in Ho Chi Minh City on May 6 and 13.

The play was a cooperation of veteran artists, director Hoa Ha and Kim Ngan with the participation of famous cai luong artists, such as Phuong Loan, Le Tu, Quynh Huong, Chi Linh, Kim Ngan, Hong To, Dai Nghia, singer Phuong Thanh, musician Thai An and others. The performance also aims to celebrate the 100th anniversary of Cai Luong Stage.

Chaotic urban plan

Compensation and relocation have long been a painful process in the course of development, but rarely has there been any project that has stoked agony, protests and social chaos like the scheme surrounding Thu Thiem New Urban Area in HCMC's District 2. Such distress erupted into multiple layers of indignation at a meeting on May 9 between the city's National Assembly deputies and affected residents. The meeting, as covered in local media, was awash with numerous accusations of wrongdoing by local authorities that have stripped local residents of their properties and their livelihoods. And that ordeal has been two decades long.

In fact, the saga started shortly after the Prime Minister issued Decision 367/TTg in 1996 to develop Thu Thiem Peninsula into a new urban area. Under the decision alongside a map of scale 1/5000 for the area, the new town would cover 930 hectares, inclusive of a resettlement area of 160 hectares for residents affected by the project.

Then came zoning plans and detailed maps of scale 1/2000, and site clearance and relocation accordingly. Under such zoning plans penned by the city government, the new town was zoned bigger, and thus the resettlement area of 160 hectares was annexed into the future town, while the affected people would be relocated farther afield in different clusters, not in a concentrated zone next to the new town as originally planned, according to the news site at cand.com.vn. Such a change was deliberately conducted by the city, and contradicted the original plan approved by the Prime Minister, says the news site.

In late 2005, according to the online newspaper Vietnamnet.vn, the city government issued its own Decision No. 6565/QD-UBND adjusting the zoning plan for Thu Thiem of scale 1/5000. The municipal government clarifies that its new decision replaces Decision 367/TTg of the Prime Minister, an act experts say overstepped the bounds of the city's authority. Another controversial point is that the new decision does not mention the resettlement zone in its scope, says Vietnamnet.vn.

Throngs of Thu Thiem residents have ever since strongly protested against plans commanded by the city government, insisting that their properties – land and houses – were not affected by the original master plan.

In many encounters, residents demanded that the city's authorities show the original map as the basis for site clearance, but such a plea has never been met. Even during a meeting between the people and HCMC chairman Nguyen Thanh Phong last June, according to Nguoi Lao Dong, the residents continued to challenge the municipal government, stressing their land had been illegally seized. The city leader at the time explained there remained differences in comprehending the map and supporting documents between relevant agencies on one side and the residents on the other.

The protests have never died out over the years, but the latest move by local government to proceed with development is seen as the final straw that breaks the camel's back.

At a news briefing on May 2, the city announced plans to invite bidders for plots of land covering 7.8 hectares in Thu Thiem. And at the event, the drama reached a new twist when HCMC People's Committee office manager Vo Van Hoan told reporters that the original map of scale 1/5000 was missing, and relevant agencies had failed to find it over the years, according to local media.

Municipal authorities also said they had asked central agencies for help to look for copies of the map, but to no avail. Nguyen Hong Diep, a senior official at the Government Inspectorate, even said that such a map has never existed, according to Dan Tri. 

However, a resident in District 2 shortly after that showed the map with all the seals, casting doubt on the authorities' claim that the map is nowhere to be found. And, to add to the city government's confusion, former chairman of the city government Vo Viet Thanh asserted he was holding a set of 13 original maps. 

In an interview with Tuoi Tre, the former city chairman says a lot of changes – for the worse – have been made to the original plan, separating native residents from their land, while the Prime Minister's decision was to help them settle down right next to the new town. "In legal terms, any changes to the original plan must be approved by the Prime Minister… In terms of morality, any zoning plan must benefit the native people; they cannot be rendered destitute due to any zoning plans," he stresses.

Thanh, who on behalf of the city government presented the original plan to the Prime Minister, says he suggested that pagoda, temple, church and seminary be retained, but to date, almost all have been leveled to the ground, according to Tuoi Tre.

Back to the meeting this Wednesday, many residents took turns to assert their properties were not affected by the original plan, showing the maps to back their claims. However, they were still coercively relocated, their houses being demolished.

Le Thi Ngoc Nga of Binh Khanh Ward told the meeting her house was torn down and her family was forced out though authorities did not issue any decision redeeming the land, according to Thanh Nien. Nga has for over 10 years now sent numerous complaints and letters of accusations to various agencies, but no answer was given.

Even those residents whose properties are inside the zoning plans also made strong protests at the meeting over the compensation rate. A woman named Nguyen Ngoc Thanh said she had paid nearly 50 taels of gold, or some VND1.8 billion at the current price, to acquire a house on Luong Dinh Cua Street, but she was given only VND94 million in clearance compensation, Tuoi Tre reports. Another claimed she got VND18 million a square meter of her house in an area where the luxury Sala housing complex has taken shape, but land there is now sold at a whopping VND350 million (over US$15,000) per square meter.

The key aim of rezoning Thu Thiem and forcing the people out, said a resident identified as Tran Thi My at the meeting, is to have land for sale to investors to develop luxury housing projects whose prices are hundreds of times higher than compensation rates, according to Tuoi Tre. Another said it is money that has distorted the original plan for Thu Thiem.

At the aforesaid meeting, Thu Thiem's residents said that given the injustice they have incurred, they no longer have confidence in local authorities. All the issues related to Thu Thiem "must be handed over to central authorities and the National Assembly for oversight, not just NA deputies of HCMC, because of serious wrongdoing here," a resident of Binh Khanh Ward is quoted in Thanh Nien as saying at the meeting.

Revival of dead lands
An exhibition on explosive and toxic remnants of war as well as efforts made by the authorities and non-governmental organizations in clearance to make Vietnam a safe and peaceful country is running at the War Remnants Museum in HCMC.

Themed "Revival of dead lands", the exhibition features 190 items, documents and images related to the U.S. army's use of bombs and toxic chemicals during the Vietnam War and how the contaminated areas have been treated.

Although the war ended more than 40 years ago, its consequences are still putting adverse impacts on Vietnamese people and environment.

During the Vietnam War, three million people were killed, two million others were injured and nearly five million people were exposed to toxic chemicals.

Most cities and provinces across the country, especially in the central region, are littered with roughly 800,000 tons of bombs, mines and unexploded ordnances left by wars.

Between 1961 and 1971, the U.S. army sprayed nearly 80 million liters of toxic chemicals, 61% of which was dioxin, onto central and southern Vietnam, destroying more than three million hectares of forest.

The exhibition, opened to visitors until August 20, seeks to apprise the public of the consequences of wars and call on the people to join hands to restore the environment, bring life back the dead lands and support war victims.

Tours to Jeju get cheaper

Jeju tour operators in South Korea will financially support Vietnamese travel firms in a bid to bring more visitors from Vietnam to Jeju Island.

Companies chartering flights to carry tourists to Jeju will get a maximum of US$6,500 per flight. They will benefit from more preferential programs if arranging incentive tours.

According to a source from the Korea Tourism Organization (KTO) in Vietnam, tourism firms in Vietnam can ask for aid seven days prior to departure date or 14 days after charter flights are conducted. In case firms operate more than five scheduled tours a month, they will be financed US$3,800 per flight, and US$6,500 per flight if there are less than four unscheduled tours a month.

The amount of money will be adjusted depending on the number of passengers on a flight. For instance, it will be raised if 90% of seats are occupied, but reduced if lower than 50%.

The Jeju Tourism Organization, the MICE Jeju Alliance, KTO Vietnam and Vietnamese tour operators Vietravel, Saigontourist, Ben Thanh Tourist, Transviet Travel, and TST Tourist on May 10 signed a memorandum of understanding on promoting and developing Jeju tourism in Vietnam in 2018 and 2019 to attract more travelers to Jeju.

Apart from incentives, the five local travel firms will get more preferential policies such as fees for promoting Jeju tour products, organizing FAM tours to carry out surveys, or partly sponsoring entrance fees for incentive groups to tourist attractions. More visitors, especially Vietnamese, will come to Jeju due to reasonable prices and many attractive policies, said KTO Vietnam.

Korea lured over 118,000 Vietnamese visitors in the first four months of this year, up 33.5% year-on-year, according to KTO Vietnam. With this robust growth, Vietnam continues to be among the top source markets for Korea's tourism.