Le Dinh Kien, 29, was arrested on May 9 after he tried to extort VNĐ1 billion (US$44,000) from a family in Ton That Thuyet Street of the central province of Ha Tinh's Tran Phu Ward.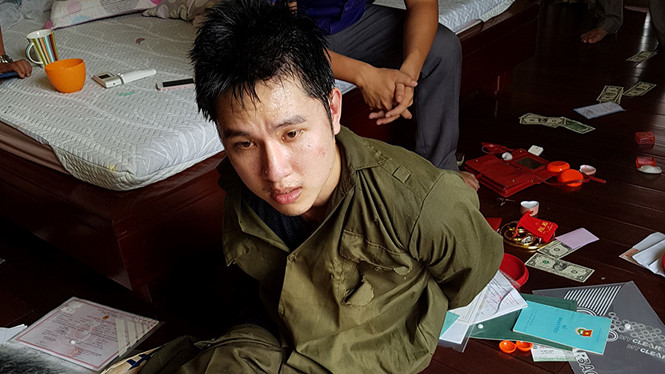 Le Dinh Kien
Kien admitted to police that he was studying an economics master's in China. He returned to Viet Nam and stayed at home during his summer break.
Kien intended to earn VNĐ1 billion ($44,000) to take his mother with him to China after he saw his parents argue with each other.
On the morning of May 9, Kien burgled the villa and used a knife to cut Nguyen Thi Thuan – a domestic helper of the family and then threatened another woman – the owner of the house named Tran Ha Quy and her two daughters.
Quy panicked and gave Kien dozens of million VND and begged for mercy. But Kiên refused, asking Quy to go to the bank to get VNĐ 1 billion to give him. Kien said if Quy told the police, her daughters would be in danger. Quy had no choice, she left her house to go to the bank. Kiên asked Quy to keep in touch with him by video chat.
When Quy got to the bank, she asked the bank staff to allow her to withdraw the money. Before she left, Quy said nothing but gave the staff a note "I'm in danger. Dad, I need your help." The note was enclosed with the mobile phone number of Quy's father.
The bank staff waited until Quy left, then contacted her father.
Interestingly, Quy's father is Major General Tran Cong Truong, of the Ministry of Public Security. Fortunately, Truong was on a business trip in Ha Tinh that day. When he received the phone call, he knew something bad had happened. He immediately went to his daughter's house with two colleagues.
Truong and his colleagues entered the house, before the Major General took Kien's knife and kicked him. Kien fell to the floor and was controlled by the two colleagues.
Kien now faces 7-15 years in prison.
Kien really matches the proverb "He that knows nothing doubts nothing."—VNS