VietNamNet Bridge – HCM City agencies have taken measures to combat floods after heavy rains flooded several areas in the city on Tuesday and Wednesday.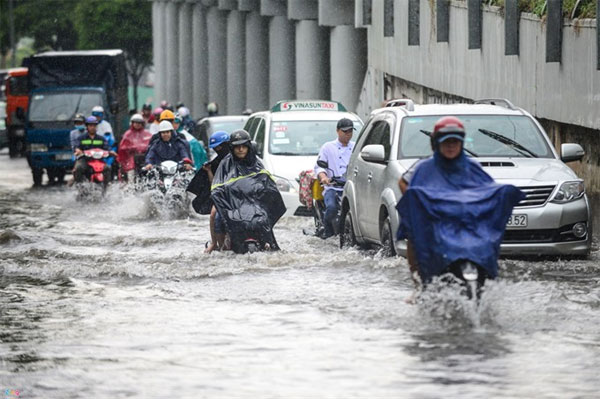 Heavy rains flooded Nguyen Huu Canh Street in HCM City's Binh Thanh District last week. — VNS File Photo
The area around the intersection of To Ngoc Van and Pham Van Dong streets in Thu Duc District was submerged under 30cm flood water, causing traffic problems, according to the HCM City Urban Drainage Company Ltd.
Similarly, a stretch of Le Van Viet Street from Ha Noi Expressway and Le Loi Street in District 9 was under 30cm of water, while La Xuan Oai Street (from Man Thien Street to Street No 379) was 50cm under water. The flooding was so bad that motorbikes could not enter these areas.
The city faces floods at 40 flood-prone spots, and relevant agencies have taken measures to combat floods at 22 spots.
That leaves 18 flood-prone spots at the begining of this year's rainy season, according to the management centre of the HCM City flood-combating programme.
Flood prevention project
To minimise the impact of this year's floods, the HCM City Urban Drainage Company Ltd has taken effort to complete work at eight sub-projects to combat floods at eight spots at Me Coc No 2 in District 8, Luu Huu Phuoc and Luong Dinh Cua streets in District 2; Ton That Hiep and Ho Van Tu streets in District 11; Truong Vinh Ky Street in Tan Phu District; An Duong Vuong Street in District 6; and a spot on Huynh Tan Phat Street in District 7.
In 2018, floods are expected to be controlled on 13 of these streets, while construction of flood-control facilities on National Highway No 1A, National Highway No 13 and Ho Hoc Lam Street will be completed after 2020, according to the company.
The company has repaired flood-control facilities and dredged water drainage systems at the flood-prone spots.
As of March 2018, the HCM City Urban Drainage Co. had dredged nearly 310,000km of flood-control dams, and dredged 3,329km of canals and dykes.
In addition, pumps with a capacity of up to 96,000 cubic metres per hour have been rented to pump floodwaters from Nguyen Huu Canh Street in Binh Thanh District, the management centre said.
Meanwhile, the management centre of the HCM City flood-combating programme is operating 56 pumps, with each having the capacity of 168 to 84,000cu.m of water per hour during rains and high tides.
It is also operating 1,077 tide-control culverts, including Binh Loi, Binh Trieu, Rach Lang, Rach Nhay – Ruot Ngua, and Nhieu Loc – Thi Nghe. 
Eighteen flood-prone spots in HCM City include areas on Huynh Tan Phat and Tan Quy streets (in District 7); Le Duc Tho and Quang Trung streets (in Go Vap District); Bach Dang and Ho Hoc Lam streets; Highway No 13; Kha Van Can Street, a stretch of National Highway in Binh Tan and Binh Chanh districts; Ba Van, Mai Thi Luu, Bau Cat and Truong Cong Dinh streets in Tan Binh District; Nguyen Huu Canh, Dinh Bo Linh, Nguyen Xi, Ung Vanh Khiem, Xo Viet Nghe Tinh, Phan Dang Luu and Bach Dang streets and Van Thanh area in Binh Thanh District; Luong Dinh Cua and Nguyen Duy Trinh areas in District 2; and Do Xuan Hop and Le Van Viet streets and Ha Noi Expressway in District 9.
Source: VNS