VietNamNet Bridge – A tragic inferno swept through Hoa Phat Steel Complex in the province of Hai Duong on Monday, killing three workers and injuring one.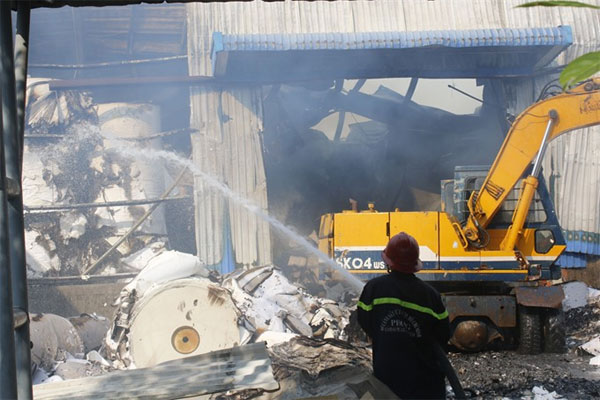 It took firefighters three hours yesterday to successfully extinguish the fire at the Phuoc Sinh Paper Company's factory. – VNA/VNS Photo Hoang Hai
According to representatives of the company, a hot blast furnace slag dropped on bags of refractory materials, triggering the fire.
On Wednesday, another fire blazed at a 1,500sq.m warehouse of Phuoc Sinh Paper Company in Vinh Loc Industrial Zone, Binh Chanh District, HCM City.
The warehouse, which contained 3,000 tonnes of paper along with other goods and equipment, was completely destroyed despite efforts of firefighters to extinguishing the blaze.
According to Pham Van Bang, deputy director of the city's firefighting force, it was a huge challenge to get the blaze under control as the paper rolls were so flammable, creating a favorable condition for fire to uncontrollably blow up.
The main causes of the two accidents, however, are still under investigations.
Fires at manufacturing facilities have increased, in both quantity and damage, reported the Police Department of Fire Prevention, Fighting and Rescue under the Ministry of Public Security (MPS).
Due to the huge collections of flammable materials, goods, machines and gadgets, industrial zones are always under threat of fire. In the event of fire accidents, damages include not only asset loss but also casualties.
Data collected by Department for Economic Zones Management under the Ministry of Investment and Planning indicates that Vietnam has had more than 300 industrial zones existing or under construction, spanning a total area of 96,300ha.
The main hosts of those mega manufacturing facilities are the provinces of Bac Ninh, Vinh Phuc, Hai Phong, Binh Duong and Dong Nai.
According to MPS in 2017 alone fires at industrial zones accounted for 43 per cent of the fire related accidents.
Bac Ninh Province, the largest hub of industrial zones in Vietnam, witnessed 18 fires at manufacturing facilities in just five years, from 2011 to 2015, causing total losses of up to VND447 billion (US$19.6 million).
Industrial zones in HCM City experienced 19 blaze from 2014 to July 2016, leading to damages of more than VND540 billion ($23.7 million). Therein, the Van Thanh Mattress Company at Tan Phu Trung Industrial Zone, Cu Chi District alone incurred the loss of VND85 billion ($3.7 million) in a fire accident that occurred on May 27, 2016, Vietnam News Agency reported.
Besides the tragedies that occurred at Hoa Phat Steel Complex and Phuoc Sinh Paper Company, the first months of 2018 witnessed numerous blaze-related accidents. In the Kangna Textiles Company, in Tien Giang Province on April 29, and in the Hoanh Than Việt Nam Textiles Company in Dong Nai Province on March 17 for example.
Fire not only causes financial losses but also damages the local environment. Moreover, it negatively impacts companies' reputations and ruins local capabilities of attracting investment.
Therefore, it is imperative to improve fire prevention and fighting capabilities in industrial zones.
Better to prevent than cure
Fires at industrial zones are triggered by several causes, mainly due to poor fire prevention and fighting.
Flammable materials are commonly used to construct heat resistant ceilings. Moreover, fire prevention and fighting focuses solely on checking the operation of firefighting equipment, while people's capability of dealing with fire is not ensured. Therefore, when a firefighting force is finally mobilised, a fire usually spreads out widely, obstructing efforts to extinguish it and rescue victims.
It is therefore of paramount importance that awareness is raised, and skills of fire prevention and fighting at industrial zones are improved. It is also important to classify materials and goods to prevent fire from spreading.
Experts recommend that companies construct facilities based on their functions with suitable firefighting systems to ensure normal operations alongside being able to control threats to workers.
On May 4, the Ministry of Information and Communication published a document on workplace safety and fire prevention.
The document is a combination of brochures, ebooks and books with vividly detailed illustrations aiming to equip workers with essential skills in embracing workplace safety as well as preventing fire and other accidents in the workplace.
This month marks the month of action for occupational health and safety under the theme of "Actively preventing and controlling dangerous factors in the workplace to limit occupational accidents and diseases".
Source: VNS