VietNamNet Bridge – The number of people who die of hypertension each year in Vietnam is 10 times higher than the number of victims killed by traffic accidents, a cardiovascular specialist said at a recent workshop.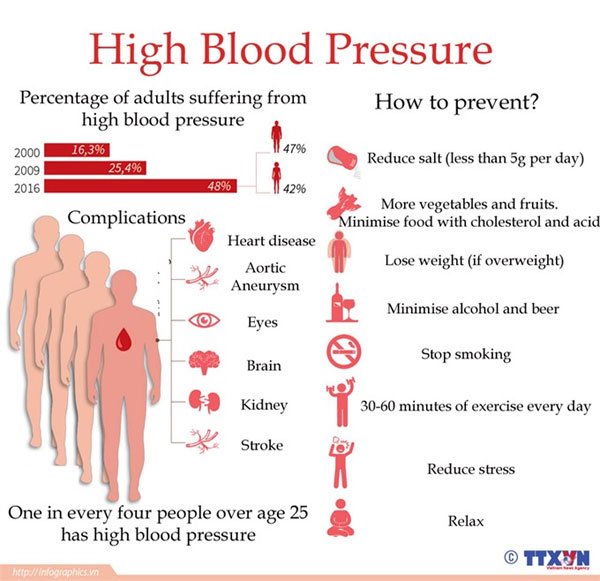 VNA/VNS Infographic. Source: Vietnam Cardiology and Heart Association. - Translated by Khanh Duong
According to Professor Do Doan Loi, former head of National Cardiovascular Institute, nearly 21 million Vietnamese people are suffering from hypertension.
High blood pressure is a leading cause of death in the world, killing 7 million people every year, he said.
The increasing number of hypertension patients has shown in a survey conducted by the National Cardiovascular Institute in eight provinces from 2002 to 2015.
More than 16 per cent of surveyed adults had high blood pressure in 2002, compared with 28.5 per cent in 2008. This figure surged to 47.3 per cent in 2015, which poses great risks, according to Professor Loi.
He warned that besides the consequences of kidney failure and heart attack, high blood pressure also results in stroke, brain haemorrhage and rhexis.
"Many people die in just one or two minutes with unknown reason", he said. "In the past it was believed that the older the person is the higher their blood pressure is. However, there is scientific evidence that blood pressure should be at a normal rate at any age."
Treatment ignored
The professor said that in spite of the high number of affeced people, more than 90 per cent of them cannot find the root cause of the disease.
"Among 10 patients, only three know they had the illness. Only one of these three sought treatment," he said.
To avoid the disease, he advised people to exercise, reduce obesity and better manage their daily diets, especially by eating less salt.
Professor Nguyen Quang Tuan, director of Hanoi's Heart Hospital, said that Vietnam had launched programmes to fight the disease, but it remained common, indicating that prevention had not been effective.
The Health Strategy and Policy Institute has run a project called "Fighting hypertension in Vietnam: solutions from grassroots medical facilities".
Over the period from 2018 to 2022 in sixteen communes in northern Hung Yen Province, the project looked to help people to change lifestyle, follow prescriptions and self-check their blood pressure at home with sphygmomanometers given for free.
The project outcome will serve as a foundation for further recommendations to the health ministry to make changes to policies and develop strategies for a national hypertension management programme.
Source: VNS