VietNamNet Bridge – Saigon Petro Co., Ltd has proposed halting the sale of popular 95-octane gasoline A95 and replacing it with E5 bio fuel – but experts and customers have voiced concerns.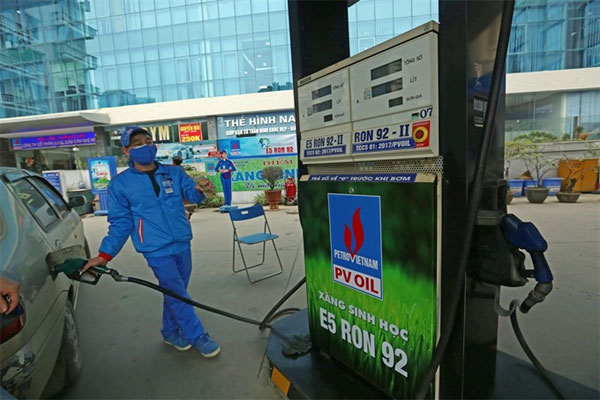 An E5 bio fuel station. Saigon Petro Co., Ltd has proposed halting the sale of popular 95-octane gasoline A95 and replacing it with E5 bio fuel. - VNA/VNS Photo Huy Hung
Early this year, the Government decided to replace RON 92 petrol with E5 bio fuel, a mix of RON 92 (95 per cent) and bio-fuel ethanol (5 per cent) alongside A95 fuel.
However, the E5 fuel has not convinced the public. In the first two months of the year, the eco-friendly fuel's use accounted for 42 per cent of consumption, compared to 58 per cent of more popular A95, according to the Ministry of Industry and Trade.
Many customers claimed that E5 is suitable for low-engine vehicles only. The high-engine ones need A95. Others are gradually getting used to and in favour of E5, but because of its advantages to environment and low price.
The proposal of wiping off the popular A95 from the market is believed to have caused customers to switch to E5. Economic specialist Le Dang Doanh told Tien Phong (Vanguard) newspaper that the A95 fuel elimination needs a thorough consideration.
"Management agencies should not force everyone to use one kind of fuel. They have to explain to the public whether high-engine vehicles are suited with E5 or not," he said.
The elimination and switching to E5 should be done only when large-scale study and surveys on the E5 efficiency have been conducted on different types of vehicles, including new and old ones, he said.
Associate Professor Nguyen Le Ninh, an energy expert, told Thanh Nien (Young People) newspaper that the proposal tends to be commercialised. If the Ministry of Industry and Trade gives the nod to the proposal, it serves enterprises' benefits, and not those of consumers.
The proposal of eliminating A95 fuel counters the market and lacks scientific persuasion, he said.
Associate Professor Huynh Quyen from HCM City's University of Science and Technology told Thanh Nien the success of E5's sale has not been determined yet, which is not enough to make decision of completely replacing A95 with E5.
"The killing of A95 fuel is too hasty. There should be surveys asking vehicle owners, producers, importers to decide whether A95 fuel should be consumed or not," he said.
Dang Ba Long, director of Dien Trang Fertilizer Company, who uses A95 for years told Thanh Nien that so far no car company has publicly advised customers to use E5 for their products. Ministry of Science and Technology has not publicized the list of vehicles suited with E5 and A95.
"Give customers the right to select the type of fuel they want," he said.
Exclusive distribution
The material to produce ethanol (E100 alcohol) which makes up the mixture of E5 bio fuel has increased, for example, one kg of cassava has surged up to VND2,000 (US$0.09) per kg. Meanwhile, Tung Lam Limited Company is currently the only ethanol supplier of the country, raising the fear that the existence of the only kind of fuel (E5) will make the market heavily depend on the company, as a consequence, the ethanol supply will be limited.
At a recent Government meeting, Deputy Minister of Industry and Trade Do Thang Hai said that countries in the world make use of post-harvest plant, tree bark, saw dusk, rice husk to produce ethanol.
"We must invest in technology to make use of waste products, not only food, in order to reduce ethanol price," he said.
He also said the Saigon Petro Co., Ltd's proposal would be studied by the Ministry of Industry and Trade before being submitted to the Prime Minister.
Source: VNS