VietNamNet Bridge – Police on Monday took into custody a man accused of killing four people, including two young children, in a knife attack in the northern province of Cao Bang.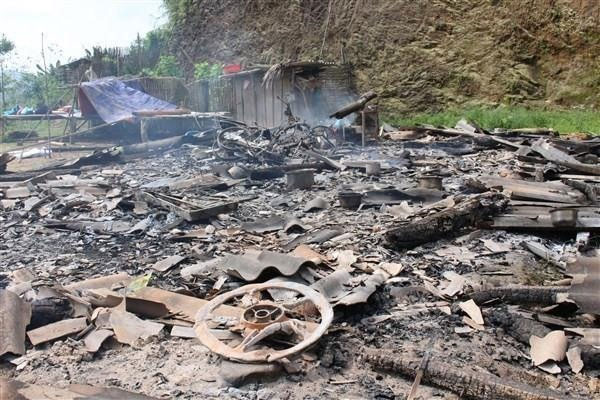 The remains of the house after being burnt by the knife attacker. - VNA/VNS Photo Quoc Dat
Ly Dinh Khanh, 31, a resident of the Na Phac Hamlet in the Thach An District, reportedly broke into the house of one of his neighbours, Trieu Thi Phuong, at around 1am, attempting to rape her while Phuong's husband was away. The knife-wielding Khanh stabbed her when the woman fought back and tried to run next door to her brother-in-law seeking help.
The brother-in-law was not home, but his 96-year-old grandmother Ly Thi Dam, his wife Trieu Thi Coi and his two kids were. Khanh chased Phuong into the house, and attacked the whole family with his knife.
The midnight assault left Phuong along with the six-year-old boy Trieu Van Tien and his two-year-old sister Trieu Nhat Uyen dead while the elderly Dam was seriously injured. She later succumbed to her injuries on the way to the hospital.
Coi, meanwhile, managed to escape the scene and screamed for help. As neighbours woke up and gathered at the house, they sealed the doors with Khanh and his victims inside. He reportedly destroyed the furniture, set the house on fire and burnt it to ashes.
The police arrived shortly and arrested the man. Investigation is ongoing. 
Source: VNS