VietNamNet Bridge – Vietnam is in the final stages of preparing a dossier for re-nomination of World Heritage Site (WHS) Ha Long Bay to include Cat Ba Archipelago for submission to the UN cultural agency UNESCO by September.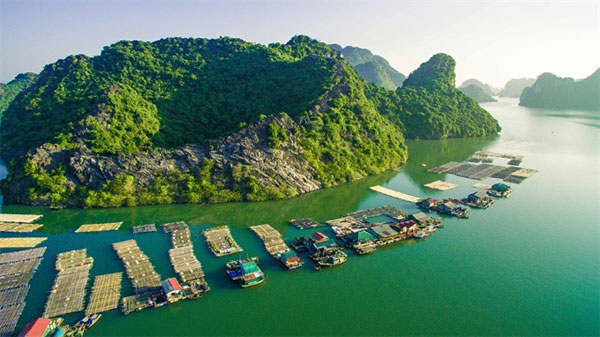 Natural resources: Fish breeding cages in Gia Luan Bay make up nice scenery for the Cat Ba Archipelago. — VNA/VNS Photo Trong Dat
If approved, the expanded heritage site would confirm the country's prestige in natural preservation, and allow it to boost its tourism development.
However, experts have warned more fierce challenges would face the region's people and authorities in the balance between development and conservation.
A Vice Chairman of the National Heritage Council, Dang Van Bai, said Ha Long Bay in the northern province of Quang Ninh with its status as a world heritage site, had brought big potential for tourism but also placed local people and authorities under the strain of conservation and management, of which the most dangerous impact was from increasing environmental pollution.
The experts analysed various issues that if not solved, could lead to unpredictable consequences.
Specifically, Bai highlighted issues arising between limited human management and a surplus of natural exploitation in the region.
Ha Long Bay, with a large area of about 438sq.km, including 788 islands, annually welcomes about more than 6 million visitors from across the country and the world, and has proved to be a hub for socio-economic development.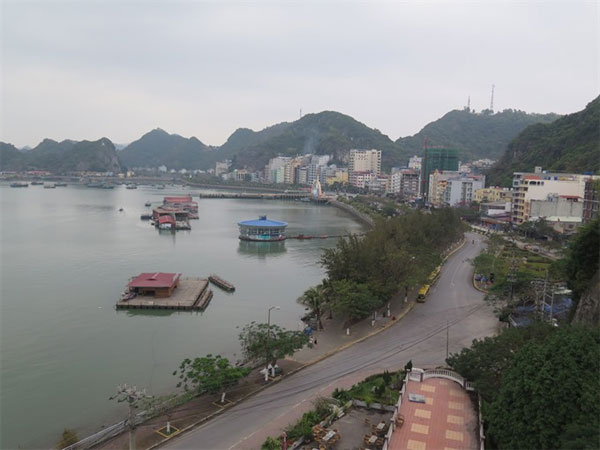 On the water: Part of Cat Ba Town from above. — VNS Photo Mai Khuyen
Under the overall plan for tourism development of Quang Ninh to 2020 and vision to 2030 with a pledge to become an international tourism destination and a leading tourism landmark in the country, Ha Long Bay with majestic natural scenery and Cat Ba National Park in the northern port city of Hai Phong are prioritised for development into national tourism sites.
By 2020, the province aims to welcome 15-16 million tourists, including 7 million foreigners, and rake in VND30-40 trillion (US$1.3-1.7 billion) in revenue. The provincial tourism sector is expected to contribute 14-15 per cent to the regional gross domestic product.
Favoured by nature with a range of stunning landscapes, clear turquoise sea and spectacular limestone islets together with numerous tourism investment projects, the bay should be preserved based on invariable principles of natural environmental protection – the top priority for attracting tourists, according to Bai.
The expert suggested four key objectives in the heritage site's development plan that need to be preserved intact to transfer to future generations.
"They are water environment, natural scenery, fishery sources, and historical and cultural heritages," Bai said.
To reach such goals, a big question was put forward on how to achieve a suitable management model; a Government-led initiative, or co-operation with commitment from the private sector.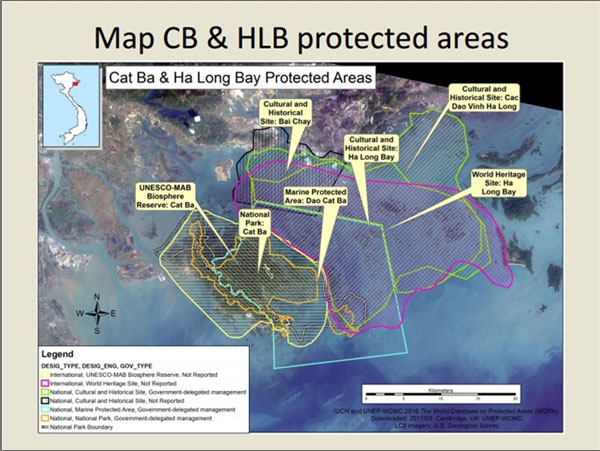 Protection: Map of Cat Ba and Ha Long Bay protected areas. — Photo courtesy of Cat Ba Langur Conservation Project.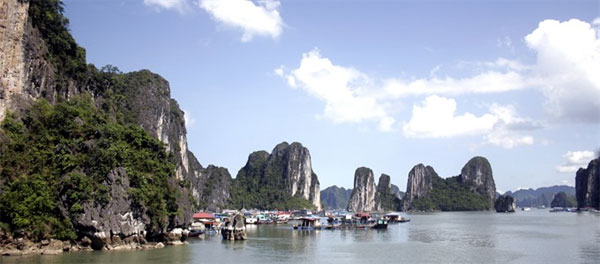 Unspoilt: Cua Van Fishing Village is one of the most attractive destinations for tourists visiting world heritage site Ha Long Bay. — VNS photo Doan Tung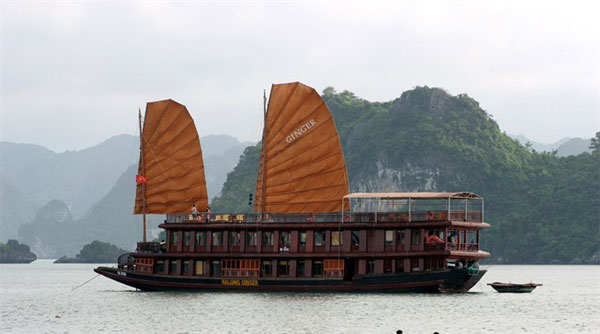 Cruising: Travelling by boat is one of the most popular ways to visit Ha Long Bay. — VNS Photo Doan Tung
According to Bai, in any case, the Ha Long Bay heritage site should be regarded as a unique and attractive tourist destination in Vietnam, thus it should be put under special management.
Bai warned that whether tourism development in the region aimed at satisfying the common needs of all kinds of tourists or only aimed at certain categories of rich and high-standard visitors, Ha Long Bay and Cat Ba Archipelago should be protected at the highest level to keep its world heritage prestige and a World Biosphere Reserve.
This means that, according to Bai, while tourist services providers in Ha Long Bay and its expanded Cat Ba Island area were taking advantage of the region's unique values, they should also work to prevent and control the negative effects from their economic activities, especially from tourism on the ecological environment of the heritage site as well as the local community's living conditions.
He emphasised that UNESCO had been carrying out a series of activities to continuously monitor the implementation of the World Heritage Convention in the local community and its member countries through official and non-official working visits to the sites.
Bài revealed the UN agency regularly sent experts, coordinators and collaborators to world heritage sites to collect data on the real status of the areas.
Meanwhile, Nguyen Hoang Tri, chairman and secretary general of the Viet Nam National Commission for Human and Biosphere, said that the master plan for tourism development in Ha Long Bay and Cat Ba Archipelago including vast construction projects will likely have an impact on the natural environment and bio-diversity system.
In a master plan for sustainable tourism development in Cat Ba Island, Cat Hai District, Hai Phong City, by 2025, with a vision to 2050, up to 40 projects have been launched, including some that have caused concern among conservationists.
The construction of new resorts, hotels, restaurants, golf courses, amusement parks and other components to leverage the tourism potential of local areas would seriously threaten the eco-system and bio-diversity in the area.
Tri said such projects were regarded as tools for tourism development but intentionally or unintentionally would cut through the habitat of many species.
"Noises from machinery operation during construction and the effects of tourism services, particularly water pollution, may destroy various rare species around the islands," the expert said.
"Wild animals in Cat Ba from the smallest species such as insects, frogs and birds will likely have to change their feeding habits, move to others places or alter their predatory behavior, sexual activities and reproductive capacity," Tri said.
The conservationist was particularly concerned about the Cat Ba langur species, the most endangered species in Vietnam.
"Whether Cat Ba Archipelago is recognised as part of the world natural heritage site mostly depends on the way humans behave towards nature there," Tri said.
The Director of the Cat Ba Langur Conservation Project, Neahga Leonard, said the Ha Long-Cat Ba region changed enormously in recent years.
In addition to changes that have already taken place, plans call for downtown Cat Ba Town to be nearly doubled in size, a large artificial beach made, and many more hotels, villas and resorts to be built in some in ecologically important areas such as the Gia Luan Harbour and Xuan Dam Commune.
The artificial beach, the cottages, and the large resort require the removal of some of the only mangrove habitat out of the north portion of the island and one of the few areas where the mangroves are connected to the sea rather than trapped behind dams. 
This is also an area with important intertidal mud-flat habitat. 
Both mangroves and mud-fat areas are critical for maintaining fishing resources and to migratory birds.
"It is important to recognise that there is a need for development and economic growth. But to do so we need to have development working with conservation, not competing against it," said the expert.
It is vital to understand what types of development are appropriate for different areas, to understand what it is that is unique about a region, and what it is that draws tourists to that place, according to Leonard.
The conservationist suggested that unique landscapes and cultures should be preserved intact and that development that changes the nature of those areas and renders them common should be avoided.
"National Parks, Biosphere Reserves, and Word Heritage Sites are not appropriate places for golf courses, roller coasters, casinos, and shopping malls. Those can be found anywhere in the world, there is nothing special or unique about them and placing them in areas set aside as national resources due to their environmental characteristics can destroy the very thing that makes those places special," the German expert said.
At the recent fifth leadership committee meeting of the Ha Long-Cat Ba Alliance in Ha Long City, a report from the Hai Phong Foreign Affairs Department and the Cat Ba Archipelago Natural Heritage Administration Office revealed the re-nomination of the World Heritage Site of Ha Long Bay extended to Cat Ba Archipelago had been completed and now is being consulted by relevant bodies in the city.
After the consultation, the dossier will be transferred to the Ha Long Bay Natural Heritage Management Board and the Ministry of Culture, Sports and Tourism to finalise for official submission to the UNESCO World Heritage Centre by September.
Nguyen Thi Bich Hien, a representative from the International Union for Conservation of Nature (IUCN), said the organisation was actively supporting the re-nomination.
"As planned, in the next six months, IUCN is focusing on three goals: building a political will to act and maintain the Ha Long-Cat Ba Alliance by increasing the number of members, in particular those from the business sector; diversifying budget sources and policy dialogue; raising social awareness of the current environmental situation and trends in Ha Long Bay-Cat Ba Archipelago through improving business participation capacity and communication activities; improving the biodiversity conservation status in the area before and after the re-nomination," Hien said.
Source: VNS