VietNamNet Bridge – Every year around this time, people in the south-central province of Ninh Thuan have the same worry: water.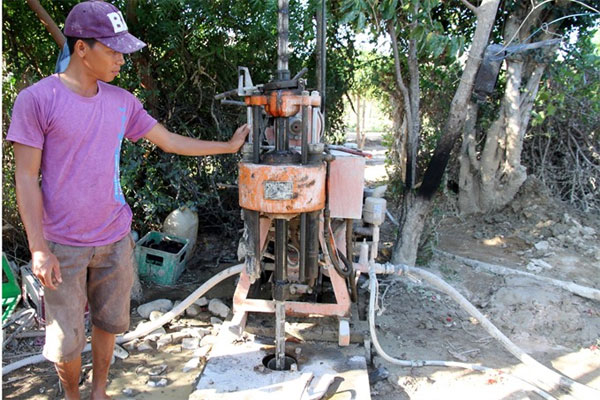 A resident of Thuan Bac District in the central province of Ninh Thuan digs a well to find water in response to the drought. — VNA/VNS Photo Cong Thu
Thousands of households have been facing a shortage of fresh water due to severe drought conditions, mostly in Ninh Hai, Ninh Son, Thuan Bac and Bac Ai districts.
Tran Van Tuan, head of the provincial Irrigation Department, said more than 2,300 households with 9,947 residents across the country would not have access to clean water for daily use if it does not rain in May.
According to the Agriculture and Rural Development Ministry's Irrigation General Department, the total volume of all reservoirs in the province is 125 million cubic metres, nearly 64 per cent of designed capacity.
But many small reservoirs have started to run out of water, such as Phuoc Trung, Phuoc Nhon, Bau Zon, Ta Ranh, Bau Ngu, Suoi Lon, Ong Kinh, CK7 and Ma Tra, Nong Nghiep (Agriculture) newspaper reported.
Remarkably, Ong Kinh, the main reservoir to supply water for the province's high-value plants, such as grapes and apples, has dried out.
The local authorities informed the farmers living around the irrigation systems that they should stop planting summer-autumn crops this year in order to save water for daily activities and for their cattle.
"I am very worried about this dry season. People's lives will be very difficult if the hot weather continues to last like this for two to three months," a local resident in Thuan Bac District told Viet Nam Television.
Not only adults, but also children at kindergartens also have to save water. In order to get a little water, teachers have to buy it from other places, said Nguyen Thi Tuyen, a teacher of Phuoc Khang Kindergarten.
The provincial Department of Agriculture and Rural Development (DARD) said that the cause of the drying out of reservoirs and seasonal dams was that some districts did not coordinate cultivation of crops according to the recommended schedule, resulting in the area of cultivation exceeding the capacity of the water supply.
Another factor is that due to the large amount of rainfall in 2017, people have expanded cultivation in areas where water resources for irrigation are not available when drought happens, leading to a more severe water shortage.
Many families have had to abandon their crops to go to other regions to find jobs.
Some even accepted the high costs of drilling a well in dried-up reservoirs in an effort to find groundwater, but not everyone is lucky enough to succeed.
Ninh Thuan suffered from a historic drought in 2015. So far, 2018 seems to be a repeat of this scenario. More than 800 out of the province's 3,000 sheep have been killed.
DARD said that localities with drought and water shortages were concentrating on regulating use and digging ponds and wells to pump water into dried-up cultivation areas.
However, the dry season in Ninh Thuan would last until September so the drought situation would become even more severe and complicated, DARD added.
The Water Resource Directorate advised provincial authorities to check specific situations to enact suitable measures to cope with disaster.
The province has stopped production on about 1,785ha of rice and vegetables around reservoirs which are nearly out of water. All remaining water will be kept for daily use and for livestock and about 840ha of rice will be converted into other crops.
The province has also focused on digging ponds and wells and dredging water supply systems to prioritise water for perennial plants and cattle.
Source: VNS