Korean charity to gift 10,000 books to HCM City primary schools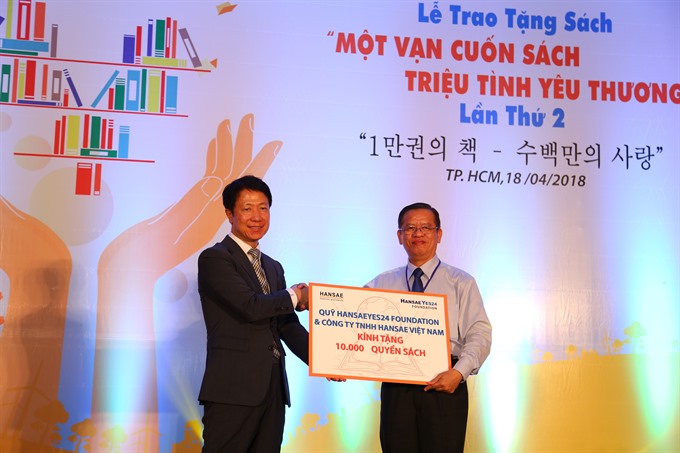 Officials from Korea's HansaeYes24 Foundation and the HCM City Department of Education and Training at a ceremony last Wednesday to start a programme that will gift 10,000 children's books to primary schools in the city's outlying districts. — Photo courtesy of HansaeYes24 Foundation
The HansaeYes24 Foundation will donate 10,000 children's books to primary schools situated in HCM City's outlying districts for them to celebrate Việt Nam Book Day on April 21.
The programme seeks to give young students useful books on various subjects like science, culture, history and children's stories and 100 bookshelves to 100 primary schools at the end of this month.
The foundation said it was committed to carrying out the annual programme, which was launched last year, in the next few years to encourage and develop a reading culture among young students and raise public awareness of the importance of reading for school-aged children.
The foundation was established in 2014 by the South Korea-based Hansae Co. Ltd.
Hung Kings' death anniversary observed in Czech Republic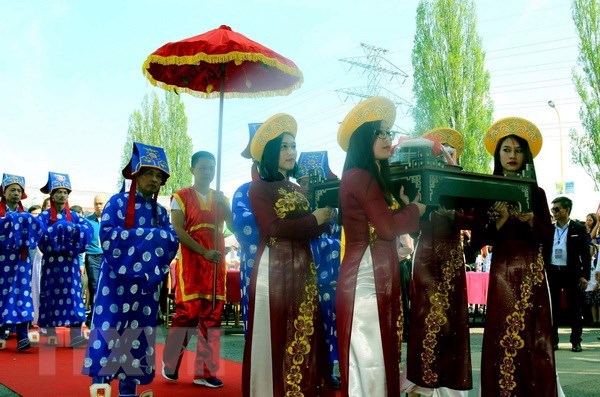 Offerings presented to Hung Kings 
More than 1,000 overseas Vietnamese living the Czech Republic and other European nations were brought together at a ceremony in Prague on April 22 to celebrate the death anniversary of Hung Kings, the legendary founders of the Vietnamese nation.
The event, the seventh of its kind, featured 20 exhibition pavilions set up by Vietnamese people associations and businesses across Czech localities.
Visitors could enjoy traditional folk songs like Quan ho Bac Binh – which were inscribed in 2009 on the Representative List of the Intangible Cultural Heritage of Humanity, and Then singing – the quintessence of ethnic culture in Vietnam's northern province of Thai Nguyen.
They were able to taste Vietnamese special dishes and partake in a 'chung' cake wrapping contest.
A photo exhibition highlighting Vietnam's sovereignty over seas and islands was held as part of the event.
Worshipping rituals were carried out to demonstrate the nation's solidarity and tradition of paying tribute to ancestors. 
Vice President of the Vietnam Fatherland Front Central Committee Nguyen Huu Dung said the success of the event was attributed to the presence of overseas Vietnamese from nearly 20 European nations. 
Meanwhile historian Duong Trung Quoc hailed the active participation of Vietnamese expatriates in the Czech Republic to strengthen national solidarity and commemorate the Hung Kings.
Legend has it that the Hung Kings ruled Vietnam from 2879 BC until 258 BC and are considered the founders of the nation. To honour the Kings, the tenth day of the third lunar month serves as the national commemorative anniversary for them. 
The worshipping rituals of the Hung Kings was recognised as UNESCO Intangible Cultural Heritage of Humanity in 2012.
BIDV donates 1 billion VND to Hue Festival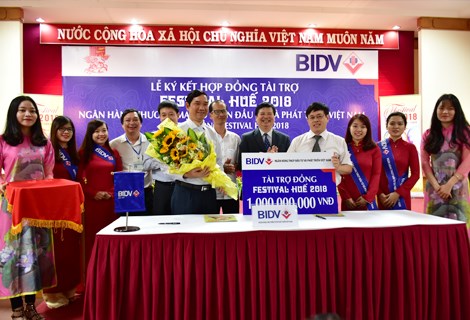 The signing ceremony of the sponsorship (Source: http://tintuc.hues.vn)
The Bank for Investment and Development (BIDV) will donate 1 billion VND (43,700 USD) to activities within the framework of the Hue Festival 2018, becoming the bronze sponsor for the event.
The signing of the sponsorship took place in Hue city, the central province of Thua Thien - Hue on April 23.
In recent times, BIDV's branch in Hue has funded many social programmes in the locality. Notably, it provided two ambulances worth 2.5 billion VND (109,250 USD) for the Hue Central Hospital and the Hue University of Medicine and Pharmacy.
According to Nguyen Dung, Vice Chairman of the provincial People's Committee and also head of the Hue Festival organising board, the 10th Hue Festival themed "Cultural heritage with integration and development, Hue - one destination, five world heritages" will take place from April 27-May 2. 
A wide range of activities will be held as part of the event including a Buddhism cultural programme, a national festival of "Hat Van" or "Chau Van" (a traditional art form that combines singing and dancing), a music show featuring songs of late musician Trinh Cong Son, a scientific festival, an international trade fair, a cuisine fair and a poem festival.
The festival aims to enhance cultural exchange and international cooperation, promote Vietnamese and local cultural identities in particular to international friends, thus fostering tourism and service development towards stronger socio-economic development of the locality. 
The event has so far attracted 21 international art troupes from 20 countries worldwide, including France, the Republic of Korea, the UK, Mongolia, Japan, Thailand, Russia, Belgium and China.
Hue, which was the imperial capital of Vietnam for hundreds of years, is home to five heritages recognised by UNESCO, namely the Hue ancient citadel relic complex – a World Cultural Heritage site; Nha Nhac (Hue royal court music) - an intangible cultural heritage item; Nguyen Dynasty's wood blocks – a documentary heritage item; Nguyen Dynasty's Chau ban (royal administrative documents) – part of the Asia-Pacific Register of UNESCO's Memory of the World Programme; and literature on Hue royal architecture - a documentary heritage.-
Sông Lam Nghệ An must win today for next berth
Sông Lam Nghệ An will put their trust on young players in the Group H match against Johor Darul Ta'zim at the Asian Football Confederation (AFC) Cup in Malaysia today.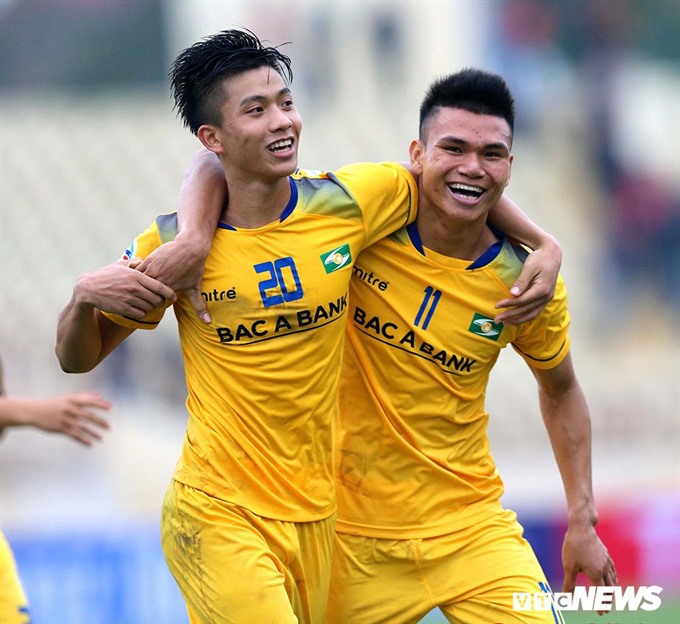 Phan Văn Đức (left) is one of Sông Lam Nghệ An's young players to face Johor Darul Ta'zim in AFC Cup match today. — Photo VTC News
Sixteen players will represent Việt Nam in the match in Johor Bahru. Veteran players such as Ngọc Toàn, Quế Ngọc Hải, Thế Cường and goalkeeper Nguyên Mạnh will not compete due to injuries. Foreign striker Olaha Michael is rested at home while national U23 star Phạm Xuân Mạnh has been sidelined because of two yellow cards.
This leaves young players such as Hồ Tuấn Tài and Phan Văn Đức to take charge.
In Group H, Sông Lam Nghệ An rank second with as many as 10 points as leader Persija Jakarta of Indonesia who have better goal difference.
To ensure their berth in the knockout stage, Sông Lam Nghệ An must win today against Johor Darul Ta'zim.
"We do not have key players for the match, but Sông Lam Nghệ An will give their best," coach assistant Nguyễn Huy Hoàng said at a press briefing yesterday.
The former V.League champions have not shown impressive performance in the local leagues. Although they have won four matches in a row, their scoring skills and defence are not up to the mark. In the last six matches, they netted seven times while also missing seven goals.
In the AFC Cup, Sông Lam Nghệ An made 54 finishes, but only 22 were on target of which six converted into goals.
On the home front, Johor Darul Ta'zim are in third place and still have the chance to go to the next round as the best runner-up if they beat the Vietnamese team with at least four goals or more.
Forward Syafiq Ahmad said his team would fight till the end to ensure victory.
 "This is one of our main games this season, and we are eager to put up a resounding performance to qualify for the knockout stage," Ahmad was quoted by FOX Sports Asia.
"We have been training hard for this. We haven't had much rest after the Pahang game, but our mental strength will overcome tired legs," he said.
He acknowledged that Sông Lam Nghệ An were a physical side with tall and well-built players. But Johor Darul Ta'zim will not be intimidated, he said, adding that the key was to clinch the game from the start and score an early goal.
In their local tournaments, Johor Darul Ta'zim were disqualified from the FA Cup but are on top of the Super League.
In the latter event, they recorded two wins, two losses and one draw recently.
In the AFC Cup's first-leg match of the two teams on February 28, Sông Lam Nghệ An won 2-0 with goals by Đức and Mạnh.
The match against Johor Darul Ta'zim will start from 7pm Hà Nội time and will be aired live on Fox Sports.
Vietnam participates in culinary festival Delicanto in Berlin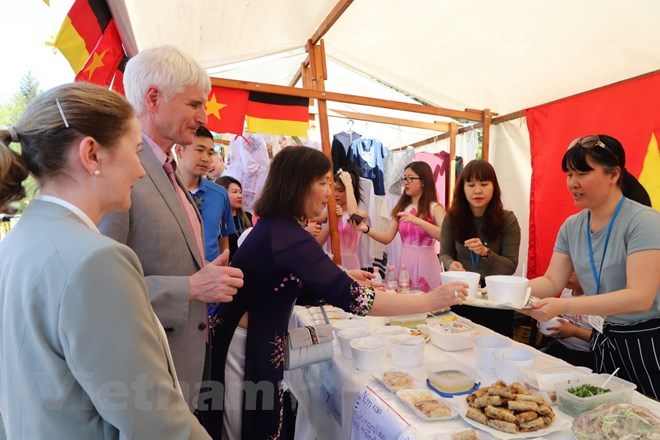 Johannes Selle, Member of the German Parliament, is about to enjoy Vietnam's "pho" during the international culinary festival "Delicanto – Here the world eats" in Berlin, Germany, from April 21 - 22. 
The Embassy of Vietnam was among 35 embassies taking part in the international culinary festival "Delicanto – Here the world eats" at the FEZ Centre in Berlin, Germany from April 21 - 22.

Welcoming representatives from participating diplomatic missions from 35 countries to the event, Johannes Selle, Member of the German Parliament, said Delicanto is a good opportunity to connect different cultures all over the world. It also provides a platform for the countries to promote their images as well as distinctive culinary cultures to international friends, he noted.

He added that in this event, embassies will meet and exchange information to boost their solidarity and deepen mutual understanding on other countries' culture, food and people.

Visitors to the festival acquainted with a variety of traditional foods and drinks as well as folk music and dances of many cultures.

"Delicanto – Here the world eats" is held biennially by the non-profit institution City Foundation Berlin and patronised by Member of the German Parliament Johannes Selle. It gathers a number of diplomatic missions in Berlin who take the chance to showcase their culinary specialties and culture.
Vietnam's practical activities in response to Earth Day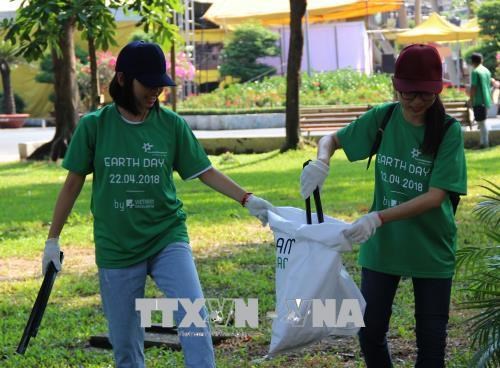 Volunteers collected waste at public places in HCM City on April 22 in response to Earth Day 2018. 
Nearly 2,000 volunteers collected waste at public places in Ho Chi Minh City on April 22 in response to Earth Day 2018 which has the theme of "End Plastic Pollution."
The campaign was jointly launched by the organisation "Vietnam Clean and Green" and HCM City's Youth Federation. 
A survey conducted by the HCM City Department of Natural Resources and Environment found that the volume of plastic trash in the city is just behind food waste, with an estimated 250,000 tonnes of plastic waste discarded each year. 
According to HCM City's waste recycling fund, if 48,000 tonnes of plastic waste, which are buried in the southern metropolis each year, are recycled, the city can save about 15 billion VND (660,000) annually. 
The same day, more than 500 representatives from businesses, organisations, clubs and volunteer groups and locals in the central city of Da Nang also joined hands to clean up beaches, classify rubbish and organise a range of activities aiming to raise public awareness of plastic pollution as well as environmental protection. 
Earth Day 2018 was also observed in other localities across the country, including the capital city of Hanoi, the central province of Thua Thien-Hue and the island district of Phu Quoc in the Mekong Delta province of Kien Giang, drawing the participation of more than 4,000 volunteers. 
According to earthday.org, 8.3 billion metric tonnes of plastic has been produced since plastic was introduced in the 1950s. The amount of plastic produced in a year is roughly the same as the entire weight of humanity. 91 percent of plastic waste isn't recycled. And since most plastics don't biodegrade in any meaningful sense, all that plastic waste could exist for hundreds or even thousands of years.
Of note, 8 million metric tonnes of plastic winds up in the oceans each year. That's enough trash to cover every foot of coastline around the world with five full trash bags of plastic compounding every year.
A recent international survey revealed that Vietnam is one of the five countries in the world discharging the most plastic waste, with about 1.8 million tonnes dumped each year.
The Military Institute of Traditional Medicine in conjunction with the Border Guard Command of the northern mountainous province of Lang Son provided free medical consultations and medicines for needy people in Xuat Le and Mau Son communes of Cao Loc district. 
Institute provides free medicines for poor people in Lang Son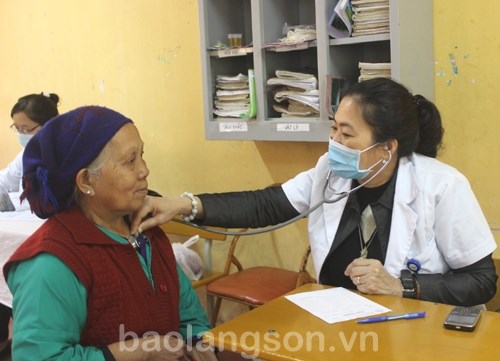 The programme benefited nearly 700 people who are social policy beneficiaries, revolution contributors, poor people and ethnic minorities, with a total fund of 112 million VND (4,900 USD). 
More than 30 doctors and nurses of the institute participated in the programme. 
Besides, the institute also presented five gift packages, including medicines and money, to families of social policies in extremely difficult circumstances, along with medical equipment worth nearly 50 million VND (2,200 USD) to the health centre of Xuat Le commune and the medical department of the Lang Son Border Guard Command. 
This is one of the activities marking the 40th founding anniversary of the institute (July 4), contributing to social welfare and public health care in border areas.
Students get scholarships from Dong Hanh Foundation in Singapore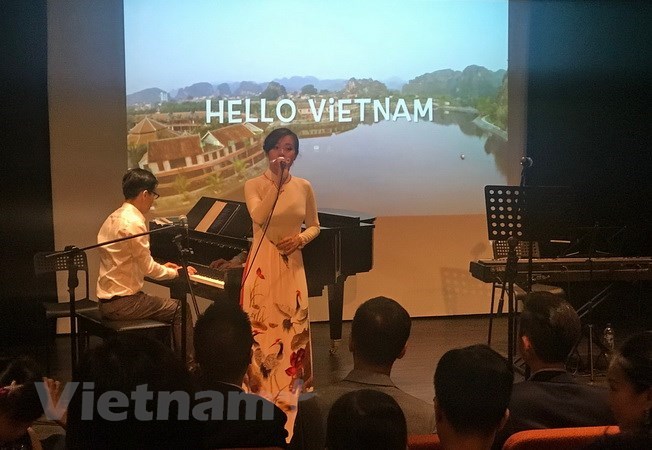 A performance act at the gala night 
Dong Hanh Foundation in Singapore hosted a gala night in Singapore on April 21 to raise funds for disadvantaged Vietnamese students in the home country. 
As many as 10,350 SGD donated at the event will be used as scholarships, worth 4 million VND (175 USD) each, which will be granted to needy students at the University of Economics and Law in Ho Chi Minh City and University of Engineering and Technology under the Vietnam National University, Hanoi, in 2018.  
Speaking at the gala, Dinh Hoang Linh, Minister-Counsellor at the Vietnamese Embassy in Singapore, said the embassy supports the development of the foundation, which he considered a source of encouragement for needy Vietnamese students and demonstration of overseas Vietnamese's assistance to fellow countrymen.
Nguyen Duy Anh, President of the Dong Hang Foundation in Singapore, said the organisation not only offers financial aid but also helps students open English clubs and other clubs to overcome difficulties and learn from each other.
He unveiled the fund's goals for 2018, which included offering scholarships for students of one more Vietnamese university, besides providing 40 scholarships for Vietnamese students annually, and connecting with English centres in Vietnam for their scholarships.
The Dong Hanh Foundation in Singapore has been granting scholarships to needy students since 2014, with 146 scholarships worth 28,000 SGD (21,271 USD) in total. 
In 2017 alone, the foundation granted 42 scholarships for poor students at the University of Economics and Law in Ho Chi Minh City and the University of Engineering and Technology in Hanoi.
Culture Festival of Vietnamese Ethnic Groups held in HCM City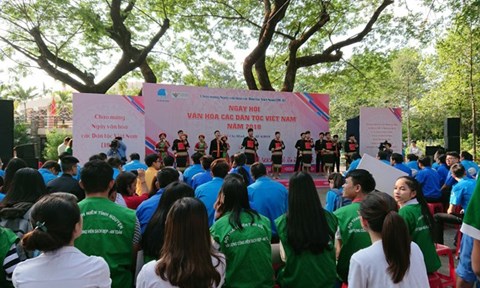 An art performance at Culture Festival of Vietnamese Ethnic Groups (Source: congan.com.vn)
A Culture Festival of Vietnamese Ethnic Groups took place at Hoang Van Thu Park in Ho Chi Minh City on April 22, aiming to honour the groups' cultural values.
Ho Tan Dat, Vice President of the Ho Chi Minh City Youth Federation – the festival's organizer - said that the event looked to inspire local youths' national pride and responsibility for maintaining and promoting the cultural identity and strengthening the national great unity.
This was also a chance for young people of the ethnic groups to join in exchanges, he added.
The event attracted the participation of nearly 1,000 young people of different ethnic groups who are living and learning in the city in art performances and an online contest on history and cultures of Vietnam's ethnic groups.
An exhibition showcasing traditional music instruments was held within the framework of the festival, together with folk games and a cuisine festival.
On this occasion, the Ho Chi Minh City Youth Federation complimented 40 outstanding ethnic minority youths, and presented scholarships worth 2 million VND (88 USD) each to 33 poor ethnic minority students with good study achievements.
Vietnamese in Europe discuss ways to preserve national culture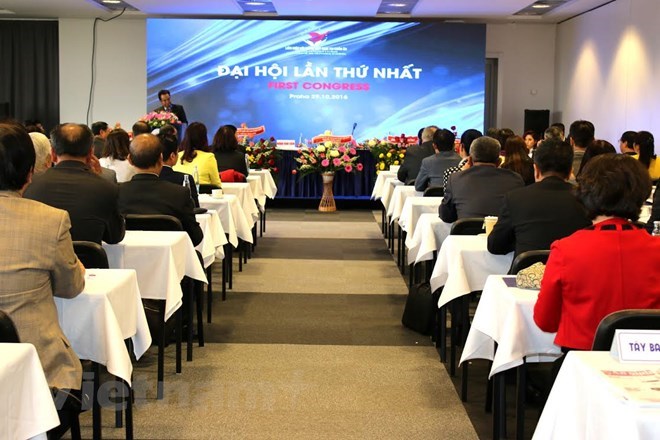 The Union of Vietnamese Associations in Europe established at the first congress in 2016 
The Union of Vietnamese Associations in Europe on April 21 held its third conference in Prague, the Czech Republic, with the participation of representatives from the Vietnamese communities in 14 European countries.
The union's president Hoang Dinh Thang delivered a report reviewing the union's activities since the beginning of 2017 and planned activities for 2018 and 2019.
He stressed the three petitions sent to the Vietnam Fatherland Front (VFF), the State Committee for Overseas Vietnamese Affairs and Vietnamese ministries and sectors involved, which mentioned the official recognition of the union, the coordination between the union and ministries and sectors in organising cultural activities in Europe, and policies to encourage younger generations to participate in social works to build a united, integrated and developed Vietnamese community.
At the conference, the delegates discussed how to attract more youths to join the union's activities and measures to preserve national culture, including Vietnamese language among younger generations.
Vice President of the VFF Central Committee Nguyen Huu Dung said that the petition for the official recognition of the union is reasonable.
He promised to report the petition to the VFF Central Committee's Standing Board and relevant agencies for further consideration.
The union, set up in Prague in October 2016 with 16 members, has gained initial achievements in gathering and exchange experiences between the Vietnamese communities in Europe.
Currently, the union has 17 members and plans to expand the network to all European countries.
Vietnam joins ASEAN bazaar in Argentina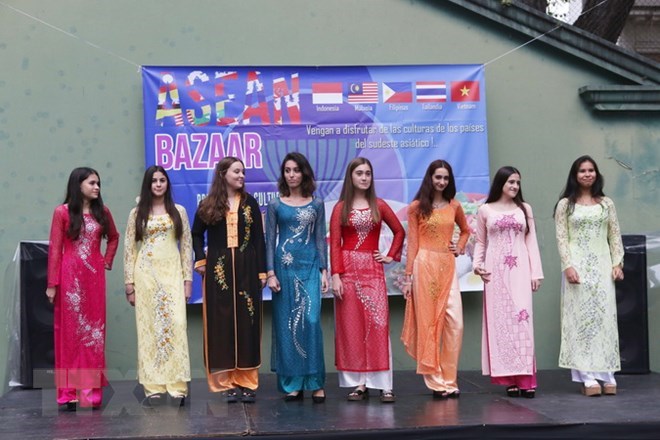 Vietnamese ao dai presented at the bazaar 
The Vietnamese Embassy in Argentina, in collaboration with diplomatic agencies of Malaysia, Thailand, the Philippines and Indonesia, organised an annual bazaar on April 21  to promote cultural exchanges and introduce the nations' images and people.
The bazaar featured a wide range of traditional handicrafts, costumes, food and musical performances of the ASEAN countries.
Vietnam brought to the fair lacquer paintings, silk products, conical hats, and local cuisine, with its Wushu performance and an "ao dai" (Vietnamese traditional dress) fashion show receiving the applause from visitors.
Speaking at the opening ceremony, Malaysian Ambassador to Argentina Mod Khalid Abbasi Razak said this was an opportunity for the participating countries to introduce its own images and cultural identities. 
He stressed that solidarity and cooperation within the Association of Southeast Asian Nations (ASEAN) as reflected through the organisation of such annual event.
Argentine Deputy Foreign Minister Guillermo Raimundi thanked the ASEAN nations for their initiative to hold the annual bazaar, which has helped Argentinians learn more about the region's history, culture, people and landscapes. 
He said the fair demonstrates close collaboration and friendship between Argentina and the bloc.
The ASEAN now groups 10 member nations, namely Brunei, Cambodia, Indonesia, Laos, Malaysia, Myanmar, the Philippines, Singapore, Thailand and Vietnam.
Hanoi studies Canada's experiences in smart city development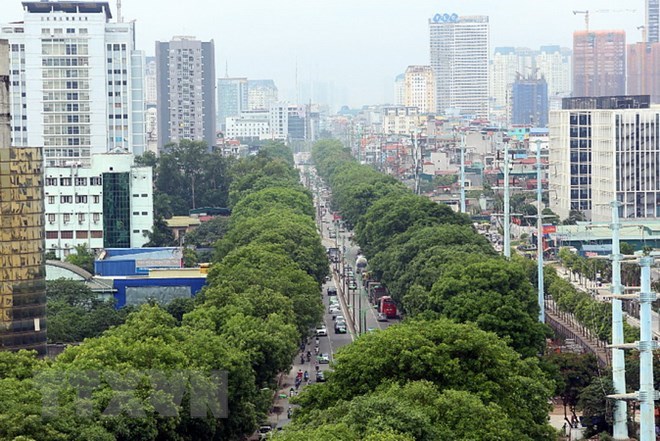 A delegation of the Hanoi People's Committee visited Canada from April 18-20 to learn about the operation of people-elected agencies and development of smart cities in the North American country. 
The Hanoi officials had various activities in Ottawa to promote the friendship between the two capital cities in particular and Vietnam and Canada in general, including the sharing of working experiences of people-elected agencies, the organisational model of urban administration, investment promotion and public service supply.
While in Toronto city, they sought to step up bilateral cooperation in potential areas such as high-tech agriculture, financial investment, education-training, trade, services, renewable energy, urban infrastructure and tourism. 
The two sides also shared experiences in urban administration organisation and smart city development.
Vice Chairman of the municipal People's Committee Nguyen Ngoc Tuan, who led the delegation, had a meeting with Allan O'Dette, Chief Investment Officer of Ontario province. 
Tuan told his host that Hanoi always wishes to enhance cooperation with Ontario, one of the biggest provinces of Canada, with substantial potential for development. 
The official expressed his hope that the two sides will deepen the bilateral collaboration practically and concretely on the basis of commitments made during the visit to Hanoi last year by Ontario Governor Kathleen Wynne, as well as demand and potential of both sides. 
Hanoi will create the best possible conditions for Canadian investors to run long-term, stable business in the city, he pledged. 
For his part, Allan noted his optimistic views on prospects to increase investment ties between the two sides from the present 3 billion USD. 
Allan, who accompanied Governor Kathleen Wynne to Hanoi and Ho Chi Min last year, said that the exchange of delegations will create a foundation to beef up bilateral trade ties and cooperation in such major areas like infrastructure, IT, agriculture and production. 
Statistics show that in 2017, Hanoi attracted five Canadian foreign direct investment (FDI) projects, raising the accumulated FDI from the country to 29.2 million USD. 
Export turnover between Hanoi and Canada in the first nine months of 2017 reached some 267 million USD, nearly doubling the average of the previous years. 
Hanoi aims to attract more Canadian investments in development investment, health care, high-tech agriculture and finance-banking, while intensifying people-to-people and cultural exchanges and trade promotion.
Nam Dinh has four more new-style rural districts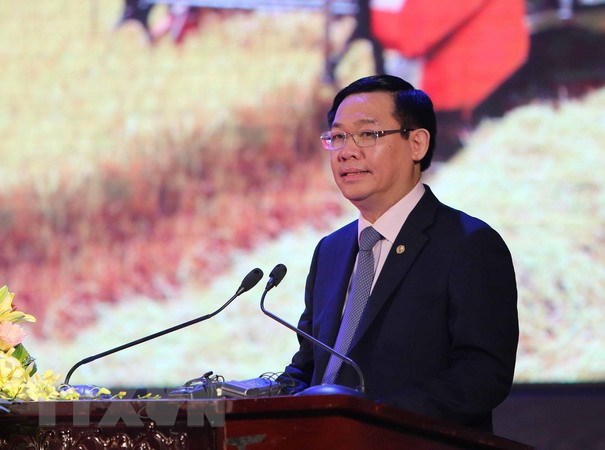 Deputy Prime Minister Vuong Dinh Hue addresses the ceremony 
Deputy Prime Minister Vuong Dinh Hue, head of the Steering Committee for National Target Programmes, has handed over the Prime Minister's decisions recognising four districts of the northern provinces of Nam Dinh as new-style rural areas.
The recognition of the four localities – Nghia Hung, Xuan Truong, Truc Ninh and Giao Thuy – has raised total new-style districts and cities of Nam Dinh to five out of total 10. Hai Hau was the first one receiving the title in 2015.
At the same time, the province currently has 200 out of 209 communes and towns recognised as new-style rural areas.
Addressing the ceremony to hand over the certificates on April 21 in Nam Dinh city, Deputy PM Hue suggested that Nam Dinh province should focus on building socio-economic infrastructure to make it more modern and convenient.
The province should also pay more attention to boost production by strengthening the application of advanced technology in agriculture, while protecting the environment.
The locality is striving to become a new-style rural province in 2020. To this end, the province will speed up the project to restructure its agricultural sector to enhance added value and sustainable development of the sector, while building high technology agriculture models.
Along with State budget, the province will also mobilise social resources to develop its socio-economic infrastructure to improve locals' living conditions.
In the 2011-2017 period, Nam Dinh spent nearly 16.5 trillion VND in new-style rural building programme, of which only 27.7 percent came from the State budget.
Locals donated nearly 3,000 hectares of farming land and over 200 hectares of building land for road and irrigation expansion as well as public works.
The national target programme on building new-style rural areas, initiated by the Vietnamese Government in 2010, sets 19 criteria on socio-economic development, politics, and defence, aiming to boost rural regions of Vietnam.     
The list of criteria includes the development of infrastructure, the improvement of production capacity, environmental protection, and the promotion of cultural values.      
According to the Ministry of Agriculture and Rural Development, so far, Vietnam has 2,853 recognised new-style rural communes, accounting for 31.96 percent of total communes. Of which, 295 communes fulfilled all criteria of the programme's new standards for the 2016-2020 period.
Pho Hien folk cultural festival kicks off in Hung Yen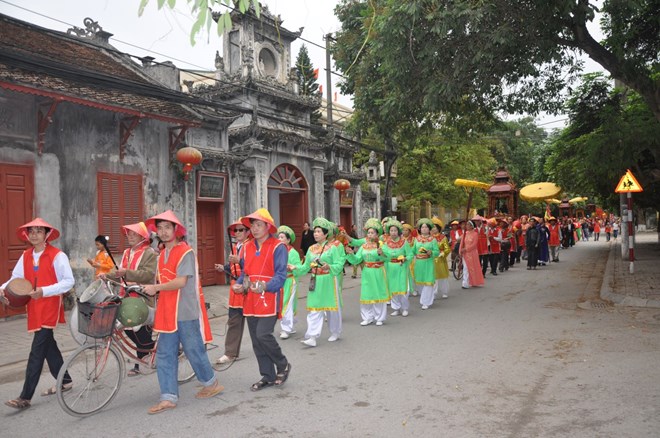 A palanquin procession in the Pho Hien Folk Cultural Festival (Source: thanhphohungyen.gov.vn)
The Pho Hien Folk Cultural Festival opened in the northern province of Hung Yen on April 21.
The festival is the largest cultural event in the province this year, in response to the 2018 National Tourism Year Ha Long - Quang Ninh.
During the festival, a series of activities will be organised, including traditional rituals, lion dance festivals, a palanquin procession, folk games, singing contests and an exhibition. 
The cultural activities will re-enact images of Pho Hien in the 16th and 17th centuries, where it was once a bustling commercial port on the Red River. They will be organised mainly in the Pho Hien relic complex, including Hien communal house, Mau, Tran and May temples, Xich Dang literature temple and Chuong pagoda, among others.
An area introducing local specialties such as longan, lotus seed, honey, frankincense and silver jewellery, will be set up at the event.
Pho Hien was second only to the Imperial capital city of Thang Long as a trading point in Vietnam. It was well-known among foreign traders, especially those from the Netherlands, Japan, Spain, Portugal and China.
The Pho Hien Folk Cultural Festival takes place in the Pho Hien relic complex in the third lunar month every year. It features traditional rituals, games and art performances, and culinary art, bringing alive the history, spirituality and culture of the land.
It allows tourists to get insight into the culture and history of the ancient river port. The event also helps promote the locality's potential in tourism and service development and serves as an attractive spiritual and religious tourism destination.
Hung Yen boasts more than 1,200 relic sites and more than 400 local traditional festivals.
It is also the homeland of a number of national heroes and cultural celebrities, such as King Trieu Viet Vuong, who reigned from 548-571; Pham Ngu Lao, a general in the Tran dynasty in the 14th century; Hoang Hoa Tham, who led the Yen The rebellion against France in between 1884-1913; and late General Secretary of the Communist Party of Vietnam, Nguyen Van Linh, who initiated the nation's successful reform period.
Bus library launched in HCM City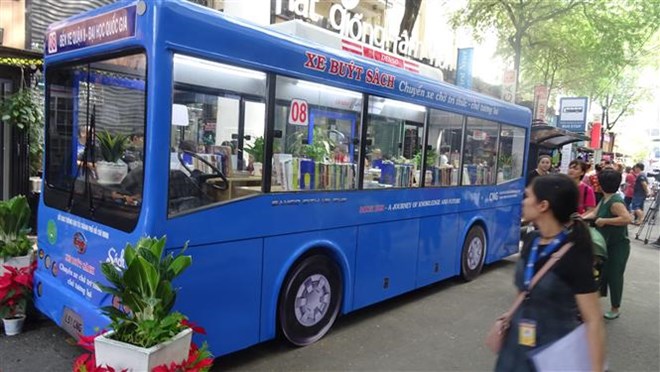 The book bus was launched in Ho Chi Minh City on April 21 
A "book bus", a mobile book service, was launched in Ho Chi Minh City on April 21 to mark Vietnam's 43rd National Reunification Day (April 30) and the fifth Book Day (April 21).
The bus, with the "A journey of knowledge and future" slogan, runs between District 8's station and Thu Duc University Village, a route familiar to many local students. It serves as a mini library with wooden shelves, tables and chairs for passengers.
Along with the bus, the "Knowledge bus stop" and the city's first Electronic Information Display at bus stop were launched, which provide information on books and activities of the Book Street and the city's bus lines. 
Speaking at the event, Deputy Director of the municipal Transport Department Vo Khanh Hung said the department will build an area in the Book Street to raise children's awareness about traffic safety.
Hoang Sa, Truong Sa documents come to rural people in Hai Duong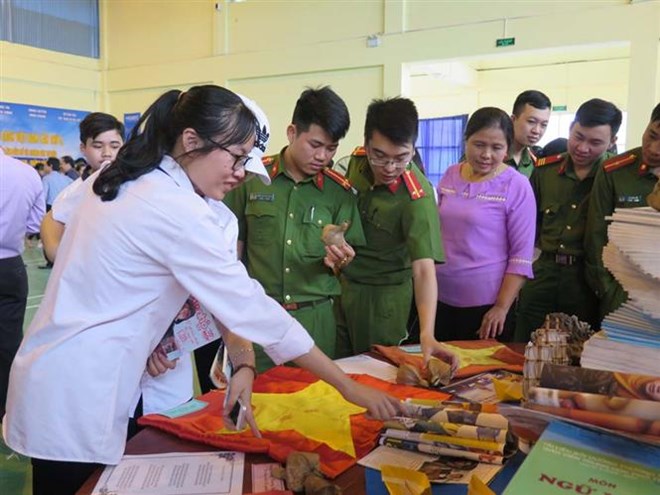 The fifth Vietnam Book Day and the exhibition on ancient maps and documents on Hoang Sa and Truong Sa islands open in Hai Duong on April 20. 
More than 2,000 book titles and hundreds of precious photos and documents on Vietnam's seas and islands are on display at the fifth Vietnam Book Day and an exhibition on the Hoang Sa (Paracel) and Truong Sa (Spratly) archipelagos in the northern province of Hai Duong.
The fifth Vietnam Book Day and the exhibition of ancient maps and documents providing historical and legal evidence to affirm Vietnam's sovereignty over Hoang Sa and Truong Sa Islands opened at Ninh Giang High School in Ninh Giang, a rural district of Hai Duong, on April 20.
The exhibits include ancient documents in Nom (Vietnamese ideographic script) from Le to Nguyen dynasties (about 15th to 19th century) and the royal records of Nguyen Dynasty (1802-1945), which showed Vietnam early established and exercised sovereignty over Hoang Sa and Truong Sa.
There are also photos of Hoang Sa and Truong Sa archipelagos under the times of French domination and the Republic of Vietnam as well as the daily life of soldiers and people in the islands today.
The exhibition also showcased photos and documents on Hai Duong's efforts to protect the national sea and island sovereignty.
The book day and exhibition will open to public until April 24 with free admission and tour guides. They are held by the provincial Departments of Information and Communications and Culture, Sports and Tourism in partnership with Ninh Giang district.
In 2014, the Prime Minister decided to take April 21 as Vietnam Book Day in connection with the debut of the Book "Duong Kach Menh" (The Revolutionary Path) by President Ho Chi Minh, the first work written in Vietnamese and printed by Vietnamese workers (April 21, 1927).
On April 18, the national-scale fifth Vietnam Book Day was launched at Thong Nhat Park in Hanoi, featuring over 100 pavilions of nearly 80 publishers nationwide and showcasing 50,000 book titles of various genres.
Singaporean company helps Vietnam with rare disease treatment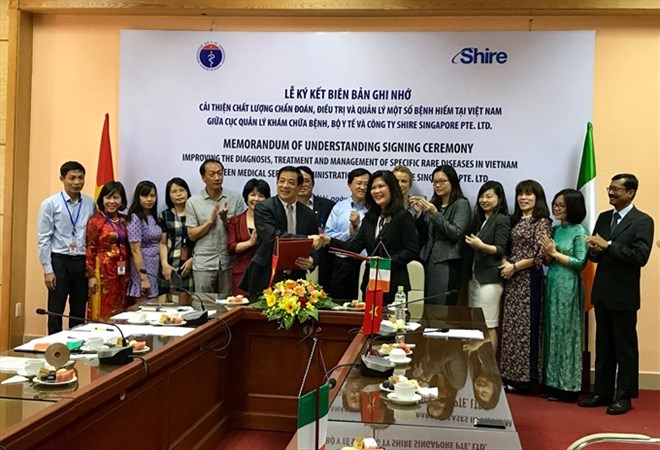 At the signing ceremony 
Shire Singapore PTE. Ltd. (Shire) will help Vietnam improve the quality of diagnosis, treatment and management of a number of rare diseases in the country for the 2018-2023 period. 
A memorandum of understanding (MoU) to this effect was signed by representatives of the Medical Services Administration under Vietnam's Health Ministry and Shire Vietnam in Hanoi on April 20.
Under the MoU, the Singaporean company will also support Vietnam in improving professional knowledge, implementing policies on rare disease management and ensuring policies on rare medicine supply in the country, said Luong Ngoc Khue, Director of the Medical Services Administration. 
During the first stage, the two sides will work together to develop a national guideline to improve the quality of diagnosis, treatment and management of Haemophilia and Primary Immune Deficiency (PID) as well as to support policy development on rare diseases in Vietnam. 
Linda Seah, head of Southeast Asia Cluster at Shire, said Haemophilia and PID are complex rare disorders that require continuous medical research and innovative approach to ensure positive outcome for patients. 
The MoU is the first of its kind for Shire in Asia Pacific, aiming not only to shorten the time for diagnosis but also ensure that patients are well supported with adequate access to therapy and management over the course of their life-long conditions, she said. 
According to the World Health Organisation (WHO), there are approximately 100 rare diseases reported in Vietnam. It is estimated that almost one in 15 persons, or approximately six million people in the country, suffer from a rare disease. Vietnam has more than 6,000 haemophilia patients, but only 2,400 have been detected their disease situation, while PID remains common and adversely affects the prognosis of these patients.
Vietnam hands over simulation training centre to Laos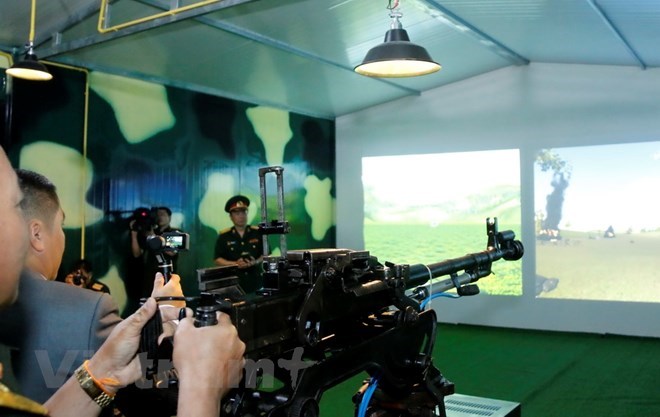 Simulation training at the centre
The Vietnamese Defence Ministry on April 20 handed over a simulation training centre to Laos' Ministry of Defence as a gift of the ministry's Technical Application and Production Ltd. (TECAPRO).
The centre include emulating systems for training on handgun, AK, B41 and 12.7mm guns, aiming to develop reaction and skills of trainees before they go on live ammunition practice on training ground, thus enhancing efficiency and safety of training in drill-ground.
The software applied in the centre allows trainees to choose virtual training sections in 3D environment, imitating line of fire and sound effects. They can also decide suitable training level.
Addressing the event, Major General Kilakon Bounnaphon, head of the Lao Defence Ministry's Department of Technology, lauded TECAPRO's capacity in researching and applying advanced technology in training.
He stressed the significance of emulation training in enhancing skills of trainees and preventing accidents in training process, thus saving budget and help modernize Laos' army.
He affirmed that the support of the firm is a good start for cooperation between TECAPRO and Lao Defence Ministry's Department of Technology.
Major General Kilakon Bounnaphon noted that over the past years, the Ministry of Defence of Vietnam has effectively assisted Laos in building forces, developing infrastructure as well as human resources training, greatly contributing to the growth and modernization of Laos' army.
He thanked TECAPRO and Vietnam's Ministry of Defence for the great support, while pledging to manage and operate the centre in an efficient manner.