My Son tower needs urgent restoration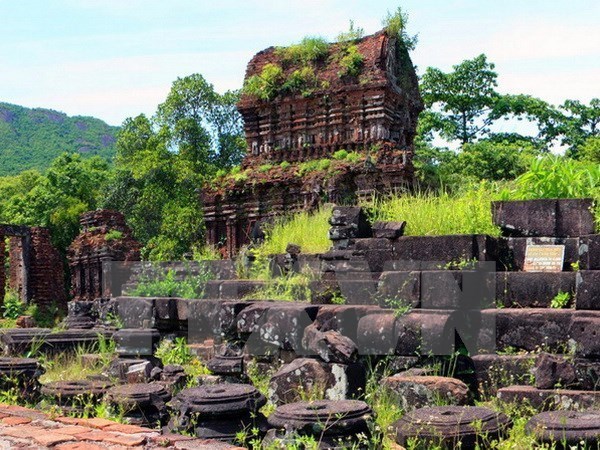 A part of My Son sanctuary 
Tower B3, one of the rare architectures remaining in the complex of temples at My Son sanctuary is in danger of collapse and needs urgent reinforcement and restoration, according to head of the management board of the sanctuary Phan Ho.
The tower at the world cultural heritage site in the central province of Quang Nam is seriously degraded with a lot of cracks, Ho said, adding that it is one of the towers with the highest risk of collapse.
Tower B3, which is 9.45 metres high, was erected in the late 10th century to worship God Ganesha – the son of God Shiva. It is located in the southwestern corner of the sanctuary and built on a low hill surrounded by the Khe The stream.
Like other buildings in the sanctuary, the tower faces floods, wind and rain, high humidity and high temperature differences between rainy and sunny seasons, so degradation is inevitable.
Restoration measures carried out by Polish experts previously helped the tower stand firm to this day. However, they could not prevent the tilting process. Currently, the tower is leaning toward the southwest at 3 degrees and its body has many cracks.
Given the situation, the management board of My Son sanctuary has reported to the provincial Department of Culture, Sports and Tourism and proposed measures to consolidate the tower.
My Son Sanctuary is located in a hilly landscape in Duy Phu commune, Duy Xuyen district, about 70km southwest of central Da Nang city and 40km from Hoi An city – another UNESCO heritage site in Quang Nam.
It comprises eight groups of 71 monuments built throughout the 7th -13th centuries.
HCM City hosts ASEAN trade, culture exchange event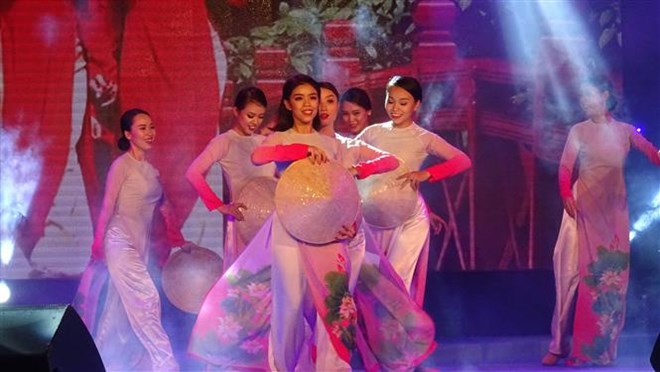 A performance of Vietnamese girls with ao dai (traditional long dress) and conical hats at the exchange programme 
A trade and culture exchange programme among ASEAN nations opened at Ho Chi Minh City's September 23 Park on April 18.
The event, hosted by the municipal People's Committee, is to mark Vietnam's 43rd Reunification Day (April 30) and the third founding anniversary of the ASEAN Economic Community.
Speaking at the opening ceremony, Vice Chairman of the municipal People's Committee Le Thanh Liem said over the past 50 years, ASEAN has become a unified community with a common vision and identity.
Easier flow of traffic and frequent economic and cultural activities between members with a population of nearly 630 million people have brought the countries closer, he added.
The exchange programme offers opportunities for people in ASEAN to introduce their cultural and historical values to international friends, bolstering mutual understanding and solidarity and contributing to a sustainable, self-strengthening and dynamic ASEAN Socio-Cultural Community.
The official voiced his hope that through the event, ASEAN businesses will seek more cooperation and optimise economic benefits brought by the ASEAN Community. He also encouraged ASEAN firms to join hands to create made-in ASEAN products.
The programme, which runs until April 22, includes a fair with more than 110 trade pavilions and some 40 cuisine pavilions.
Art, martial arts, folk games and sport performances are also being held during the event, together with the screening of clips promoting tourism of participating countries and products of enterprises.
Vietnam attends ALFS charity bazaar in Tokyo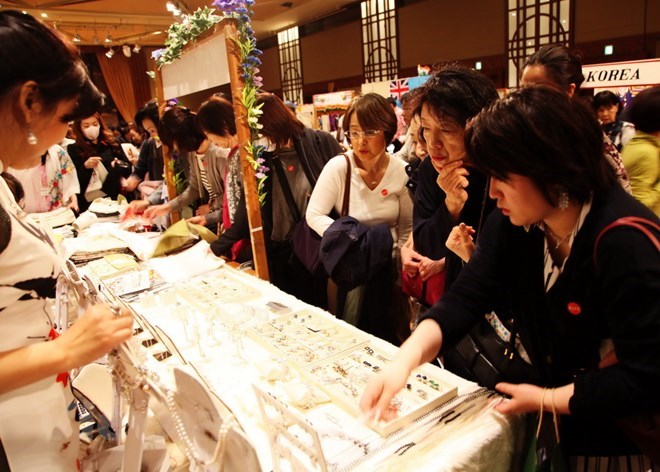 Visitors to the Vietnamese pavilion at the 42nd ALFS charity bazaar in Tokyo
The Vietnamese Embassy in Japan joined the 42nd charity bazaar hosted by the Asia-Pacific Ladies Friendship Society (ALFS) in Tokyo on April 18. 
Princess Hitachi, spouse of Japanese Foreign Minister Toro Noko and other wives of high-ranking Japanese officials attended the event. 
Speaking at the opening ceremony, head of the organising board Haruko Komura said the annual event aims to raise funds in support of women and children in ALFS member countries, towards strengthening their friendship and exchange. 
On the occasion, participants displayed handicrafts and traditional cuisines of their countries. 
The Vietnamese Embassy introduced Vietnamese silk, gemstone and silk paintings, pearl products and traditional food to visitors. 
Hoang Thi Minh Ha, spouse of the Vietnamese Ambassador to Japan, said ALFS allocated nearly 200 million VND (8,900 USD) to the embassy's Women Association to buy breeding cows for poor households and Agent Orange/dioxin victims in the central province of Quang Nam and build water purification systems for two elementary schools in polluted areas in the central province of Ha Tinh. 
This year's proceeds will continue to be used for children living in disadvantaged areas, she said. 
Ha added that as a major people-to-people diplomatic activity, the event has been held annually under the auspices of the Japanese Foreign Ministry, royal family and many embassies in Tokyo, helping to promote Vietnam's images and people to international friends. 
ALFS now groups nearly 400 members, mostly spouses of politicians and business leaders, female ambassadors and staff of 25 embassies of Asian-Pacific nations in Tokyo.
Quang Ninh works to promote green growth in Ha Long Bay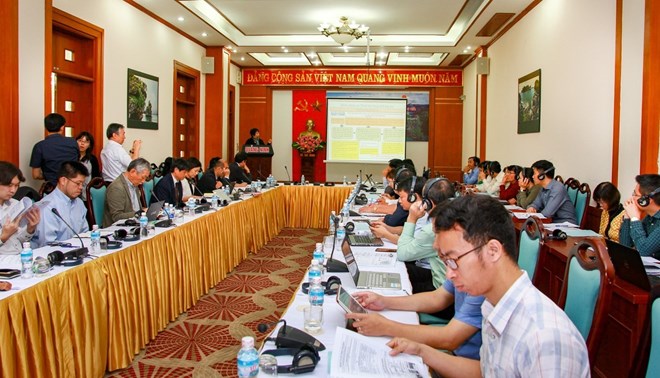 The workshop on green growth in Ha Long Bay takes place on April 18
Green growth in Ha Long Bay of northeastern Quang Ninh province was the topic of a workshop jointly held by the provincial People's Committee and the Japan International Cooperation Agency (JICA) on April 18.
Scientists and researchers affirmed that green growth is the top concern of most countries in the world, especially in the context that the world is entering the 4th Industrial Revolution, and witnessing the green consumption trend. 
The promotion of green growth in Quang Ninh and Ha Long Bay in particular is not exception, the stressed.
Norihiko Inoue, chief advisor of JICA, said the event offered a chance for JICA to introduce its green growth project in Quang Ninh and cooperation between Quang Ninh and Shiga prefecture of Japan, as well as giving information about the locality's green growth strategy. 
Previously, with assistance of the international community, especially the Japanese Government, Quang Ninh and JICA signed the minutes of discussion in 2015 on the project to promote green growth in Ha Long Bay. The project is being carried out from November 2015 and December 2019, aiming to reduce pollution and foster sustainable economic and tourism growth. 
The "transition to a green economy" project piloted in Ha Long will be a key pillar of the green growth process in the whole province in the future. 
According to Junko Masaki from JICA, the project's second phase has been implementing from November 2016 to December 2019, in Ha Long city and adjacent districts including Cam Pha and Uong Bi cities, Van Don and Hoanh Bo districts, Quang Yen town. 
As an important centre of the northern key economic region with its unique and rich geographical, environmental and resource features, Quang Ninh boasts natural strengths for sustainable socio-economic development. 
In 2015, with the support from the Ministry of Planning and Investment, the local authorities adjusted its green growth action plan, setting concrete objectives, which are expected to be realised by 2020.
Norway helps Quang Tri tackle consequences of bombs, mines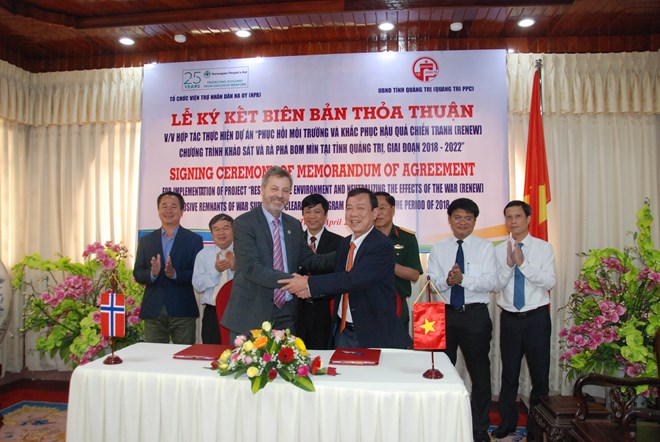 The Norwegian People's Aid and Quang Tri province signed an agreement on April 18 to implement a project to restore the environment and neutralising the effects of the war 
The Norwegian People's Aid (NPA) will provide 225 billion VND (9.87 million USD) for the central province of Quang Tri to settle post-war bomb and landmine impacts in the locality.
The funding comes under an agreement signed on April 18 between the NPA and the provincial People's Committee to carry out the project "Restoring the Environment and Neutralising the Effects of the War" (RENEW).
During 2018-2022, the project will focus on conducting technical and non-technical surveys to support efforts to clean up land that has been contaminated by unexploded ordnance as well as enhancing management capacity of the project.
At the signing ceremony, Vice Chairman of the provincial People's Committee Mai Thuc affirmed the crucial role of the NPA in assisting the locality in addressing post-war consequences over the past years, expressing his hope that RENEW project will make significant contributions to improving the efficiency of the bomb and mine clearance.
Quang Tri, known as one of the provinces hardest hit by mines and bombs, wishes to receive further cooperation and assistance from the NPA in the coming time, he noted.
According to the State Steering Committee for National Action Programme on the Settlement of Toxic Chemical Consequences, which is now the National Steering Committee on the Settlement of Post-war Unexploded Ordnance and Toxic Chemical Consequences, the removal of bombs, mines and other types of explosives in Vietnam is expected to take hundreds of years and cost around 10 billion USD.
The NPA, founded in 1939, is one of Norway's largest non-governmental organisations and has been involved in mine clearance activities in Vietnam since 2008. To date, more than 131 million square metres of land in Quang Tri province have been mapped out as confirmed hazardous areas that need full clearance. The NPA's teams have destroyed nearly 70,000 pieces of dangerous ordnance, helping to eliminate the risks of death and injury for local residents.
Microfinance empowers rural women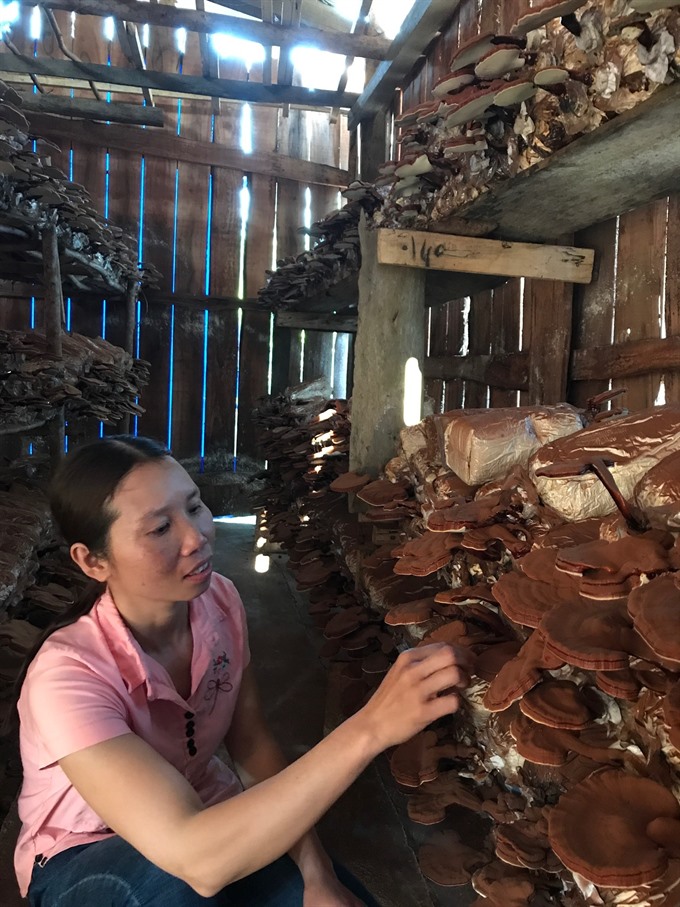 A woman nurses lingzhi mushroom in central Quảng Bình Province. She started to grow the mushroom with financial support from the local Women's Development Fund. 
Phan Thị Nhàn, whose household is one of the poorest in the mountainous commune of Quảng Thạch located in central Quảng Bình Province, has decided to apply for another loan from the local Women's Development Fund to expand her cattle production—something she never dreamed of before.
Two years ago, Nhàn received a loan of VNĐ10 million (US$444) from the fund, a small amount of money for many, but enough for her to buy a cow, which is considered a fortune for a farmer.
"Now, the cow has given birth to two calves," Nhàn said, smiling as she described her "huge fortune".
"And more important, I am able to pay back the loan, including both the principal and interest after two years," she said.
Nhàn used to consider borrowing money from the bank for social policies to make some investments that could improve her income, but the process was complicated and she decided not to get the loan. 
When she learned about the fund from the local women's union two years ago, she decided to give it a try.
"The procedure is simple. I just need to present my national identity card and house registration book and a plan to use loan and pay back," she said.
"The loan is flexible. I just need to repay around VNĐ500,000 each month," she said. "And after two years, I paid back the loan. From nothing, now I have a cow with two calves."
Nhàn is just one of many poor households in the commune's Village No 3 who have improved their incomes thanks to the fund. By joining the Saving and Credit Groups, set up by the provincial Women's Development Fund to provide microfinance services, poor women like Nhàn have had more chances to access small credit to do business or expand production.
 Nguyễn Thị Cúc, head of the saving and credit group of the Village No 3, said the group was established in 2016 and now has 46 members.
Over the past two years, the group granted loans worth nearly VNĐ500 million ($22,200) to its members, who have used the fund to expand production in areas such as growing trees and crops and raising domestic fowls.   
Joining the group, local women not only get loans but also join other activities for fun, helping to improve their spiritual life. Each month, the group holds a meeting for the members to pay debts or borrow money. At the meeting, they also play games and learn knowledge and skills to improve their living conditions.
"It is so fun. We play different games at each meeting. Anyone losing the game will have to sing a song or dance," Nhàn, who is now 63, said.
"The summer has just started. So at this month's meeting, we learnt how to maintain hygiene for ourselves and family members to prevent diseases. For example, we learned and practiced how to clean our hands with soap following standards."
The Women's Development Fund (WDF) was established by the provincial Women's Union with support from the project of Sustainable Rural Development for the Poor in central Hà Tĩnh and Quảng Bình Provinces.
The project, developed by the International Fund for Agriculture Development (IFAD), is aimed at sustainably improving income and reducing the vulnerability of rural poor households in targeted poor communes in the two provinces.
Running from 2013 to 2018, the project has a total cost estimated at $46.2 million, including an IFAD loan of $22.5 million and IFAD grant of $500,000, co-financier loan of $10 million, Vietnamese Government support of $6.2 million and other sources.
It is expected to yield a 25 per cent increase in income for 20,000 poor households in targeted communes and a 25 per cent increase in youth fulltime employment.
The WDF seeks to help rural woman not only overcome poverty but also sustainably improve incomes, according to vice chairwoman of the provincial Women's Union Đỗ Thị Bích Thủy.
Apart from getting loans, local farmers have also been equipped with knowledge, skills and techniques in business planning and improved agricultural technologies, she said.
Nguyễn Thị Thanh Tâm from Cao Quảng Commune in Tuyên Hóa District said thanks to support from the project, she and many other women in the commune expanded their businesses. They formed a co-operative specialising in raising chickens since 2015.
"From raising less than 200 chickens, now each member of the co-operative has increased their fowls to 400-500," she said.
"Not like raising chickens on a small scale as before, which posed high risks of loss as the chickens often died of diseases or the chicken price dropped due to redundant supply, we were now trained in husbandry techniques to ensure product quality and to minimise damage," she said.
"We were also supported to find partnership with businesses who will buy all of our chickens," she said. "Our income has increased by an average of VNĐ29 million per year."
Chairman of the commune's People's Committee Mai Xuân Tuyên said the microfinance services provided by the WDF have proved effective in helping local people to escape poverty. It is easy for them to get the loan as well as to repay it.
According to the latest report from the IFAD, the portfolio at risk (PAR 30 days) is very low, ranging from 0-0.5 per cent.
The commune has set up six saving and credit groups with support from the project with 134 members. Outstanding loan portfolios have so far reached nearly VNĐ800 million.
 "Apart from traditional production, many farmers have tried new products such as raising bees and goats or growing medical plants or growing safe mushrooms which have helped to bring them extra income," he said.
Nhàn from Quảng Thạch Commune said she was confident she would be able to pay back the new loan, worth VNĐ20 million, in the next two years in order to get additional credit to expand production.
"The step is small but I strongly believe that I and other women in the commune have found a sustainable way of improving our lives," she said.
Đồng Tháp to up exports of mangoes by focusing on quality, branding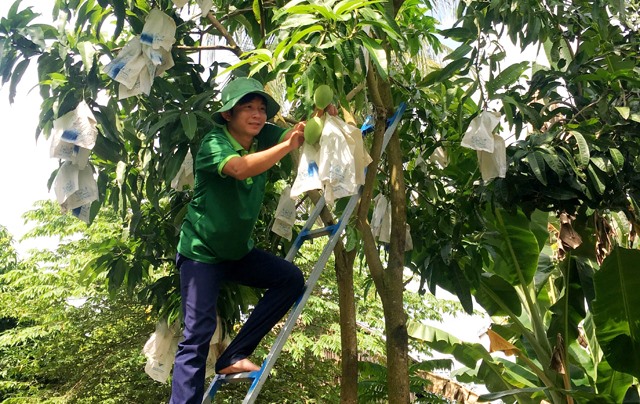 A farmer uses plastic bags to cover young mangoes in Đồng Tháp Province. - Photo baodongthap.vn
Experts have urged Đồng Tháp Province, the largest mango producer in the Cửu Long (Mekong) Delta, to build brands and develop large-scale fields by strengthening cooperation among local farmers.  
Speaking at a seminar held in the province's Cao Lãnh City on Tuesday, Professor Trần Văn Hâu of Cần Thơ University said that farmers also needed to work more closely with companies to ensure that output meets export demand.
Đồng Tháp has more than 9,300ha of mango varieties with annual output of 90,000 tonnes, according to the province's Department of Agriculture and Rural Development.
Two specialty mango varieties, Cát Chu and Hòa Lộc, account for 70 per cent and 20 per cent of the province's total mango area, respectively.
The fruit is one of Đồng Tháp's key products in its agriculture restructuring programme.
The province's mangoes, which are mostly exported to China, have also been exported to South Korea, Japan and New Zealand.
The province, which has set up two co-operatives and 29 co-operative teams that grow mango, has contracted with companies to guarantee outlets for their mangoes.
Last year, the companies purchased more than 6,000 tonnes of fresh mangoes from farmers.
Participants at the seminar said that farmers should pay more attention to fruit quality and post-harvest preservation if authorities decide to focus on selling mostly fresh mango.
To increase exports to demanding markets, the fruit should meet global Good Agricultural Practice standards, look beautiful and have good quality, they said.     
Professor Nguyễn Bảo Vệ, former head of the Cần Thơ University's Agriculture Faculty, said nutrition management would improve quality.
The sugar and starch in mango should account for 96 per cent of mango nutritional value and the minerals should account for less than 4 per cent, he said.  
Nguyễn Thanh Hùng, deputy chairman of the province's People's Committee, told farmers to work together and set up mango production chains.
In the province, most mango fields that have outlet guarantees are cultivated under Vietnamese Good Agricultural Practice (VietGAP) standards, while young mangoes are covered in plastic bags to protect them from pests.
Farmers earn profits of VNĐ200 -250 million (US$8,800 – 11,000) per ha a year for mangoes planted in co-operation with companies.  
Đồng Tháp has six areas that produce off-season mangoes, with a total area of 416ha in Cao Lãnh District and Cao Lãnh City.
Vietnam HR Awards 2018 launched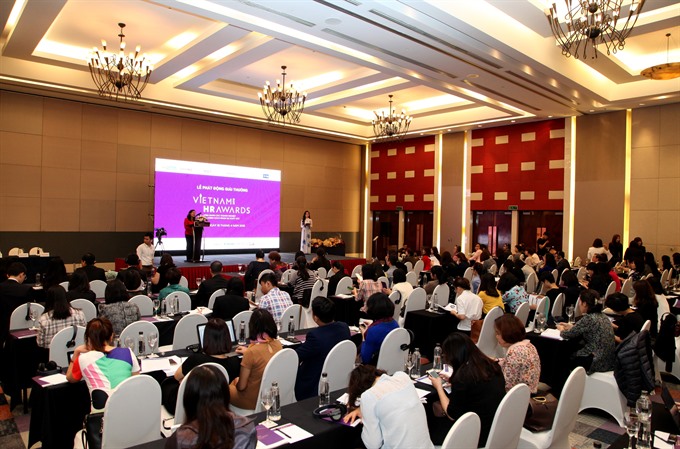 Representatives attend the Vietnam HR Awards 2018 launching ceremony. 
The Labour and Social Affairs newspaper – the organ of the Ministry of Labour, Invalids and Social Affairs (MOLISA) -- and Talentnet Corporation launched the Vietnam HR Awards 2018 here Wednesday.
Being launched for the first time in 2014, the award honours enterprises with outstanding strategies and manpower policies in Việt Nam.
Over the past five years, the annual award has attracted participation from a number of enterprises and HR experts across the country.
The enterprises joining the award will be divided into two groups.
Group A is for enterprises with outstanding HR strategies. Enterprises in the group must work in Việt Nam for at least 15 years, have at least 100 employees and own total property worth more than VNĐ11 trillion (US$482.9 million).
Group B is for enterprises with effective HR policies. Enterprises in the group must work in Việt Nam for at least five years and have at least 50 employees.
Documents to apply for the awards should be in Vietnamese and English and sent to the Talentnet Corporation on Floor 6, No 33 Mạc Đĩnh Chi Street in Đa Kao Ward, District 1, in HCM City. One soft copy should be sent through the website www.vietnamhrawards.com.
The deadline for the contestants is June 29.
The award ceremony will be organised in November.
Speaking at the launch ceremony, Deputy Minister of Labour, Invalids and Social Affairs Nguyễn Thị Hà said the awards had become a prestigious, legitimate and legal platform for the enterprise community.
It has contributed to creating a strong foundation for developing HR sector in Việt Nam, she said.
The MOLISA has stated that training and developing manpower, especially high-quality manpower, is its main priority this year.
"It is an urgent and strategic issue, and also measures increases in labour productivity and resolves unemployment," said Hà.
"To access and adapt to the Industrial Revolution 4.0, developing high-quality manpower is an important duty. In the revolution, vocational training schools and enterprises are the two main factors," she said.
Nguyễn Trung Chính, Acting Editor-in-chief of the Labour and Social Affairs newspaper, head of the organising committee, said when enterprises want to grow, the first thing they should do is stabilise their manpower and set a strategy to develop their HR capacity.
"Enterprises should follow legitimate references like the Vietnam HR Awards to update their information on the labour market and new trends in HR management," he said.
Tiêu Yến Trinh, general director of the Talentnet Corporation and deputy head of the organising committee, said setting up an effective and balanced HR strategy was one of the most important priorities of multi-national enterprises and Vietnamese ones.
The awards hope to provide more opportunities for enterprises to exchange information and experiences and create a valuable foundation for HR sector in Việt Nam.
Hydropower project investor ordered to complete resettlement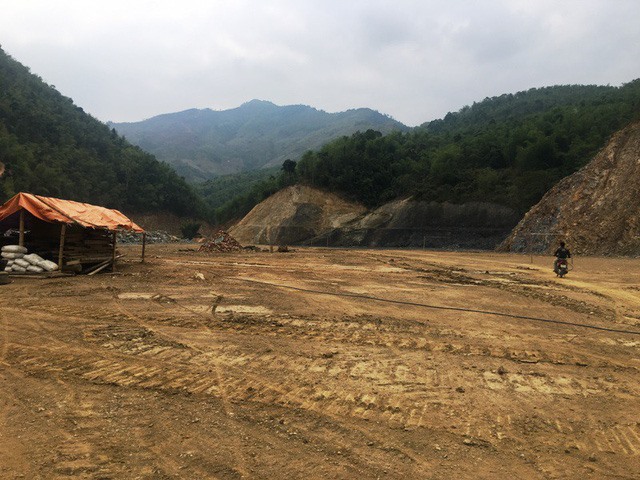 The resettlement area for the Hồi Xuân hydropower project remains vacant. — Photo dantri.com.vn
The People's Committee of central Thanh Hóa Province has asked the investor of Hồi Xuân hydropower project to quickly complete the infrastructure of the resettlement area.
This is aimed at facilitating the resettlement process of the affected residents by May.
Lê Anh Tuấn, vice chairman of the provincial People's Committee, said Hồi Xuân Electric Investment and Construction Joint Stock Company was in the process of completing the construction of the hydropower project and implementing the compensation for site clearance.
The People's Committee of Quan Hoá District and related agencies have cooperated with the company to secure site clearance and ensure security and order in the project location. However, progress has been slow.
So far, none of the affected households has moved to the Sa Lắng resettlement area.
The provincial committee has assigned the People's Committee of Quan Hoá District to supervise the quality of the resettlement infrastructure before moving people.
Besides resettlement, Tuấn has asked the project's investor to speed up the construction process at the plant site, especially the work related to flood prevention preferably before the stormy season starts.
He has also requested the company to invest in construction works that curb the flooding of Hồi Xuân reservoir before June 30.
The Quan Hoá District People's Committee has instructed the People's Committees of the concerned communes to coordinate with the investor to determine the location of new schools and medical centres as well as monitor the quality of construction work.
Figures from the committee showed that some 2,350 households in Quan Hóa District were affected by the construction of the hydropower project. Of this, 53 households in Sa Lắng Village in Thanh Xuân Commune were the most affected and needed to be urgently evacuated.
In April 2015, these households were informed to hand over their land to the project investor and move to a resettlement area. However, the construction of the resettlement area was behind schedule, which has delayed the resettlement process.
The Hồi Xuân Hydropower Plant is being constructed in the area between Thanh Xuân and Hồi Xuân communes in Quan Hóa District. The project, with a total investment of VNĐ3.3 trillion (US$144 million), has the designed capacity to produce 102MW of electricity. Its reservoir is spread across seven communes in Quan Hóa District and two communes in Mai Châu District of Hòa Bình Province.