VietNamNet Bridge – Pham Thi Kim Sang lives as a nun in her home in Chau Doc City in the southern province of An Giang.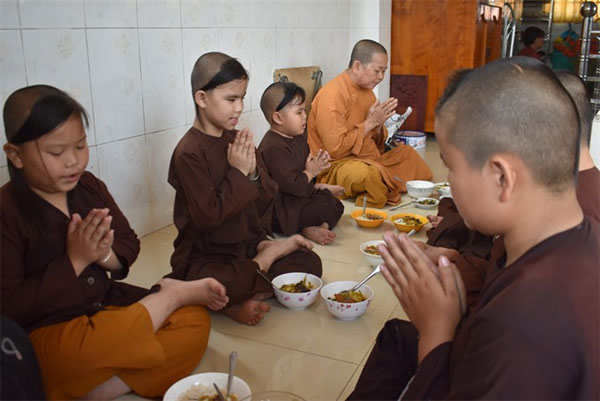 Sang not only provides the children with food and education but also teaches them how to recite Buddhist scriptures.
Her small house, located deep inside a narrow lane, may not be properly furnished but has always been filled with the laughter of the children whom Sang has adopted in the past 15 years.
Reciting prayers to raise funds
Sang says she left home at 16 to prepare herself to become a nun in a pagoda. When her parents found out, they did not approve and tried to force her to return home to lead a secular life.
But she was determined to become a nun. Five years later, she decided to travel by herself to the Central Highlands province of Lam Dong to go to a pagoda despite her family's objections.
When her mother passed away in 2003, Sang returned home for her funeral. Since then, whenever she attended a funeral and came across an orphan, she would adopt the child.
In the past 15 years, she has adopted nine orphans, one of whom recently returned to his family. Among the remaining children, three have been diagnosed with mental illness. One girl has a brain disease, which requires her to be frequently hospitalised. Two children attend local primary and secondary schools, while two others cannot go to school due to the absence of official documents.
The case of four-year-old Phan Thi Ngoc Diem is the most painful to Sang.
She found Diem in early 2013 placed at her doorstep. The girl baby was barely seven months old and was in a critical condition.
She immediately informed the police and took the child to the hospital for treatment. Since then, Sang has cared for Diem and brought her up.
According to doctors, Diem's brain disease will hamper normal growth, and she will need to be hospitalised whenever the disease becomes severe.
"I don't know her parents. My heart breaks every time I see her in pain. I recite Buddhist scriptures to people to collect money for her treatment. Medical insurance and public budget have somewhat alleviated the financial burden," Sang says.
Four of her children used to attend schools, but had to quit after a couple of years due to their mental illness.
Besides Diem's treatment, Sang also raises money by reciting Buddhist scriptures at funerals to feed and educate her children. Sometimes, she visits Ngoc Chau Monastery to ask for rice.
"This child's mother passed away and her father deserted her," Sang says while patting five-year-old Nguyen Thi Cam Tu. "She was living with her grandmother in Phu Quoc Island, who handed her over to me as she could not raise her up."
"She has almost reached a school-going age, but I am worried as I do not have the legal paper necessary for her schooling," Sang adds.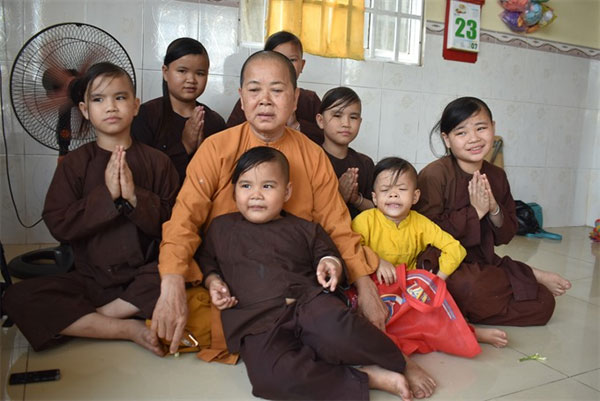 Monk Sang is pictured with the orphan and less fortunate children she has raised in the past 15 years. VNS Photos Bay Nui
Wishes
Despite the difficulties in her life, Sang still tries to offer the best that she has to raise the lives of less fortunate children.
"My desire has always been to offer shelter to these poor little children. I will keep adopting them until I lie down.
"As soon as I have enough strength, I will find all ways possible to provide them with food, education and shelter instead of them being orphaned," she says.
Fifteen-year-old Phan Thi Kim Phung has been living with her since she was around two years of age. Phung's parents passed away when she was small so she used to wander the streets to beg for food.
Sang met her when she was being bullied by other children, and took her home.
"She not only cares for me like her own child but also lets me attend school. She saved money to buy me a bicycle so that I could ride to school. I don't know how my life would be without her help," Phung says.
Sang also reveals that among the eight children that she is raising, some of them still have their birth parents. However, they are also living in poverty and are unable to raise their own child.
What she worries most now is about her tiny house, which has become so small when the children are growing up, and money for their tuitions.
"Thankfully, I'm a nun at home so many Buddhists have visited my house and donated money, which I have used to raise my children," she says.
According to Tang Thanh Van, chairman of the Central Committee of Chau Doc City's Motherland Front, the local authority will wholeheartedly support Sang to overcome any difficulties.
"We highly appreciate her affection and efforts. First and foremost, we will help her with the legal documents for the children's schooling and constantly support her financially," he says. 
by Bay Nui
Source: VNS