Before the scandal of VN Pharma's fake anticancer products in 2017 could not cool down, Vinaca Co., Ltd.'s similar drug made from bamboo charcoal powder caused a huge stir.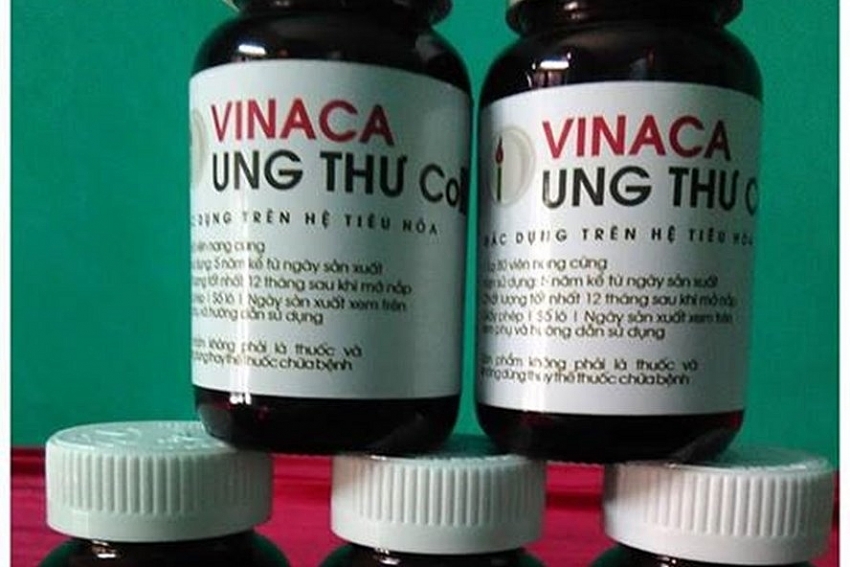 Vinaca's anticancer drugs are offered in the market
Early this month, Kien An district's authorities (the north central city of Haiphong) discovered 10 workers pouring bamboo charcoal powder into capsule shells then package and label it as anticancer medicine at Vinaca's medicine production facility under the supervision of Dao Thi Chuc in Kien An district's Ngoc Son ward.
At the time of investigation, Dao Thi Chuc could not show documents and certificates proving the products' origin. In fact, all Vinaca products are licensed to Hong An Phong Co., Ltd., not to Vinaca.
Dao Thi Chuc said she only manages workers filling capsules, labelling, and packaging products, and all input materials and manufactured equipment are managed by her husband Nguyen Xuan Thu, director of Vinaca Co., Ltd.
According to the Haiphong Department of Health, Hong An Phong Co., Ltd. submitted dossiers of Vinaca's six products, including Vinaca Vi5, Vinaca Cancer CO3.2, Baby Vinaca Vi6, Vinaca Activated Carbon, Vinaca Micronutrients, and Vinaca Multipurpose. All six of these products are registered as cosmetics, not functional food products.
On April 9, the Haiphong Department of Health staged an unexpected inspection at Hong An Phong Co., Ltd. (An Duong district) run by company director Nguyen Van Tuan. At the time, Hong An Phong's workers were crushing bamboo charcoal into activated carbon powder to transfer to the facility in Kien An district.
Tuan said that Thu asked him to burn bamboo pieces into ash and grind it into powder. From every tonne of bamboo, he burns and grinds 30 kilogramme of ash. Tuan also said that he provides Thu an average of about 10 bags of ash (each 30kg) each month.
The Ministry of Health's Drug Administration withdraws and suspends low-quality medicine products almost every month.
Lately, Do Van Dong, deputy director of the Drug Administration has just signed Document No.6026/TTtr-QLD to announce to notify the country's departments of Health about discovering a fake medicine called Zinnat 500mg in the market.
Zinnat 500mg is a kind of antibiotic specialised in treating bacteriosis and is used commonly. This is also an expensive antibiotic medicine with the price of VND24,000-27,000 ($1.05-1.18) per tablet.
Currently, the testing of counterfeit medicine in Vietnam is still slow, mainly due to the lack of drug control staff.
VIR