VietNamNet Bridge – Authorities, including local ones, need to increase patrolling and promote fire safety to ensure there are no major forest fires during the ongoing dry season, a meeting held to review forest protection and fire prevention heard in HCM City yesterday.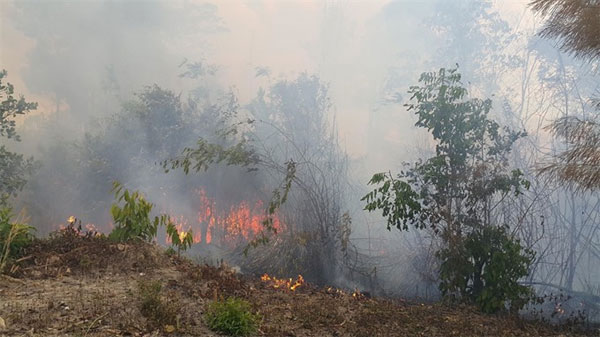 A fire broke out across 40ha of pines in Ia Grai protective forest in Ia Chia Commune, Ia Grai District of Central Highlands province of Gia Lai in March. — VNA/VNS Photo Hong Diep
Le Thanh Liem, deputy chairman of the city People's Committee, said: "Forest fires have a severe impact on daily life and the economy and environment."
He instructed related authorities and districts to increase patrols and take severe action against anyone found violating forest protection laws.
"Districts, which have forests in small patches, must improve fire prevention."
He said local authorities should liaise closely with households who have been allotted forests and take care of them, he added.
He instructed the Department of Agriculture and Rural Development to enhance propaganda and education on forest protection and safety and forest fire prevention and fighting, and inform local residents about the level of fire threats for them to be prepared.
"Relevant authorities must regularly monitor individuals and organisations working in forests to ensure they follow fire safety regulations.
"The city Forest Rangers Sub-department should step up patrolling."
The city has 35,600 hectares of forests, in districts 9, Can Gio, Binh Chanh, and Cu Chi.
"Around 8,600 hectares face a high risk of fires," Tran Tan Quy, deputy director of the Agriculture and Rural Development Department and deputy head of the city's Steering Committee for Forest Protection, Fire Prevention and Fighting, said.
Quy said many activities like poaching and illegal logging could potentially spark off forest fires.
"Fire prevention in forest patches is difficult because their owners do not pay attention. Low awareness of forest fires is another threat."
Last year HCM City suffered two forest fires on an area of 1.8 hectares, but thanks to their immediate discovery they were controlled before they could cause major damage.
Quy said local authorities in Can Gio should strengthen oversight of aquaculture and salt making in protective forests, promote afforestation and increase patrolling, especially in border areas.
Districts 9, Binh Chanh, Cu Chi, and Hoc Mon should educate local communities about forest fire safety, he said.
"The irrigation sub-department should work closely with Binh Chanh, Hoc Mon and Cu Chi districts to ensure there is adequate water for agriculture and fire fighting."
Le Minh Dung, chairman of the Can Gio District People's Committee, said: "Can Gio has over 30,000 hectares of protective forests with mostly inflammable trees.
"To prepare for this dry season, the district has cleared 16.5 hectares of dried grass, maintains fire towers, bought more high-pressure pumping systems and other fire-fighting equipment."
The Can Gio People's Committee has instructed related authorities to work with their counterparts in neighbouring provinces like Dong Nai and Ba Ria – Vung Tau for forest protection and fire safety. 
Source: VNS