Beginning on July 1, the Health Ministry and Viet Nam Social Security will adjust the unreasonable prices of some healthcare services to better manage health insurance funds, said Health Minister Nguyen Thi Kim Tien.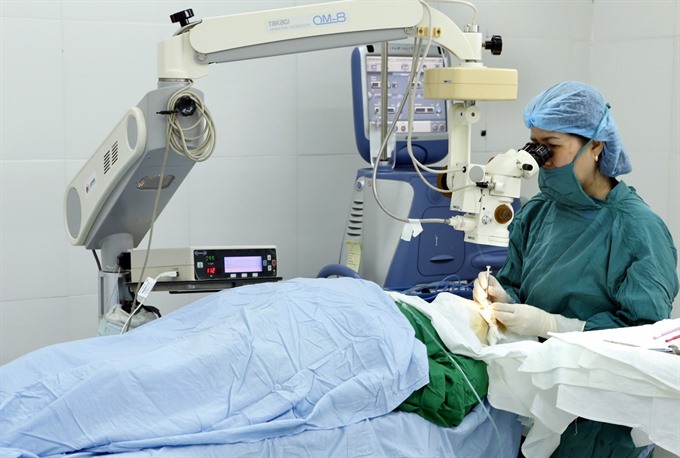 Eye examination at the Ophthalmology Hospital of central Thua Thien-Hue Province.
The adjustment would be carried out in two periods, Tiensaid at a meeting between the Health Ministry and Deputy Prime Minister Vuong Dinh Hue on Monday. The ministry would make amendments to a circular on payment of healthcare services by May this year and review medical services to determine which prices are inappropriate.
In the second period, the Health Ministry, Finance Ministry and Viet Nam Social Security would study the experiences of other countries to re-organise medical services and set new prices for some 2,000-3,000 services.
The Health Ministry, Finance Ministry and Viet Nam Social Security were reviewing healthcare check-up frequency and frequency of use of scanning and health examination services to make adjustments to the prices, she said.
The new prices of medical services will increase by 5 to 8 per cent, according to the Health Ministry.
The increase is predicted to add some VNĐ3-4 trillion (US$130.5 million-174 million) per year to the health insurance fund.
Deputy Prime Minister Vuong Dinh Hue required the Health Ministry to calculate healthcare service prices in accordance with market mechanisms.
Drug and medical equipment bidding
Huệ said that centralised drug bidding would be a vital solution to reduce drug prices.
Extending the list of biddable drugs would not only be economically beneficial but also a humanitarian imperative, especially to ensure that the poor can buy drugs without worry about price hikes.
According to the Health Ministry, drug bidding is being conducted at three levels: national, provincial and hospital-level.
In 2018, the ministry will open national centralised bidding for 30 of the most commonly used drugs. It will also extend the list of drugs eligible for provincial bidding.
The ministry will negotiate prices of eight types of highly used patented medicine.
The national centralized drug bidding last year on 22 types of drugs helped save VNĐ477 billion ($20.7 million).
Deputy Prime Minister Hue asked the Health Ministry to conduct open, transparent and competitive bidding on medical equipment and other supplies at some Health Ministry hospitals.
He proposed selecting some medical equipment for trial bidding.– VNS