Health officials in Hai Phong City have seized a large batch of fake cancer drugs made from bamboo ash.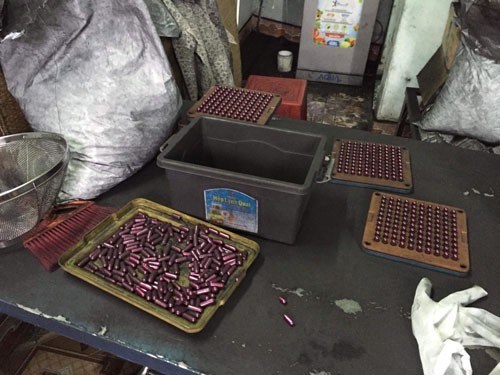 Fake drugs seized by Hai Phong police
The police in Kien An District and the local market management unit carried out a spot check at Vinaca Company on April 9 and discovered a fake medicine manufacturing facility. The employees were stuffing bamboo ash into the capsules which will be sold to cancer patients.
The representative of the facility, Dao Thi Chuc, was unable to provide required papers for the drugs. Chuc said she only managed the manufacturing process and the materials and equipment were managed by her husband and Director of Vinaca Company, Nguyen Xuan Thu.
In fact, the drugs with Vinaca brand have licenses given to another company, An Hong Phong.
Hai Phong Department of Health gave the stamp of approval to six drugs with Vinaca brand to An Hong Phong Company. All of these drugs were not registered as supplement drugs but cosmetic drugs.
Director Nguyen Van Tuan claimed that his company was hired to provide the materials while the Vinaca Company manufactured the drugs. Each month, Tuan sent about 300kg of bamboo ash to Thu.
Nguyen Tien Son, Deputy Director of Hai Phong Department of Health, said he hadn't received any information about Vinaca's operation and violations.
Vinaca's Director Nguyen Xuan Thu failed to show up at the police station and was found missing from his home. Vinaca drugs have been widely distributed in Vietnam, posing a severe threat to the patients.
Kien An District authorities suggested imposing a fine of VND44m (USD1,900) on Vinaca for not registering for business, not applying for required certificates and using unknown materials to make drugs.
"We are considering revoking the certificates given to six cosmetic drugs of An Hong Phong Company and we'll recall those drugs," said Nguyen Tien Son, deputy director of Hai Phong Department of Health.
Dtinews/Lao Dong