VietNamNet Bridge – As hot weather peaks this month in southern Vietnam, authorities in the Cuu Long (Mekong Delta) region are stepping up efforts to cope with forest fires and salinisation as a response to climate change.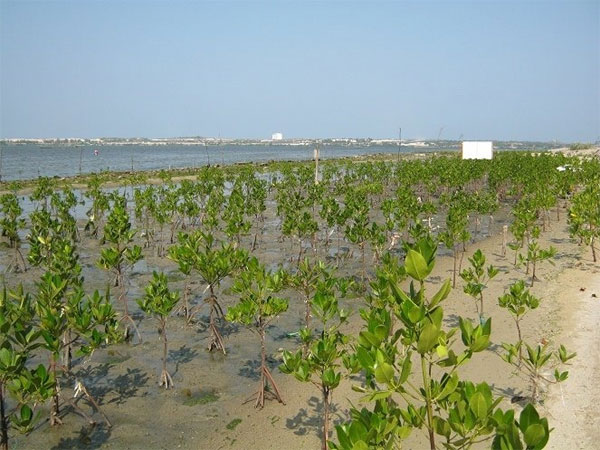 As hot weather peaks this month in southern Vietnam, authorities in the Cuu Long (Mekong Delta) region are stepping up efforts to cope with forest fires and salinisation as a response to climate change. –Photo dmhcc.gov.vn   
The Delta's Kien Giang Province alone has 86,450ha of forested land, accounting for 13.6 per cent of its total area. 
"As one of the vulnerable areas for forest fires in the dry season, U Minh Thuong National Park (UMTNP) in Kien Giang Province is now our biggest concern," said Le Van Trong, a member of the management board at the park.
"Fire prevention may be easier this year than in 2017 because the park has had few heavy rains in the first two months of the year. The water level is still high in small rivers and lakes in the park," he added.
Of the park's total area of 21,000 hectares, 8,000 hectares comprise a core area which houses many rare and endangered birds. A total of 187 bird species, 39 amphibian species and 34 fish species live in the park.
The forest is widely considered the Delta's richest region in terms of plant and animal life, with over 243 species of plants. The park has a rich mammalian population, totaling an impressive 32 species, which includes hairy-nosed otters and fishing cats.
"Despite this season's more favorable conditions, the water level at higher parts of the park has fallen quickly since the beginning of the month, so the threat of forest fire is high in that area in particular," Trong said.
To solve the water shortage, rangers, soldiers and locals are digging pits to store water capable of containing about 200 m3 of water each, he added.
For key areas at a high risk of fire, rangers and forest owners have been told to mobilise forces and equipment for fire prevention and fighting around the clock during the dry season.
Rangers, soldiers and locals will also be asked to offer assistance in case of fire.
The provincial government has spent more than VND10 billion (US$440,000) for forest fire prevention this year.
Provincial and district forest protection agencies have been asked to work with local authorities to regularly inspect, patrol and strictly manage forest areas to detect violations in a timely manner.
Huynh Minh Nguyen, director of UMTNP, said that rangers at watch towers were monitoring the park around the clock. 
"The force also regularly patrols the park to prevent locals from entering it illegally to collect honey, or to hunt and fish.
"The canopy is thick and like a tinderbox," he said.
He added that the UMTNP management board had called on local households to take part in forest management and use preventive measures against fire.
"Apart from this, forest management agencies have been asked to adapt to climate change in the dry season so they can raise awareness about forest protection among local households and train them in proper fire prevention measures when they do daily chores like cooking, collecting honey, or burning dried leaves and dried straw after crops," Nguyen said.             
Truong Thanh Hao, head of the local Forest Protection Sub-department, said that provincial authorities had instructed local forest rangers, the police, and the army to work closely to prevent fires.   
Temporary dams and wells have also been built in forests to store water. In addition to clearing dried branches and bushes in forests, firebreaks have been installed.
Saltwater threats
Because water flow from the Mekong River began to reduce rapidly early this month, saltwater is predicted to enter local rivers more deeply in Delta provinces during the dry season, according to the Southern Institute of Water Resources Research (SIWRR).
In 2010, saltwater began appearing two months earlier than usual and spread more widely and deeply into the major tributary rivers of the Mekong River in the western area, including the Tien, Hau and Vam Co rivers.
Salinity in the early dry season has been unusually bad. As a result, local authorities and farmers have been told to restructure agricultural and aquaculture production to adapt to climate change.
Saltwater is predicted to enter 25 to 35 kilometers at local river gates in Delta provinces, including the Vam Co River, in the dry season, threatening local water sources.
Water levels in canals have been low since the end of last month, causing saltwater to encroach deep inland.
In Kien Giang Province's Kien Luong District, saltwater has penetrated 15km into the Rach Gia-Ha Tien Canal and Canal 15.
In Tien Giang Province, saltwater has intruded 20km inland and is expected to surge 30-40km by the middle of this month.
The water has a salinity of about four per cent, which is believed to be harmful to crops and expected to enter Ben Luc and Tan An areas in Long An Province.
SIWRR has told local authorities and farmers to store water and have a plan to combat salinisation in the dry season.
The Water Resource Directorate at the Ministry of Agriculture and Rural Development is regularly updating information on salinisation and water sources so local authorities can develop plans to cope with climate change.
Local authorities have also been told to monitor salinity at all times and inform farmers about the status, as well as give instructions in restructuring their agriculture and aquaculture production.
The delta provinces of Kien Giang, Soc Trang, Bac Lieu and Ca Mau have been hit the hardest by saltwater intrusion.
Farmers in Kien Luong, An Bien, An Minh, Vinh Thuan and U Minh Thuong districts in Kien Giang tried and failed to save standing rice crops last year.
Solutions
To give farmers up-to-the-minute data about salinity, Can Tho City since 2012 has set up eight automatic salinity monitors on main rivers and canals in the city.
Bac Lieu Province has seen hot weather and saline conditions recently. Together with the neighbouring provinces of Ca Mau and Soc Trang, Bac Lieu is now operating 100 major sluices to adjust the usage level of fresh water. Farmers have been warned to preserve fresh water.
Last year, more than 40 temporary dykes were built in the three provinces.
In an attempt to prevent saline intrusion and preserve soil quality, the entire region is now planting two rice crops each year, instead of three. The extra time is being used to grow vegetables.
Last year, Kien Giang took precautionary measures by investing more than VND40 billion (US$1.8 million) to upgrade 276 dykes and build sluices on the Kien River and Cut Canal.
Another VND20 billion ($900,000) was spent on drilling more wells to ensure fresh water for domestic use.
The Tien Giang Province's People's Committee has instructed relevant agencies to apprise locals about saltwater intrusion.
It has also instructed authorities in coastal districts to dredge canals to store fresh water and pump fresh water for rice fields if saltwater intrusion worsens.
New sea-dyke would help Mekong Delta cope with climate change
Experts and representatives from the Government and international organisations met yesterday in HCM City to discuss the feasibility of a sea-dyke project which could help the Cuu Long (Mekong) Delta cope with the effects of climate change.
Speaking at the workshop, Nguyen Duy Tuan, director of the Institute of Geology, Water and Environment, said that responding to climate change, especially in the Mekong Delta, was a top national priority.
"It's vital to invest in new structures to prevent tides and saline intrusion. We also need to store fresh water and respond to rising sea levels in the Mekong Delta, as well as cope with flooding in HCM City," he said.
The project, which was proposed in 2011 by the Ministry of Agriculture and Rural Development, would include a 28km-long dyke extending from Go Cong Commune to Vung Tau City and Can Gio Biosphere Reserve, where it would connect with another dyke 13km long.
The proposal also includes construction of drainage ditches, a Long Tau sluice, and Dong Tranh estuary dams and canals north of the Soai Rap River.
Scientists have completed a pre-feasibility study for the project, which has met the requirements of HCM City and Mekong Delta provinces.
To set up a scientific basis for the construction of Vung Tau - Go Cong sea dykes, the Ministry of Science and Technology has carried out six independent scientific research projects at the state level.  
Prof. Dr. Dao Xuan Hoc, chairman of the Viet Nam Irrigation Association, said the sea-dyke project would offer a solution to flooding caused by a combination of heavy rains and tides.
It would also address salinity intrusion and rising sea levels for 1.1 million hectares.
"It is recommended that the project be implemented in three phases with a total investment of VND74 trillion (US$3.24 billion)," he said.
Dr. Le Xuan Tuan of Ha Noi University of Natural Resources and Environment said it was important to continue to assess floods, tides and mangrove forests and other natural phenomena west of Long Tau River and east of Soai Rap River.
He explained that the assessment would serve as a basis for a more detailed assessment of the impact of the Vung Tau – Go Cong sea dyke construction on the area's ecosystem, especially on mangroves and benthic animals.
Experts at the workshop also discussed the impact of the project on social and economic development of localities, as well as the development of waterway transport in the region.
The workshop was organised by the Institute of Geology, Water and Environment, Viet Nam Irrigation Association, Viet Nam Hydrological Association and the Hoang Gia Water and Environment joint-stock company.
By Van Chau
Source: VNS