VietNamNet Bridge – Raising pigs in a three-storey building equipped with an elevator sounds more eccentric than scientific. Pig farmer Nguyen Trong Long, however, has proven the benefits of raising pigs in clean, modern and environmentally friendly conditions, and is helping other farmers learn his techniques. Do Minh reports.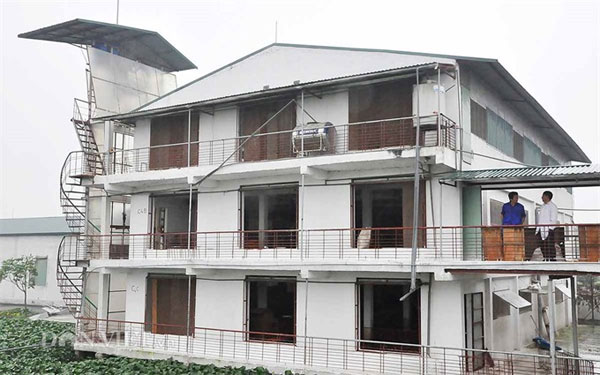 Porky paradise: Hoang Long Swine Co-operative has a three-storey building equipped with an elevator to house pigs. VNS Photos Hoang Lam
When Nguyen Trong Long first constructed a three-storey building equipped with an elevator to house his pigs, people thought he was crazy. But he soon proved the great benefits of raising pigs in clean conditions—complete with some new amenities.
Long, 50, is a farmer in Thanh Oai District on the outskirts of Hanoi. He has successfully established a co-operative to raise pigs with new methods, providing healthy food for the market and helping local farmers escape from poverty.
Currently, the Hoang Long Pig Co-operative, employs 30 local people. It occupies a total area of 9,000 sq.m and raises 4,000 pigs, including market meat pigs, breeding pigs and nursery swine. In addition, the farm produces feed for its own pigs, runs an abattoir, and distributes the final product to the market.
Long also offers instruction for neighbouring farmers to learn his new methods of breeding pigs.
With his achievements in modern farming, he received the award for "The Capital's Outstanding Citizen 2016" granted by Chairman of the Ha Noi People's Committee Nguyen Duc Chung. Long was also honoured with many certificates of merit.
Good environment for pigs
Long started his career as a construction engineer. Seeing many farmers in his region established farms to raise pigs for a company from Thailand, he wondered why local people had to work for a foreign-owned firm.
"It's our own land. Why we can't work for our own benefit?" he asked.
Long began asking friends to contribute money to join his project in 2000. They started learning management, breeding and veterinary medicine to equip themselves with the professional knowledge to raise pigs.
The Hoang Long Pig Co-operative was officially founded in 2008.
"The idea of building pigsties was inspired by the high-rise residental buildings urban areas," he said.
"Building a farm in a traditional way would limit the number of pigs I can raise, so I decided to build a three-storey house with elevators, drainage, air ventilators and a treatment system for animal waste to create good living conditions for pigs."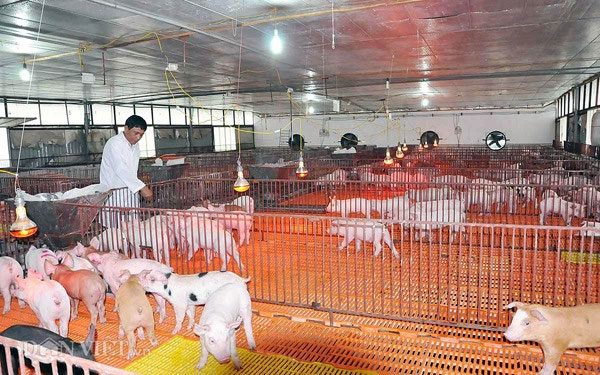 Spotless swine: Raising 'clean pigs', creating an environmentally friendly farm and producing natural feed for the animals are now standard practice on many farms.
The farm is equipped with an ozone generating machine for antiseptic and antibacterial purposes. Nursery pigs are raised at the highest floor of the building with suitable light and temperature system to keep them warm and healthy.
He grows many trees at the farm with the idea that a pure environment will help pigs avoid illness.
Long joined the Vietnamese Farmers Union (VNFU) and had the chance to study in Germany and the Netherlands to learn modern technology in pig breeding.
The trips helped him earn precious knowledge and experience in animal husbandry. He is determined to raise pigs with the aim of providing safe meat for the market.
"Raising 'clean pigs', creating an environmentally friendly farm and producing natural feed for the animals are the policies of the farm and my long-term strategy," he said.
Long doesn't use pig feed from other enterprises. He conducted research to find a suitable formula and produce the feed for pigs right at the farm.
 "We use the biological feed made from fermented rice, beans, herbs and vegetables with the aim of making their skin look better, the environment cleaner with almost no smell and the high-quality meat."
Anyone who wants to visit the farm has to follow a disinfecting procedure and wear on-the-job protective clothing
Starting with 150 swines, the farm now owns 4,000 pigs. Long said that when he sold the first brood of pigs, he was so happy that he shed tears seeing that all pigs were ruddy and healthy.
He got a certificate from the Ministry of Agriculture and Rural Development for his "Safe for Health" pork.
Vo Kim Cu, president of the Viet Nam Co-operative Alliance, said he felt glad to see that co-operatives like Long's were successful with modern techniques applied in pig raising.
"Long creates a self-contained chain including producing feed, raising pigs, slaughtering, and packing and distributing meat to the market," he said.
"The model should be applied widely to guarantee quality meat."
Cu said the only thing he is concerned about is treating the animal waste and protecting the environment to ensure sustainable production.
In Soc Son District, the Bao Chau farm raised pigs with Effective Micro-organism (EM) technique to treat pig waste and create living bio-beds, which utilise natural materials like rice husks and straw that can absorb pig manure cleanly as long as the bedding is turned regularly.
"Raising pigs on living bio-beds is a new technology in raising livestock. It helps solve the problem of pollution and increase pigs' resistance to disease," said Nguyen Vinh Bao, owner of the farm. "The stable must be ventilated, cool in the summer and warm in the winter. The layers of the living bed can be recycled to make fertiliser for plants."
With growing awareness of food safety and quality, the establishment of Good Animal Husbandry Practices (GAHP) is crucial to ensure the production of quality meat and meat products. Many farms in the northern region also apply this model in raising livestock.
Nguyen Thi Hau from the northern province of Thai Binh has followed the model for five years and acknowledged that it helps increase quality of meat. Farmers never use banned chemicals so the meat products are safe for consumers' health.
 "The feed chain, including transport, storage, and feeding, is managed in such a way as to protect feed from contamination from biological, chemical, and physical hazards and minimise deterioration."
Hau said farmers like her now try to learn about new technology in raising animals in order to increase productivity and provide safe, good quality products. 
Source: VNS