Huge blaze burns down warehouse in Hải Phòng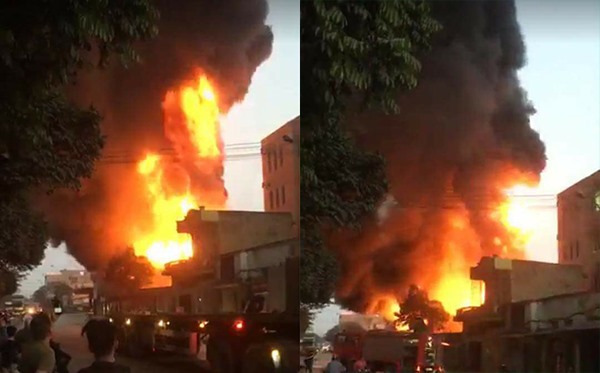 The scene of the warehouse fire in Hải Phòng City.-- photo baomoi.com
A huge blaze burnt down a warehouse and three other houses last night in Hải Phòng city, reported the Voice of Việt Nam online,  vov.vn.
According to people living in the local area, the fire started at the warehouse about 6pm Thursday at 648, Lê Thánh Tông Street. The place, owned by Nguyễn Văn Hảo, stored wooden and plastic plates.
Eyewitness said there was a huge explosion at first, followed by black smoke coming out of the warehouse. Some 15 minutes later, the warehouse caught fire.
The wooden and plastic plates aggravated the fire, which quicky spread to neighbouring houses. The warehouse owner tried to extinguish the blaze, but to no avail.
The fire was put out after many hours, but just in time to prevent it from spreading to a nearby petroleum station.
There was no loss of human life, but the blaze completely burnt down the warehouse, besides seriously damaging three houses next to it.
The warehouse has been in the residential area for more than 10 years. People in the neighbourhood had reportedly complained to the local government in the past about safety concerns, but no action was taken.
Bình Thuận to develop Mũi Né into national tourism site
The central province of Bình Thuận plans to develop Mũi Né, a popular beach area in the coastal city of Phan Thiết, into a national tourism site by 2030, speakers at a conference in the province have said.
Bình Thuận Province aims to develop Mũi Né into a national level tourism site by 2030. — Photo kenhdulich.org
By 2025, Mũi Né would become the main resort centre of Bình Thuận and the south-central coastal region, welcoming 10 million visitors. And by 2030, the area would meet all requirements for becoming a national level site, with 16 million visitors and VNĐ58 trillion (US$2.5 billion) in tourism revenue.
The area aims to attract new markets in central and northern Europe and the Middle East, and will focus on beaches, sports, culture and community tourism.
Phạm Trung Lương, former deputy head of the Institute for Tourism Development Research, said: "To achieve the goal, Bình Thuận Province should create diverse tourism products, boost promotion and train people."
"The province should also care more about environmental factors and the effects of climate change," he added.
Lương emphasised that developing Mũi Né into a national tourism site would boost development in the region, and links with the Central Highlands.
Representatives of tourism agencies and cultural experts in Bình Thuận and neighbouring provinces and cities attended the conference. They called for more investment in entertainment and traffic infrastructure.
Ngô Thanh Loan of the HCM City University of Social Sciences and Humanities noted that Mũi Né's "key resource is the beach, so protecting the natural landscape is a must during development".
Nguyễn Đức Hòa, deputy chairman of the provincial People's Committee, asked the Department of Culture, Sports and Tourism to collect opinions from all attendees at the conference.
He asked the department to submit the development plan to the People's Committee soon. 
Tuyen Quang hosts Lao Front for National Construction officials
Officials from the Lao Front for National Construction (LFNC) have asked Vietnam in general and northern Tuyen Quang province to help Laos in collecting Lao artifacts and old documents during its revolutionary time.
LFNC Vice President Nhotkeomany Suphanuvong and her entourage made the requests at their meetings with leaders of northern Tuyen Quang province during their visit to the locality on March 28-29.
During the meetings, the two sides exchanged experience in history studies and museology. During the anti-French struggle, Vietnam and Laos together fought to free their brothers and liberate the two countries, said Deputy Secretary of the provincial Party's Committee Nguyen Hong Thang. The Lao revolutionary memorial complex in My Bang, Yen Son district, Tuyen Quang is an evidence of the special Vietnam-Laos relations and friendship, he added.
Thang gave his guest an overview of cooperation between Tuyen Quang and Lao localities in the areas of agriculture and rural development, industry, trade, culture-tourism, and education. Tuyen Qang has offered scholarships for 23 students from Xiangkhouang to study in Tan Trao University. The Vietnamese province will continue providing scholarships in short-term vocational training courses for 10 students from Xiangkhouang this April.
Nhotkeomany Suphanuvong, for her part, said her visit to Vietnam aims to strengthen the long-standing ties between the two countries. She briefly updated Tuyen Quang's leaders on Laos's recent socio-economic development, saying the LFNC has played a part in uniting Lao people from different ethnic minority groups and religions for the national building.
She thanked Tuyen Quang for preserving the Lao revolutionary memorial complex and hoped that the LFNC would learn from theory and practices of the Vietnam Fatherland Front.
Programme raises awareness of protecting water resources in An Giang
The Vietnam Red Cross (VRC) in collaboration with the Procter & Gamble Vietnam held a ceremony to launch a programme "Clean drinking water for children" in Long Xuyen city, the Mekong Delta province of An Giang on March 29 in response to World Water Day.
Addressing the event, VRC Vice President Tran Quoc Hung said An Giang is one of the provinces most affected by water pollution and suffering from severe water shortages.
Water shortage is the root cause of numerous social issues, such as diseases, infant and children mortality, raise drop-out rate, and pose difficulties for people in their daily life, Hung said.
Over the past two years, the clean water programme, funded by the Procter & Gamble Vietnam, has been launched in Nghe An, Ha Tinh, Quang Binh, Long An, An Giang, Dong Thap, benefiting over 110,000 households.
In 2017, the company provided 800,000 P&G Purifier of Water packets for more than 60,000 households in the storm-affected provinces of Ha Tinh, Quang Tri and Nghe An.
The programme helps raise the awareness of the importance of clean water for community health, thus reducing diseases and mortality caused by water pollution, he said.
Claude Zuhowski, the Global Disaster Relief Coordinator at Procter & Gamble Vietnam said, over the past two years, the programme has helped many Vietnamese families have drinking water, particularly those severely affected by floods and natural disasters.
Procter & Gamble Vietnam pledges to make greater efforts to expand the programme in all other Vietnamese localities suffering water shortages and vulnerable to natural disasters in the future, she said. 
Fisherman refuses cash offer, releases rare turtle back to sea
A Vietnamese fisherman has released a rare turtle back into the ocean after snaring it off the central coast of Ha Tinh Province despite being offered a large sum of money for the creature.
The incident was reported on March 29 by the management committee of Ha Tinh's fishing ports.
Nguyen Van Truong said a dealer had offered him VND10 million (US$446) for the green sea turtle (chelonia mydas), but he had refused. Vietnamese' average annual income is US$2,385.
"Turtles are endangered animals so I want to release it back into the sea and play a part in the conservation of the species," he said.
Truong received help from local authorities to free the marine creature back into its natural habitat.
This isn't the first time a rare sea animal has been saved by compassion in Vietnam. In August 2017, fishermen in the central province of Quang Tri released a member of the same turtle species that had become trapped in their net.
The species is listed as endangered by the International Union for Conservation of Nature (IUCN) and the Convention on International Trade in Endangered Species of Wild Fauna and Flora.
Just recently, four chelonian species in Vietnam were listed among the world's 25 most endangered tortoises and freshwater turtles. The list was published by the IUCN's Turtle Conservation Coalition in its quadrennial report.
Vietnam is home to green, hawksbill, loggerhead, leatherback and olive ridley sea turtles, all of which are listed in the country's Red Book for rare and protected wildlife. The country outlaws the hunting or trade of any of the five species.
Fire threat stalks Bình Dương wood workshops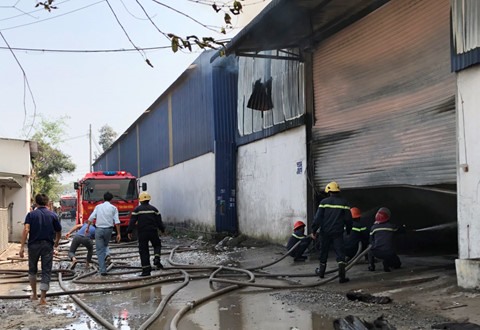 Many woodwork plants in Bình Dương Province face a high risk of fire since they lack proper prevention equipment. —Photo: thanhnien.vn

With the year just three months old there have already been fires at many wood processing workshops in Bình Dương Province, which have caused injuries to people and damaged properties.
Recently there have been several fires in Tân Uyên town that caused serious damage with thousand of square metres of workshops burnt down and several businesses going bankrupt as a result.
In February a fire destroyed a 1000sq.m facility belonging to Mỹ Nghệ wood processing workshop in Thuận An town.
The province has more than 600 woodwork facilities, but only 10 per cent of them have effective fire prevention equipment.
Though losses caused by fire are huge, most businesses, with an eye on cost, fail to invest in fire prevention equipment. 
Nguyễn Thanh Điệp, deputy director of the Bình Dương Fire Prevention and Fighting Police Department, said the main reasons for fires were a lack of awareness among people and failures to have proper fire prevention equipment.
The fire department has begun to step up checks and is slapping penalties on those businesses that fail to meet fire prevention norms.
Experts: Work on Long Thanh airport needs to be sped up
Construction of Long Thanh International Airport in the southern province of Dong Nai at an earlier date than initially planned will help reduce overcrowding in Ho Chi Minh City-based Tan Son Nhat International Airport, experts have said.
At a seminar co-organised in HCM City on March 28 by Tien Phong Newspaper, the Ministry of Transport and the provincial People's Committee of Dong Nai, the experts said the opening of the Long Thanh airport will allow the Tan Son Nhat airport to decrease its number of flights and have time to upgrade and expand later.
Deputy Minister of Transport Nguyen Ngoc Dong held that creating favourable conditions for the construction of Long Thanh International Airport will offer a great opportunity for growth of the aviation market.
According to the International Air Transport Association (IATA), Vietnam will become one of the five fastest-growing markets in the world in terms of additional passengers per year in the 2015-2035 period.
At the seminar, many experts expressed concern about policies and measures related to capital resources, modes of investment, land clearance, resettlement and compensation to landowners.
Nguyen Ngoc Hung, Deputy Director of Dong Nai's Department of Natural Resources and Environment, said the airport project will be the largest one in the province since 1975, which will cover an area of 5,000ha, including 1,800ha of rubber trees.
Relocating residents will not be a problem because most of them have agreed to move and cooperate in land clearance and compensation, he said.
However, about 15,000 people, most of them farmers and workers at rubber plantations, need to be resettled and given new jobs.
Land for two new residential areas is being recovered and vocational training for people of working age will be offered, Hung said.
He suggested the Government set a clear policy related to land prices to avoid unreasonable price hikes and ensure profits for residents.
The long wait for the start of this project has affected the living conditions of local people, because they don't know when it is going to be built, said Duong Trung Quoc, a National Assembly deputy.
"We need to draw up plans for urban planning instead of focusing on the airport project only," he said, adding that the government should call for their contribution and see their participation as critical for long-term growth.
The Long Thanh airport has been designed to handle about 100 million passengers and five million tonnes of goods each year. Total costs are estimated at 336.6 trillion VND (14.8 billion USD). Construction of the first phase is expected to begin in 2020 with completion in 2025.
The first terminal to be completed in the first phase of the project is expected to handle 25 million passengers and 1.2 million tonnes of goods a year.
Combating natural disasters – task of all: PM
The combat against natural disasters is the task of the entire political system and society, said Prime Minister Nguyen Xuan Phuc at a conference of the Central Steering Committee on Natural Disaster Prevention and Control in Hanoi on March 29. 
The PM said the work requires the effective use of resources of the State, organisations and individuals, and puts people on the centre of the effort. 
He lauded the establishment of the General Department of Natural Disaster Prevention and Control as a right decision as the unit works efficiently in consulting the Government, the Ministry of Agriculture and Rural Development (MARD), and other relevant agencies to steer responses to natural disasters.  
Scientific and technological advances and traditional experience should be utilised at the same time in the effort, the leader said, asking agencies and localities to make natural disaster response as part of their socio-economic development plans. 
Apart from increasing resources for the combat, localities need to step up international cooperation, while paying attention to the communications work and personnel training in this field, PM Phuc said. 
He highlighted the participation of businesses in this realm and underlined the need for Vietnam to materialise its international commitments to natural disaster response. 
Another task is to improve institutional tools and policies on natural disasters, the leader said, urging the Government's Office to acquire proposals of ministries, agencies and localities and submit to the Government and the PM in order to serve the issuance of a resolution on natural disaster prevention and control in the coming time. 
Vietnam is one of the five countries hardest hit by natural disasters. Over the past two decades, natural disasters left over 400 people dead and missing each year, caused economic losses of about 1-1.5 percent of GDP, and affected people's living environment and conditions, as well as socio-economic activities and sustainable development of the country. 
In 2017, a record number of 16 typhoons and four low pressures occurred in the East Sea. Natural disasters cost the lives of 386 people in the year, damaged more than 600,000 houses and caused economic losses of about 60 trillion VND (2.64 billion USD), with the worst being typhoons Doksuri and Damrey.
Singaporean-funded project inspires reading habit
The Singapore International Foundation (SIF) and Ho Chi Minh City's General Sciences Library jointly launched the second phase of the Words of Wheel (WoW) project on March 29, aiming to benefit 7,000 students in primary and secondary schools in the city.
The three-year project will provide Vietnamese and English books to students, along with online studying material, multimedia equipment and other library resources through four mobile libraries per week in seven schools in District 2 and District 8.
About 120 Singaporean volunteers will come to Ho Chi Minh City to organise English and IT courses in the city.
Bui Xuan Duc, Director of the Ho Chi Minh City's General Sciences Library said that the WoW project is expected to inspire students and create reading habit among them.
Lian Wee Cheow, SIF President said that positive impacts on the community were shown in the first phase of the project. In the second phase, the project is hoped to continue helping deal with common challenges of society. The project also reflects the sound friendship between people of Singapore and Vietnam over the past 45 years.
The WoW in Ho Chi Minh City is part of efforts to enhance friendship and boost positive and sustainable growth in Asia.
In the global scale, the project contributes to the UN sustainable development goals, particularly the goal number four on quality and goal number 17 on global partnership and cooperation.
Since 2011, along with Ho Chi Minh City, the project has benefited 43,000 children in many other localities, including Hanoi, Bandung and Yogyakarta of Indonesia, and Jaffna of Sri Lanka.
Watchdog seizes over 4 tonnes of expired corn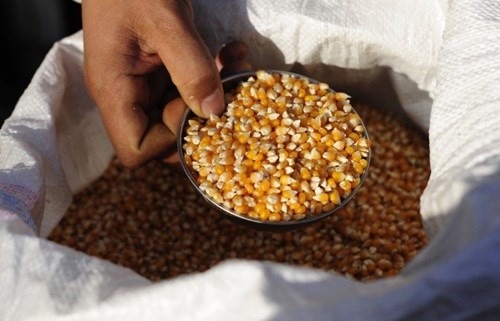 The Hà Nội Market Management Department's Team 14 seized four tonnes of corn seeds with unclear expiry date on Wednesday afternoon.
The corn was seized at Tiên Tiến Agriculture Co. Ltd in Đầm Trấu Street of Bạch Đằng District.
The team found that the company had kept over 820kg of expired corn seeds for sale and some 3.5kg of corn seeds with re-printed expiry date.
A representative of the company also failed to show legal documents to prove the origin of the corn seeds.
According to data from the city's Steering Committee against Smuggling, Trade Fraud and Fake Commodities, nearly 1,050 cases of smuggling and trade fraud were detected and fined in March alone, contributing VNĐ435 billion (US$18.9 million) to the State budget.
Event honours country's first dead brain donor

The 108 Military Central Hospital organised a ceremony to honour Major Lê Hải Ninh, a soldier whose lung, heart, kidney and corneas were donated after he was declared brain dead at a ceremony yesterday.

His organs helped save the lives of six patients in the north and the south cities of Việt Nam.  

Ninh contributed to the medical history in Việt Nam by facilitating the first lung transplant from a brain dead donor.

Earlier, Ninh, 45, from Yên Mô District, Ninh Bình Province, was sent to the hospital in a condition of deep coma due to stroke and brain oedema on February 23, 2018. 

"After learning about Ninh's situation, his family decided to donate his organs, including the lung, heart, kidneys and corneas to save the lives of six needy patients, including two soldiers," said Prof. Mai Hồng Bàng, director of 108 Military Central Hospital, at the event.

"The hospital has carried out legal procedures, in accordance with the law on donation, removal and transplant of human tissues and organs. This is a noble and humanitarian gesture by major Ninh and his family," said Prof. Bàng.

On March 26, the 108 Military Central Hospital's team of 60 doctors successfully performed the first ever lung transplant from a dead brain donor in Việt Nam in an eight-hour surgery.

Trần Ngọc Hanh, 52, from Nam Định Province, who received the lung, was diagnosed with severe respiratory failure due to chronic obstructive pulmonary disease, and a lung transplant was the only way to save his life.

At the same time, Ninh's organs were transplanted to five other patients. A cornea was transplanted to a patient at the hospital, while the other one went to a patient at the Central Eye Hospital.  

The hospital also collaborated with the National Organ and Tissue Transplantation Collaboration Centre, Việt Đức Hospital in Hà Nội and Chợ Rẫy Hospital in HCM City to preserve and send the kidneys and heart to HCM City by air to be transplanted to two other patients at Chợ Rẫy Hospital.

"All the six receivers are in stable health condition, especially Hanh, the lung receiver," said Prof. Bàng.

At the event, health minister Nguyễn Thị Kim Tiến handed over a 'For people's health' insignia to Ninh, while the hospital leader presented free health insurance cards to his family.
Tay Ninh, Cambodian localities cooperate to fight border crime

Leaders of police of the southern province of Tay Ninh and its three neighboring Cambodian provinces – Svay Rieng, Tboung Khmum, and Prey Veng – signed a cooperative pact on border crime prevention on March 28.

Under the document, the four localities, which share a border line, will continue information exchanges on border crime and joint work among their border forces.

The sides will join hands to facilitate local residents to travel for tourism, health care and trade in line with Vietnamese and Cambodian laws.

They will work together to ensure border security, plant border markers as scheduled, and tackle trans-border crime.

They are also committed to collaborating with other agencies to boost communications activities to raise public awareness on the matter.

In the past time, the sides carried out regular meetings to exchange information and discuss join action plans. They have thus far cooperated to investigate 11 cases, arresting four suspects and seizing over 16kg of drugs.
Vietnam Television urged to improve TV programme quality
Vietnam Television (VTV) should continue improving the quality of its broadcasting programmes, while harmonising news with other issues on national welfare and those of public concern with great social impact.
The requirement was made by Politburo member and Head of the Party Central Committee's Commission for Communications and Education Vo Van Thuong during a working session with the VTV staff in Hanoi on March 28.
At the meeting, Politburo member Thuong acknowledged the active contributions made by VTV to national development and defence, external relations, Party building work and the construction of the political system.
In the remaining months of 2018, the station should focus on disseminating the Party and State's resolutions on the issues related to Party building and the fight against political and moral degradation, Thuong said.
It also needs to raise the responsibility of its leaders and improve the capacity of its reporters and editors through offering them training, while ensuring information safety, the senior Party official added.
VTV General Director Tran Binh Minh reported that his station is broadcasting on nine channels from VTV1 to VTV9 with a total broadcast time of about 205 hours a day, comprehensively informing the public on all important events. It has also developed paid channels as VTCcab, SCTV and K + with increasingly improved quality and coverage.
VTV has focused on implementing a roadmap for converting technologies towards high definition TV programming and digital terrestrial television during 2015-2020, while continuing to improve its digital content quality strategy to adapt in the internet era.
Minh also suggested that the Central Commission for Communications and Education and the Ministry of Information and Communications take stronger measures to prevent the violation of TV programmes copyright, as well as strengthening the management and control of information activities on social networks to prevent fake news.
Spring Book Fair – A space for book lovers
The Spring Book Fair 2018, considered as the reading culture festival, opened on March 28 at the Vietnamese Women's Museum, 36 Ly Thuong Kiet Street, Hoan Kiem district.
The event attracts a large number of book lovers.
The book fair is an annual activity, organised by three major publishers: Women Publishing House, Kim Dong Publishing House and Youth Publishing House, held from March 28 to April 1.
Nearly 40,000 books in various genres, including culture, education, politics, economics and literature are being offered at favourable prices starting from VND2,000 (US$0.08), as well as a sale promotion of up to 50 per cent, alongside interesting gifts accompanying the books being sold.
In addition, the participations will have the opportunity to attend a talk on tips to hunt for government scholarships, which will be shared by writer Tran Ngoc Thinh, best-seller author of the book titled Du Hoc Khong Kho (Studying Overseas is not Difficult) at 9am, March 31.
Noted writer Nguyen Thi Thu Hue will also discuss her short stories collection titled Cua De Danh (Reserved Property) with the audience at 3pm, March 31.
Various games and drawing activities are also being held at the fair.
On the occasion, the fair's organising board will organise a ceremony to hand gifts worth VND10 million (US$438) to the library at Thien Phuc Pagoda in Quynh Phu District, in the northern province of Thai Binh.
STF donates scholarships to Phu Yen students
The STF – Pham Phu Thu scholarship program of the Saigon Times Foundation (STF) under the Saigon Times Group late last week joined forces with Phu Yen Province to hand over 30 scholarships worth VND3 million each to high-school students in Dong Hoa, Tay Hoa, Son Hoa, and Dong Xuan districts of the province. The scholarships were funded by Nha Be Garment Corporation.
Since 2017, the program has raised VND5.05 billion from corporate and individual benefactors to present 532 scholarships and 21 sets of computers totaling VND2.2 billion to students in provinces and cities including Thai Nguyen, Ha Nam, Ha Tinh, Quang Ngai and Quang Nam.
Founded in 2017, the STF-Pham Phu Thu scholarship program has a mission of providing financial support for students with poor family backgrounds to continue their schooling.
The program is calling for contributions from businesses and other generous donors to help poor students.
Kido picks two Vietnamese football players as brand ambassadors
Two Vietnamese football players Bui Tien Dung and Quang Hai, who have garnered widespread attention from local fans after outstanding achievements at the recent Asian Football Confederation (AFC) U23 Championship, have been picked as brand ambassadors for Kido Corporation.
Dung and Hai are members of the Vietnam U23 football team that heaped praise from millions of supporters throughout the country for their strong fighting spirit at the AFC U23 tournament.
The signing ceremony between the company and the two players took place at Van Hanh Mall in District 10 late last week.
Building apartments, hotels to be required to buy fire insurance
Facilities susceptible to potential fire and explosion hazards must purchase fire insurance, according to the Government's Decree 23/2018/ND/CP.
The decree which comes into force on April 14 requires compulsory fire and explosion insurance.
Accordingly, apartment buildings, hotels, guest houses and hostels having five storeys or above, kindergartens of over 100 kids, and gas stations among others are subject to fire insurance.
The decree regulates the total insurance for damaged assets at each place is less than VND1 trillion (US$43.9 million). The insurance rate is calculated on the minimum insurance premium multiplied by the premium rates in accordance with fire and explosion risks.
Deduction of a maximum of 10% of the indemnity insurance will be made if facilities in danger of fire or explosion fail to fully meet fire prevention and fighting safety regulations, leading to bigger damages.
The fire insurance seller will not make arising or additional compensation due to insurance fraud.
Nearly 2,000 structures are not covered by fire insurance, and the majority of them are apartment buildings. Many buildings have yet to establish a management board while residents in others are not unanimous in purchasing fire insurance.
He stressed those failing to purchase fire insurance as per the new decree will face a fine of up to VND80 million (US$3,506).
HCMC to finish sustainable poverty reduction program earlier than planned
As of this time, Ho Chi Minh City has 21,800 poverty-line households accounting for 1.1 percent, the city has accelerated multi-dimensional poverty in the poorest districts with the effort to shrink the poverty household rate below 0.3 percent by the year-end.
Moreover, city leaders wanted to finish the sustainable poverty reduction program two year earlier.
One of poverty house which local administration has helped to escape poverty is Le Hoang Thien's family. The family is one of 375 social welfare beneficiaries in district 5, all of them escaped the poverty. In addition to district 5, districts 3 and 6 have no more poor households.
Le Hoang Thien couple has three daughters while they have unstable employment. Worse, his wife was undergoing operations; accordingly, their lives got harder and harder. While they were in despair, local administrations have provide timely assistance.
Early in 2017, the local administration presented the family a booth so that his wife can sell food for breakfast in front of Vien Dong condominium. Moreover, they are eligible for lending VND50 million ($2,190) from bank as capital while Mr. Thien can earn VND3.5 million with his new employment as a guard at Trung Dung Company in district 8.
He said that he and his wife are unanimous not let children qui school despite difficulties. Understanding his family condition, the district leaders exempted his children from tuition fee as well as give scholarships to the three kids. His daughters are eligible for loans of VND28 million from the social policy fund when they become university students.
Furthermore, the family is supported to have health insurance and their dilapidated house was repaired last year worth VND30 million.
Finally, all his daughters all finished schooling and can make money to support the family.
Revealing experience to finish the sustainable poverty reduction program earlier, Deputy Chairman of People's Committee in district 5 Truong Canh Ba said that district leaders usually updated the number of poor households and nearly poverty households in the districts, the number of unemployed people to seek job for them or send them to vocational training.
District leaders also study how many dilapidate houses to provide timely assistance. Within two years, 42 houses in poor repair have been built and repaired. Similarly, 660 poor households in district 6 gradually overcome the destitution and their children can continue schooling.
Deputy Chairwoman of People's Committee in district 6 Le Thi Thanh Thao said that the local government take heed to poor families' children by providing scholarships. For past time, the district has presented nearly 5,200 scholarships worth VND5.1 billion.
Moreover, 116 kids from low-income families are being sent to learn in vocational schools.
In reality, poor people needs help to repair houses and vocational training. Annually, HCMC authorities help to build and repair around 1,000 houses of poverty-line and near poverty households. However, nearly additional 6,700 citywide needs repairing.
Head of Sustainable Poverty Steering Board in HCMC Truong Van Luong urged that the city needs carry out synchronous measures including developing social condominium and building more new houses even investing in children of low-income family in schooling and employment.
From now to end of the year, it is expected eight more district have no poverty houses helping reducing the rate of poverty households below 0.3 percent, said Mr. Luong.
The city strives to finish the poverty reduction program for the period 2016-2020 two years earlier than planned, Mr. Luong added. Different from before, district leaders now focus on reducing poverty in the terms of education, medical care, employment, and housing also.
Finalround of Math and Physics ViOlympic to take place on April 15
The final round of the 2017-2018 ViOlympic, an online math and physics competition, will take place on April 15, 2018. Nearly 15,000 pupils from 50 provinces nationwide have entered the final round. This is the tenth year that the ViOlympic has been launched.
The final round of Math ViOlympic (Vietnamese version) is for learners in Grade 5, Grade 9, and 12; Math ViOlympic (English version) is for learners in Grade 4 and Grade 8; Physics ViOlympic is in Grade 9 and Grade 12. 
According to the ViOlympic Center (under FPT Corporation), one of the changes in this year's final round is the form of continuous questions. 
In particular, the final round lasting 60 minutes includes 3 same parts as free rounds and 1 special part where questions will appear without limit. When answering correctly, contestants receive 10 points per question. However, if they are wrong in 5 questions, the round will automatically stop. This helps to assess candidates' ability and then categorize them precisely. 
FPT signed the strategic cooperation agreement with the Vietnam Institute of Educational Sciences (under the Ministry of Education and Training) to study and adjust the content of the ViOlympic since the academic year of 2017-2018 in order to encourage student participation; they will also focus on adding applied math problems and puzzles for thinking development.
They will develop other online learning and educational products in the future.
In the near future, FPT will perfect a mobile version of ViOlympic and chatbot service – robot answering frequently asked questions.
A coastal road to be built in Thai Binh province
The Prime Minister recently approved an investment plan for the construction of a coastal road in the northern province of Thai Binh.
The project will be implemented from 2018 to 2021, with the view of facilitating transport connection along the northern coastal corridor, expanding the land fund for production activities, enhancing the efficiency of sea resources use, and serving socio-economic development in the localities served by the road.
The facility also aims to create favorable conditions for rescue work and response to disasters and climate change, while strengthening national defence and security in the coastal areas.
The 35.5km road, which has a design speed of 80kph, will be built at total costs of VND3.87 trillion (US$170.28 million), including VND1.1 trillion from the State budget, VND1.59 trillion from the local budget and other legally mobilized sources, and VND1.29 trillion from the BOT investor.
A 2.19km bridge across the Hong River will be built to connect Thai Binh's coastal road with the coastal road in the northern province of Nam Dinh.
In terms of financial solutions, the project investor, to be decided through the form of bidding, will construct a toll station, with a projected toll collection period of 23 years and three months (from 2022 to 2045).
The PM assigned the Thai Binh provincial People's Committee to work with relevant agencies to finalize the project's feasibility study report, and arrange the local budget and other legal capital sources in the province's annual budget plan, in order to implement the project on schedule. 
Experts discuss generating decent work for female migrant workers
More than 100 experts from Vietnam's government agencies and international and domestic organisations gathered in Hanoi on March 28 to discuss how to create a better environment for female migrant workers to access decent work.
The seminar, themed "Decent work for Female Migrant Workers – Challenges and Solutions", was jointly by the Plan International and the UN Entity for Gender Equality and the Empowerment of Women (UN Women).
According to a recent labour market scan survey in Hanoi by the Plan International, the majority of female migrant workers are working in the informal sector with limited access to social protection services, and have not been technically trained by employers. The survey also revealed that around 70 percent of surveyed migrant workers did not have employment contracts, meaning lack of access to work benefits such as social insurance, health insurance, sick leave, and annual leave.
Nguyen Quang Viet, Deputy Director of the National Institute for Vocational Education and Training, said that Vietnam has quite an inclusive legal policy system on labour and employment, including those for migrant workers. 
However, the State's preferential policies on vocational training and employment often refer to registration books, which is a challenge for migrant workers, he added.
He suggested State management agencies to carry out policies and mechanisms supporting vocational training and introducing jobs for female migrant workers.
"The need for decent jobs, a safe living environment and access to social and protection services at destination is real. Many international commitments support women's economic empowerment, including the Convention on the Elimination of All Forms of Discrimination against Women and a series of International Labour Organization conventions on gender equality," said Sharon Kane, Country Director of Plan International.
"Plan International supports women's economic empowerment in line with these, and our programmes will continue to promote women's ability to secure decent work, which contributes to advancing economies and sustainable development," she added.
Meanwhile, Elisa Fernandez, Head of UN Women Vietnam Office, highlighted that discrimination and inequality fuel social instability and income disparities. 
"If efforts to close gender gaps and to promote better employment opportunities for women are not stepped up, current mega trends – such as climate change, demographic trends, migration flows and the technical revolution – will affect women and girls disproportionately," she said.
To achieve sustainable development goals, she suggested Vietnam have a systematic commitment to "leaving no one behind", and in particular, generating the conditions for decent work and access to social protection that are inclusive and respect the rights of female migrant workers in Hanoi.
First festival of Vietnam's martial arts wraps up
As many as 21 gold, 33 silver and 44 bronze medals were presented to participants of an international festival on Vietnam's martial arts, which concluded on March 28 in Nha Trang city of the coastal central province of Khanh Hoa.
The three-day festival, the first of its kind, was co-oganised by the Vietnamese Traditional Martial Arts Federation and Khanh Hoa's Department of Culture and Sports.
It drew the participation of four international delegations and 55 domestic ones from 24 localities nationwide.
The festival aimed to honour cultural values and the quintessence of Vietnam's martial arts, along with promoting traditional martial arts to foreign friends.
Programme launched to provide clean water for children
A meeting was held in Long Xuyen city, An Giang province, on March 29, to observe World Water Day 2018 and kick off a programme on 'Bringing clean drinking water to children'.
Addressing the event, Vice President of the Vietnam Red Cross Society Central Committee Tran Quoc Hung said that An Giang is one of provinces in Vietnam that is most affected by water pollution and shortages.
In addition to causing social issues and disease among infants and children, water scarcity also affects people's livelihoods.
Over the past two years, the programme on 'Bringing clean water to children' has been held under a Memorandum of Understanding (MoU) on humanitarian collaboration between the Vietnam Red Cross Society (VRC) and the US company Procter & Gamble (P&G).
The programme has benefited more than 110,000 households in six cities and provinces, including Nghe An, Ha Tinh, Quang Binh, Long An, An Giang and Dong Thap.
It has also raised public awareness on the importance of water to people's health and has helped to minimise sickness and mortality caused by contaminated water.
Financial sector helps boost transition for low-carbon economy: experts
Vietnam's financial sector needs to play a key role in the transitional efforts to develop a low-carbon, climate-resilient, economy through re-orienting investment to more sustainable projects, while accounting for environmental and social risks, experts have suggested.
Financial and environmental experts gathered at an international workshop on the theme of "Sustainable Finance on Climate and Energy," which opened in Hanoi on March 29, to discuss measures to boost the financial sector's activities in promoting Vietnam's tangible results on environmental and sustainable policy goals.
The event was jointly held by the Vietnam Chamber of Commerce and Industry (VCCI), the Vietnam Banking Association, the International Finance Corporation (IFC), and the world's leading conservation organisation, World Wildlife Fund (WWF) in Vietnam.
According to experts, climate change will have a profound impact on humans and eco-systems during the coming decades with adverse effects on the economy, cultures and livelihoods. The situation is particularly alarming for Vietnam. Extreme weather and snow in the north, with drought and salinity intrusion in the South Central and Mekong Delta regions, has seriously affected production and the daily activities of millions of people.
Undeterred by such challenges, more than 180 countries gathered in Paris, France, to sign a landmark climate agreement to keep global temperature increases to well below 2 degrees Celsius, reaffirming the world's commitment to cut greenhouse gas (GHG) emissions. With domestic resources, Vietnam has pledged to reduce GHG emissions by 8% by 2030. This contribution could be increased to 25% with international support.
The aforementioned goal requires an increasingly critical role of the financial sector in managing climate-related risks and supporting the transition to a low-carbon economy. Its contribution is expected to be an important instrument to Vietnam's accomplishment of commitments to the Paris Agreement, as well as the UN's Sustainable Development Goals.
VCCI Secretary General Nguyen Quang Vinh said that Vietnam and its neighbouring countries will find the goals pledged during the ratification of the Paris Agreement unattainable if the financial sector fails to fulfill its duty. It is imperative that banks begin adopting a dismissive attitude towards investment projects that pose an inherent risk towards the environment and society. Only then, can the nation start working towards a sustainable economy, he stated.
Naomin Tan, Sustainable Finance Engagement Manager of WWF-Singapore, agreed that the financial sector plays a pivotal role in the transition to a low-carbon economy by shifting capital away from unsustainable activities. Particularly in developing countries like Vietnam, financial institutions such as banks hold the key to turbo-charging sustainable development through the adoption of more stringent Environmental Social and Governance policies and by allocating capital to sustainable activities.
With 25 years of implementing sustainable development, including nearly six years of delivering the Vietnam Green Growth Strategy, Vietnam has been taking advantage of an established foundation for low carbon development. During the same period, the financial sector has made great strides in term of policies to measure up to global standards. This was exemplified by the IFC partnership with the State Bank of Vietnam in which an environmental and social risk assessment handbook across ten sectors was drafted.
Vietnam has implemented policies for delivering the Sustainable Development Goals. However, the lack of policy enforcement remains a key challenge, Naomin Tan said, adding that in the near future, WWF will collaborate with local banks, regulators and associations to promote sustainable finance though capacity building and the development of tools and guidelines.
At the event, leading financial and environmental experts shared their knowledge and experience in low carbon development, risk assessment for environmental and social projects, and sustainable finance products.
According to the "Sustainable Scenario for the Vietnamese Power Sector until 2050" report by WWF-Vietnam and Vietnam Sustainable Energy Alliance, 100% of Vietnam's power can be generated by renewable energy technologies by 2050, whilst significantly reducing carbon dioxide emissions linked to climate change. For that reason, the financial sector should make the transition towards investing in renewable energy while gradually divesting from unsustainable thermal power plants.
New direct air route brings more tourists to Mekong Delta
The travel and transportation services company WorldTrans on March 28 announced to provide 8 direct charter flights on Can Tho – Bangkok- Can Tho route.
Accordingly, flights will depart from Can Tho Airport on June 6,10,14,18,22,26,30 and July 4, using 180-seat AIRBUS 320 aircraft. Flight duration is 1 hour and 25 minutes.
A return ticket will be cost from VND4.6 million (US$200) (including tax and fees).
On this occasion, the tour operator, Vietravel offers to travelers tour packages for five days and four night worth VND 7,190,000 – VND7,490,000.
The direct route helps save about 6 hours transiting in Ho Chi Minh City as normal.
The Mekong Delta city of Can Tho received more than 7.3 million visitors and reached a total turnover of VND2,897 billion in 2017.
Can Tho expects to welcome 8 million tourists in 2018, including 350,000 international travelers and 2.45 million long-stay holiday makers; and earn a total revenue of VND3,500 billion, said Deputy Director of the municipal Department of Culture, Sport and Tourism, Le Minh Son at the conference reviewing the city's tourism industry in 2017 which was held in January.
Building apartments, hotels to be required to buy fire insurance
Facilities susceptible to potential fire and explosion hazards must purchase fire insurance, according to the Government's Decree 23/2018/ND/CP.
The decree which comes into force on April 14 requires compulsory fire and explosion insurance.
Accordingly, apartment buildings, hotels, guest houses and hostels having five storeys or above, kindergartens of over 100 kids, and gas stations among others are subject to fire insurance.
The decree regulates the total insurance for damaged assets at each place is less than VND1 trillion (US$43.9 million). The insurance rate is calculated on the minimum insurance premium multiplied by the premium rates in accordance with fire and explosion risks.
Deduction of a maximum of 10% of the indemnity insurance will be made if facilities in danger of fire or explosion fail to fully meet fire prevention and fighting safety regulations, leading to bigger damages.
The fire insurance seller will not make arising or additional compensation due to insurance fraud.
Nearly 2,000 structures are not covered by fire insurance, and the majority of them are apartment buildings. Many buildings have yet to establish a management board while residents in others are not unanimous in purchasing fire insurance.
He stressed those failing to purchase fire insurance as per the new decree will face a fine of up to VND80 million (US$3,506).