VietNamNet Bridge – The central city of Da Nang has asked the government to plan part of Da Nang Bay as an 'urban area in the sea', in an effort to meet the demands of a rising population and to attract tourism investment.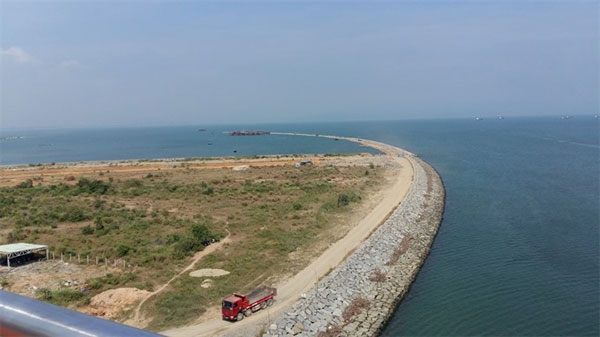 A sea expansion project is planned for Da Nang Bay. The central city aims to build an 'urban area in the sea' for its growing population. — VNS Photo Cong Thanh
Director of the city's construction department, Vu Quang Hung, said a new urban area for a population of one million would be based on an area of 500ha in Da Nang Bay, which is situated in Lien Chieu and Thanh Khe districts.
Hung said the new 'urban area' will be developed as a 'super city' in the sea with unique designs and architecture for luxury accommodation and a regional financial centre.
He said the urban area project also needs special policies to offer preferential treatment for strategic investors.
"We plan to develop part of Da Nang Bay as a sustainable 'urban area in the sea' in combination with an ocean economic zone. The idea of sea expansion was originally raised two decades ago, but suitable designs and key investors were not found," Hung said.
"The 'urban area in the sea' would increase Da Nang's competitiveness in attracting big investment among other Asian destinations, such as Dubai, Singapore and Bali," he said, adding that the sea expansion project has called for world specialists to propose solutions.
Architect Hoang Su said the new project should give top priority to low buildings and an eco-urban model with 'smart and green' designs.
Last year, the city asked the government to adjust its master urban plan for 2030-2050 in accordance with rapid development over recent years, including the expansion of public space, full urban services and environmental protection with tourism as a core economic sector.
In 2016, the Government also issued special regulations concerning investment, budgetary status and decentralisation for Da Nang in turning it into a green city by 2025, and an economic hub of the central region and a driving force to boost development of the central and Central Highlands regions. 
Source: VNS