According to Hà Nội's Department of Agriculture and Rural Development, the city produces some 250,000 tonnes of organic vegetables every year.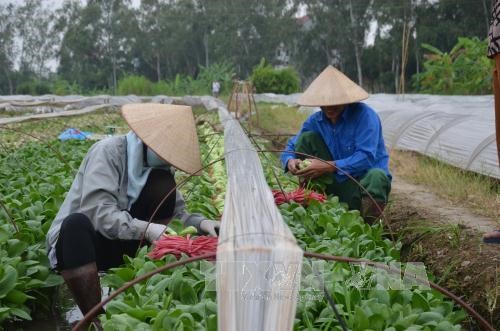 Planting organic vegetables at Ba Chữ Cooperative in Hà Nội's Đông Anh District. 
More than 95 per cent of this is sold to traders and at wholesale markets instead of being sold at supermarkets, Voice of Việt Nam (VOV) radio reports.
Nguyễn Thị Hoa, a vegetable grower in Vân Nội Commune, Đông Anh District which is well-known for producing a considerable amount of the city's organic vegetables, says these vegetables sold in the market have the same price as normal ones, some VNĐ10,000-12,000 (US$0.5) a kilo.
Growing organic vegetables requires efforts and standard techniques, from sowing and fertilising to spraying pesticides.
To grow organic vegetables, farmers need to plant them on chemical-free soil and use safe fertilisers and water. They have to take measures of integrated pest management to minimise damages caused by pests which means more costs and labour.
However, fluctuating vegetable prices and an unstable market have caused farmers to lose interest in investing in organic vegetables.
Vegetables grown in areas specialising in organic vegetables also have little chance of being sold at convenience stores or supermarkets.
According to the Department of Agriculture and Rural Development, cooperatives and companies buy only 4.8 per cent of organic vegetables from farmers, and only 1.5 per cent of these vegetables are sold at supermarkets.
Nguyễn Thị Huyền, owner of Ba Chữ cooperative in Vân Nội Commune, told VOV that "17ha out of 30ha of organic vegetables of the cooperative have a certificate of origin, but most of them are sold to local retail or wholesale markets by farmers."
Besides Vân Nội Commune, organic vegetables grown by Lĩnh Nam Agricultural Service Cooperative in Hoàng Mai District meet a similar fate.
The cooperative's organic vegetables are distributed to offices, schools, supermarkets and residential areas in the city. However, this consumption accounts for only 45-50 per cent of their produce.
At least 50 per cent of fruits and vegetables, equal to some five tonnes a day, has to be consumed at wholesale markets. There is no differentiation between the quality of organic vegetables sold at markets and that of normal vegetables as they are mixed together, according to Lê Hồng Minh, deputy head of Lĩnh Nam Agricultural Service Cooperative.
As a result, consumers are unable to identify which vegetables are safe for consumption and which are not. Farmers, meanwhile, suffer losses due to low profits from organic vegetables.
High demand for the organic
Hà Nội needs to produce large amounts of safe food to meet the demand of nearly eight million people and nearly 21 million tourists every year.
The city's vegetable supply meets only 60 per cent of the consumers' demand. The rest of it is either imported or supplied by neighbouring localities, such as Vĩnh Phúc, Hưng Yên, Bắc Ninh, Bắc Giang.
While organic vegetables struggle to find consumers, the lack of logistics is also posing a problem.
Nguyễn Hương Trà, a resident of Hoàn Kiếm District, says she wants to buy organic vegetables for her child but does not know where to buy them from. She ends up buying vegetables at supermarkets.
Farmers have to sign a document for supermarkets guaranteeing the quality of their produce before it can be sold. This criterion, however, is suitable for large-scale vegetable-growing areas, according to Nguyễn Thị Thoa, head of planting division at the Department of Agriculture and Rural Development.
The majority of households growing organic vegetables are small farmers, which has become an obstacle in selling their produce to food stores and supermarkets.
Vũ Thanh Sơn, general director of Hà Nội Trade Corporation (Hapro), said consumers did not have trust in organic vegetables as there were no standards to identify them.
"Besides taking longer to grow, organic vegetables need a strict process of packaging, transporting and preserving, which adds to their cost," Sơn said.
"Few consumers are ready to spend on organic vegetables. This is one of the reasons why organic produce has fewer consumers."
"Profits brought by organic vegetables of Hapro are very low, not enough to compensate expenses on transporting and preserving costs," he said. — VNS