VietNamNet Bridge – The production value per hectare of land in HCM City reached VND450 million (US$19,736) last year, an increase of 10.9 per cent compared to 2016, largely due to hi-tech methods, according to the city's Department of Agriculture and Rural Development.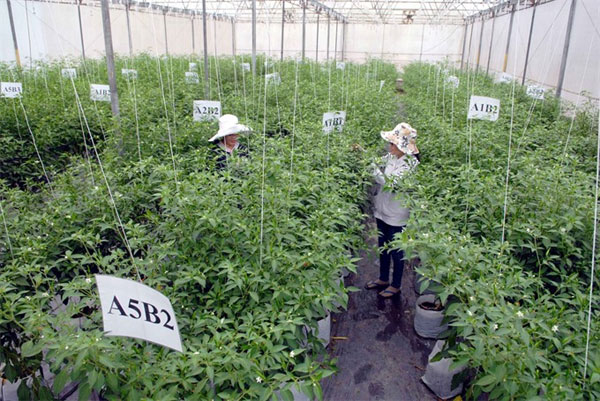 Researchers inspect the health of F1 hybrid chilli grown in the High-tech Agricultural Park of HCM City. — VNA/VNS Photo Manh Linh
The growth in the city's total agricultural production value last year was 2.2 times higher than the country's average figure.
The Sai Gon Agriculture Biotech Corporation is one of many hi-tech companies that have seen increased production value.
Nguyen Hoai Nam, the company's director, told the Sai gon giai phong (Liberated Sai Gon) that the company had applied biofloc technology to shrimp farming in the outlying district of Can Gio since 2013.
Biofloc is waste water treatment system developed to mitigate disease in water in aquaculture facilities and farms.
Before breeding, water in the system is filtered and treated, and microorganisms are grown to maintain water quality by the uptake of nitrogen compounds. Shrimp grow for 30 to 60 days and then are cultured in ponds in a closed system.
Micro nanobubble oxygen generators, which are a new generation of efficient, energy-saving water treatment technology, are used in shrimp farms. The generators help provide a standard volume of oxygen for shrimp, which helps it breed successfully, Nam said.
Hi-tech applications in shrimp farming have helped produce profits since 2016, Nam said, adding that nearly 50 tonnes of shrimp have been harvested per hectare per crop.
The company's foreign clients took test samples before harvest, which showed that no antibiotics or banned chemicals were used during the breeding period.
Trang Quoc Dung of Nong Phat Company said the technology had helped raise productivity and quality of the company's honeydew melons, which are grown in membrane houses and watered by drip irrigation systems in Hoc Mon District.
The company plans to use hi-tech applications for more vegetables such as asparagus this year, Dung said.
According to the city's agriculture department, hi-tech methods are being used on 390ha of vegetable, flower and fruit cultivation.
The economic value from these kinds of vegetable has been VND1 billion to VND1.4 billion per ha every year. Nearly VND2 billion is earned from each ha of orchids annually.
Speaking at a recent conference on agricultural activities last year, Le Thanh Liem, vice chairman of the city People's Committee, said that such farms should be expanded into hi-tech agricultural zones.
He said the city should provide low-interest loans to encourage enterprises to invest in hi-tech agriculture. But many of them complain that they have difficulty accessing low-interest loans due to lacking of collaterals.
Moreover, companies must be certified to use hi-tech agricultural techniques in order to apply for loans for hi-tech agriculture purposes.
The Sai Gon Agriculture Biotech Corporation, for example, applied for the certification in 2016 but has yet to receive it.  
Liem said that the city has policies to encourage enterprises and individuals to invest in this sector.
He instructed the city's agriculture department to work with the agriculture ministry and give guidance to enterprises on how they could benefit from these policies and receive certification. 
Source: VNS