Police seize 117 kilos of smuggled firecrackers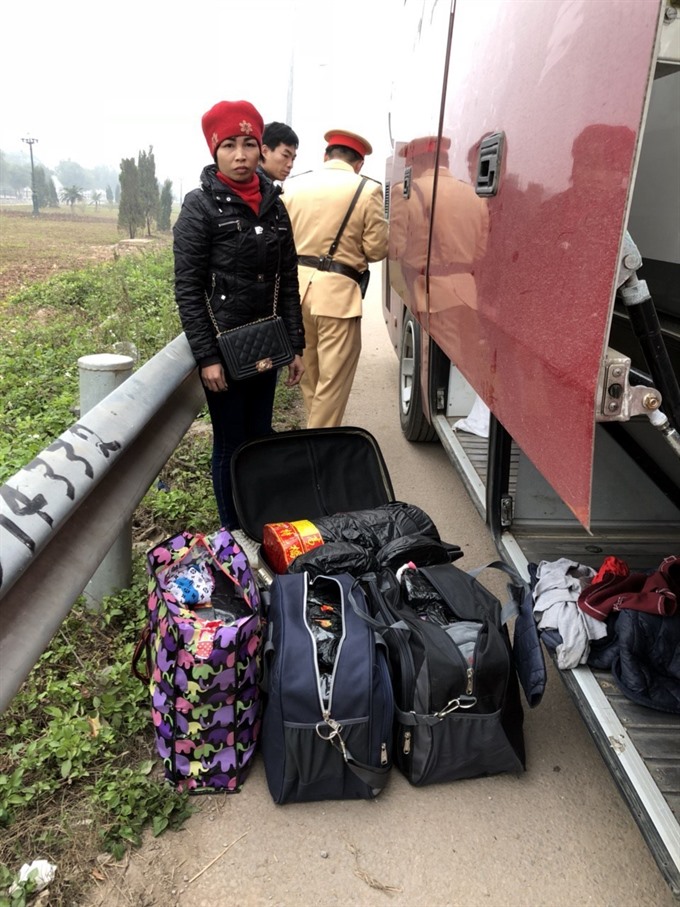 The smuggled firecrackers are found being hidden in travel bags.
Police in the northern of Bắc Giang Province seized 117 kilos of smuggled firecrackers on Saturday in Hoàng Văn Thụ Ward.

After initial investigation, the firecrackers were found being illegally transported in a 35-seat coach travelling from Hà Nội to Lạng Sơn. The firecrackers were hidden under boxes and travel bags.

The coach driver was Ninh Đức Định, 35, of the northern mountainous province of Yên Bái's Thịnh Hưng Commune. The owner of the firecrackers was Trịnh Thị Loan, 44, of the northern province of Thanh Hóa's Yên Ninh Commune.

The case is under further investigation.

From 1995 until 2017, production, transportation or ownership of more than 10kg of firecrackers in Việt Nam could lead to criminal charges.

However, after firecrackers were 'demoted' from the banned goods list according to the investment law 2014, those trading firecrackers now only face administrative fines, leading to a hike in the smuggling of this item.

PM gives certificate of bravery to Hai

People gather at the river's bank where Hải drowned in the northern province of Thanh Hóa. 

Prime Minister Nguyễn Xuân Phúc on Saturday gave a certificate of merit for bravery to Hoàng Đức Hải, who died after saving a woman and her two children from drowning in the northern province of Thanh Hóa on Thursday.

Hải was a fourth-year student in a Hà Nội-based university. He returned to his hometown for Tết (Lunar New Year) holidays. The accident occurred when he saw the woman and her two children releasing carps into a local river on the Ông Công - Ông Táo (Land Genie and Kitchen Gods) day.

On the 23rd day of the last month of the year, Vietnamese families hold a send-off ceremony for the Ông Công - Ông Táo, the genies found in every Vietnamese home. It is believed that at New Year they ascend the Heaven to report on the good and bad deeds that happened in the house during the year. The carps serve as their means of transportation and therefore, must be healthy and looking well.

However, the woman and her children slipped then fell into the river after releasing the carps. Hải and his two friends immediately dove into the river to rescue the woman and children. After the woman and the children were saved, Hải was swept away due to exhaustion.

Prime Minister Phúc had also sent VNĐ20 million (US$880) to Hải's family for the funeral.

Goalie Dung brings gloves to auction

National U23 goalkeeper Bùi Tiến Dũng will auction his gloves to support billiard player Đỗ Hoàng Quân, who is suffering from cancer.

Dũng, through his FLC Thanh Hóa FC, wants to sell the gloves, which he wore during the Asian Championship tournament, at a price of VNĐ5 million (US$220). The auction will continue until February 25.

The money will be donated to Quân, recognised as an excellent Vietnamese cueists, who has been listed in critical condition for several weeks.

Vietnam Fatherland Front offers Tet support in Soc Trang

President of the Vietnam Fatherland Front (VFF) Central Committee Tran Thanh Man and officials of the Mekong Delta province of Soc Trang visited disadvantaged people in Thuan Hoa commune, Chau Thanh district, on February 10 ahead of the Lunar New Year festival (Tet).

The VFF leader informed local authorities and residents about national socio-economic attainments last year and the Party, State and VFF's activities to support policy beneficiary families, deprived households, and Agent Orange victims ahead of Tet.

In 2017, the VFF assisted 16 localities with 40 billion VND (1.76 million USD) to build houses for less privileged people and spent 5.5 billion VND (242,500 USD) on gifts for low-income earners nationwide.

Extending New Year wishes to Soc Trang leaders and residents, Man asked local authorities to continue supporting disadvantaged households to have a happy Tet.

The province also needs to pay more heed to poverty reduction, hi-tech agriculture, public knowledge improvement, and tourism development. It is important to help underprivileged households to escape from poverty in a sustainable manner, he noted.

On this occasion, the VFF Central Committee and the Vietnam Red Cross Society presented 50 gift packages to disadvantaged families in Thuan Hoa commune.

Tet atmosphere warms up Vietnamese community abroad

Overseas Vietnamese are engaging in a wide range of activities in celebration of the upcoming traditional Lunar New Year (Tet), the most important holiday in Vietnam.

More than 700 guests gathered at a Tet programme held on February 10 at the Sapa trade centre in Libus district, where there are thousands of overseas Vietnamese, in Prague, the Czech Republic.
The event, the fifth of its kind, aims to increase cultural exchanges between Vietnamese and Czech people via introducing Vietnamese foods, traditional costumes, dances and calligraphy.

The Vietnamese Embassy in Mexico hosted a New Year celebration on February 9 for the Vietnamese community in the country.

Charge d'affaires at the embassy Doan Anh Tuan reiterated the Party and State's policy of regarding the overseas Vietnamese community as an indispensable part of the nation.

Amid the warm atmosphere, participants enjoyed Vietnamese traditional cuisines and music performances by children.

A similar event was held by the Vietnamese Embassy in Tanzania, during which Ambassador Nguyen Kim Doanh highlighted the achievements that Vietnam gained in 2017 along with the significant contributions of Vietnamese expatriates, including those in Tanzania.

In Algeria, Vietnamese Ambassador to Algeria Pham Quoc Tru visited Vietnamese workers at Chinese KunLong construction company in Oulet Fayet new urban area in the outskirts of Algiers capital, to offer them best New Year wishes and gifts.

He hoped the Chinese firm, which currently employs more than 100 Vietnamese workers, will create the best conditions for Vietnamese workers and cooperate with the embassy to seek the most proper ways to address any disagreements.

Yang Jian Nian, a representative from the company, asked for assistance from the Vietnamese Embassy recruit more Vietnamese to work in Algeria.

Ethnic communities in Quang Ngai celebrate Lunar New Year

Ethnic communities in mountainous areas of the central province of Quang Ngai are preparing offerings and rituals for the traditional Lunar New Year (Tet) celebration in their own unique style.

The H're people in Son Ha district are using bamboo and leaves to make good-luck offerings to their Gods in the new year in the way their ancestors did.

Dinh Van Bon, in Son Trung commune, Son Ha district said the practice has been passed through generations. "I saw my grandparents and my parents do it every New Year festival, and follow them. Then I teach young people how to make offerings and decorate the house, combining the traditional style of H're people and the present practice," he said. 

Among the H're traditional offerings at Tet, the Gagu ( a variant of Chung cake (square glutinous rice cake) is indispensible. Dinh Thi Luu in Son Trung commune, Son Ha district said H're women selected the highest quality rice to make the cakes to offer to the Mountain God, the Tree God and their ancestors, asking for their blessing for a new healthy and prosperous year.

Meanwhile, Cadong ethnic people in the mountainous district of Son Tay celebrated their traditional New Year festival at the same time with the Tet of the nation. Villagers usually get together to celebrate the festival, taking a break from a hard-working year, and wishing each other health and lucrative crops.

Ahead the festive time, Cadong ethnic men are responsible for decorating houses while women cook.

Dinh Thi Thieu, in Son Long commune holds a bigger Tet celebration because she had a bumper harvest last year.

"I have prepared a pig and some chickens along with rice wine for the Tet festival and will invite my neighbours to come and enjoy the food with my family." Thieu said.

In these days, the sound of gongs can be heard everywhere in Son Tay as Cadong ethnic people are celebrating their traditional festival. 

Free coaches bring workers home for Tet

Free coaches sponsored by trade union organisations and local authorities are bringing thousands of migrant workers back to their hometowns as the Lunar New Year festival (Tet) is only a few days away.

On February 11, hundreds of coaches departed from Thang Long, Quang Minh, Noi Bai, Thach That, and Phu Thi industrial parks in Hanoi, carrying workers to their hometowns.

2018 is the 10th consecutive year the Hanoi Confederation of Labour arranged coaches for disadvantaged workers ahead of Tet.

Aside from the free coaches, trade unions at all levels in Hanoi also assisted labourers with more than 32,000 bus tickets, presented 56,500 gift packages, and organised Tet celebrations.

In Binh Duong – an industrial hub of the southern region, coaches arranged by the provincial Confederation of Labour carried about 4,000 workers to reunite with their families on February 11.

Tet gifts and some 3,800 free bus tickets were also presented to workers.

The Binh Duong labour confederation said this is the eighth year the programme has been held, adding that the province's authorities at all levels have presented 9,100 gift packages worth over 4.5 billion VND (198,400 USD) to workers.

More than 1 million labourers are working in Binh Duong, and about 85 percent of them come from other provinces and cities, according to Vice Chairman of the provincial People's Committee Dang Minh Hung.

Vietnamese expats in India, Russia celebrate Tet

Vietnamese diplomatic corps in many countries have organised an array of activities for overseas Vietnamese to celebrate the traditional Tet (Lunar New Year), the biggest festival in a year for Vietnamese.

In New Delhi, a get-together at the Vietnamese Embassy on February 11 night brought together Vietnamese expats, representatives of the Association of Southeast Asian Nations (ASEAN) member countries, Indian officials and international friends. 

Addressing the event, Vietnamese Ambassador Ton Sinh Thanh highlighted major socio-economic and diplomatic achievements Vietnam has recorded in 2017. 

With a growth rate of 6.8 percent, Vietnam has been named in the list of economies posting fastest growth pace worldwide in the year, the diplomat said. 

He also highlighted multiple activities marking the 45th anniversary of diplomatic ties between Vietnam and India in 2017, which he said will create a foundation for the bilateral relationship to advance further in 2018. 

The guests were treated to art performances introducing Vietnamese and Indian cultures, along with traditional Vietnamese dishes.

A similar event was hosted by the embassy in Chennai city, Tamil Nadu state, on February 10, along with the launch of a Vietnamese language class for Vietnamese children in Chennai. 

Meanwhile, in Russia, the Vietnamese Consulate General in conjunction with Vietnamese associations in Ekaterinburg city, Svetlop province, organised a gathering on February 11 ahead of the Tet festival. 

Speaking at the event, Consul General Ngo Phuong Nghi informed the Vietnamese expats in Ekaterinburg about the political, cultural, sports and economic situation in the homeland, and urged them to strengthen solidarity in order to build a strong community. 

He pledged to provide the greatest possible support for the expats to run business in the host country in line with Vietnamese and Russian laws. 

President of the Vietnamese Association in Ekaterinburge Le Thanh Do said the association will coordinate with the Consulate General to open Vietnamese language classes for Vietnamese children in Ekaterinburg, and step up its relations with local authorities.
Drastic activities conducted to ensure warm Tet for the needy
The first 20 free buses departed on February 10 carrying 1,725 poor workers to their hometown for traditional New Year (Tet) festival as part of a programme launched by the Ho Chi Minh City Federation of Labour.
Tran Kim Yen, President of the Ho Chi Minh City Federation of Labour said that this year, the federation and enterprises in local export processing zones and industrial parks have presented 4,816 travel tickers worth nearly 4.5 billion VND to help workers reunite with their families.
Alongside, a number of Tet gifts have been presented to the workers, she added.
On February 11 and 12, the federation will continue sending over 3,000 workers home for Tet via 67 buses, said Yen.
Also on February 10, the Youth Federation of the central city of Da Nang held a "Green chung cake festival" to make over 1,000 "chung" (glutinous square cake, which is popularly made during Tet) for disadvantaged people in the locality.
Along with making the cake, the event also includes many folk games and art performance.
Nguyen Manh Dung, Deputy Secretary of the municipal Youth Federation said that local youth have also conducted various activities to assist the needy, including presenting Tet gits to poor households and travel tickers to poor workers to return home for the Tet, the most important festival of Vietnamese people in a year.
In the northern province of Quang Ninh, the provincial Labour Federation supported 37 workers of a construction project whose contractor fled without paying them with 300,000 VND each. The Military Headquarters of the province also offered 1 million VND to each worker.
Meanwhile, the Youth Union of the Mekong Delta province of Vinh Long has launched a voluntary programme with diverse activities to support the needy.
Together with sending Tet gifts to soldiers based in Truong Sa archipelagos and platforms, local youth also offered presents to orphaned children, policy beneficiaries, poor students, and children patients in the Vinh Long General Hospital.
In a hope to bring a warmer Tet festival for poor people, the Central Highlands province of Kon Tum has presented thousands of gifts to them before Tet.
The provincial People's Committee has ordered an advance payment of 11.1 billion VND from the province's budget for the Fund for Supporting the Poor to assist 22,200 poor households during the festival. The province has also mobilised 17,750 Tet gifts worth over 4.5 billion VND from local organisations, enterprises and donors for the poor. 
The south central province of Ninh Thuan has spent over 10 billion VND to support local poor households and policy beneficiaries. Earlier, the Prime Minister has approved an aid of 956 tonnes of rice for Ninh Thuan.
Meanwhile in Ho Chi Minh City, the Ho Chi Minh City Oncology Hospital has launched free bus for nearly 200 patients from southern, Central Highlands, Mekong Delta and central localities to return home for Tet.
On February 9, poor workers in the southern province of Binh Phuoc, workers in the Bac Dong Phu industrial Park enjoyed a festival with many festive activities. More than 2,330 Tet gifts and 100 bus tickets were also presented to poor workers.
A similar festival was also held for workers in the northern province of Hoa Binh, during which 500 Tet gifts worth 350,000 VND each and 200 travel tickers were delivered to needy workers.
In the northern province of Hung Yen, the Department of Labour, Invalids and Social Affairs have set aside over 20 billion VND to support the needy during Tet.
The Mekong Delta province of Tra Vinh has gathered nearly 20 billion VND from the society to assist poor households and policy beneficiaries.
At the same time, over 1,334 tonnes of rice have been delivered to locals in poor localities of the central Quang Binh province. Quang Binh is one of the localities hit seriously by floods and storms in late 2017.
Spring Calligraphy Festival attracts the crowds
The 2018 Spring Calligraphy Festival opened at the Van Mieu – Quoc Tu Giam (Temple of Literature) in Hanoi on February 9, drawing a large number of visitors.
This year's event features the participation of 63 calligraphers taking part in a range of calligraphy writing activities.
As many as 34 outstanding calligraphy works are being showcased in an exhibition for the festival. They were crafted with a variety of materials and in a variety of styles, recording famous sayings, lines of poetry, proverbs, and folk verses
During the festival, which will last until February 25, a retrospective display will be on show, helping visitors learn more about the country's education during the feudal period.
Many cultural activities showcasing the value of Vietnamese traditional folk culture, including an area for handicrafts from Hanoi's trade villages, a display of folk paintings and folk games, will also be held during the festival.
At the opening ceremony, the organising board presented two first, two second, and two third prizes to calligraphers with the most outstanding works in the 2018 Spring Calligraphy Competition. 
Vientiane helps typhoon victims
The Laos-Việt Nam Friendship Association of Vientiane donated 77 tonnes of rice and clothes worth 500 million Laotian Kip (US$60,000) to six central provinces hit by typhoon Damrey last year at a ceremony in the city yesterday.
Chairman of the association, Anouphap Tounalon, said the donation was a friendly gesture to promote ties between the two nations.
The rice will go to typhoon victims in Quảng Trị, Thừa Thiên-Huế, Đà Nẵng, Quảng Nam, Quảng Ngãi and Bình Định.
Typhoon Damrey, the twelfth major storm in the East Sea to hit Việt Nam's south-central coast last year claimed 89 lives and left 18 missing and 174 others injured in central and Central Highlands localities.
The central city of Đà Nẵng has built relationships with Lao provinces, including Vientiane, Savannakhet, Champasak, Sekong, Salavan, Attapu, Bolikhamsay and Xaynhaburi and signed assistance projects worth a total of $2 million from 2013 to 2017.
Đà Nẵng has also trained more than 700 students from Laos. 
Trà Vinh seeks to revive livestock sector
Trà Vinh's livestock sector experienced one of its worst years in 2017 with the prices of pigs and cattle falling sharply.
This year the Cửu Long (Mekong) delta province hopes to revive it by improving the quality of output and reducing costs for farmers.
In the last couple of months farmers have tried not to sell their adult pigs in the hope prices would increase before and during Tết (the Lunar New Year).
However, though Tết is almost upon them, prices have stubbornly remained unchanged at VNĐ27,000-29,000 (US$1.2-1.3) per kilogramme.
At these prices they will suffer losses of VNĐ7,000-9,000 per kilogramme.
Trịnh Văn Nhu of Tam Ngãi Commune in Cầu Kè District owns a pig farm with a capacity of 400 pigs for meat and 120 sows.
His farm is considered one of the most profitable in the region, with an average profit of VNĐ25 million per month.
But last year even he suffered losses, which he estimates at VNĐ1.2 billion.
At the moment he has only 150 pigs and 30 sows, and 70 of the former are ready for sales but he is waiting for prices to recover.
As for the sows, he had bought them at a price of VNĐ10 million per tạ, or 100kg, but now they fetch only VNĐ1.6-1.7 million.
"In my 15 years of raising pigs, I have never faced such a difficult situation," Nhu said.
"I do not know from where I can get money to resume pig rearing next year, not to mention the loan I still have not repaid."
Trần Trung Hiền, director of the province Department of Agriculture and Rural Development, said the livestock industry had never before experienced problems like last year.
There was a time when the price of pigs on the hoof fell to VNĐ2 million per tạ while production cost was VNĐ3.6 million, he said.
Many farmers stopped breeding pigs due to heavy losses, he said.
The main reasons for the price fall were oversupply, farmers' lack of market information and the lack of collaboration between farmers and enterprises, he said.
To revive the sector, the province is reviewing its cattle and poultry breeding activities to ensure a balance between supply and demand.
It is also encouraging farmers to join local co-operatives to ensure their output is sold and learn new farming techniques to reduce costs and improve efficiency.
According to department data, the province has 320,000 pigs, 209,000 cows and buffaloes and around 4.1 million chickens and ducks.
Smallholders account for more than 80 per cent of the province's pigs and cattle and 75 per cent of poultry.
Most farmers are too small to benefit from the Government's incentives, according to the department.
The province is working with relevant agencies to enhance implementation of the central and local governments' animal husbandry development policies.
It is also providing subsidies of VNĐ13.4 billion to farmers to boost productivity by buying high-quality breed stock and getting training in cattle breeding techniques. 
Fund donates gifts to cancer patients
The Ngày mai tươi sáng (Bright Future) Fund for Cancer Patients on Friday donated 100 gifts, each worth VNĐ1 million (US$44.5), to cancer patients at Bạch Mai General Hospital in Hà Nội.
The gifts were part of the Fund's VNĐ1 billion gift package for cancer patients across the country on the occasion of Lunar New Year.
"The gifts are aimed at helping needy patients have a good Tết with their families," said former Vice President Nguyễn Thị Doan.
She urged the hospital to expand the application of advanced medical technologies and modern medical facilities to examine and treat patients, especially those suffering from cancer.
Health Minister Nguyễn Thị Kim Tiến and the fund's leaders will also visit and present gifts to children suffering from cancer at the Cancer and Tumour Hospital in HCM City on Monday.   
The fund will also provide 20 coaches to transport patients to their home towns and cities for Tết holidays.
Established in 2011, the fund has so far provided more than VNĐ18 billion ($790,000) in financial support to more than 19,200 poor cancer patients. It has also organised free cancer screenings for some 70,000 people to date. 
VNA operates Taiwan-CanTho flights     
 Vietnam Airlines will start operating direct flights from Taiwan to CanTho and vice versa, said Nguyen Phuc Dien, head of Vietnam Airlines' branch in Can Tho, on Thursday.
The direct flights will be introduced to make it easy for passengers to fly to Viet Nam from Taiwan on the occasion of Lunar New Year 2018.
Vietnam Airlines will operate two flights from Taiwan to CanTho and vice versa on Saturday and on Tuesday to bring home more than 200 passengers, mainly Vietnamese workers from CanTho and provinces in the Mekong Delta working in Taiwan.
The first flight on Saturday will depart from Taiwan at 6.45am (local time) and land at CanTho airport at 9.20am (local time).
The second flight on Tuesday will depart from Taiwan at 10.55pm and land at CanTho airport at 1.10am on Wednesday.
Only two return flights from CanTho to Taiwan will operate from February 20.
Every year, Vietnam Airlines introduces flights connecting Taiwan and Can Tho to serve the Vietnamese people living and working in Taiwan. The flights will help people save time and money in returning to their hometowns for the Lunar New Year festival, Dien said. 
Ha Nam hosts exhibition on 1968 Spring General Offensive
An exhibition on the General Offensive and Uprising in the spring of 1968 was opened in the northern province of Ha Nam province on February 9.
Spectators learn about the campaign through 100 documents and items which also highlight its historical values and the wise leadership of the Party and the Central Military Commission during the anti-US war of resistance.
The Spring General Offensive began in the early morning of January 31, 1968, when liberation forces simultaneously launched attacks on bases of US troops and the US-backed southern government in cities such as Hue, Da Nang, Can Tho and Saigon. 
The General Offensive marked a strategic turning point for the resistance war against the US and its allies. It also helped lead to the liberation of southern Vietnam and national reunification in 1975.
The historical event has become a symbol of the strong will and determination and aspiration for peace and independence of the entire Vietnamese nation. 
OVs join Lunar New Year festival celebration
As many as 700 overseas Vietnamese living in the Czech Republic attended a gala night in Prague on February 9 to celebrate the Lunar New Year festival (Tet).
A giant screen at the main stage featured popular Tet items, including firecrackers, green sticky rice cakes (Banh Chung), red parallel sentences, and "neu" tree - a bamboo pole erected at the front entrance to the home. The event also displayed large-sized photos of the Constellation of Literature Pavilion, the Temple of Literature, The Huc bridge, and Ben Thanh market in Ho Chi Minh City.
Hoang Van Than, who arrived in Prague early from Tachov city bordering Germany, told VOV, "I drove my car 170km to attend this gathering. No matter how far we are, I and other Vietnamese people here always come together to celebrate Tet, a time to remember our homeland and our root".
Most of participants to the Gala night are young Vietnam people of the second and third generations. Tran Phuong Linh, one of them, said, "I'm very moved to attend this Tet gathering. Being a young Vietnamese, I'm aware of our responsibility to preserve Vietnam's unique Tet traditions and pass them down to the next generations".
Meanwhile, local authorities in Vietnam have held numerous meetings with Vietnamese expatriates returning home for Tet. 
The same day, Vice Chairman of Ho Chi Minh city's People's Committee Ho Ky Minh told 160 overseas Vietnamese that they are always given favorable conditions to visit and invest in Vietnam. 
A similar meeting, involving 200 participants also was held in the southern  province of Binh Duong province.
Global coalition petitions to end fossil power in Vietnam as deadly future looms
Coal power pollution could increase CO2 emissions in Vietnam by 20 times and doom global efforts to curb warming.
An international coalition signed a petition on February 8 to stop funding for coal-fired power development in Southeast Asia after studies found that a dramatic increase in carbon emissions could kill tens of thousands in the next decade and sabotage global warming targets.
Environmental organizations Greenpeace, Friends of the Earth, Walhi of Indonesia, and Vietnam's CHANGE and GreenID filed the petition with banking-focused groups Market Forces and BankTrack to ask Singaporean banks to stop financing plants in Vietnam and Indonesia.
The request is based on a Harvard University study that found that coal pollution could cause 19,220 premature deaths in Vietnam every year by 2030. The number in Indonesia was estimated at 24,400.
CHANGE, a not-for-profit group based in Ho Chi Minh City, said in a press release that Singaporean bank DBS is supporting seven coal-fired power projects in Indonesia and Vietnam.
With a total designed capacity of 8.8 GW, the plants are going to emit 1.5 billion tons of carbon dioxide in their lifetime, equal to Singapore's entire emissions in 30 years, it said.
Hoang Thi Minh Hong, director of CHANGE, said that: "Vietnam has large potential for renewable energy and that should be our future, not the outdated and polluting energy that has been dismissed by the rest of the world."
Wind and solar power projects are starting to develop in Vietnam, but have not received much attention from businesses due to financial concerns, according to media reports.
The country used to depend heavily on hydropower power plants, which have also caused environmental controversy from time to time, but has invested more in coal-fired power in recent years.
Its coal-fuelled ambitions, however, could turn Vietnam into a culprit for the global climate change crisis.
Vietnam, China, India, Indonesia and Turkey are home to "nearly three quarters (73 percent) of the global coal-fired capacity that is currently under construction or planned," according to a study by the Mercator Research Institute on Global Commons and Climate Change in Berlin, as cited by the Washington Post on February 8.
Vietnam could see 948 percent growth in coal emissions, an almost 20-fold increase, by 2030, if all its coal power plans are carried forward, according to the research, which used the CoalSwarm database, a project run by the Earth Island Institute which tracks coal plants across the globe, in collaboration with Greenpeace and the Sierra Club.
The study noted that the world has only about 700 billion tons of carbon dioxide to emit if it wants to hold the temperature increase below 2 degrees Celsius this century as set in the Paris Agreement, of which Vietnam is a signatory.
Existing coal plants and other infrastructure are already capable of consuming 500 billion tons on their own and the new coal plants could consume another 150 billion tons, the research found.
The aim to hold warming at just 1.5 degrees Celsius seems to have no chance, it said.
Wealthy Vietnamese turn their backs on 'boring' Tet for overseas travel
Droves of families are escaping the usual rigmarole for a more exotic Lunar New Year.
Nguyen Thu Huong won't be making the traditional pilgrimage back to Ha Tinh Province to celebrate the upcoming Tet with her husband's family this year. Instead, they are going to Singapore to enjoy shopping and sightseeing.
Traveling overseas allows her family to bypass the crowds, clogged roads and boredom that can mark Tet in Vietnam. Huong, her husband and their small son have also visited Thailand, Malaysia and Hong Kong in previous years.
"I don't want a boring Tet, staying at home in Hanoi or going to Ha Tinh. Tetcelebrations are always the same old thing - eating, drinking and watching TV galas - every year," said Huong, 30, who works for the State Bank of Vietnam. "Traveling overseas is interesting, and it doesn't cost much more than visiting tourist spots in this country."
Huong is just one of many Vietnamese people who have decided to go abroad this Tet holiday, which starts on February 15.
Many travel agents said they have received 20-30 percent more bookings for overseas travel than last year.
Vietravel has received an estimated 19,000 bookings for outbound tours this Tet, while Lu Hanh Viet and Hanoi Red Tour have forecast 10,000 and 3,000 customers respectively. Thailand, Singapore, Malaysia, South Korea and Japan are proving to be the most popular destinations.
Rising overseas travel is a result of smooth economic development and an expanding middle class, said Nguyen Cong Hoan, vice general director of Hanoi Redtour. "A more affluent younger generation now wants to see the world. They are willing to spend more money on experiencing new destinations."
Vietnam's middle class population is believed to be the fastest growing in Southeast Asia. The so-called "middle and affluent class" earning $714 a month or more in Vietnam will double to 33 million people, about a third of the population, between 2014 and 2020, Nikkei Asian Review reported, citing Boston Consulting Group.
Meanwhile, market research firm Nielsen has estimated that the number of middle class Vietnamese will reach 44 million by 2020 and 95 million by 2030.
According to Mastercard, Vietnam has the second fastest growing outbound market in the Asia Pacific region, after Myanmar, with projected annual growth of 9.5 percent between 2016 and 2021.
Eric Schneider, senior vice president, Asia Pacific, Mastercard Advisors, said the burgeoning middle class is driving the growth of outbound travel in Asia Pacific, including Vietnam, along with other trends such as the emergence of the Asian millennial traveler and on the other end of the spectrum the senior traveler, as well as new technology and infrastructure developments. Asia Pacific travelers will continue to fuel global tourism growth in years to come, providing vast opportunities for businesses to benefit through the development of products and solutions that seek to improve their overall travel experiences.
Mastercard forecast that some 7.5 million Vietnamese travelers will venture outside the country in 2021, increasing from only 4.8 million in 2016.
The essence of Tet, Vietnam's biggest holiday, is morphing as rising incomes and an expanding network of international flights prompt more people to travel abroad.
"For us, Tet is mainly a vacation period," said a Hanoian named Tran Bao Ngoc, who is planning to visit South Korea for the festival, leaving her parents at home.
"I don't think my absence will kill their mood," she said, adding that she planned to spend up to VND60 million ($2,642) on her vacation. "For me, it's not a small sum, but I think a one-week vacation is rare, so it's worth spending the money."
Traditionally, Vietnamese people return home during Tet for a family gathering before New Year's Eve, followed by days of visiting relatives. However, the observance of this custom is becoming less strict. "We're not that close to our relatives anymore, so there's no need," Ngoc said.
On a lighter note, going on vacation during Tet is a way for many young Vietnamese women to avoid distant relatives' prying questions like: "When are you getting married?" or "When are you planning on having a baby?"
For many married women, it is also a way of escaping the stress that comes with the exhausting chores of preparing traditional food for the ancestral rites.
Tran Thu Ha, 35, from Hanoi, said she got an earful from her mother-in-law when she and her husband traveled to Japan during Tet some years ago. "She gave me a long lecture about why we should show up for the ancestral rites at my husband's house. But other relatives also started dropping out in the following years, and she loosened up."
This Tet, Ha will be going to Australia with her husband and some friends. "My husband said it's a New Year gift for me," she said.
For many affluent travelers such as Ha, foreign travel during Tet has become its own tradition. "Ten years ago, 1,000km to domestic destinations like Da Nang was considered far away," she said. "Now, our radius of travel is more than 3,000km, and the new destinations are overseas."
Deputy PM pays pre-Tet visit to Ninh Thuan
Deputy Prime Minister Truong Hoa Binh delivered gifts to heroic Vietnamese mothers, policy beneficiaries, and poor households in the southern province of Ninh Thuan province on February 9, ahead of the Lunar New Year (Tet).
The Deputy PM called on them to make greater effort to escape poverty and stabilize their lives. He urged local authorities to work harder to develop the provincial economy and improve locals' living standards.
Binh presented 50 gifts to 13 heroic Vietnamese mothers, 12 war invalids, and 25 social policy beneficiary and ethnic minority households in Ninh Thuan. 
Party anniversary, Lunar New Year celebrated in various localities
A broad array of activities have been launched across the nation to mark the 88th anniversary of the Communist Party of Vietnam, 50th anniversary of the 1968 Spring General Offensive and Uprising, and the 2018 Lunar New Year.
Southern Tra Vinh province on February 10 hosted a meeting to mark such events with the participation of 900 delegates, who are heroic Vietnamese mothers, revolutionary veterans, policy beneficiaries, religious dignitaries, cadres, and representatives for the armed forces in Tra Vinh. 
56 Party members were awarded with badges in recognition of their 50th, 55th, and 60th year of Party membership.
In northern Lang Son province, the local Spring Press Festival 2018 opened the same day, displaying more than 1,000 publications, which will be delivered to border guard stations in the province.
The southcentral coastal province of Phu Yen province opened the Spring Press Festival, showcasing works on the Communist Party of Vietnam, President Ho Chi Minh, models in following Ho Chi Minh thoughts, morality, and style, and Vietnam's sea and islands.
Tet in flood-stricken regions
Repeated floods in the central region in late 2017 devastated the lives of local people. With support from people nationwide, the flood victims have gradually stabilized their lives and prepared for the Lunar New Year celebration.
Tran Thi Vang of Quang Phuoc commune, Thua Thien-Hue province, has prepared a lot of food for her family's get-together during Tet. Vang said last year's floods inundated the whole village and swept away her house. She had to stay with neighbors. 
With a donation of VND50 million from philanthropists and relatives, she has been able to build a new house. "We couldn't afford to build another house. Our children gave us some money and the government provided additional support to pay for materials and labor. We're very happy to be welcoming Tet with our children in a new house."
Mai Duong hamlet was isolated by flood. Aquaculture farmers were hard hit. With the government's support and donations from kindhearted people, they have quickly stabilized their lives and repaired their houses.
Ha Van Tuan, Director of the Thua Thien-Hue provincial Department of Labor, Invalids, and Social Affairs, said organizations and individuals have donated VND7 billion and tens of thousands of gifts to help them enjoy a sufficient Tet. 
"All the people will have a sufficient and happy Tet. The province has distributed 1,500 tons of rice to people in flood-hit areas. Each poor household received 30 kg of rice. They also received Tet gifts from businesses and philanthropists," Tuan said.
Continuous flooding for more than a month in Binh Dinh province destroyed 900 houses and left hundreds of families homeless. Kindhearted people and charity organizations raised VND60 billion to help them repair their houses before Tet. 
Ho Quoc Dung, Chairman of the Binh Dinh provincial People's Committee, said: "The money was used to repair or rebuild 900 houses and support production. People's lives have returned to normal."