VietNamNet Bridge – Explosive device specialists on Wednesday successfully exploded 260 wartime bombs taken from a scrap warehouse in central Quang Tri Province.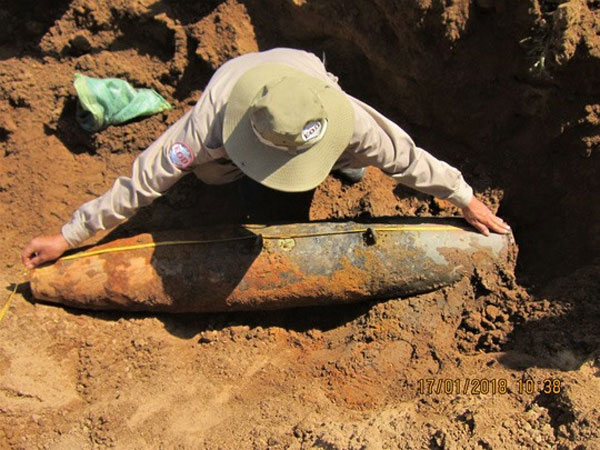 A staff measuring the giant Mark 82 bomb. Photo courtesy of Peace Tree Viet Nam
Peace Tree Viet Nam, the country's representative office of an international organisation specialising in explosive device clearance, said they had taken the explosive devices from the warehouse in the province's Lao Bao Township to a safe place to defuse them.
According to Peace Tree, the devices included rocket bullet, M23 chemical mine and other devices that were used by the US Army during the war in Vietnam. Almost all the devices taken were with their original fuses.
Nguyen Thi Quyen, owner of the scrap warehouse, said she had bought the devices from locals, and reported the devices to local police following recent explosion cases of wartime bombs being stored at scrap warehouses.
Checks on wartime explosive devices at scrap warehouses were conducted across the country following a blast on January 3 at a scrap warehouse in northern Bac Ninh's Quan Do Village. The blast, with a 1km radius, killed two and injured eight persons.
On the same day, the Peace Tree staff discovered a Mark 82 bomb with its original fuse in the province's Tan Long Commune in Huong Hoa District.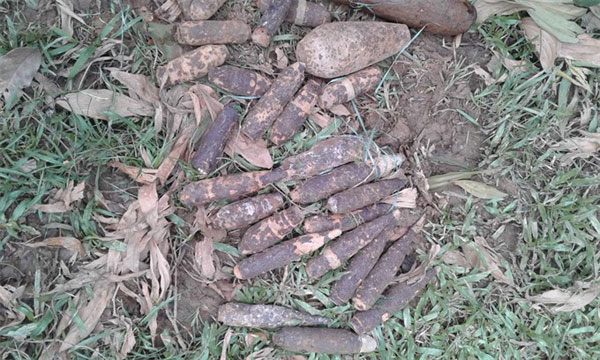 The devices found at the scrap warehouse. Photo courtesy of Peace Tree Viet Nam
The giant bomb, which is 1.54m long and weighs 227kg, was located at a stream bank and unearthed by the water flow. The bomb was also left at the site by the US Army after the war.
Quang Tri was on the border between North and South Viet Nam during wartime. It, thus, received tonnes of bombs released by the US Air Force, making the province the top locality for unexploded devices found on and underground in the country.
The province also has the highest percentage of disabled people caused by post-war explosive devices in the country. Several international explosive specialist organizations work in the province to collect and defuse the devices. 
Source: VNS