VietNamNet Bridge – This hill town has an aromatic orchid shaped like a boat. Called Dia lan Sa Pa (cymbidium or boat orchid), they have a captivating perfume and charming petals that attract the wealthy.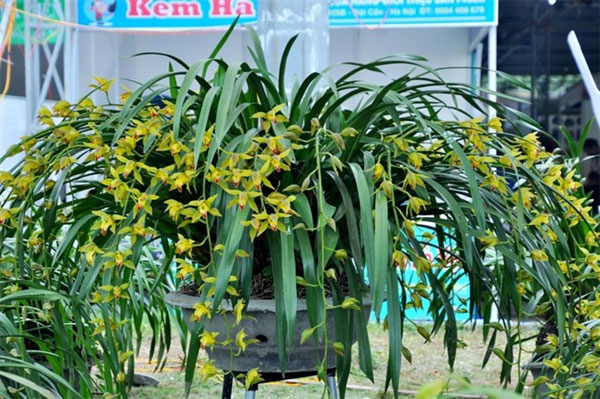 Bountiful: To have a bountiful boat-orchid, gardeners needs top skills and plenty of luck. — Photo baomoi.com
Other orchids, such as the lan ho diep (moth orchid), are priced at VND2-3 million (US$88-132) per pot. However, Sa Pa boat orchids cost several times more and are one of the most expensive plants on the market. They are sought by wealthy people, especially during Tet.
Vuong Xuan Phuong, owner of Ta Phin Orchid Garden in Sa Pa, said the weather was unfavourable this year and boat orchids died in large numbers. However, because of careful attention by his family, 500 of the special orchids have taken root.
But uniform weather is necessary for the orchids to bloom on time. If the weather constantly changes, the flowers will appear at the wrong time. The price of just one spikelet from a boat orchid is from VND400,000 to VND2.4 million (US$17-88).  
"I have three pots which are priced at a total of VND120 millions (roughly VND40 million each), have been ordered by wealthy families at Lao Cai, Can Tho and HCM City. We begin to ship our goods from January 22. The biggest pot has 120 spikelets and is really tough to take care of," he said, advising that 80 per cent of the 500 pots were already ordered by customers.
Another orchid grower, Nguyen Van Chieu, said customers started ordering his boat orchids last October. The pots which cost a whopping VND100 million ($4,404) were all ordered by early birds. He said the plants were not only rare and beautiful, but also hard to grow.
Colourful: Sapa boat orchids are one of the most expensive plants on the market. — Photo tieudungplus.com
According to Phuong, planting boat orchids require patience. To have a successful season, gardeners need world-class techniques - and a lot of luck.
"An astonishing feature of boat orchids is that the flowers last for three months," he said. 
The plants reach a height of 90cm and come in only four colours - yellow green, blue, turquoise and yellow brown. Phuong said turquoise was the most favoured.
Source: VNS