Hanoi bus ridership recovers following service improvements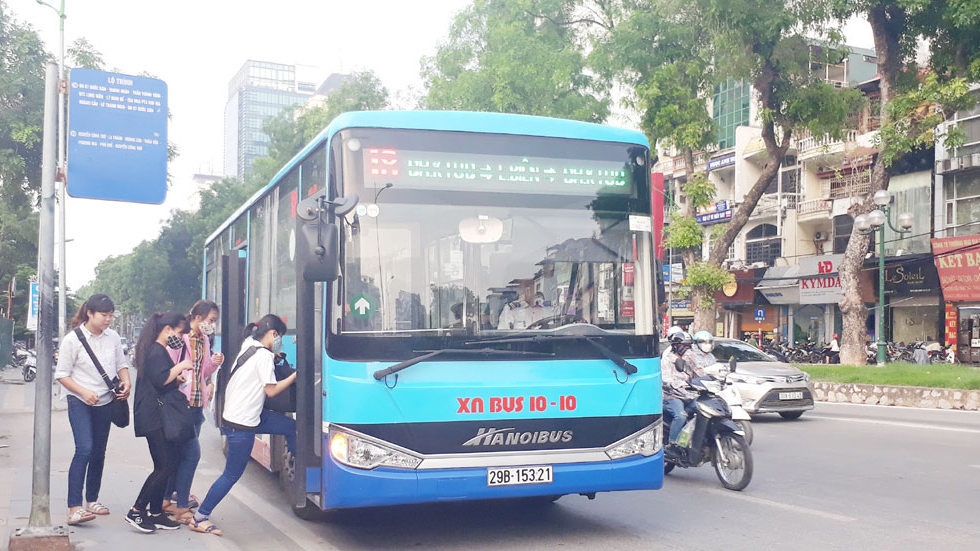 The number of passengers using Hanoi's public bus in 2017 rebounded after years of decline following steps to improve the service by Transerco, the main bus operator in the capital city.
Transerco's director general Nguyen Hoang Trung reported that on January 13 that total ridership last year rose 3% from a year earlier.
He said that as part of the company's bus development for the 2016-2020 period, Transerco opened 17 new regular bus routes and one BRT route in 2017, helping to expand subsidised bus services to Hanoi's outlying suburbs.
The company also purchased 258 new buses, accounting for nearly one third of its fleet to serve new routes and replace dilapidated vehicles.
In addition, free Wi-Fi services were offered on many buses while a mobile app, available in both Vietnamese and English, was redesigned to make it easier for passengers to navigate the capital city's public bus system.
With only a few touches, passengers can now set their departure and arrival locations and the app will display the most convenient bus routes.
More than 4,000 bus drivers and conductors were also trained to be more hospitable and helpful to passengers.
In the next few years, Hanoi will strive to further improve its bus service in order to increase the usage of public transport, which is expected to help reduce traffic congestion and air pollution.
Last year, the city government approved a plan to ban motorbikes in central districts by 2030 and raise the capacity of the public transport system to 30-35% of travel demand by 2020 and 50-55% by 2030.
Search continues for 11 lost fishermen
Search forces have recovered two bodies believed to be among the 15 fishermen lost after four ships sank on Monday. Rogue waves were appearing in the region at the time as a cold spell struck from the North.
Searchers first found a male body floating off the coast of Hậu Lộc District in Thanh Hóa Province at about 5.50pm on Thursday. It was identified as 31-year-old local fisherman Nguyễn Văn Thành, who was among the four missing after fishing boat TH-90605 lost contact in the area near Bạch Long Vỹ Island in Tonkin Gulf on Monday.
Early on Friday early morning, another body was found off Hải Phòng City. It is believed to be of fisherman Nguyễn Văn Nguyên. Nguyên was one of the five missing on the ship coded TH-91552 TS while it was fishing off the coast.
Search efforts are still underway for the other 11 fishermen, including  six fishermen on the two ships TH-1288TS and TH-3202. Their last contact with shore showed that they disappeared in the sea off Hải Phòng and Thanh Hóa.  
The authorities have deployed five specialised search-and-rescue ships to different areas to look for the missing men. Hundreds of  fishing ships have also joined the search.
Deputy PM asks Ca Mau to expand marine-based economy
Permanent Deputy Prime Minister Truong Hoa Binh has asked the southernmost province of Ca Mau to fully tap its potential in aquaculture and expand marine-based economy for sustainable economic development. 
During a working session with the provincial leaders on January 13, Binh suggested Ca Mau soon deploy Hon Khoai deepwater port project in Hon Khoai island, which is capable of handling vessels weighing up to 250,000 tonnes, thereby helping to reduce transportation costs and improve competitiveness of local exports. 
Ca Mau needs to pay attention to reviewing its master plan on socio-economic development in combination with ensuring national defence-security, as well as restructuring the economy and renewing growth model, he said.
In order to lift up its rank in the provincial competitiveness index (PCI), the province should improve the efficiency of administrative reform and business climate, the Deputy PM noted.
Binh suggested Ca Mau multiply production models that are adaptive to climate change, step up agricultural restructuring in tandem with new rural development, develop industries to serve high-tech agriculture and services of high added value, enhance regional connectivity for socio-economic development and national defence-security in the province and the whole region. 
The province needs to actively cope with disasters and landslide by building dykes and works in response to climate change, deal with pollution "hotspots" and ensure social welfares for local people, he stressed. 
Last year, the province's gross regional domestic product (GRDP) was estimated at 37,847 billion VND (1.67 billion USD), up 7 percent year on year. The State budget collection hit 4,183 billion VND, or 101 percent of the estimate. 
Exports rose 13 percent to 1.1 billion USD while the rate of poor households was reduced to 5.9 percent and 29 communes were recognised as new-style rural areas. 
In the afternoon of the same day, Deputy PM Truong Hoa Binh visited and presented gifts to policy beneficiary families in the province.
Bac Giang, VNA step up communications cooperation
The People's Committee of northern Bac Giang province and the Vietnam News Agency (VNA) held a conference on January 12 to review the implementation of their communications cooperation agreement in 2017 and map out plans for 2018.
Under the terms of the agreement, the VNA has popularised the images of Bac Giang province and introduced its achievements, socio-economic development potential and policies to readers and viewers both at home and abroad through online and print publications and television channel. 
More than 900 news stories, articles and photos about Bac Giang were published in the VNA's source information websites and about 80 reportages were aired on its television channel.
The cooperation in communications has contributed to the province's social and economic successes last year. Highlights among Bac Giang's achievements are record GRDP growth of 13.3 percent and the 8th position out of 63 provinces and cities in terms of foreign investment attraction.
Speaking at the conference, VNA General Director Nguyen Duc Loi congratulated Bac Giang on its achievements and affirmed the agency's continued support for the province's popularization of laws and policies and promotion of local advantages and potential both at home and overseas.
Vice Chairman of the provincial People's Committee Lai Thanh Son outlined key contents of their cooperation plan this year, including the promotion of Tay Yen Tu Festival 2018, fast-tracking progress of local key infrastructure projects and improvements in the business climate.
HCM City, Aomori foster hi-tech agricultural cooperation
Ho Chi Minh City hopes to have more cooperation activities with Japanese localities, including Aomori prefecture, to develop hi-tech agriculture, said a local official. 
Chairman of the municipal People's Committee Nguyen Thanh Phong expressed his wish while receiving the Mayors of Hachinohe, Aomori, and Mutsu cities of Aomori prefecture, who have been in HCM City to attend the "Japan Aomori Food Fair 2018".
Japanese products, including Aomori apples, have become popular among Vietnamese consumers and those in HCM City as well, Phong said.
The ongoing visit by the mayors to HCM City will contribute to increasing the trade exchanges and cooperation between firms of the two localities, particularly after the launch of a direct air route between the city and Hokkaido in the coming time, he said.
Phong lauded the cities' authorities for accompanying with their businesses to organise the "Japan Aomori Food Fair", saying that the event is a model for HCM City to learn and introduce its products to international markets.
On behalf of the Japanese delegation, Kobayashi Makota, Mayor of Hachinohe city, affirmed that the administration and enterprises of Aomori prefecture are interested in the Vietnamese market and expect to introduce to local consumers its high-quality products, such as apples, sea shells, tuna, among others.
He expressed his hope that HCM City and localities of Aomori prefecture will beef up cooperation in their key fields, such as high-quality agricultural products, seafood, while fostering relations between their firms, thus contributing to the friendship between the two nations.
The northern prefecture of Aomori is famous for fishing, seafood processing, and high-quality agricultural production.
It is also home to a large number of Vietnamese students and postgraduates.
Vietnam keen on fostering traditional solidarity with Cuba: VUFO
Vice President and General Secretary of the Vietnam Union of Friendship Organisations (VUFO) Don Tuan Phong has affirmed that his organization has always showed solidarity with Cuba in all people's forums in the world.
Receiving a delegation from the Cuban Communist Party Central Committee's Department for External Relations led by its deputy head Carlos Marsan, Phong said that Vietnam supports Cuba's fight against the US embargo.
Phong said that in 2018, VUFO and the Vietnam-Cuba Friendship Association will cooperate closely with the Cuban side in celebrating 45 years of Cuban leader Fidel Castro's visit to Vietnam (1973-2018). 
Vietnam welcomes delegations from the Cuban Institute for Friendship with the Peoples and the Cuba-Vietnam Friendship Association in March this year, he said, adding that he hopes the activities will help foster the friendship and solidarity between the two countries' people.
For his part, Carlos Marsan thanked the VUFO and the Vietnamese people in general for warm sentiments towards Cuba. He also appreciated Vietnam's support in overcoming consequences of storm Irma in September last year.
He said that the sound sentiments between the Vietnamese and Cuban people should be passed on to younger generations, considering it one of the focal tasks of the Cuban Communist Party in 2018.
Cuba is on the process of updating its economy to develop the country and improve people's living conditions, which is always supported by the VUFO, he noted.
He held that Vietnamese firms' interest in the Cuban market is a favourable condition to boost economic connection between the two countries and make it match the sound bilateral political relations.
Cuban Communist Party delegation welcomed in Hanoi
Politburo member and Secretary of the Communist Party of Vietnam Central Committee (CPVCC) Vo Van Thuong has affirmed the consistent support and solidarity of the Vietnamese Party, State and people to their Cuban counterparts.
He made the affirmation at a reception in Hanoi on January 12 for a visiting delegation from the Cuban Communist Party Central Committee's Department for External Relations led by its deputy head Carlos Marsan.
Thuong, who is also head of the CPVCC's Commission for Information and Education, suggested the two parties actively prepare for delegation exchanges in 2018, as well as activities to celebrate 45 years since the visit by Cuban leader Fidel Castro to the southern liberation zone of Vietnam (September 1973-2018).
He said he believes that such activities will contribute to further deepening the exemplary brotherhood, traditional friendship, comprehensive cooperation and loyal solidarity between the Parties, States and people of Vietnam and Cuba.
For his part, Carlos Marsan thanked the Vietnamese Party, State and people for their consistent support and solidarity given to Cuba, underscoring his country's determination to reinforce the bilateral special ties.
Briefing his host on Cuba's situation and its economic update achievements, he said the Party, Sate and people of Cuba will continue pursuing the goal of building Cuba into a prosperous socialist country.
Earlier, Carlos Marsan met with Hoang Binh Quan, head of the CPVCC's Commission for External Relations, and his deputy Nguyen Tuan Phong. The two sides discussed a wide range of regional and international issues of mutual concern and agreed on specific measures to foster ties between the two Parties and States.
During their stay, the Cuban delegation paid tribute to late President Ho Chi Minh at his mausoleum, and laid flowers at the Statue of Jose Marti in Hanoi. They worked with representatives of the Ho Chi Minh National Academy of Politics, the Communist Review, the Foreign Ministry, the Vietnam Union of Friendship Organisations, and the Ho Chi Minh Communist Youth Union Central Committee.
They also visited Ho Chi Minh City and Ninh Binh province.
Denmark-backed dual vocational training proves effective in Vietnam
Dual vocation training model has proved an effective means of enhancing links between schools and businesses, heard a conference to review the first phase of the Danish-Vietnamese Technical and Vocational Education and Training (TVET) project in Ho Chi Minh City on January 12.
With support of Denmark, the project has been piloted in four Vietnamese TVET colleges – Industrial Vocational College Hanoi; Ho Chi Minh City Vocational College; North-Eastern Vocational College of Technology, Agriculture and Forestry; and Southern Technology and Agro-forestry Vocational College – with two majors of Graphic Design and Interior Design.
Under the project, local occupational skills' councils have been set up at the selected colleges while the schools have been supported to develop curricula corresponding to the needs of companies and pilot in-company apprenticeship programmes so as to increase experiences for students and improve lecturers' capacity.
Nguyen Gia Phuc from the Industrial Vocational College Hanoi said the college's link with businesses was merely introducing students with in-company apprenticeship opportunities and by joining the project, it has become more connected to companies.
The college has gained a better understanding of businesses' needs while enterprises have been more aware of their responsibility in vocational training and education as they will be the ones to employ the graduates, Phuc noted.
Vietnam is Denmark's only partner in Southeast Asia in the project, said Lise Lotte Toft, head of the Division for International Affairs in Denmark's Ministry of Education.
Ending the first phase, the project has helped reduce gaps between students' skills and what required by enterprises, she noted, adding that the project will continue by 2019.
Truong Anh Dung, Deputy Director of the Directorate of Vocational Training at the Ministry of Labour, Invalids and Social Affairs, highly spoke of the model and voiced his hope that Denmark will continue backing Vietnam in developing the dual training model.
Sustainable environment project for coastal cities launched
A conference was held in Phan Rang – Thap Cham city in the south central province of Ninh Thuan on January 12 to launch the Vietnam Coastal Cities Sustainable Environment Project (CCSEP) funded by the World Bank (WB).
The project will be carried out in the coastal cities of Dong Hoi (Quang Binh), Quy Nhon (Binh Dinh), Nha Trang (Khanh Hoa), and Phan Rang – Thap Cham. It aims at boosting access to environmental sanitation services and efficiency of these services in the targeted coastal cities, expected to benefit over 1 million local people.
With a funding of 273.6 million USD, the five-year project will expand sanitation infrastructure, improve urban connectivity, compensate site clearance and help with institutional reform.
Portfolio & Operations Manager of the WB Vietnam Achim Fock said the project will also help link the four cities by upgrading a number major roads and bridges, contributing to increasing their resilience capacity amid climate change.
A large amount of work needs to be done in a short period of time, he said, suggesting the Vietnamese Government include the CCSEP in its middle-term investment plan as soon as possible.
Luu Xuan Vinh, Chairman of the Ninh Thuan People's Committee, said the local authorities will create the best condition to facilitate the implementation of the project in Phan Rang – Thap Cham city.
Life insurance industry institutes press awards
The first press awards in the life insurance sector will be given away to honour journalists for their contributions to raising awareness about the importance of insurance  both to the economy and society.
"Life Protection" was launched by the Việt Nam Insurance Association (IAV).
Thân Hiền Anh, vice president of the IAV and head of the organising committee, said at the launch ceremony: "Life insurance has been developed in Việt Nam for more than 20 years.
"Since its foundation, life insurance has developed rapidly, contributed much to the socio-economy and brought idle capital into the economy.
"So far the industry has created around 600,000 jobs."
Despite 30 per cent average growth in the value of life insurance premiums in recent years, the ratio of people with insurance in Việt Nam remains a modest 8 per cent, much lower than the global average.
The awards will include the print, electronic, radio, and television categories. Each prize winner will receive a certificate of merit, a travel voucher worth VNĐ5 million (US$220), and a voucher worth VNĐ3 million ($132).
Stories can be in  Vietnamese or English and must have been published between July last year and next June.
The list of award winners will be announced next August.
The jury comprises five members: journalist and standing vice chairman of the Việt Nam Journalists Association Hồ Quang Lợi; IAV vice president Thân Hiền Anh, IAV executive director Lê Hương Ly; IAV secretary general Bùi Gia Anh; and IAV deputy secretary Ngô Trung Dũng.
Most Vietnamese get news from social media, survey finds
When social or digital foreign media break stories first, they've already won Vietnamese public's recognition, a propaganda official said.
Vietnamese people love social media, their regular source of daily news, a new survey has found.
Vietnam comes fourth in a survey conducted by Pew Research Center to find out how often people in 38 countries, including both advanced and developing ones, turn to social media to get the news.
While getting news online daily is more common in advanced economies (median of 54 percent) than in emerging and developing ones (median of 23 percent), the difference subsides when only news from social media is taken into account, according to the survey.
"People in advanced economies (median of 36 percent) use social media daily for news at similar rates to those in emerging or developing economies (33 percent)," the Pew Research Center said in a report.
The Republic of Korea takes the throne with 57 percent of respondents saying they used social media to get the news several times a day or once a day, followed by Lebanon with 52 percent, Argentina with 51 percent and Vietnam with 48 percent, according to the survey released on January 11 by the nonpartisan American think tank.
In 37 of the 38 countries studied, adults aged 18 to 29 were more likely than those 50 and older to use social media at least once a day for news.
In 10 countries, the gap is at least 50 percentage points, with the biggest difference recorded in Vietnam, at 78 points.
Specifically, as many as 81 percent of Vietnamese respondents aged 18-29 use social media daily to access news, while only 3 percent of those aged 50 and older do so, said the survey which interviewed an average of 1,000 persons in each studied country last year.
Higher income people are also more likely to use social media for daily news than lower income people in 32 surveyed countries, with the biggest gap recorded in Vietnam at 32 percentage points. More than half, or 62 percent, of high income earners in Vietnam get their daily news updates from social networking sites while only 34 percent of low income earners do so. 
"Nowadays, it is the early-bird newspaper, not the major one, that will triumph," Vo Van Thuong, the head of the Communist Party's propaganda organ, said at a meeting in August last year. When social or digital foreign media break stories first, they've already won public recognition, leaving Vietnam's mainstream media well behind, he added.
Vietnam has around 64 million Facebook users, accounting for 3 percent of global Facebookers, according to a report released in July last year by We Are Social, a social media marketing and advertising agency.
The country surpassed Thailand and Turkey from the previous report released in January last year to secure the seventh spot. In just six months, the number of Vietnamese active users had increased by 40 percent.
More than half of the Vietnamese population of nearly 92 million are online, and people spend more than two hours each day on average on the social media network, said the report.
Police seize 84 kg of firecrackers being smuggled from Laos to Vietnam
 Border police and customs officials in central Quang Tri province arrested two firecracker smugglers on January 12 for the illegal transport of 84 kg of various firecrackers from Laos to Vietnam.
Customs officials said they stopped a suspicious car at Lao Bao international border gate and conducted a search, discovering nearly 84 kg of firecrackers concealed within two doors and in the floor of the car.
The two suspects named Nguyen Huu Nghi, 29, from Quang Binh, and Tran Canh Phuc, 20,  from Quang Tri confessed to having purchased the firecrackers in Savannakhet province, Laos before transporting them to Vietnam for sale. Further investigation into the incident is underway.
Since the beginning of the year, police at Lao Bao International border gate in Quang Tri province have uncovered four cases of smugglers attempting to illegally transport nearly 200 kg of firecrackers over border. 
Devastating fire engulfs Tan Lien IP in Hai Phong
A large fire broke out on January 12 in the paint storehouse of a footwear factory in Tan Lien Industrial Park, Tan Lien commune, Vinh Bao district in Hai Phong city.
Six fire engines and 60 fire fighters were rapidly mobilized to combat the blaze upon being notified of the emergency by local authorities. Firefighters made every effort to suppress the blaze to prevent it from spreading to neighboring workshops. 
The curiosity of passers-by who stopped to watch the fire caused heavy traffic congestion as Tan Lien IP is located on National Highway No 10. Local residents and properties in endangered areas were evacuated. 
By 11am the fire had been brought under control. The cause of the fire is still under investigation. There are no official statistics of property damages in the fire.
Remains of fallen soldiers recovered from Laos
The remains of 9 Vietnamese soldiers killed in Laos were received in Dien Bien province on January 12 before being buried with full military of honours.
The soldiers' remains were interred at the Tong Khao Cemetary located in Thanh Nua commune in Dien Bien district. 
At the repatriation ceremony, major-general Pham Duc Duyen, Vice Political Commissar of Military Zone 2 said that in the past years, military zone 2 have worked together with relevant agencies to implement a program for the recovery of the remains of fallen Vietnamese volunteer soldiers in Laos.
In 2017, the Military Zone unearthed the remains of 44 Vietnamese war martyrs and returned them to Dien Bien province.
This year, it will continue to undertake the project of bomb and mine clearance and search for the remains of war martyrs in Ha Giang province.
Khanh Hoa aims for over VND21 trillion tourism revenue in 2018
The south central coastal province of Khanh Hoa is aiming to welcome about 6.5 million visitors, including 2.8 million foreign arrivals in 2018, to earn a revenue of VND21.6 trillion.
The province's tourism revenue for last year reached an estimated VND17.3 trillion, up 33%. Total visitor numbers in the locality rose to more than 5.4 million (up over 20%) including 2.03 million foreign visitors (up nearly 70%).
Chinese and Russian visitors led the way in numbers of foreign tourists in Khanh Hoa last year. However, the numbers of tourists from the US, Australia, Canada, and Europe fell by 15-30% in 2017.
The provincial department of tourism attributed the drop to the poor transport infrastructure and frequent occurrence of traffic congestion on the coastal road of Tran Phu, which brings visitors to many luxury hotels and tourist attractions in southern and northern Nha Trang City.
The provincial People's Committee has asked relevant agencies to strengthen management over the services provided by travel operators, boost tourism promotion activities in potential markets such as the Republic of Korea and Japan, and devise solutions to entice traditional visitors from European nations.
Greater attention should be given to improving the quality of tourism products, developing satellite tourism areas to reduce the visitor overload situation in Nha Trang, and training highly qualified human resources, the committee said.
Foreign "sports missionaries" make their mark in Vietnam
Hailing from around the globe, these athletes have made it their passion to contribute to the country's athletic appetite.
The growing popularity of foreign sports, such as hockey and rugby, in Vietnam began with foreigners who have made it their passion to feed the country's athletic appetite.
James Chew, a Singaporean businessman credited with introducing hockey to Vietnam is just one of these athletes. 
Chew began working in the country ten years ago but refused to leave his love for hockey behind in Singapore.
In 2007, he hosted the first Hockey Festival in Vietnam, growing the event over the past ten years to include 400 participants and an audience of several hundred.
 "Apart from family and work, hockey is also my life," said Chew.  "I used to be a professional hockey player in Singapore," he added. 
Not only does he focus on recruiting players to the sport, Chew also covers equipment and pitch rental fees.
"Vietnamese people don't know much about hockey. I have to build everything from the ground up."
Chew's dedication to promoting the sport has paid off – the country now boasts a hockey federation and national team.
The businessman also visits schools with Huynh Dai Phuc, the national team's coach to invite students to try their hand at hockey. 
"It isn't easy," said Phuc.
"Hockey uses sticks, which makes people think it is dangerous. But those who try it realize that it is totally safe.  We try to make our sport stand out, to make it look exciting and energetic so that people, especially youngsters, join us."
Vietnam's hockey community is centered in the southern province of Long An, where chew ensure that everything is paid for. 
Starting with just a small group of players, the community now has four established teams – a local team called the Hockey Tornados, a team at Ton Duc Thang University in Ho Chi Minh City, two female teams at local companies.
As with Chew, businessman Angelo Pillay from Sri Lanka has been successful in turning his passion into a popular sport in Vietnam.
It all started when Pillay arrived in Vietnam and joined a cricket community comprised of foreigners to satisfy his craving for his country's national sport.
After a while, Pillay made it his mission to grow the cricket community.
Now, he is the president of the Vietnam Cricket Association.
"After twenty-six years in Vietnam, I consider this my second home," Pillay said.
"My wife and my friends love cricket and I want my kids to love it too.
"It helps connect my family and our community."
Bouldering has also become popular in Vietnam thanks to Cedric Deguilhem, a French national who left a stable job in his home country to pursue his interest in Vietnamese culture.
Since arriving in the country, Deguilhem has started a family, a new job, and established a bouldering center and a club in Ho Chi Minh City.
The club's participation at several international competitions has led Deguilhem to promise that Vietnam will be represented at future international events, following in the footsteps of hockey and cricket which both competed at the Southeast Asian Games in 2017.
Winners of contest on Vietnam-Lao relationship history honoured
The General Department of Politics of the Vietnam People's Army held a ceremony in Hanoi on January 12 to honour the winners of the contest on exploring the history of the special Vietnam – Laos ties.
One first, ten second, 19 third and 26 consolation prizes were presented to the outstanding contestants at the ceremony.
The contest was launched by the army in April 2017 as an event to mark the 55th founding anniversary of the Vietnam – Laos diplomatic relations and the 40th anniversary of the signing of the Vietnam-Laos Treaty of Amity and Cooperation.
The contest received more than 360,000 entries by soldiers and military officers in both the Vietnamese and Lao languages.
Congratulating the contest winners, Lieutenant General Le Hien Van, Deputy Director of the General Department of Politics of the Vietnam People's Army, stressed that the historical lessons learnt from the exemplary Vietnam – Lao relations have laid firm foundations for the development of the two Parties, States, armies and peoples.
He asked the military leaders and commanders to educate soldiers on the special solidarity between the two countries, thus raising their awareness of combating wrongful and distorted allegations by hostile forces that would harm the Vietnam- Laos ties.
HCMC police launch traffic safety program to maintain order
Ho Chi Minh City Traffic Safety Committee decided to launch a traffic safety program to keep street order from December, 2017, two weeks earlier than previous year.
Police officers have handled illegal bus stations and more officers have been present at premises in airport, ports, bus stations, gate entrance into the city, parks.
Additionally, traffic police have kept drunk drivers and suspend the operation of vehicles that fail to meet safety requirements as well as overloaded buses to protect people's safety in Tet holidays ( the Lunar New Year ).
As Tet holidays are nearly approaching, more people and vehicles have been traveling in streets with forecast of increase of one third compared to normal days. Accordingly, , traffic police officers and security guards of the station works relentlessly to clear growing traffic.
The program aims to reduce traffic accidents and curb congestion under 30 minutes for people's sake, said Deputy Head of the Committee Nguyen Ngoc Tuong.
As per the program, police officers have reviewed traffic "black spots" and clear off roads which gridlocks usually take place, keep order in premises in the airport, bus stations, ports, amusement parks.
Policemen have suspended illegal bus stations and overloaded unsafe vehicles as well as patrol the intersections between roads and railways.
Head of the Ho Chi Minh City's Road and Railway Traffic Police Department (PC67) Lieutenant colonel Huynh Trung Phong said that more policemen have been sent to crowded areas to control traffic flow. Subsequently, paths leading to Tan Son Nhat Airport, Cat Lai Port, the Mien Dong (Eastern) Bus Station in Binh Thanh District like Dinh Bo Linh, Xo Viet Nghe Tinh and the national highway No.13 are clear despite more vehicles.
Police officers have also paid attention to control traffic in rivers such as Sai Gon, Dong Nai, Can Giuoc, Tau Hu-Ben Nghe canal.
In a bid to reduce traffic accidents, inspectors from the Department of Transport have worked with local administrations, police officers to handle illicit bus stations. In addition to regular patrolling, inspectors in coordination with relevant agencies to install more camera to issue punishment to violators.
Mr. Phong said cops from PC67 and criminal police, mobile police and police 113 would carry out patrol from 10 PM to next morning to deal with young men gathering to race or make mess.
PC67 men and local counterparts will also keep driver with high level of alcohol and overloaded vehicles, he added.
Ambassadors & representatives of EU countries evaluate HCMC's development
Politburo member, Secretary of the Ho Chi Minh City Party Committee Nguyen Thien Nhan and Chairman of the HCMC People's Committee Nguyen Thanh Phong respectively had receptions with ambassadors and representatives of European Union (EU) members for foreign affairs in Vietnam yesterday.
At the meeting, the city Party chief affirmed Vietnam- EU relationship is a valuable treasure. On behalf of the city leaders, Secretary Nguyen Thien Nhan highly appreciated great contributions of ambassadors and representatives of European Union member countries in strengthening relations between EU with Vietnam and Ho Chi Minh City. 
Additionally, he introduced the foreign affairs leaders about the city's socio- economic achievements. Ho Chi Minh City reached a growth of 8.2 percent, contributed 27 percent into state budget last year. 
Mr. Nguyen Thien Nhan announced the National Assembly of Vietnam approved a resolution on piloting special mechanisms and policies for the development of Ho Chi Minh City in five sectors and 18 contents on November 24. 
Speaking at the reception, Ambassador Bruno Angelet, Head of the Delegation of the European Union to Vietnam appreciated the first meeting between the city leaders and representatives of EU countries, Vietnam's outstanding achievements in 2017 including success of APEC and the country's impressive growth.
Ambassador Bruno Angelet affirmed that EU always supports macroscopic economic policies of Vietnam, and continues expanding cooperation ties in the fields of economy, security and defense, education, environment and energy. 
Currently, the city focuses on economic modernization following a tendency of the fourth industrial revolution. Thus, the locality wished to attract more and more projects of traffic infrastructure, public vehicles, energy, anti- climate change, anti- flooding and trash treatment, labor export and star-up programs, construction of financial centers. 
Vietnam & WHO agree health cooperation program
The Vietnamese Prime Minister has just approved a health cooperation program with the World Health Organization (WHO) in the fiscal year of 2018 – 2019 under a sponsor of WHO. 
It aims to support the Government of Vietnam in effectively solving priority issues of the healthcare system as well as successfully adopting strategies of health protection and healthcare in 2016 – 2020, with vision for 2030, and project of "Development and Building Healthcare Network in 2016 – 2025".
In addition, the cooperation program also contributes to improve capabilities to carry out the International Health Regulations (IHR); to deal with urgent health issues; to use efficiently WHO's financial support for Vietnam in improving citizens' health.
The program will reduce the risk of communicable and noncommunicable diseases in the community as HIV/AIDS, virus hepatitis, pulmonary tuberculosis, malaria …
It will be provided by WHO at around US$ 21 million under the non-refundable Official Development Assistance (ODA), including available fund of US$ 11.9 million, mobilized fund of US$ 9.1 million and cash counterpart fund of VND 6.5 billion. 
Hospitals asked to prepare enough medicine in Tet holidays
The Drug Administration of Vietnam has sent its document to departments of health, hospitals, importers asking to prepare enough medicine to meet examination and treatment demand in approaching Tet holidays ( the Lunar New Year)
As per the document, the administration wanted local departments of health to urge infirmaries and preventive medicine centers to keep medicines for emergency mission and preventing illness especially flu A, hand-foot-mouth, dengue, measles, Rubella, diarrhea caused by virus Rota, and respiratory diseases.
Hospitals, drug companies have to stock medicine and enhance control to avoid skyrocketing prices of medications in the holidays.
Health inspectors in localities must liaise with relevant agencies to discover fake medicines or low-quality medicines or drugs sold in internet. Responsible agencies should direct pharmacies to sell drugs around the clock to satisfy people's demand.
Relevant agencies have to implement measures to curb speculation in the special festival.