2 police injured in Dien Bien drugs ring bust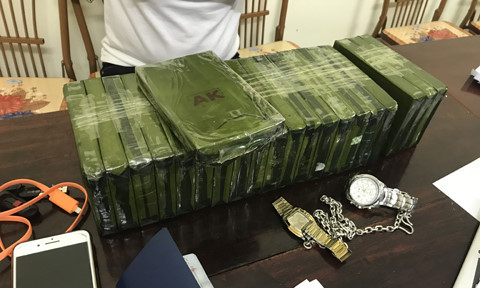 Two policemen have been injured in the northern province of Dien Bien while apprehending two drug traffickers who were in possession of 21 cakes of heroin.

Major-general Sung A Hong, director of Dien Bien Police Department, identified the suspects as Lo Van Sinh, 40, residing in Dien Bien Province and Kham Phut Thamavong, 30, residing in Laos. They were caught red-handed while trafficking 21 cakes of heroin on January 8. The two suspects were in possession of deadly weapons which they used against the officers resulting in injuries to two policemen.

After a brief standoff the police prevailed and arrested the two assailants in possession of 21 cakes of heroin, one motorbike, two mobile phones, and some other exhibits.

The case is still under investigation.

PM hosts American Bar Association President

Prime Minister Nguyen Xuan Phuc has called on the American Bar Association (ABA) to help the Vietnam Bar Federation (VBF) improve its capacity in the face of increasingly complicated disputes when Vietnam is pushing international integration in economy, trade and investment.

At a reception for ABA President Hilarie Bass in Hanoi on January 11, the PM said the Vietnamese Government always creates the best possible conditions for the legal profession to develop in a democratic and transparent society, to ensure the law is enforced in the best way. 

He highly valued outcomes of the working session between the ABA and the VBF, particularly the cooperation agreement just signed by the two sides. 

Applauding the workshop on professional ethics of lawyers jointly held by the two associations the same day, PM Phuc expressed his hope that the ABA's experience in building a code of ethics of lawyers will be useful to the VBF. 

For her part, Hilarie Bass pledged that the ABA will support the VBF in its development process, and continue to tighten relations between the two associations in the coming time.

Australia funds project to raise economic rights of ethnic minority women

Ethnic minority women in Mai Son district, the northern mountainous province of Son La, will be assisted to increase their economic rights under a project funded by the Australian Government. 

The 3-million AUD project was launched on January 11 by CARE International in Vietnam and the Son La province Department of Agriculture and Rural Development. It will help the target women improve agricultural production and farm produce consumption, thus removing gender preconceptions, which have hindered ethnic minority women from proving their capacity for economic development and raising voice in their family as well as the community. 

The scheme will also be carried out in Muong Ang district of the northern mountainous province of Dien Bien, from 2018-2020.

Le Kim Dung, Director of CARE International in Vietnam, said under the project, her organisation will join hands with local partners to support the establishment of self-governed financial groups in order to promote the exchange of experience in coffee production. 

At the same time, the project will bring insiders of the coffee production chain together in an effort to improve the connectivity between farmers and businesses, thus increasing productivity and attracting more investors in the local coffee sector. 

Lo Minh Hung, Vice Chairman of the Son La province People's Committee, highlighted the significance of the project as the province has identified Arabica coffee as a key product contributing to reducing poverty and improving living conditions of local farmers. 

However, coffee production in the locality faces a range of challenges caused by natural conditions and the outdated techniques in coffee harvest and processing.

27 wild animals returned to the wild in Kon Tum

As many as 27 wild animals were released into their natural habitat on January 11 by the Wildlife Rescue and Protection Centre at the Chu Mom Ray National Park in the Central Highlands province of Kon Tum.

The animals include nine monkeys, 12 turtles, pythons, civets and iguanas, among others.

Most of the animals were rescued from illegal traders in the locality and were sent to the park in weak conditions.  Some of the animals have been in the park's care since 2016.

In the last two years, the centre returned 153 wild animals to the forest.-

HCM City leader welcomes Lao official

The People's Council of Ho Chi Minh City will work with the people's councils of Lao localities to share their operation experience, thus contributing to deepening the two countries' ties, said Chairwoman of the municipal People's Council Nguyen Thi Quyet Tam.

She made the statement while receiving on January 11 head of the Economic, Technology and Environment Committee of the Lao National Assembly Bounpone Sisoulath who leads a Lao delegation to visit Vietnam.

Expressing her delights at the traditional friendship and special solidarity between the two countries, Tam hailed Laos's organisation of people's councils in localities, thereby increasing the role of people in the country's development.

Vietnam and Laos are interested in land management to ensure national development as well as the people's interests, she said, expressing her hope that experience exchange between the Lao delegation and the General Department of Land Administration under the Vietnam Ministry of Natural Resources and Environment will help the National Assembly of each side to complete its land management law.

Boupone Sisoulath, for his part, thanked the Vietnamese National Assembly and Ho Chi Minh City People's Council for sharing experience in activities of the National Assembly and local people's councils with Laos.

Laos is drafting a law on land management, he said, adding that land management is a complex issue, especially when the country's population is growing rapidly while land fund is limited.

He wished that the HCM City People's Council will pay visit and share experience with Laos in the coming time.

Incomplete energy market hinders energy development in Vietnam

An incomplete and asynchronous energy market is a bottleneck in energy development in Vietnam at present, according to many participants at a workshop in Hanoi on January 11.

The workshop on green energy for sustainable economic development was co-organised by the Party Central Committee's Commission for Economic Affairs, the US Agency for International Development (USAID), and the Japanese and Australian embassies in Vietnam. It was part of the second Vietnam Economic Forum.

In his speech, Chairman of the Commission for Economic Affairs Nguyen Van Binh underscored that so far most energy demand of Vietnam is met by fossil fuel sources like coal, oil, and gas. However, those sources are limited and their use pollutes the environment and raises greenhouse gas emissions.

Therefore, the research and use of alternative green energy sources like solar, wind, geothermal, biomass and biological energy are inevitable demand, he noted.

John Kerry, honorary president of the Carnegie Endowment for International Peace, said climate change is happening all around the world, and a solution to it is using energy in a smart way. Vietnam should invest in the use of electricity generated by solar, wind, gas and thermal energy. It also needs open policies and a roadmap for solar energy in its general approach.

He said he believes that coal is not cheaper, but instead more expensive than solar and other renewable energy sources if all of its impacts on climate and the environment are taken into consideration. 

Vietnam is having a chance to make more effective changes, save billions of USD, give people better life quality, and create many jobs in this sector, Kerry said.

At the workshop, foreign experts shared experience in attracting foreign investment in the energy industry, financial and credit mechanisms to help the country develop energy infrastructure and access latest achievements of the global energy sector. They also identified challenges posed by climate change to the power sector in Vietnam and proposed solutions.

Vietnamese Ambassador meets Chinese press

Vietnamese Ambassador to China Dang Minh Khoi has applauded China's press and press management agencies for their wide coverage of Vietnam as well as relations between the two countries. 

He met with reporters from China's major media agencies and newspapers like Xinhua, People's Daily, China Central Television, China National Radio and China Youth Daily, and representatives of Chinese press management agencies in Beijing on January 11. 

The ambassador used the occasion to brief the Chinese media on Vietnam's major socio-economic achievements and big strides in the Vietnam-China relationship in 2017, as reflected through high-level meetings and visits of the two countries' leaders. 

Khoi highlighted the visits to China by General Secretary of the Communist Party of Vietnam Nguyen Phu Trong in January 2017 and President Tran Dai Quang in May 2017. Most recently, General Secretary of the Communist Party of China (CPC) and President Xi Jinping visited Vietnam and attended at the APEC Economic Leaders' Meeting in November 2017 attach to ties with Vietnam.

General Secretary and President Xi Jinping's selection of Vietnam as the first country to visit following the 19th National Congress of the CPC reflects the importance the Chinese Party and State, as well as Xi Jinping himself attach to the Vietnam-China relationship in particular and relations between China and its neighbouring countries in general, Ambassador Khoi said. 

The diplomat noted that bilateral trade value has surpassed 100 billion USD and the number of tourists travelling between the two countries also saw strong growth, with 4 million Chinese tourists visiting Vietnam and 3 million Vietnamese holiday makers choosing China for their trip in 2017.

Mentioning the outstanding maritime dispute between the two countries, Ambassador Khoi stressed that both sides have showed their determination to maintain peace and stability at sea, adding that they had worked together with ASEAN member countries to approve the draft framework of the Code of Conduct in the East Sea (COC) in 2017 and speed up negotiations to build an effective COC. 

The ambassador also pointed to existing problems in bilateral trade and investment ties, but said that he believes that they will gradually be solved in the coming time. 

He informed that that PM Nguyen Xuan Phuc has invited his Chinese counterpart Li Keqiang to pay an official visit to Vietnam and attend the Greater Mekong Sub-region Summit scheduled for March 2018 in Hanoi during their recent meeting in Cambodia.

The ambassador said he hopes that there will be more opportunities for Vietnamese and Chinese reporters to visit each other's countries in order to help them obtain first hand and accurate information, contributing to enhancing mutual understanding as well as the friendship and cooperation between the two countries, for the sake of their people, and for peace, stability and cooperation in the region.

Dak Nong's VFF chapter offers care to the poor, ethnic groups

The Central Highlands Dak Nong provincial chapter of the Vietnam Fatherland Front (VFF) will provide further care for the poor and ethnic minority groups in disadvantaged and border areas this year, said its Chairman Dieu Xuan Hung. 

Hung said the chapter will urge businesses, agencies and philanthropists in and outside the locality to raise fund for the poor as well as promptly disburse funding for the construction of houses for the poor. 

It will also partner with its member units and Vietnam Bank for Social Policies to offer preferential loans and farming techniques to the poor and ethnic minority groups for agricultural and rural development. 

As part of efforts with the Vietnam Red Cross Society and medical staff, free health check-ups and medicines will be given to ethnic minorities living in remote and mountainous areas. 

In 2017, over 16,000 gifts worth upwards 7 billion VND (280,000 USD) were handed over to policy beneficiaries, the poor and ethnic groups. Up to 128 houses valued at nearly 6 billion VND funded by philanthropists were built. 

More than 1,900 people joined the voluntary blood donation campaign. Free health check-ups and medicines were given to the poor and Agent Orange victims in the locality.

Toll reduction to start at Soc Trang BOT toll booth from January 12

The Ministry of Transport has approved the policy of road toll reduction at Soc Trang BOT toll station in the Mekong Delta province of Soc Trang from January 12.

Deputy Minister of Transport Nguyen Nhat yesterday signed a document sent to Soc Trang province People's Committee, the Directorate for Roads of Vietnam, the joint venture of investors Phuong Nam Company and Pacific Company about the toll cut.

Buses in An Hiep, Thuan Hoa communes and Chau Thanh town, Chau Thanh district will be exempt from paying the fee, those not used for business activities will see 50 percent cut and other vehicles will enjoy 20 percent reduction. In addition, the toll exemption will be considered in other special cases.

At present, investors are doing necessary procedures to apply the toll reduction from January 12.

Soc Trang BOT toll gate has shut down many times to solve traffic jam for the last days as drivers refused to buy tickets to travel through the station saying they had already paid road maintenance fee so the toll collection was unreasonable.

The toll station has been built to reclaim investment capital for the project of expanding National Highway 1A and building a bypass in Soc Trang city.

HCMC to establish eastern innovative urban area: City Party Chief

Ho Chi Minh City will establish an innovative urban area in the east of the city on the basic of connecting Saigon Hi-Tech Park in District 9, HCMC National University in Thu Duc and the urban area and financial center in District 2.

HCMC Party Leader Nguyen Thien Nhan gives certificates of merit to teams for well implementing propaganda and education work in 2017 at a conference on January 11 (Photo: SGGP)

He was speaking at a conference reviewing propaganda and education work in 2017 and implementing missions in 2018, yesterday.

According to Mr. Nhan, if there is a suitable design, the three areas will interact with each other to create an innovative nucleus for the city to enter Industry 4.0.

He required to better propaganda to ignite residents' creativeness contributing to the city's development.

Propaganda and education work should head towards three pivotal contents of the city in 2018. Of these is the breakthrough in institution for the city to develop for the country on the basic of implementing central resolutions especially the National Assembly's Resolution 54. Aside from that, the work should enhance leaders' responsibility and promote residents' creativeness.

Reporting at the conference, head of HCMC Party Committee's Propaganda and Education Board Than Thi Thu said that last year propaganda and education proved efficiency in fortifying and stabilizing political thought, creating belief and consensus in the society to the Party's leadership and internal unity.

Still she admitted that the work was sometimes still formalistic and not drastic.

Among operations in 2018, Ms. Thu said that they would focus on popularizing implementation results of resolutions especially NA Resolution 54 on piloting specific mechanisms for the city's development.

Trade members contribute VND2.4 billion for charity activities

In its meeting to review last year's movement and mission in 2017, trade union in Ho Chi Minh City yesterday announced that state-run employees had contributed one-day's salary worth a total of VND2.4 billion ($105,695) to its funds.

With last year's movement themed "Enhance sense of responsibility for serving people and standards of morality" and "Year for the union members' benefits", the trade union carried out well its tasks to take care of and protect employees' legitimate rights.

Especially, the union mobilized VND2.4 billion ($105,695) from workers for the funds to help poor members and provide scholarships to low-income members' children who study well.

The trade union also took care of Heroic Vietnamese Mothers, seriously wounded soldiers and built charity houses for social welfare beneficiaries.

In coming Tet holidays (the Lunar New Year) 2017, the trade union is also running programs to take care of workers by gifting 1,138 workers worth VND892 million.

Additionally, in 2017, trade unions in companies contributed VND2.3 billion to support residents in flood-hit districts.

In the year, the trade union introduced 1,545 members to become Party members and 324 of them were received into the Communist Party of Vietnam.

On the occasion, the trade union was awarded third-rank Labor Medal by the President. The Labor Union in HCMC also presented certificates of merits and honoring flags to 71 teams and 39 good members, meanwhile the trade union gave certificates of merits to 60 teams and 109 individuals who actively contributed to movements.

Gov't supports preschoolers' meal

According to the government' decree No. 06/2018 taking effect on February 20, 2018, preschoolers from low-income families in disadvantaged districts, in mountainous regions, islands and border crossings nationwide will receive support.

As per the decree, the government will give support of meal charge equivalent to 10 percent of basic salary per month not exceeding nine months a year.

There are two options for support kids' meal; schools will keep the amount to cook for kids or parents/ caregivers will receive cash. Schools and parents will make a deal.

Before, the government had issued a decree on preschool teacher policy. Accordingly, teachers and deputy head in public preschools work on contracts signed by authorized agencies.

HCMC honors students with good performance

The Youth Communist Union in Ho Chi Minh City organized a ceremony to mark 68th anniversary of Traditional Day of Vietnamese students and Vietnam Students' Association at the Youth Cultural House.

At the ceremony, the union applauded good students who both study well and actively participate in school movements.

Reviewing the tradition of students in the country's revolutionary movement in 1968, Standing Deputy Secretary of the Youth Communist Nguyen Viet Que Son said that generation of students tried to study hard and participate in activities for the community's benefits to continue good tradition of previous generations.

On behalf of the Party Committee, deputy Party chief of Ho Chi Minh City Vo Thi Dung praised students' efforts for years expecting that they will continue to try more to deserve with their families' love.

"Students with Five Good Performances" title were presented to outstanding 102 students and two teams in recognition of their brilliant academic results and contributions to the students' movements.
Additionally, more 113 good students titled "Students are active in movements" were commended at the ceremony.

Deputy Party chief Vo Thi Dung, Deputy Chairwoman of the municipal People's Committee Nguyen Thi Thu and thousands of university students attended the event.

Annual student award presented to 275 outstanding students, groups

The Central Committee of the Vietnam Students Association (VSA) held a ceremony in Hanoi to present the Sao Thang Gieng (January Star) Awards and the Sinh Vien 5 Tot (Student with five good points) certificates to outstanding students and groups from colleges and universities throughout the country on January 7.

This year's Sao Thang Gieng (January Star) Awards honored 138 students of 54 cities and provinces nationwide for their significant academic achievements during the last academic year and their active participation in the VSA and the Ho Chi Minh Communist Youth Union (HCMCYU)'s activities.

The Sinh Vien 5 Tot (Student with five good points) certificate praised 124 students and 13 groups who fulfilled five criteria in studying and self-improvement. The criteria include good ethics, good learning, good skills, good integration, and good health.

The meeting marking the 68th anniversary of Traditional Day of Vietnamese students (January 9) was attended by Deputy PM Truong Hoa Binh.

Ministry agrees to reduce Sóc Trăng BOT toll

The Ministry of Transport on Thursday issued an urgent document agreeing to reduce the toll for vehicles passing a station in Sóc Trăng Province as the drivers' protest entered its fifth day.

The document, signed by deputy minister Nguyễn Nhật, allows free passage for buses and a 50 per cent discount for vehicles not used for business purposes. The discount can reach up to 100 per cent in special cases. A 20 per cent discount is universally applied to all other vehicles.

Sóc Trăng authorities and the investors of the road project to expand the National Highway 1 section running across Thuận Hòa Commune and to build a bypass for Sóc Trăng City under the Build-Operate-Transfer (BOT) model – the collector of the Sóc Trăng BOT station, have been under tremendous pressure since Sunday as drivers deliberately blocked the booth every day, causing severe congestion in the area.

The booth was forced to open free from time to time to reduce the jams, but the protesting drivers kept coming back. They argued that the booth's location was "unreasonable" and that they had to pay tolls for the bypass that they did not use, between VNĐ25,000 (US$1.1) and 140,000 each depending on the type of vehicle.

Govt urges quick plan for Tan Son Nhat Airport expansion

The Government has urged relevant agencies to quickly complete a plan to expand Tan Son Nhat Airport, which should take into consideration all possible scenarios to raise the airport's annual capacity to 70 million passengers. The plan must be sent to the Government prior to next Monday. 

Deputy Prime Minister Trinh Dinh Dung asked the Ministry of Transport to direct ADP-I Engineering, a French consulting firm, to include all feasible options for the airport expansion to both north and south of the airport, meaning the controversial golf course in the airport could be closed down. The consultant needs to clarify the need to enlarge and improve the airport to ease the rising overload at the airport and meet the demand for air transport, and the project to expand and upgrade the airport could be fast-tracked for completion within one to two years.

The airport expansion must take into account the development of other airports in the southern region, especially Long Thanh International Airport scheduled to be put into operation in 2025.

Deputy PM Dung told the Ministry of Transport to analyze the cost-effectiveness of a scheme to expand the airport southward compared to the northward expansion, with factors like total investment, construction time and connectivity between new and old facilities.

However, the consultant should also clarify how to use land north of the airport, meaning the existing golf course, for the airport expansion.

The Government requires relevant agencies to assess the use of military land such as the golf course and land used by military units, and land for the aviation sector, hereby proposing the most feasible investment solution.

Besides, the ministry and the consulting firm should assess impacts of noise and environmental problems owing to the airport expansion in accordance with the Vietnamese and international laws, and compare to environment protection regulations of other countries to conclude if the upgrade of Tan Son Nhat International Airport is suitable to the city in the future or not.

Deputy PM Dung assigned the Ministry of Transport to consult relevant ministries and agencies and the HCMC government to finalize the plan for Tan Son Nhat International Airport expansion and upgrading and submit it to the Prime Minister prior to January 15.

Currently, apart from the consulting firm ADP-I that is drafting the airport expansion and upgrade scheme, an independent group of aviation scientists and experts has been established by the HCMC government to map out the airport expansion plan.

The Ministry of Transport had earlier submitted to the Prime Minister the adjusted airport expansion plan to enable the airport to serve 43-45 million passengers a year and quickly tackle bottlenecks at the airport.

Accordingly, more taxiways and passenger terminal T4 would be added in two to three years' time on the airport's existing land. However, scientists and experts later proposed using land from the golf course to expand the airport.

To ensure transparency, the Prime Minister has assigned the Ministry of Transport to hire an independent international consultant to study and suggest a scheme for the long-awaited expansion of the airport towards the north where the operational golf course is located and the south to increase the capacity of the airport to 45-50 million passengers a year.

Dien Bien holds services for soldier remains found in Laos

The northwestern province of Dien Bien on January 12 held a ceremony to rebury the remains of nine Vietnamese volunteer soldiers who laid down their lives in Laos during wartime.

The remains were found by the 2nd Military Region of the Vietnam People's Army, with support of the Lao authorities.

Major General Pham Duc Duyen, Deputy Political Commissar of the 2nd Military Region, said that in 2017, it found and handed over a total of 44 Vietnamese soldier remains to Dien Bien province.

In 2018, the 2nd Military Region will continue the project to clear unexploded ordnances and search for soldier remains in Ha Giang province.

Binh Duong cares for workers on Lunar New Year

The Binh Duong People's Committee earmarked nearly 190 billion VND (8.36 million USD) to assist local workers and policy beneficiaries on the occasion of Lunar New Year holiday (Tet).

The money will be used to grant assistance in cash, at 500,000 VND (22 USD) per person, for migrant workers who cannot go home on Tet.

President of the Binh Duong Labour Federation Truong Thi Bich Hanh said her agency has called for involvement of businesses and sponsors in practical Tet programmes for workers such as giving free bus tickets and gifts, and making New Year visits to workers who cannot return home on Tet.

Hanh said the union is mobilising donations to offer 4,000 coach tickets for migrant workers.

Binh Duong is now home to over 20 industrial parks, covering a total area of more than 8,800 hectares. A large number of workers in these industrial parks come from other provinces and cities, with some as far as the northern region. 

Workers urged to gear up for 4th industrial revolution

The most important challenge facing the Vietnamese working class is to get ready to ride the fourth industrial revolution, said Deputy Prime Minister Vu Duc Dam. 

Speaking at a conference of the Vietnam General Confederation of Labour (VGCL) in Hanoi on January 12, the Deputy PM pointed out that Vietnam and other countries are embarking on the revolution, which requires integration in both depth and width, as well as renovation. 

He praised significant contributions made by the VGCL and trade unions at all levels to national socio-economic achievements in 2017, and expressed his hope that the general confederation will continue its coordination with the Government to care for labourers' life.

As Tet (Lunar New Year) is nearing, the official asked the VGCL to join hands with all-level competent agencies to ensure a safe and happy holiday for all labourers.

At the conference, the VGCL set forth tasks for all-level trade unions in 2018, focusing on preparing the 12th national trade union congress for the 2018-2023 tenure, and contributing to developing policies and laws directly relating to trade union members and labourers. 

Trade unions at all levels will increase their supervision of the implementation of policies and laws towards labourers, especially the adjustment of regional minimum wages in 2018, while working on the adjustment plan in 2019. 

In 2017, the VGCL has surpassed the target of 10 million members set for 2013-2018 tenure, the conference heard. 

The confederation's chapters have involved in the negotiation and signing of 27,866 collective labour contracts in 2017, up 817 contracts compared to 2016.  The trade unions also organised 30,641 regular dialogues with businesses, up nearly 39 percent against 2016, and 3,101 unexpected dialogues, a rise of close to 21 percent year-on-year, helping timely address concerns of labourers at the grassroots level. 

They also participated in 24,446 inspections of the enforcement of policies and laws towards labourers as compared with some 20,446 inspections conducted in 2016.

Ca Mau needs 57 billion VND in recovery from natural disasters

The southernmost province of Ca Mau is asking for the central government's financial support of 57 billion VND (2.5 million USD) to recover consequences of natural calamities.

Under a document recently sent to the Ministry of Agriculture and Rural Development, the province said the money will be used to upgrade and repair irrigational works, dredge up rivers, reinforce river embankments, and build facilities to prevent drought and saline intrusion to safeguard farming land in U Minh, Thoi Binh and Tran Van Thoi districts.

Those are part of efforts to mitigate damages caused by prolonged drought and saline intrusion and protect winter-autumn rice crop 2017-2018 in the locality.

Ca Mau province has 254 kilometres of coastline. Due to critical impacts of climate change and natural disasters like drought, landslide and saline intrusion, the province experiences economic losses worth tens of billions of VND each year.
Tollgates in Mekong Delta face fierce opposition from drivers
Vietnam's Ministry of Transport has decided on a series of solutions for two tollgates in the Mekong Delta following continuous objections from commuters.
Deputy Minister of Transport Nguyen Nhat convened meetings with authorities of Can Tho City and Soc Trang Province, where the two toll stations are located, to find a suitable solution to end the current situation on January 8.
The first tollgate belongs to a BOT (build-operate-transfer) project on the upgrade of a 22 kilometer section of National Highway 1 from Can Tho to Phung Hiep District, Hau Giang Province.
At a cost of VND1.83 trillion (US$80.6 million), the project was completed in 2015 and the toll collection began in April 2016.
Drivers have been complaining that they are required to pay an unreasonable toll as the rates are charged for the entire 22 kilometer route, while many drivers only need to travel a short distance within the highway section.
Meanwhile, the second toll station is part of the BOT project on upgrading a section of highway as well as building a detour in Soc Trang City, located in the namesake province.
The work cost about VND1.2 trillion (US$52.8 million), and the tollgate was put into operation in June 2017.
The facility is placed on the existing highway, charging commuters regardless of which of the two routes that they pick.
Drivers asserted that the placement is unreasonable, and that developers should only collect tolls from those who want to travel on the new detour, not on the old highway.
Fierce opposition has been sparked among commuters since last week, as drivers stopped their vehicles along all lanes at the two tollgates, refusing to pay.
As the situation escalated and caused long delays of traffic in the areas, the toll stations were forced to repeatedly cease their operations to resolve the congestion.
During a meeting on January 8, the Ministry of Transport stated that it will review a toll exemption policy to residents who live near the toll station in Soc Trang Province, which is expected to be implemented on February 1.
As a temporary measure, buses and other public means of transportation will not have to pay the toll from January 9.
Following the gathering, the collection of road tolls at the facility was resumed at 4:30 pm on the same day.
The project developers are willing to discuss and negotiate with the people to prevent any tension in the future.
Regarding the tollgate in Can Tho City, the transport ministry has agreed upon the toll reduction for certain groups of drivers.
Authorities in Can Tho and Hau Giang Province were tasked with finalizing the list of vehicles that will be eligible for such policy prior to January 15.
Accordingly, the overall rates will be lowered by seven to 10%, while vehicles belonging to local residents and businesses will be given a 35% reduction.
Developers of the project have taken responsibility for the issue and promised to follow the direction of authorities.
Problems relating to tollgates of BOT projects in Vietnam have become a hot topic since late last year.
In early December, attention of local media was directed to the toll station of a road project in Cai Lay Town in the Mekong Delta province of Tien Giang due to persistent objections from drivers.
The issue at this tollgate is similar to that in Soc Trang Province.
The opposition was so intense that the prime minister had to order the one-month closure of the toll station to figure out the optimal solution.
Several measures have been proposed by competent authorities but the final decision has yet to be made.
BOT is a project-financing framework in which the developer receives a concession from the private or public sector to finance, design, construct and operate a facility for a certain period, during which it has to raise the finances for the project and is entitled to retain all revenues generated by it.
The facility is then transferred to the public administration at the end of the concession agreement.
Jetstar flight makes emergency landing in Hanoi
A Jetstar Pacific flight from Hanoi to Ho Chi Minh City hasn been forced to turn around and make an emergency landing at Noi Bai International Airport in Hanoi.
According to passengers on board flight BL785, the plane turned around only 15 minutes after taking off from Noi Bai at around 8:30 am on January 8.
A Jetstar representative confirmed the incident to Tuoi Tre(Youth) newspaper, saying that the pilots received an alert about a possible fault with the plane's landing gear via the cockpit warning system.
Jetstar Pacific flight BL785 is pictured at Noi Bai International Airport in Hanoi on January 8, 2018. The plane urgently landed after receiving an error message from its cockpit warning system. 
However, maintenance engineers later found that it had been a false alarm, confirming that the plane's landing gear was functioning normally.
"Our policy is to approach every cockpit alert seriously and to check on every reported error before putting the plane back in operation," the representative explained.
All passengers aboard flight BL785 were transferred to another flight which departed from Noi Bai for Ho Chi Minh City at 2:55 pm the same day.
The budget carrier paid VND400,000 (US$17.62) in compensation to each passenger, while providing them with a complimentary lunch during their wait.
In related news, a Vietjet flight from Ho Chi Minh City to Vinh City in north-central Nghe An Province had to circle the destination airport multiple times before landing due to poor visibility, said to be caused by fog.
Flight VJ212 had been scheduled to land at 8:00 am on January 8, but low-hanging cloud and heavy fog forced the pilots to delay their landing by one hour while they waited in the sky for better weather, according to a Vietjet representative.
On January 7 two other Vietjet flights from Ho Chi Minh City to Vinh – VJ224 and VJ200 – were also forced to make alternate landings at Noi Bai due to unfavorable conditions at the Vinh Airport.
The budget airline arranged a free long-haul bus for the diverted passengers to travel by road from Hanoi to Vinh.
Those who refused to take the bus received compensation of VND200,000 (US$8.81) to travel to Vinh privately.
Party committees' responsibility for grassroots-level democracy urged
Politburo member Truong Thi Mai, head of the Communist Party of Vietnam (CPV) Central Committee's Commission for Mass Mobilisation Truong Thi Mai has requested raising responsibility of Party committees and authorities for exercising the regulations on democracy at grassroots level. 
During a meeting in Hanoi on January 11 reviewing the exercise of grassroots-level democracy in 2017, Mai lauded improvements in administrative reform and settlement of complaints and denunciations in many localities. 
She said lives in remote, mountainous and ethnic minority regions need to be improved via socio-economic development while relations between the Party committees, authorities, the Vietnam Fatherland Front (VFF), socio-political organisations and the people need to be stronger via dialogues. 
Mai suggested strengthening the monitoring of responsibility of heads of units, adding that three inspection groups led by Deputy Prime Minister Vu Duc Dam, President of the VFF Central Committee Tran Thanh Man, and deputy head of the Commission for Mass Mobilisation Tran Thi Bich Thuy will oversee the exercise of democracy regulations in the southeast, northern border provinces, the Government Inspectorate, the Ministry of Natural Resources and Environment, the Health Ministry, the Ministry of Labour, Invalids and Social Affairs, and the Vietnam General Confederation of Labour in the first half of this year. 
In 2017, Party committees, authorities, VFF and socio-political organisations directed the enforcement of the Party's guidelines and State laws on democracy regulations at grassroots level, the Resolution adopted by the fourth plenum of the 12th National Party Congress and Decree No.05-CT/TW on strengthening corruption and wastefulness prevention and control, campaigns on developing new style rural areas and building cultural life. 
Awareness of Party committees and authorities of democracy and democracy exercise has also been improved, bringing into full play the role, potential and creativity of people and encouraging them to join patriotic movements, and contributing to maintaining political stability and social order and building a pure and strong grassroots political system, heard the meeting.