The central city of Da nang has fined the owners of an illegally enlarged beach resort in Ngu Hanh Son District 100 million VND (4,400 USD) and will dismantle all buildings involved after January 18.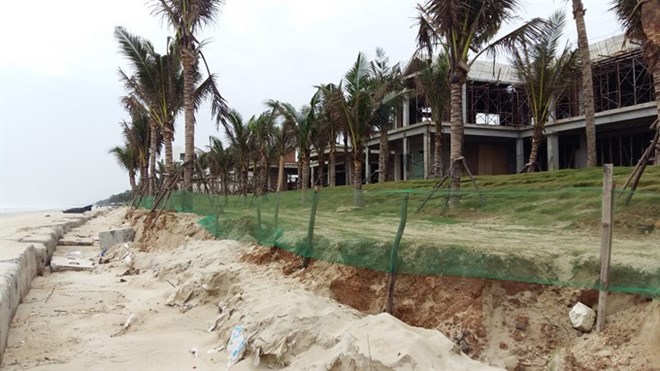 A section of a concrete dyke illegally built on public beach in Da Nang
Director of the city's construction department, Vu Quang Hung, said at a press conference on January 11 that the department, in co-operation with local officials, would ensure The Song Da Nang Beach Villa project on Non Nuoc beach would be restricted to the plans submitted.
Hung said illegal construction of villas and bungalows at the resort was discovered last May and a suspension order made, but the project owner, the Song Viet tourism urban development company, refused to stop building.
The department then forced the project owner to back down by ordering heavy fines for a series of violations on December 22, 2017.
Hung said the project owner was compelled to demolish villas and bungalows as well as a concrete dyke before January 18 or the local administration would do the work.
According to the department, the beach villa project, which is being built on 120,000sq.m, was designed with 37 villas, of which 20 villas had been completed.
The investor suspended construction in 2011, but only due to financial difficulties. It resumed construction in early 2017.
An inspection team from the department found that the investor expanded the coverage of 19 villas from an approved 5,000sq.m (264sq.m each villa) to 6,975sq.m (346sq.m each villa). Another 18 illegally expanded villas were also started, going from 182sq.m to 194sq.m each.
Meanwhile, seven bungalows were found to have expanded balconies. Trees and gardens were illegally developed on public beaches.
In 2016, the department also suspended illegal construction at the Muong Thanh Apartment project in Ngu Hanh Son District when the investor changed designs for a kindergarten and parking area into 104 flats for sale.
The city also plans to negotiate with 33 beach resort project owners to make sure they reserve pathways for the public and tourists.-VNA