VietNamNet Bridge – Two children in central Ha Tinh Province were hospitalised on Wednesday after a bullet they were playing with exploded.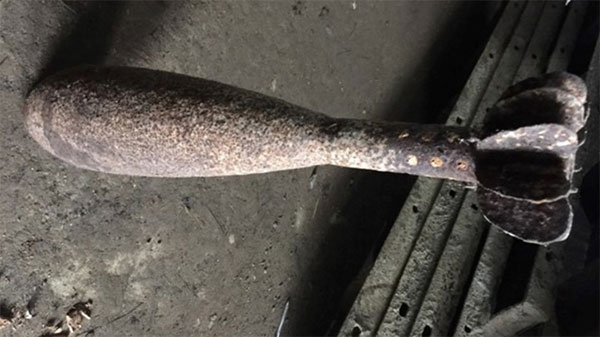 A war-time bomb with its original fuse found at a scrap warehouse in Ha Tinh Province. — Photo thanhnien.vn
Phan Van Truong, 8, and Phan Van Hoang, 7, picked up the bullet lying on the road in the province's Phuc Dong Commune. They took it home and started hitting it with a brick for fun. The bullet suddenly exploded and wounded their hands. At the time of the incident, their parents were not around.
Locals rushed them to a medical centre for emergency aid, where doctors confirmed they only had injuries in their hands.
Meanwhile, the province's police department handed a bomb with original fuse to the local military command for defusal.
Police said they found the 100mm bomb at a scrap warehouse in Ha Tinh City. The owner admitted to the police that she had purchased the bomb as a waste iron item and not as a weapon.
Checks on war-time explosive devices at scrap warehouses have been conducted across the country following a blast on January 3 at a scrap warehouse in northern Bac Ninh's Quan Do Village. The blast, with a 1km radius, killed two and injured 8.
A thorough inspection of scrap warehouses in northern Quang Ninh Province revealed that 85 out of 539 warehouses were operating without a licence, Vietnam News Agency reported.
Sr Col Do Thanh Kien of the province's police department said scrap warehouses posed risk of fire and poisoning and resulted in pollution and unhygienic conditions.
According to Kien, many warehouses did not have proper fire extinguishers and their facilities and power lines could easily catch fire.
The warehouses also hindered local traffic as scraps of waste piled up on roads, he said.
Kien underlined that authorities in the areas with warehouses must come up with tough measures to streamline their operation as well as educate the owners about safety and environmental protection. 
Source: VNS