VietNamNet Bridge – During wet, cold weather, bathing is a rare treat for Tran Quang, a boat resident in central Thua Thien- Hue Province. Quang, who is 35, is one of more than 100 boat people living on a floating village in Thuy Phu Commune. It is a tough, inconvenient life.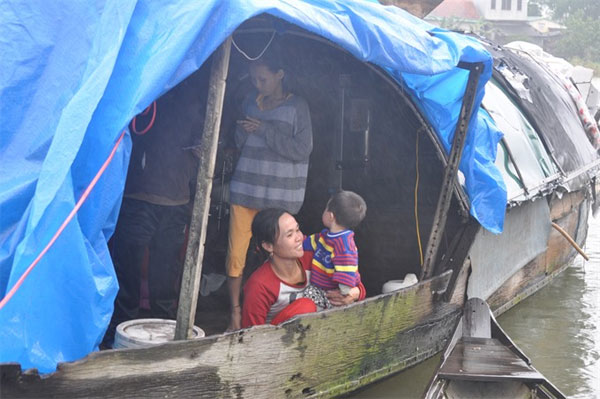 Le Thi Guc plays with her 10-month old daughter on her floating home.
In 2007, the province started resettling boat residents on land, but the scheme has yet to reach Quang's community. About 7,000 boat people have already been resettled on land, but officials refuse to say why Quang and 24 other boat families in his community are still waiting after 11 years.
"Of course we want a plot of land to settle down. It's been a life dream of mine," Quang said. "Life on the water is extremely tough, but we have to accept it."
Five members of Quang's family, including three children, crowd into the small living space on their home, its top covered by bamboo lattice and plastic sheeting. The space for the living area is one metre wide and six metres long.
The children are afraid of winter as they have no warm space to shelter and not enough clean, winter clothes.
"We have no water supply. Water taken from nearby land houses is just enough for cooking," he said. "We rarely bathe during winter. Bathing in the river is dangerous in the cold."
Winter in the province is among the toughest in the country due to rains and repeated cold spells. In bad years, there are only about 10 days in three months of winter that are not chilling.
The dream of moving ashore is a dream not only for Quang. Tran Bi, 58, said all 24 boat families hoped for the same escape.
"Life here is so hard and we have no base for growth, thus we all want to live on land," Bi said.
"My brother, my sister and my brother-in-law lived in hope of having a home ashore, but they died of strokes in three successive years.
According to Bi, commune authorities pledged to settle them on land in 2007, but since then, little has been done.
Most of the boat residents have no access to healthcare, except two families recognised as living close to poverty.
Le Huan, one of the two, said the community nominated his family as one approaching poverty, aiming to help the three youngest children go to school.
"Many of us are illiterate and health checks are not in our minds, except for emergencies," said Bi. He said only four of his nine children got a chance to go to primary schools. Bi is the second generation of his family to live on water.
"We earn some money in the sunny months, thanks to fishing and sand mining. Shortage of money is the main reason for our reluctances to use healthcare services.
Younger people like Quang can earn better incomes year-round by doing hard manual work. But he has his own reason for ignoring healthcare.
"We are subject to discrimination when we go. People look down on us, saying we are dusty, smelly and illiterate. They use words like "floating residents" to address us, making us reluctant to attend," he said.
A commune official said the commune had land for settlement of the families, but was short of capital for infrastructure development. He said the land plots were uncultivated due to the poor soil and even had to be upgraded for housing.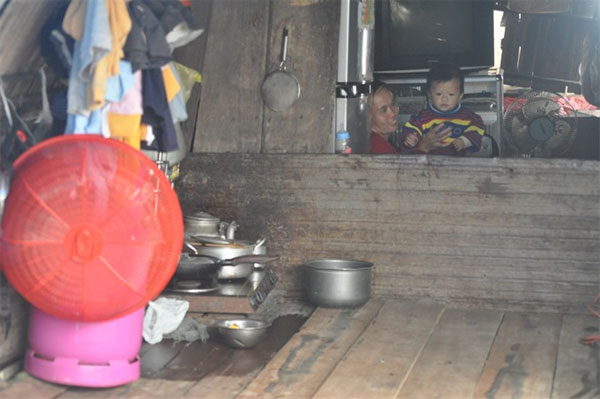 The small living space on the boat owned by Quang's family. - VNS Photos Phuoc Buu
Since 2007, the province has built three resettlement zones and five apartment blocks to house 7,000 people from more than 1,000 floating families in Hue City and nearby districts. The funds came from Luxembourg official development assistance and government and local budgets.
Provincial authorities claim resettlement has been fulfilled for the floating community in the province, but decline to say why Quang's community just five kilometers from the city has been forgotten.
Quang and his floating neighbours insist that they do not require infrastructure, they desire land where they can build houses by themselves if they have to. 
Phuoc Buu
VNS