VietNamNet Bridge – HCM City plans to run a pilot car rental service for Government officials to reduce expenditures, according to Vo Van Hoan, spokesperson for the HCM City's People's Committee.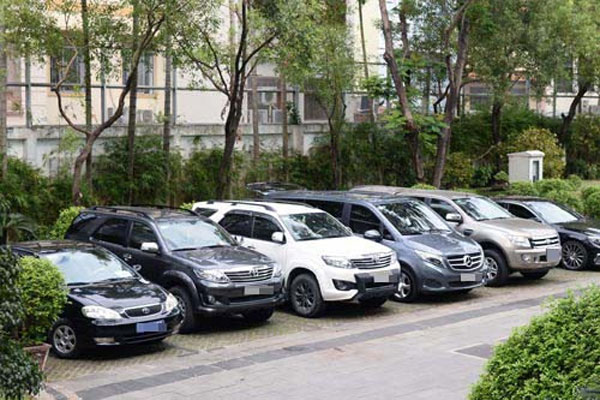 HCM City will pilot public car rentals, costing around VND20 million (US$881) for cars with 4-5 seats. — Photo nld.com.vn
The city will transfer all public cars to the Voluntary Youth Public Benefit Service Company (BESCO) for management and rental.
The pilot will begin in five State agencies and units, including the city People's Committee Office, Department of Finance, Binh Thanh District's People's Committee, Binh Chanh District's People's Committee, and the city's Food Safety Management Board.
Public vehicles with their drivers, escorts and security forces will be transferred to the company, and then departments, districts, and suburbs will rent cars and drivers.
Two cars will be arranged for each unit under a Government decision on the management and use of cars in State agencies and units.
The agencies and units must sign monthly car rental contracts with the company. During the pilot period, 26 cars will be available for use for five units.
BESCO will also arrange 10 cars for 24 hour service to meet urgent needs on weekends, overtime or public holidays. The trips will be charged per journey or by kilometre.
To reserve a vehicle, users will call a reservation centre or use the TNXP CAR phone app or computer via the internet.
The monthly fee ranges from VND20 million (US$881) to VND28 million ($1,233) per vehicle. The quota is 2,000 km per month per vehicle.
The salaries of drivers, escorts and security forces will be approved by the city's Department of Finance.
Hoan told Nguoi Lao Dong (Labourer) newspaper that the pilot would save money for the city budget and improve the welfare and income of those working for the city government.
Cost savings
HCM City has an excess of around 700 public cars, most of them old and damaged. Each year, the city pays a great deal of money to maintain and repair public cars.
Currently, each agency manages 5-8 cars at a cost of about VND15 million ($660) per car per month. Each unit has only two cars, with a cost of VND20 million ($881) per car per month.
With the pilot, the city expects savings of more than VND100 million ($4,404) per month, equivalent to over VND1.2 billion ($52,842) each year.
Further savings will occur because of reduced spending on new car purchases.
The city's old vehicles will be revoked and proceeds from sales will be remitted to the State budget.
Vietnam has about 34,241 public cars, each of which costs around VND320 million ($14,091), equivalent to VND13 trillion ($572 million) a year.
The Government plans to reduce the number of public cars in the country to 30-50 per cent by 2020, which is expected to save the state budget about VND3.4 trillion ($150 million) per year. 
Source: VNS