VietNamNet Bridge – Ca Thi Xoa, from Chieng La Village in the mountain province of Son La, decided to go to Hanoi to search for a job after her husband went away without saying a word.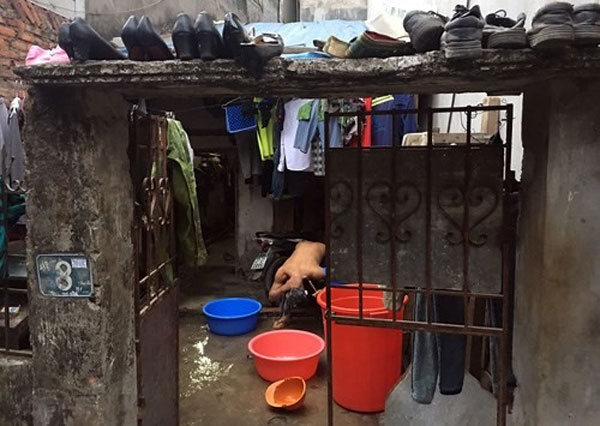 Cramped: This boarding 'house' for workers in Hanoi's Thanh Xuan District. 
Once when the 22-year-old Thai ethnic woman took her three-year-old son to Son La City for a health check, she met several women who invited her to go to Hanoi to work. They told Xoa that she did not need any skills if she followed the instructions of others who had experience working and living in the capital city.
Xoa immediately entrusted her son to her parents and caught a bus to Hanoi with the group of women. It was the longest journey she has ever taken in her life.
"I was very worried to know if the women were truthful or not. And then I calmed down, thinking that people from the same region should believe in each other," said Xoa.
Xoa entered Hanoi, the jungle of concrete, and temporarily forgot her hometown with its high mountains, maize fields, barren hills and hunger in between seasons. She quickly found herself a job and adjusted to urban life.
Another ethnic minority person, Mua A Dong, 19, went to Hanoi to make a living. He is from Muong Luan Commune in the northern mountainous province of Dien Bien, about 560km north of Hanoi.
Dong started work when he was 14 years old after his parents divorced, forcing him to live with his uncle. "I'm illiterate so I do not know how to do anything except to work manual jobs hardest as I can," said Dong.
After working in coffee fields in his home town, several people asked Dong to go to Hanoi with them and work on construction sites.
"I wish that I can return to my home town, look for my parents and learn how to read and write. Being literate will make it easier for me to find a job," he said.
Many couples also move from their remote home towns to Hanoi to earn a living.
Dinh Tien Thanh, 41, and Nguyen Thi Nhu, 34, from Yen Lang Commune in the northern province of Phu Tho are Muong people.
Thanh has worked at construction sites for the past four years. The couple keep moving to be near Thanh's work sites.
Whenever moving to another place, Nhu carries lengths of cloth to make a tent. Her 13-year-old daughter is now being brought up by their parents.
Nhu said, "I miss her much, but if I stay at home with her, we will not have any money. So we must accept living far from our daughter to earn some money for savings."
Duog Van Ut and Ha Thi Vui are another couple from Van Chan District in the northern mountainous province of Yen Bai. They share a large room in Go Village in Hanoi with dozens of workers from different provinces.
Vui said, "The crowded accommodations led to bad sanitary conditions. Everyone suffered from allergies that made their bodies itch all over."
The worst problem is a bad smell from toilets that spreads into the room, she said.
Nguyen Van Ha, 29, has managed informal workers at construction sites for the past eight years.
At present, he is managing about 380 workers, and most of them are ethnic minority people.
Each of them is paid VND160,000-290,000 (US$7-12.80) per day based on their skills.
Ha said that the workers did not have fussy demands for accommodation, they just needed a space to lie down and a place for personal hygiene. They are also not choosy about food and are physically strong enough to work extra hours.
"But there are also difficulties," Ha added, explaining that these fickle workers often return to their hometown for the harvest season in June, so this slows the progress of work on each site.
Ha said ethnic workers insisted on being paid on time. If their payment was late just once, they would refuse to go back to work.
"Their capacity of adapting to new work is low, so employers put experienced workers beside new ones," he said.
Another problem is that many ethnic minority people cannot speak the official Vietnamese fluently, so it is difficult to explain the work to them.
Although employers provide safety equipment, the workers rarely use it.
Moreover, Ha said, ethnic minority people were hard working, but also easily affected by social evils, such as alcohol and gambling.
"It is a headache for me to manage hundreds of ethnic workers," he said.
An Thị Hong Hoa, a sociology expert from the Tay Bac University, said that many people of ethnic minority groups in remote areas have deserted their hometown to find work in construction sites of big and ever expanding cities.
He said until recently, their main problem was finding unused land in their hometown to cultivate and make a living.
"We should create jobs right in their hometowns so that they feel secure and can maintain their traditional customs," said Hoa.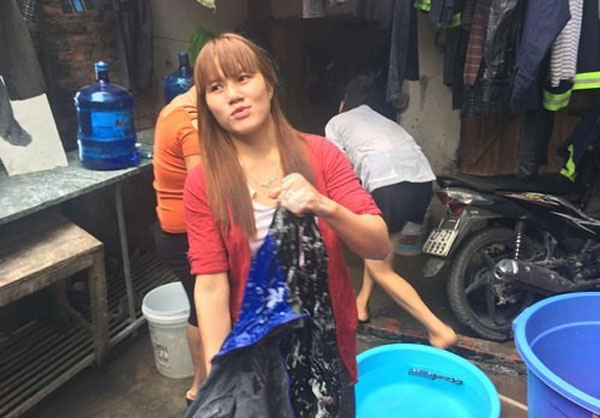 On the move: Ca Thị Xoa left her hometown to go to Hanoi to earn a living. — VNS Photos Gia Tuong
Gia Tuong
Source: VNS