VietNamNet Bridge – A group of 11 youngsters, who used knives and scimitars to stop vehicles and "ask" for money last Friday night on a section of Noi Bai-Lao Cai Expressway passing through Phu Ninh District, could be sentenced to a 2-7 year prison term.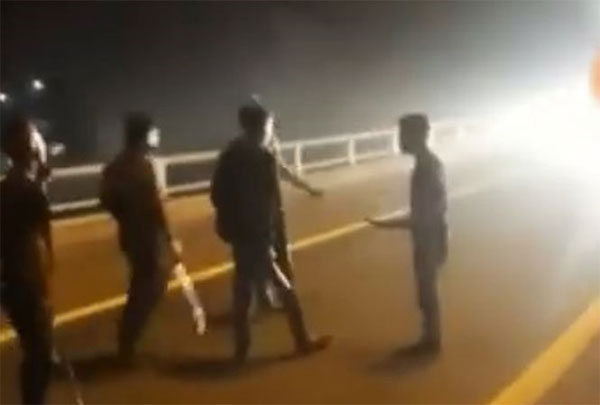 The youngsters take their scimitars to stop vehicles on the expressway last Friday night. — Photo tienphong.vn
Nguyen Anh Thom, of the Ha Noi Bar Association, said the youngsters appeared to have committed two offenses -- "robbing property" and "disturbing public order" – according to articles 133 and 245 of Penal Code 1999, revised in 2009, the Tien Phong (Vanguard) online newspaper reported.
Local police of northern Phu Tho Province are further investigating the case after they arrested 10 of 11 suspects on Saturday morning and seized the suspects' knives and scimitars.
Based on initial investigation, the police have identified nine suspects -- Nguyen Minh Quang, 18; Nguyen Van Tu, 19; Nguyen Van Dong, 19; and Nguyen Quang Vinh, 18; as well as Nguyen Hai Dang, 18; Tran Pham Tai Duc, 18; Nguyen Xuan Anh, 19; Nguyen Xuan Dao, 19; and Uong Dinh Luong, 19.
The suspects admitted to the police that after drinking wine together, they came up with the idea of stealing money from drivers of vehicles travelling on the expressway. One member of the group live streamed on Facebook the act of stopping the vehicles and demanding money from the drivers on Friday night.
The suspects said they "earned" some VND400,000 (US$18) that night. They only stayed on the expressway for some 40 minutes that night and then left. 
Source: VNS