VietNamNet Bridge – The usage of online public services at the district level in HCM City has gained significant progress, according to the HCM City's Information and Communications Department.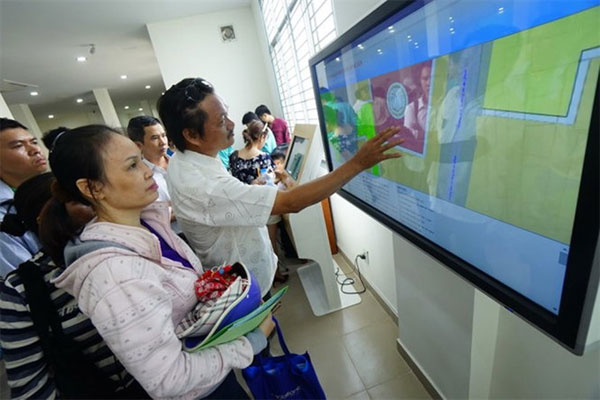 Transportation public services in District 12, HCM City. — Photo tuoitre.vn
In 2017, the number of files resolved through online services increased 3.6 times, from more than 81,600 in 2016 to about 294,100 by the end of August, excluding files dealing with taxation, customs, social insurance and immigration.
In District 4 and Binh Tan District, all labour files were submitted online and Binh Thạnh District received 100 per cent of its economic files through the internet.
To disseminate information about online public services, district staff have showed their colleagues at commune level how to use online services for their work and local residents.
All information has been listed in headquarters of all communes and districts. Eighteen of 24 districts have set up advisory teams for online public services.
"This year, the city has launched 236 new public services and prepared to release 148 others in 2018," Vo Thi Trung Trinh, deputy head of the department was quoted as saying in the Sai Gon Giai Phong (Liberated Sai Gon) newspaper.
HCM City has a total of 552 online public services, an increase of 97.5 per cent in comparison with 2016.
"However, such results haven't met the expectations of local authorities and residents," Trinh added.
She said that in some localities local residents showed little trust in online services.
"Many people thought they should not submit their files via the internet because they had spent a lot of time coming to management offices, but their files still need a long time to be resolved," she added.
She also pointed out that relevant authorities had not released any policy to support people who submit their files through the internet, including information about time and fees for online services.
"Right now, many management offices don't want to apply online services because of cumbersome procedures," she added.
Thus, city authorities plan to shorten the time for online services.
The municipal Justice Department will set up a system to manage and simplify administrative procedures and create a "one-stop shop".
With the solution, local residents can submit their files, supervise the process and receive results through the internet.
Authorities will integrate the city's administrative procedures with a national database.
The Information and Communications Department will ensure integration of the city's public service website with the national public service website.
The department is also conducting research on how to collect online fees at the departments of Health, Planning and Investment, Natural Resources and Environment.
In a related matter, HCM City People's Committee has released an action plan for administrative reform with the goal of increasing residents and enterprises' satisfaction with State office services up to 90 per cent.
The aim is to have 30–40 per cent of public services served online and 90 per cent of online files resolved in time.
To reach the goal, vice chairman of the committee Tran Vinh Tuyen instructed relevant authorities to inspect services without prior announcements. 
Source: VNS