WB funds water supply projects in Red River Delta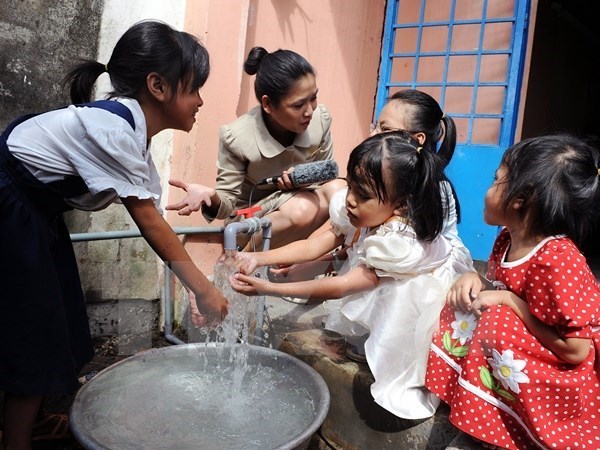 Three out of water supply projects using loans from the World Bank (WB) have been put into operation in Hanoi (Illustrative image. Source: VNA)
Three out of water supply projects using loans from the World Bank (WB) have been put into operation in Hanoi.
The waterworks are built in Co Do and Phong Van communes (Ba Vi district), Hiep Thuan and Lien Hiep communes (Phuc Tho district), and Huong Son commune (My Duc district).
The remaining projects in Tam Hung and Thanh Thuy communes (Thanh Oai district) Lien Phuong, Van Tao, Ha Hoi, Hong Van and Thu Phu communes (Thuong Tin district), Trung Hoa and Truong Yen communes (Chuong My district) are expected to be put into operation soon.
The facilities have also supplied water to more than 22,000 households of communes adjacent to the targeted localities.
The Ministry of Agriculture and Rural Development has coordinated with the WB to carry out a programme on clean water and rural sanitation in eight Red River Delta provinces during 2013-2017.
The project has enabled 60,000 rural households to access clean water and more than 20,180 households to use hygienic latrines.
Within the framework of the programme, the municipal and provincial Departments of Agriculture and Rural Development, Education and Training, and Health have organised training courses to equip officials involved in the project with supervision and evaluation skills, and raise public awareness of clean water.
HCM City hosts ITEC Day
As many as 150 civilian training slots are offered to Vi?t Nam under the Indian Technical and Economic Cooperation (ITEC) programme every year, according to the Consulate General of India in HCM City.
The ITEC programme is the Indian Government's flagship programme for capacity building and to share its knowledge, skills, expertise and resources with other developing countries, said Consul General of India Dr. K Srikar Reddy.
During 2017 and 2018, more than 10,500 slots were offered under the ITEC programme to 161 partner countries for various short-term and medium-term courses in institutions across India, he said at the celebration of ITEC Day 2017 held last Friday in HCM City.
ITEC courses cover different fields, such as information technology, financial management, English proficiency, remote-sensing, agricultural research, quality standardization, environmental technology and biotechnology and green energy.
The ITEC programme provides an avenue for development of professional skills at the most prestigious Indian institutes, where the scholarship covers all aspects, including air fare, accommodation, local transport and stipend for miscellaneous expenses fully funded by the Government of India.
It also serves as a powerful medium to build cultural bridges between Vi?t Nam and India and the alumni of the ITEC programme has excelled in various areas contributing to the progress of their institutions and delivering progress to the society.
Hung Yen: Disadvantaged children receive scholarships, free milk
The Vietnam Children's Fund presented cash scholarships and 200 gifts, each worth 1 million VND (44 USD), and 500,000 VND (22 USD), respectively, to needy children in My Hao district, the northern province of Hung Yen on December 24.
The ceremony, at the district's Nhan Hoa Primary School, was attended by Nguyen Hanh Phuc, Secretary General of the National Assembly, leaders of the Ministry of Labour, Invalids and Social Affairs, and local authorities.
The fund also gave another 100 gift packages to underprivileged children in Xuan Duc commune, My Hao district, and 200 to students of a vocational school for disabled children in Khoai Chau district.
On the occasion, the Vietnam Rising milk fund donated 70,500 glasses of milk to local children, including 1,000 in Nhan Hoa commune, who will drink milk for one month.
Nhan Hoa Primary School also was presented with teaching and learning equipment, worth 80 million VND (3,500 USD) and it students received free health check-ups on the occasion.
The same day, a kindergarten school was inaugurated in Nhan Hoa commune.
The two-storey building, worth over 3 billion VND (132,000 USD) is funded by the Vietnam Gas JSC. It has four classrooms with the total area of 240 sq.m.
Can Tho sets health care targets for 2018
The Mekong Delta city of Can Tho aims to lower the HIV infection rate in the locality to less than 0.3 percent in 2018, said Deputy Director of the municipal Health Department Cao Minh Chu.
This is one of the main tasks for the city's health sector in 2018 which were discussed at the sector's conference held on December 22.
In addition, Can Tho's health sector will work to develop health personnel and raise quality of medical stations by 2020, as well as establish a disease monitoring centre and continue to implement the city's satellite hospital project.
The sector will also enhance monitoring and prevent outbreaks of major diseases including dengue fever, hand-foot-mouth and measles, Chu added. Especially, the city will intensify the control of food quality and safety.
In 2017, Can Tho recorded nearly 1,200 dengue fever cases, a rise of 383 cases year-on-year, with no fatalities. As many as 916 hand-foot-mouth cases occurred in the city, with one death in the reviewed period.
Work begins on Truc Lam Zen monastery in Soc Trang
Construction of a Truc Lam Zen Monastery began in the Mekong Delta province of Soc Trang on December 24.
Covering an area of 6 hectares in Ward 2, Soc Trang city, the work will cost an estimated over 100 billion VND (4.4 million USD), most of which is raised by Buddhist followers, businesses and charity organisations, both inside and outside the province.
Main items of the project are expected to be completed in 2019.
Vice Chairman of the provincial People's Committee Ngo Hung stressed that the ground-breaking ceremony for the monastery took place on the occasion of 709th anniversary of the Nirvana attainment of King-Monk Tran Nhan Tong - founder of Vietnamese Zen Buddhism.
The Truc Lam Zen Monastery is a cultural and spiritual space for Buddhist followers, he said, adding that it will be a highlight in the local spiritual tourist attractions that help promote the development of provincial tourism.
National Strategy on Green Growth integrated into local development
The National Strategy on Green Growth, adopted by the Prime Minister in 2012, identifies green growth as the most appropriate way to reform Vietnam's growth model and restructure the national economy.
Green growth also defined as a key factor in ensuring sustainable growth and rapid, effective and sustainable economic development.
The Prime Minister adopted a green growth action plan until 2020 detailing activities needed to realize the strategy. The plan focuses on restructuring energy, industry, agro-forestry, transportation, construction, the environment, science, and technology sectors. 40 cities and provinces nationwide have developed their own green growth plans. 
Tran Trung Hieu from the Central Institute for Economic Management (CIEM) said "Provinces have issued plans to promote green growth, but have not integrated green growth into their socio-economic development plans. They need guidance from the Ministry of Planning and Investment to identify goals, targets, and a budget for this work."
Localities have promoted links between sectors and regions, involved the community, and identified resources to implement the Green Growth Strategy. 
Doctor Tran Thi Hanh of the Central Institute for Economic Management said "The Ministry of Planning and Investment needs to set out green growth criteria when evaluating investment priorities and identifying investment resources for local socio-economic development plans. Green growth criteria should also be included in appraising public investment projects."
Promoting green growth will help Vietnam improve its people's lives and local growth, increase national economic competitiveness, boost economic restructuring, and reduce poverty.
President wants justice system to improve
President Trần Đại Quang has urged the judicial sector to focus on dealing with complaints and denunciations from people and to increase direct dialogues with citizens to prevent prolonged and complicated cases.
Addressing a meeting held by the Ministry of Justice yesterday to review its performance over the past year and set tasks for 2018, Quang urged the sector to increase the number of enforced verdicts and improve efficiency in revoking assets stolen in economic or corruption cases.
The ministry should continue working with ministries and agencies to handle legal issues arising during the international integration process while promoting international co-operation with countries and organisations in law and policy building, he said.
The human factor plays an important role in fulfilling tasks so the ministry should build a staff with fine personality, firm political will, high responsibility and high professional skills, he said.
The President instructed the ministry to follow Party and State leadership and guidance in law building, judicial reform and administrative reform and to consult the Central Steering Committee on Judicial Reform in implementing Party resolutions on judicial reform.
The ministry was asked to co-ordinate with relevant agencies to implement law enforcement, particularly laws approved by the National Assembly such as the Law on State Compensation Liability, the Law on Legal Aid and the Law on Access to Information.
The President also urged the ministry to continue renewing State management on issues relating directly to citizens and businesses and to speed up administrative reform in areas managed by the judicial sector.
In 2018, the sector will focus on key tasks, including speeding up law enforcement, exceeding yearly targets on civil judgment enforcement, completing the organisation of judicial agencies to improve their operation efficiency and enhancing supervision to prevent violations in the judicial sector.
The President took this occasion to praise the judicial sector for its achievements over the past year.
As reported by the ministry, in 2017, the civil judgment enforcement sector settled 549,000 cases, nine per cent above the yearly target.
U19 players to vie for national championship
The National U19 Football Championship will feature 22 teams competing from January 8 to February 10.
Among them, 21 teams will be divided into three groups and take part in the qualification round. The top seven teams will advance to the finals with hosts Thừa Thiên-Huế.
The finals will be held at the Tự Do Stadium in Huế City from March 6-15.
The top players will be selected to form the national squad who will take part in an international tournament in Pleiku, Gia Lai Province, on March 21-31. — VNS
Steering Committee for Northwestern Region completes tasks
After 13 years of operation, the Steering Committee for Northwestern Region (SCNR) has fulfilled its tasks, contributing to boosting socio-economic growth and ensuring defence-security in the region, said Nguyen Van Binh, head of the committee at a meeting on December 25.
Binh, a member of the Politburo, Secretary of the Communist Party's Central Committee and head of the Party Central Committee's Economic Commission, said the SCNR has helped improve the capacity of Party committees and local governments.
The SCNR will end its operation following the 12th Party Central Committee's Decision 18-TW dated October 25 and the Politburo's Decision 104-QDTW dated November 28, he said.
Participants at the meeting proposed that after the SCNR's operation ends, it is necessary to design preferential policies for Northwestern region's development, while continue providing capital to the region to implement key development projects.
Binh asked regional localities to focus on ensuring growth targets for 2018, better managing budget collection and budget spending, while speeding up the restructuring of agricultural sector and administrative reform.
Localities should also improve ethnic and religious policies, thus maintaining national solidarity.
In 2017, gross regional development product of the region grew 8.43 percent from 2016, with per capita income of 30.75 million VND (1,356 USD), up 2.25 million VND (99 USD) compared to 2016.
The region's State budget collection hit 36.8 trillion VND (1.62 billion USD), exceeding the yearly target by 1.1 percent. Its industrial production is estimated at 138.2 trillion VND (6.09 billion USD), up 13.6 percent over the previous year. Total investment reached 153.3 trillion VND (6.76 billion USD), up 10 percent year on year.
This year, 106 communes have been recognised as new-style rural areas, raising total recognised communes to 318.
Embassy protects legitimate rights of Vietnamese fishermen seized in Indonesia
Representatives of the Vietnamese Embassy in Indonesia have visited Vietnamese fishermen who have been temporarily detained on the country's islands for illegal fishing. 
The diplomats had working sessions with the prosecution office and court of Ranai in Indonesia's Natuna Islands.
Tran Minh Cu, Counsellor of the Vietnamese Embassy, called on the agencies to make fair judgments on the basis of information provided by the fishermen and lawyers. 
The embassy asked the prosecution office to take necessary measures to ensure the fishermen's health. 
Cu told the fishermen that the embassy will continue to accompany fishermen during the legal process to protect their rights, asking them to abide by Indonesian regulations. 
The embassy will send representatives to attend the trial for the remaining captains in mid-January, he affirmed. 
The embassy has also asked Indonesian agencies to repatriate a fisherman who has been hospitalised for acute stomachache treatment. 
According to the embassy, since the beginning of 2017, 110 Vietnamese fishing boats have caught fish in Indonesia's waters and about 1,270 fishermen have been captured for the violation, compared with 58 boats and 644 sailors in 2015 and 109 boats and 1,120 sailors in 2016. 
Indonesia has imposed strict measures against illegal fishing. In 2017, the country destroyed 103 violating fishing boats, including 66 from Vietnam. 
The embassy, so far this year, has work with agencies of both sides to bring home 1,263 fishermen. However, there are still some 170 Vietnamese fishermen detained on Indonesia's islands.
Tan Trao tourist site aims to welcome 2 million visitors annually by 2030
Tan Trao National Tourist Site in the northern province of Tuyen Quang aims to welcome 2 million visitors annually, including 35,000 foreigners, and earn total tourism revenues of over VND 1.65 trillion (US$ 72.7 million) by 2030, under a Prime Minister-approved planning project for the site.
Domestic visitors are expected to arrive from Tuyen Quang province's neighbouring localities in the northeast and northwest regions, the Mekong River Delta region, as well as major cities including Hanoi, Hai Phong, Da Nang, Ho Chi Minh City and Can Tho.
Meanwhile, key markets for international arrivals are countries and territories in Northeast and Southeast Asia.
The planning zone for tourism development under the project includes a total of a 2,500-hectare core region in Tan Trao, Minh Thanh, Trung Yen, Binh Yen and Luong Thien communes of Son Duong district, and Kim Quan commune of Yen Son district.
Regarding the tourism infrastructure development, the project aims to add 1,000 3-star rooms on the site by 2030 and develop other types of accommodation in tourism such as camping, bungalows, and homestays in Tan Lap, Nieng and Quan Ha hamlet.
Tourist products provided to visitors will be focused on exploring the historical value of the site, highlighting the indigenous culture and traditional festivals of ethic groups in Tuyen Quang province, as well as tours across Pho Day river.
An entertainment complex and park will be constructed on the site, including a swimming pool, arts clubs, sports facilities, and a stage to host folk games.
All available resources will be mobilised to implement the project, including sources provided from the State budget, the National Fund for Tourism Development, financial support from organisations, businesses and other legal investment sources.
Among them, the State budget will be used to improve infrastructure, bolster the marketing and brand of the site, enhance human resources, preserve and promote the historical and cultural values of the complex.
Tan Trao, known as Vietnam's revolutionary cradle, was once the home of Uncle Ho along with the Party central agencies in the pre-insurrection period and in the war against the French. It is the site of many historic events leading up to the August Revolution and victory.
Predictable failure of a movement
The success is short-lived, as neat and tidy pavements along major streets in HCMC's District 1 are no longer seen these days and the situation has returned to their original chaotic state, despite a painstaking movement waged since February to win back the sidewalks for pedestrians.
When the movement was kicked off early this year, Doan Ngoc Hai, vice chairman of the district, showed off his determination to push the drive to the final success, with a noble, ambitious goal to make the district's precincts as clean and tidy as Singapore. Hai himself took to the street, flexing his muscles by ordering his men to get tough on all violators. Wrongly-parked vehicles were towed away, illegally-erected structures were torn down, and vendors encroaching on the sidewalk were harshly punished or had their facilities confiscated.
In the first few months, the streets looked more spacious, and the hard-fought battle with widespread public backing was seen a success, despite vocal protests from those whose interests were affected. The vice chairman, however, could not endlessly pursue the movement, and could not cover all corners of the district, so pavements after being cleared have been handed over to grassroots authorities for management.
Ward-level authorities, however, have proved themselves incapable of maintaining the newly-restored urban order. Street vendors roam the sidewalk again these days, vehicles are parked randomly on the pavement, and numerous shop owners reclaim spaces in front of their venues, ignoring all urban space management regulations. All now look like the movement has never been launched.
Local media says grassroots authorities are reluctant to go against encroachers since they also enjoy benefits from business spaces along pavements. Apart from taxes and fees, shop owners at street-front business venues also make financial contributions to ward-level authorities, often on a regular basis. Authorities, therefore, cannot voluntarily cut off their sources of income.
On a wider perspective, however, the deep-rooted practice of running street-front businesses has existed for decades in HCMC, and cannot be removed in a simple movement. Tens of thousands of household businesses in the city have utilized spaces in front of their venues to earn a living, and to pay trillions of Vietnam dong in taxes a year. Such businesses form a sizeable part of the city's economy, and cannot be easily wiped off without causing a major setback for the economy.
Urban order restoration is still much needed, but before such a goal can be achieved, the gradual economic transformation should take place first so that petty commercial activity by household businesses along the street no longer takes the upper hand over concentrated commercial centers. Data from surveys early this year showed such family-owned businesses still accounted for roughly 80% of Vietnam's total retail revenue, and in major cities, though separate data are not available, such promotions are also deemed high.As such, any movement to hastily change the habit of running street-front businesses is therefore destined for failure.
Police issue arrest warrant for Phan Van Anh Vu
Investigators of the Ministry of Public Security have issued an arrest warrant for Phan Van Anh Vu, a Danang City property magnate whose whereabouts are unknown, according to local news reports.
The warrant for Vu, alias Vu Nhom, was signed on December 22, one day after the police charged the 42-year-old for deliberately disclosing state secrets.
Police on December 21 raided the residence of Vu on Tran Quoc Toan Street in Danang City. However, he was not at home, and his whereabouts remain unknown, leading to the warrant being issued.
Vu is chairman of three companies – Bac Nam 79 Construction Joint Stock Co., Nova Bac Nam 79 Joint Stock Co., and The Sunrise Bay Danang. He is believed to be involved in lots of fishy property projects currently under police investigation.
In September this year, investigators at the Ministry of Public Security launched a probe into nine property projects and 31 public land lots and houses in Danang which have been transacted since 2006. Two of the land lots under investigation were used to build a home and a company office which both belong to Vu.
Products for smart city, 4IR win ICT awards
Many winning products in the ICT (Information and Communications Technology) Awards 2017 may be useful for smart urban development, and fourth industrial revolution, said experts.
Le Quoc Cuong, deputy director of the HCMC Department of Information and Communications, said at the award ceremony on December 20 that the HCMC government has introduced a host of smart city applications such as providing planning information, improving security via CCTV networks, and providing flood information.
The ICT Awards 2017 acknowledged achievements in the development of products and services by an individual, and 11 teams, together with eight outstanding ICT students.
This year's contest lured 67 entries, with most of them being software products and solutions, and value-added services.
These products and services are more commercially viable than those in the previous awards, according to the panel of judges.
Some products and applications such as technology apps on social networks, and mobile apps on Android and iOS platforms may be useful for the smart city development plan of the local government.
Tea-picking competition attracts skilled farmers
Ten teams each comprising of five farmers from localities in Bao Loc Town and two teams of Tam Chau yesterday took part in the tea-picking competition in tea farm Tam Chau in Bao Lam District in the highland province of Lam Dong. 
The competition is a part of the Week of Bao Loc tea & silk culture within framework of the 7th Da Lat  Flower Festival - 2017 which is scheduled for December 23-27.
The organizer said participants must be skilled in picking oolong tea such as picking a bud with two leaves up as quickly as possible and just picking leaves with right size.
After thirty minutes, Tam Chau 1 team won the first prize followed by team of Loc Nga Commune, Loc Thanh and Tam Chau 2.
Additionally, some farmers earned the title Golden Hand, Silver Hand, Bronze prizes for their god performance at the competition.
The Week of Bao Loc tea & silk culture with the theme of "Bảo Lộc – Tea fragrance and Silk Beauty/Color" aims to honor tea growers, and sericulturists, silk-reeling makers and weavers.
HCMC to train nearly 3,000 hi-tech agricultural workers
Ho Chi Minh City People's Committee has approved a plan to train nearly 3,000 workers for hi-tech agricultural field in the phase of 2018-2020.
The plan aims at developing hi-tech agricultural human resource to be able to receive, own and apply technologies in farming production and meet the development demand of the city's hi-tech agricultural industry.
Nearly 3,000 people will take instruction to work in hi-tech applied farms, cooperatives and businesses connecting production and consumption with farmers in the city.
As part of the plan, 1,800 cadres in science and technology management and study, technical cadres, business owners and cooperative managers and members will be trained to take control of technologies in the field.
In addition, the plan will train 20 masters and doctors in hi-tech applications in agriculture at domestic and overseas institutes and universities.
The HCMC Department of Agriculture and Rural Development has invited experts from institutes and universities in the city to get their opinions for the plan and learn about their participation ability to implement the plan next year.
HCMC announces three consecutive New Year days off
HCMC People's Committee has announced that civil servants and officials of administrative, public career, political and social-political organizations will have three New Year days off from December 30, 2017 to January 1, 2018.
Of these, January 1 is the official holiday and the two remaining are weekend days.
Organizations and businesses who do not take two weekend days off can base on their specific plans to arrange suitable holiday schedule.
The committee required Government agencies, schools, hospitals, armed forces and households to fly the national flag on January 1, 2018.
The Department of Natural Resources and Environment has been asked to work with districts to clean up and decorate the city to celebrate the holiday.
HIV-infected people live normally if taking ARV
People living with HIV receive lifesaving antiretroviral (ARV) drugs have life expectancy like normal, said Vietnam administration of HIV/AIDS control and the US Center for Disease Control and Prevention (CDC) at a press brief yesterday. 
Moreover, men who have HIV suppressed with antiretroviral drugs did not infect their partners even when they have sex without condoms.
Head of the administration Nguyen Hoang Long said that out of around Vietnamese 209,000 HIV-infected people, just approximately 123,000 people receive treatment of ARV, accounting for 60 percent while the remaining 40 percent have not been treated yet because of different reasons including being afraid of discrimination. 91 percent of people on treatment with suppressed HIV levels can't transmit virus.
Noticeably, John Blandford, Director of the Division of Global HIV/AIDS (DGHA) at the U.S. Centers for Disease Control and Prevention (CDC) in Vietnam said that the US center's 10-year researches studied nearly 1,800 couples made up of one partner that had HIV and one that didn't. These couples have unprotected sex and they did not take the drug. Study results showed that HIV people with suppressed HIV-level did not transmit the virus.
Different studies have been conducted on thousands of couples with many sex acts. Altogether, the researchers counted more than thousands acts of unsafe sex. Moreover, no partners of these couples are transmitted the fatal virus, said Blandford.
Accordingly, Mr. Long stressed these scientific evidence proved the importance of the drug to people living with HIV.
He added that the first HIV-infected Vietnamese woman living in HCMC in 1990 is still healthy and work like others because she takes the drug gradually.
Giving wings to dream contest for high school students
In order to orient career, the Department of Education and Training in Ho Chi Minh City organized a contest "Chap canh Uoc mo" ( Giving wings to dream) as an useful playing ground for students.
Students of senior high schools and continuous learning center in the city are eligible for taking part in the contest.
The contest includes four rounds including online round, the first round the semifinal and the final round.
Those who want to compete in the contest can access to the contest's website and enter the online test with 100 multiple choice questions.
Thejury will select 1,500 candidates with highest marks for the next round.
Then, 50 competitors will enter the semifinal round which they must deliver a five-minute speech and answer jury's questions relating to their profession.
Ten of them will be selected to enter the final round with experience in their profession of choice and solutions for expected situations on the stage.
Fifty excellent candidates will be presented with valuable gifts.
Nearly 2,900 communes recognised as new rural areas
As many as 2,884 communes or 32.3 percent of communes nationwide were recognised as new-style rural areas by the end of November 2017, surpassing the target of at least 31 percent. 
Of the total, 326 communes have met the new national criteria on new rural communes during 2016-2020, according to the Coordination Office of the National Target Programme on New-Style Rural Area Building. 
As of December 15, 43 district-level units in 24 centrally-run cities and provinces have been certified as new rural areas, up 13 districts compared with the end of 2016 and exceeding the target of 38. 
The General Statistics Office revealed that as of the end of  2016, 99.4 percent of communes nationwide have auto-accessible roads to commune centres. All communes and 97.8 percent of villages are connected with the national power grid. Meanwhile, 99.7 percent of communes have pre and elementary schools and 99.5 percent of communes have medical centres. 
Some 3,854 production models have been connected with each other by value chains. There are 11,183 agricultural cooperatives, with each earning an average of 1.1 billion VND (48,400 USD) annually. 
Notably, localities have set forth roadmaps to deal with debts in infrastructure construction. 
However, the outcomes of the new-style rural area building remain unequal between regions across the country, with 1,101 certified communes in the Red River Delta and only 119 in the Central Highlands. 
The national target programme on building new-style rural areas, initiated by the Vietnamese Government in 2010, sets 19 criteria on socio-economic development, politics, and defence, aiming to develop rural regions.    
The list of criteria includes the development of infrastructure, the improvement of production capacity, environmental protection and the promotion of cultural values.
 In 2015, the set of criteria was increased to 20.
Can Tho works to promote gender equality for ethnic minorities
Communication works, forums and talks on gender equality will be held in the Mekong Delta city of Can Tho under a project to support gender equality in ethnic minority areas during 2018-2025.
The project aims to create positive changes in implementing gender equality-related activities and raise women's status in ethnic-inhabited areas, thus, contributing to successfully realising goals set in the National Assembly on gender equality.
Besides, legal regulations on gender equality, marriage and domestic violence will be popularised in accordance with the culture of the ethnic groups. Contests on gender equality will also be held.
Notably, the city hopes to bolster international cooperation to mobilse resources for gender equality activities in the locality. It will work with the local Women's Union and Department of Labour, Invalid and Social Affairs to develop social skills and economic capacity for ethnic minority women.
According to Luong Van Tru, Head of the city's Committee for Ethnic Minority Affairs, since the implementation of the national programme on gender equality in 2011, the city has narrowed the inequality gap thanks to activities to promote gender equality and prevent domestic violence.
Statistics from the city women's union showed that nearly 40 percent of working-age women in rural areas have no vocational training or no specific profession.
The city is home to 27 ethnic minority groups with a total population of 38,929 people or 3.18 percent of the city's population. Most of them reside in Co Do, Thoi Lai and O Mon districts.
Huge fire breaks out on top of Hanoi apartment building
Residents ran out of homes in panic as a huge fire broke out on the top floor of the Golden Westlake Apartment Building in Hanoi.
The fire started at 1 pm on December 25 at the building on Hoang Hoa Tham Street. A pile of black smoke could be seen on the top of the building. Electricity of the building was cut and residents at the top floors did not dare to use the stairs as smoke filling in.
Dozens of fire trucks and hundreds of firefighters were quickly sent to the scene to rescue trapped residents and put out the fire. 
Hoang Quoc Dinh, director of Hanoi Fire Department, told The Labourers Newspaper said that the fire broke out at the 25th floor. 
"The smoke has caused troubles for the firefighters," Dinh said. "Most people living near the top floors have been rescued. We are investigating the cause of the fire."
The fire was controlled at 3 pm and the smoke was cleared. The firefighters are checking each floor and apartment. According to the locals, one apartment on the floor where the fire broke out is under repair.
Free wine for visitors at Da Lat Flower Festival
More than 700 litres of free wine were served at the 7th Da Lat Flower Festival in the Central Highlands province of Lam Dong on December 24.
Thousands of locals and tourists participated in the night wine festival in the resort city of Da Lat.
The festival was divided into various sectors featuring local special dishes and street music.
A photo exhibition highlighting the beauty of the Central Highlands and central coastal region kicked off the same day in Da Lat city.
In another event in the framework of the 7th Da Lat Flower Festival, a fashion show highlighting locally-made silk was held in Bao Loc city, Lam Dong province, which is dubbed Vietnam's silk capital, on December 24. 
The silk was used in 13 collections by famous designers such as Minh Hanh, Ngoc Han, Ha Duy, Nguyen Thuy and Nhi Hoang.
The same day 32 years ago, the Government issued a decree building Bao Loc into Vietnam's silk city. 
The 7th Da Lat Flowers Festival is taking place at Lam Vien Square from December 23-27 under the theme of "Da Lat Flowers - A Miracle from the Good Earth".
More than 5,000 art works of flowers, bonsai and plant are being displayed at an international bonsai and flower exhibition.
A series of workshops are also scheduled within the framework of the festival to promote investment in Lam Dong, discuss Da Lat's development planning and develop local tea and silk products.
Party chief asks theoretical council to support development
Lauding the Central Theoretical Council's important role, General Secretary of the Communist Party of Viet Nam (CPV) Central Committee Nguyen Phu Trong emphasised at its meeting on Saturday in Hanoi that the council should continue to provide strong theoretical foundations for the building of policies that are consistent with Maxist-Leninist thought, Ho Chí Minh's teachings and Socialist ideology.
General Secretary of the Communist Party of Viet Nam (CPV) Central Committee Nguyen Phu Trong (standing, centre) attended and directed the fourth meeting of the 2016-2021 tenure Central Theoretical Council on Saturday in Hanoi. 
The regional and global contexts are witnessing rapid and complicated developments, increasing the importance of theoretical work, he said at the fourth meeting of the 2016-2021 tenure council. He added that it needs to create accurate forecasts of development trends and a firm theoretical argument to support the national development strategy.
The Party chief asked the council to focus on increasing the quality of theoretical research to better serve the leadership of the CPV Central Committee and its Political Bureau and Secretariat and the drafting of the 13th National Party Congress's documents.
To that end, the council should reform its operations, step up political research and expand and increase theoretical cooperation with parties around the world, he suggested. 
Toll fees of Hoàng Mai booth to be slashed
Fees for local vehicles passing through Hoàng Mai toll booth in central Nghệ An Province will be reduced from January 1 next year.
The cut is applicable for cars of individuals who have permanent household registration or organisations and enterprises that have headquarters in some communes of Thanh Hóa and Nghệ An provinces that are located less than 5km from the booth.
The communes include Trường Lâm, Hải Thượng, Mai Lâm and Hải Hà of Tĩnh Gia District, Thanh Hóa Province; Quỳnh Thiện, Quỳnh Lộc and Quỳnh Vinh communes of Hoàng Mai Town, Nghệ An Province.
Fees for vehicles of type 1 (cars under 12 seats, trucks under two tonnes) and type 2 (cars with 12 to 30 seats, trucks weighing 2-4 tonnes) will be slashed by half.
Toll collection for vehicles of type 3, 4, 5 (cars with more than 31 seats, trucks weighing more than four tonnes, 20-feet and 40-feet container trucks) will be reduced by 20 per cent.
Buses do not have to pay toll.
Earlier Việt Nam Road Administration proposed slashing the toll fees for all vehicles. A representative of the investors said this proposal could not be implemented because the financial plan was not followed. The toll collection period will be expanded to nearly 26 years instead of more than 17 years as planned.
The Build-Operate-Transfer project of upgrading and expanding the National Highway No 1 section running through Nghi Sơn- Cầu Giát was invested by Civil Engineering Construction Joint Stock Corporation 4 and Corporation 319.
More than VNĐ3.6 trillion (US$156.5 million) was invested in the 34km section.
The Hoàng Mai booth was opened for toll collection on May 3, 2015. Toll fees ranges from VNĐ35,000 ($1.5) to VNĐ180,000 ($7.8).
Nearly VNĐ10 billion lost in boat fire
A fishing boat with the number QNa 91515 suddenly caught fire in Tam Hải Commune, Núi Thành District, in the wee hours of Monday.
The boat owned by Trần Văn Độ, 37, was found to have caught fire at 2am on Monday, according to Nguyễn Tấn Hùng, deputy head of Tam Hải Commune People's Committee.
At the time of the accident, the boat contained four tonnes of petrol, which made the fire spread rapidly.
Residents and functional forces sprung into action to douse the fire, although strong winds and the huge amount of petrol obstructed their efforts.
The fire was extinguished by 8am on the same day. No casualties were reported; however, all electronic equipment and fishing tools were destroyed. The estimated damage could reach VNĐ9.2 billion (US$405,000).
The functional forces are now investigating the cause of the fire.
Youth event held in HCM City's District 7
Thousands of youth in HCM City and neighbouring provinces are taking part in an event called #VERYSPECIAL X'MAS PLAYGROUND that began on Christmas Eve and ends on January 1 in the Crescent area in District 7.
At the event, designed in an urban art style, youth will be able share their hobbies and new living trends, and have a chance to admire sneaker collections and experience new haircut styles.
In addition, they will be able to try new virtual reality technology guided by Tùng Monkey, a famous actor in the area.
A snowroom set at 10 degrees Celsius will be open for all.
The event was organised by Sneaker Việt Nam Magazine and Hennessy.
National Strategy on Green Growth integrated into local development
The National Strategy on Green Growth, adopted by the Prime Minister in 2012, identifies green growth as the most appropriate way to reform Vietnam's growth model and restructure the national economy.
Green growth also defined as a key factor in ensuring sustainable growth and rapid, effective and sustainable economic development.
The Prime Minister adopted a green growth action plan until 2020 detailing activities needed to realize the strategy. The plan focuses on restructuring energy, industry, agro-forestry, transportation, construction, the environment, science, and technology sectors. 40 cities and provinces nationwide have developed their own green growth plans. 
Tran Trung Hieu from the Central Institute for Economic Management (CIEM) said "Provinces have issued plans to promote green growth, but have not integrated green growth into their socio-economic development plans. They need guidance from the Ministry of Planning and Investment to identify goals, targets, and a budget for this work."
Localities have promoted links between sectors and regions, involved the community, and identified resources to implement the Green Growth Strategy. 
Doctor Tran Thi Hanh of the Central Institute for Economic Management said "The Ministry of Planning and Investment needs to set out green growth criteria when evaluating investment priorities and identifying investment resources for local socio-economic development plans. Green growth criteria should also be included in appraising public investment projects."
Promoting green growth will help Vietnam improve its people's lives and local growth, increase national economic competitiveness, boost economic restructuring, and reduce poverty.