VietNamNet Bridge – HCM City residents are increasingly concerned about the number of heavy trucks, construction vehicles and container trucks entering the downtown area during peak hours, affecting the quality of living and worsening traffic jams.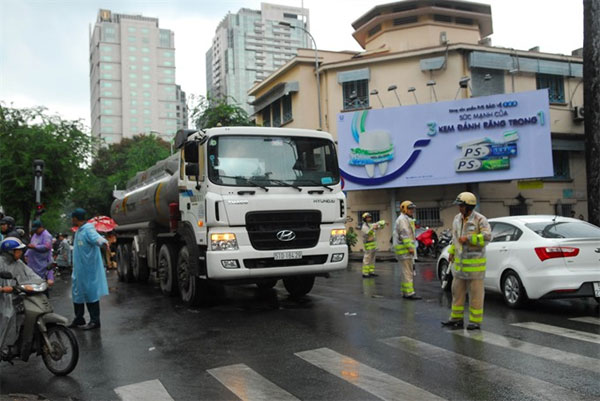 An accident caused by a heavy truck in HCM City's District 1 which killed one person and injured another. — VNA/VNS Photo Manh Linh
Ngo Hai Duong, head of the city's Transportation Department's transport infrastructure management division, said that heavy trucks weighing more than five tonnes were not allowed to operate in downtown HCM City during rush hours from 6am to 12am daily under the city's People's Committee regulations.
From 12am until 6am, heavy trucks can operate on roads where there are no signs that prohibit entry. Cach Mang Thang Tam Street, for example, has signs that prohibit heavy trucks during that period.
However, the city's Department of Transport has licensed gasoline tankers and concrete trucks needed for key construction projects to enter the city outside the morning and evening rush hours.
Currently, nearly 1,600 vehicles are licensed to enter the city centre during nonrush hours from 9am to 4pm and from 10pm to 12am daily.
Of that figure, 100 are petrol tankers, 250 heavy trucks (concrete mixer trucks, tankers transporting building materials), and 1,250 vehicles for public utilities.
The city's Transport Department said that licenses had been granted to each vehicle, with license plates clearly stating the number plate, time and route.
Every month, the department sends a list to relevant forces to monitor the tracking and publicises the permits on its traffic website portal.
According to an investigative report by Thanh Nien (Young People) newspaper, many petrol tankers and concrete trucks operate on the streets of Vo Thi Sau, Nam Ky Khoi Nghia, Phan Dinh Phung, and through the Dan Chu-Nam Ky Khoi Nghia junction.
The investigation found that about eight tank trucks run on Hai Ba Trung in District 1 within an hour, crowding the road with a large number of vehicles.
Many heavy trucks in the same area operate during the banned 11am-12pm period through the Cach Mang Thang Tam-Dien Bien Phu intersection.
Heavy transport vehicles are only allowed to run on Dien Bien Phu Street from 12am to 6am.
Le Phuoc Khoi, 64, a hairdresser in District 1, said many trucks regularly cross the Hai Ba Trung-Le Thanh Ton intersection in District 1 beginning at 9am and during working hours.
Tran Hoang Dam, 33, who repairs shoes near the intersection, said many tank trucks crowded the road, making loud noises that startle people.
"I think it would be better to allow tank trucks to only run late at night," he said.
Motorcyclists have to wade through open spaces between tank trucks and cars to move, and are forced to dodge large trucks that make the road vibrate.
On December 14, an 18-year-old female student died after a tank truck hit her motorbike at noon at the Hai Ba Trung-Ly Tu Trong intersection in District 1.
A police investigation found that the tank truck was not legally licensed and had entered the area during the banned period.
Source: VNS