VietNamNet Bridge – Degeneration of the macula, which is the small central area of the eye's retina that controls visual acuity, is the leading cause of vision loss among people over 50 years old. As Vietnam sees the rapid ageing of the population, the number of people affected by age-related macular degeneration (AMD) is expected to increase.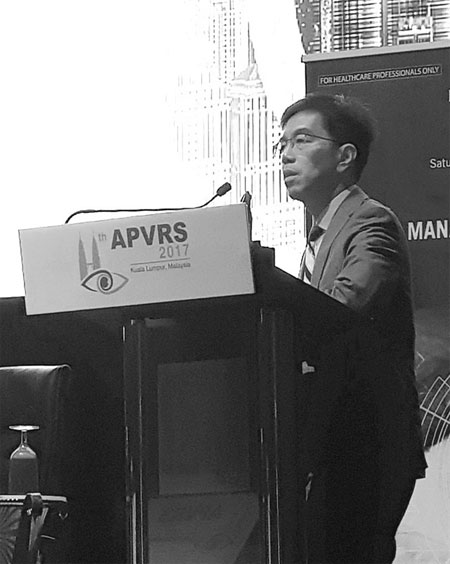 Prof. Tien Yin Wong, Singapore National Eye Centre makes a speech at the conference. Vietnam sees the rapid ageing of the population, the number of people affected by age-related macular degeneration (AMD) is expected to increase. VNS Photo
According to the Singapore National Eye Centre, AMD occurs in 'dry' and 'wet' forms. In its dry form, which is the most common, the light-sensitive cells in the macula slowly break down, blurring central vision in the affected eye. The exact cause of dry AMD is unknown, but the condition develops as the eye ages.
In the 'wet' form, abnormal blood vessel growth in the eye leads to the leaking of blood and proteins into sensitive cells (called photoreceptors) in the macula, damaging them and causing vision loss. The wet form is the condition in its advanced stage. Polypoidal choroidal vasculopathy (PCV) is a subtype of wet AMD.
Many Asian patients tend to have PCV, which is frequently underdiagnosed. It is characterized by abnormal growth of blood vessels ending in polyps and can cause sudden and dramatic vision loss.
According to a Vietnamese ophthalmologist, many people in Vietnam get PCV, which is considered a health burden and challenge for a country with a rapidly aging population.
Viet Nam News interviewed Professor Wong Tien Yin, retina specialist at Singapore National Eye Centre, about PCV at the 11th Asia-Pacific Vitreo-retina Society Congress that recently ended in Kuala Lumpur, Malaysia.
What are the causes of polypoidal choroidal vasculopathy?
Polypoidal choroidal vasculopathy, or PCV, is a subtype of wet AMD and the causes of PCV are unknown but it is related to age, so older people are more likely to have PCV.
It's also associated with classic AMD risk factors such as smoking, so people who are smokers are also two to three times more likely to have PCV.
Other causes are not yet known. Some people believe that they have some genetic pre-disposition to PCV, but we do know that it is much more common in Asian than in Caucasian populations.
What age groups are at high risk of getting the disease?
Essentially, older people are more likely to get PCV, but there are some PCV that seem to affect a slightly younger population than typical AMD, and so people who are in their forties might also get PCV, whereas in AMD, they usually get it only when they are 50 and above, essentially.
How can we recognise and prevent PCV?
Recognition of PCV is based on the patient presenting early. Usually the symptom of central vision loss will be the most important symptom and typically it is quite sudden and quite acute.
A patient with these kinds of symptoms should see an ophthalmologist quickly. Unfortunately, there is no way to prevent PCV at present, but I think if you are a smoker, not smoking does help in preventing PCV.
How do we treat it?
At the moment PCV is treated like a typical wet AMD, so we would need to use anti–vascular endothelial growth factor therapy (anti-VEGF). VEGF is a naturally occurring protein in the body.
A PLANET study and other studies suggest that anti-VEGF monotherapy is effective not only at one year but now also at two years in treating visual acuity loss in term of PCV patients.
Simultaneously, there has been some thought that addition of photodynamic therapy (PDT), which is a type of laser eye treatment, may also improve the visual outcome of PCV. However, it is not clear whether or not you need to give PDT at the baseline.
In the PLANET study, adding PDT as rescue therapy after three months according to the study protocol did not provide additional functional or anatomic benefit as compared to standard anti-VEGF monotherapy.
This signifies that, for most patients, anti-VEGF monotherapy using agents, such as the treatment solution in the study, which is a recombinant fusion protein, can be established as a preferred first-line treatment option for patients with visual impairment due to PCV as this approach avoids the added burden and side effects of combination PDT.
Moreover, it is encouraging that in the PLANET study, among patients treated with anti-VEGF as a monotherapy approach, more than 80 per cent did not have active polyps at the end of the two-year study.
However, longer-term studies are needed to further clarify the role of polyp outcomes in the management of PCV. 
Bayer has announced that its anti-VEGF treatment solution for injection into the eye is effective as monotherapy in patients who have Polypoidal Choroidal Vasculopathy (PCV), a subtype of wet age-related macular degeneration (wet AMD). This important finding was from the PLANET study, which also shows that patients receiving this monotherapy achieved a mean +10.7 letter improvement from baseline as compared to a mean +9.1 letter improvement from baseline in those receiving this anti-VEGF therapy plus active rescue PDT.
VNS