VietNamNet Bridge – Gender inequality in ethnic minorities is seen in different fields, including economy, labour, education, training and healthcare.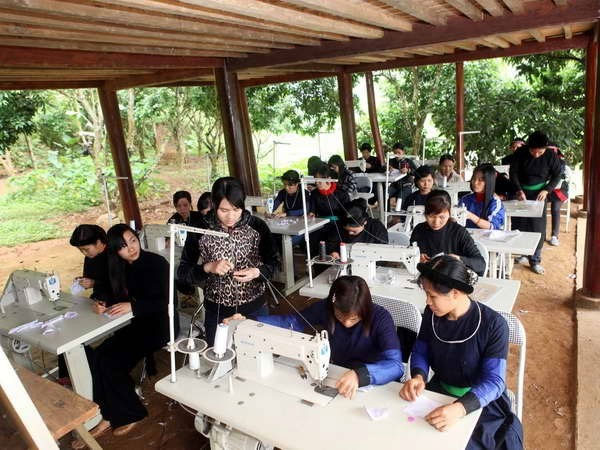 A garment vocational training class for ethnic Tay and Dao minority women in the northern mountainous province of Tuyen Quang. — VNA/VNS Photo Anh Tuan
This was the result of the survey on the socio-economic situation of 53 ethnic minority groups in Viet Nam in 2015 from the gender perspective. The results were announced at a workshop held on Tuesday in Ha Noi.
The survey was conducted by the General Statistics Office. It is, so far, the largest national survey on ethnic minority groups.
Under the survey, 86.3 per cent of male ethnic minorities are literate whereas the rate of female literacy is only 73.4 per cent. For several ethnic minority groups such as Mong, Ha Nhì and La Hu, the rate of literacy in females is especially low, at 33 per cent, 35 per cent and 25 per cent, respectively.
The rate of early marriage in ethnic minority girls is higher than boys. In the under-16 age group, the number of girls getting married is three or four times higher than boys.
As many as 74 per cent of ethnic minority families have men undersigned in land, credit and house ownership.
Nearly 40 per cent of ethnic minority women bear their children at home, thus the number of fatalities in ethnic minority newborns is four times higher than Kinh group newborns. The Kinh people are the main ethnic group in Viet Nam.
Speaking at the workshop, Elisa Fernandez, representative of the United Nations Entity for Gender Equality and the Empowerment of Women (UN Women) in Viet Nam, said including ethnic minority groups' development in the national strategy could not be implemented without clear understanding about gender problems in the groups in Viet Nam.
Meeting demands related to gender issues should be considered an important task of minority policies, she said.
To do this, the Government and the Committee on Ethnic Minority Affairs should improve power sources, and via detailed targets, create measures and actions to set up a data system and then define the demand and real socio-economic situation of ethnic minority people, she said.
Nguyen Thi Tu, director of the Ethnic Minority Groups Department under the Committee on Ethnic Minority Affairs, said the committee would join hands with concerned organisations to conduct a project of supporting ethnic minority people in the 2018-25 period.
Under the project, laws related to gender equality would be spread among ethnic minority groups in different forms, suitable to their customs, culture and language.
In addition, training on the issue would be organised for workers on ethnic minority affairs and principals of boarding schools for ethnic minority students.
Models on developing social skills and economic capacity of ethnic minority women would also be organised, she said. 
Source: VNS