VietNamNet Bridge – Thousands of reservoirs across the country are at risk of breaching as they reach full capacity after heavy rainfall in recent weeks, experts say.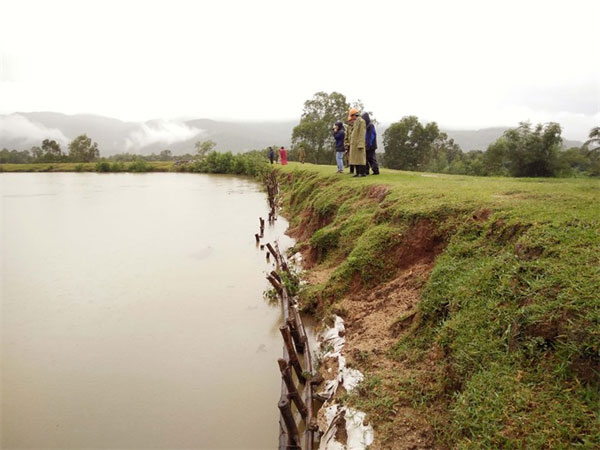 The authorities of the central province of Binh Dinh inspect the water level at Dap Cung reservoir. Heavy rainfalls in the last few days have overloaded many reservoirs across the country. — VNA/VNS Photo 
These include both hydropower and irrigation reservoirs in the northern region, northern part of the central region, Central Highlands and southern region, according to a report by the Central Steering Committee for Natural Disaster Prevention and Control.
It said heavy rains that followed typhoon Damrey have poured a total 19 billion cubic meters of rainwater into reservoirs in provinces ranging from Thua Thien- Hue to Khanh Hoa as well as the Central Highlands.
Some reservoirs were water have exceeded peak levels and do not have sufficiently strong walls are at the highest risk of breaking, it added.
Nguyen Van Tinh, head of the Viet Nam Directorate of Water Resources Management under the Ministry of Agriculture and Rural Development, said irrigation reservoirs built some 30-40 years ago have no lock culverts, which means they cannot release water from inside out in emergency cases.
He said the risk of breach was heightened in reservoirs built with "obsolete" technology and managed by "unqualified" staff. Tinh said such reservoirs were located in remote areas and not many qualified staff were willing to work there.
According to Tinh, there are 350 reservoirs in this category nation-wide, all of them prone to sudden breaches.
The directorate has reported that 18 reservoirs located in Thai Nguyen, Hoa Binh, Thanh Hoa, Nghe An, Ha Tinh, Quang Nam, Binh Dinh, Phu Yen, Khanh Hoa and Ba Ria - Vung Tau provinces have developed cracks that need to be fixed urgently.
The directorate is keeping a close watch on those at highest risk, and working with local authorities at the sites to help evacuate residents to a safer place.
Tinh said some reservoirs with lock culverts were also at risk, like Ta Trach in Thua Thien- Hue Province and the Nuoc Trong in central Quang Ngai Province that had to release huge volumes of water at the same time, during and after typhoon Damrey, weakening the walls with culverts.
Funding problems
While the reservoirs need urgent repairs, disbursement of funds for the work has been low and slow.
The directorate has listed 450 reservoirs in 34 provinces, and is awaiting funds from the State budget as well as loans from World Bank.
Urgent repairs this year would cost about VND500 billion (US$25 million), but just VND20 billion  has been disbursed for repair work in Lao Cai, Phu Tho, Thai Nguyen, Tuyen Quang, Thanh Hoa, Ha Tinh and Binh Thuan provinces, according to Tinh.
Meanwhile the Tien Phong (Vanguard) Newspaper quoted Deputy Minister of Agriculture and Rural Development Hoang Van Thang as saying disbursement of funds for reservoir repairs must comply Vietnamese law on public investment, and would take time.
Thang said it was important that rainfall gauges are installed in areas were the weak reservoirs stand residents encouraged to evacuate on their own.
He also recommended the formation of a taskforce comprising staff from multiple agencies to make field trips and report on local conditions to the Government in order to expedite and adjust disbursements.
VNS