VietNamNet Bridge – The 63-year-old man from the south-central coastal province of Phu Yen still has difficulty in holding anything with his left hand after recovering from a stroke he had nearly a year ago.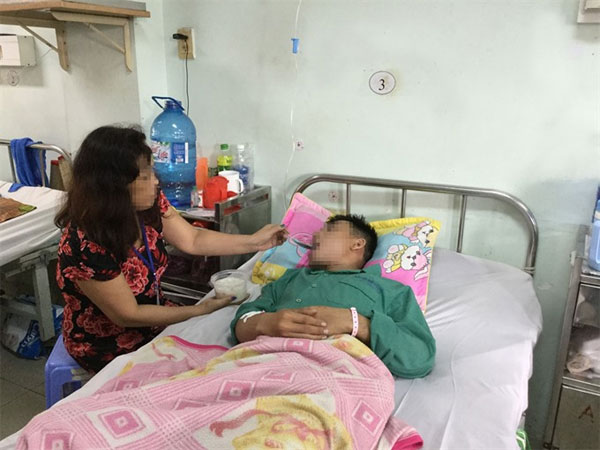 A 26-year-old man from Tan Binh District was brought to the People's Hospital 115's vascular diseases department with paralysis of the left side of his body
A stroke is a medical emergency that occurs when blood vessels in the brain are blocked or ruptured, interrupting blood supply and causing brain cells to die within minutes.
The left side of his mouth had suddenly drooped after forgetting to take medicine one day for his hypertension. The drooping is one of the warning signs of a stroke.
His family members discovered it and suspected he had a stroke and rushed to a local hospital, but his situation steadily worsened there.
He was transferred to Thong Nhat Hospital in HCM City.
"Doctors at Thong Nhat Hospital said he had been brought to the hospital late and so he would suffer from hemiplegia, or paralysis of one side of the body," his daughter said.
At the hospital, he was given western medicines to dissolve the blood clot and improve blood flow to that part of brain together with traditional medicines, acupuncture and physical therapy.
"My father is now taken care of at home. However, his legs are still weak, making it difficult for him to walk," she said.
Dr Nguyen Huy Thang, chairman of the HCM City Stroke Association, said: "The disabilities left by strokes are really a severe burden for families of patients and society."
The association's statistics show that more than 200,000 people recorded suffer from strokes each year. Strokes are the leading cause of death in the country, Thang said at talk show on "Healthy Aging: Is stroke preventable or not?" held in HCM City HCM City Public Health Association in co-operation with Bayer.
"At the People's Hospital 115 where I work, nearly 15,000 stroke victims are hospitalised for emergency treatment each year," Thang said.
According to the HCM City University Medical Centre, it admits 100-120 patients with strokes every month.
High risk of strokes in people with atrial fibrillation, hypertension and diabetes
People aged 60-70 with hypertension and diabetes are at high risk of a stroke, according to Dr Thang.
They can get a stroke if their condition and diseases are not well controlled.
People with atrial fibrillation, which is the most common type of irregular heartbeat, also face a high risk of strokes.
"If atrial fibrillation is not treated, it increases the risk of strokes by five times. It is worrying that atrial fibrillation is not detected and treated in a timely manner," he said.
The new generation of oral anticoagulants for atrial fibrillation is more effective than old ones, according to the doctor.
More and more young patients
Young people also suffer strokes, and those who drink alcohol or smoke a lot are the high-risk group.
The People's Hospital 115 has been admitting more and more people aged below 40 with strokes.
On October 23 a 26-year-old man from Tan Binh District was being treated at the hospital's vascular diseases department. He was brought to the department with paralysis of the left side of his body.
Pham Thuy Hang, the man's mother said: "It is very sad. I am worried about his situation. His daughter was born three months ago."
Early this month the HCM City University Medical Centre admitted a 39-year-old man from District 6 with weakness in a right arm and leg and difficulty speaking.
He was diagnosed with an acute stroke, and the centre's doctors began emergency treatment.
Dr Nguyen Ba Thang, head of the centre's strokes unit, said people aged below 45 accounted for nearly 30 per cent of stroke victims here.
Dr Cao Tan Phuoc, deputy head of Trung Vuong Hospital in District 10, said when a person suffers a stroke, their family should call an emergency aid centre to take them as soon as possible to the nearest health facility that can treat strokes.
When doctors manage to save brain cells, the risks of many disabilities reduce, according to Phuoc.
It is absolutely vital that the victim's family should not provide any first aid, especially based on recommendations on the internet -- such as using a needle to prick fingertips -- because it could worsen their condition, he said.
There are 50 centres around the country offering advanced treatment and medicines to treat strokes to reduce mortality.
In HCM City, the Department of Health plans to create expertise in many hospitals for treatment of strokes, including People's Hospital 115, Cho Ray Hospital, and Thu Duc District Hospital.
Dr Tran Thi Lan Huong, medical director of pharmaceuticals division at Bayer in Viet Nam, said "strokes are preventable and it is very important to adopt preventive methods".
"Periodic health examination to detect high risk factors that can cause strokes should be done," Thang said.
According to Huong, when young people lead healthy lives by not drinking beer or alcohol or smoking, the risk of strokes reduce. Physical exercise is also vital.
Lynette Moey, head of the pharmaceuticals division of Bayer in Viet Nam, said advanced therapies available in Viet Nam could help aging people control chronic diseases better and lead healthier lives. 
Source: VNS