Foreign medicine clinics fall foul of regulations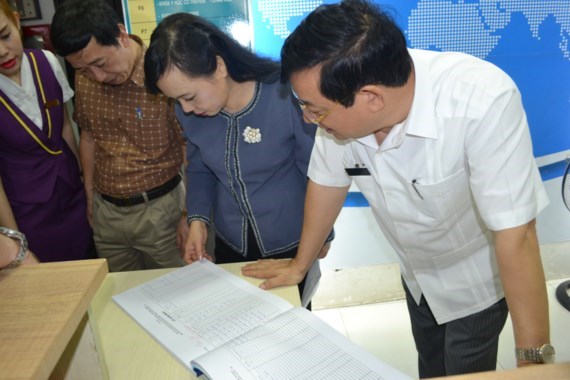 People's Committee in Ho Chi Minh City and health inspectors have issued fines to five medicine clinics in the city because they have fallen foul of regulations in the field of treatment, advertising and collecting higher fee than normal.
 
For instance, Baylor Clinic invested by Dong A International Company at 202 To Hien Thanh Street in district 10 was fined VND130 million; Lians MMC general clinic in Hung Phuoc 4 section in district 7's Tan Phong ward was fined VND60 million for the same violation.
Additionally, the clinic's drug store had to pay VND50 million as fine because it sells medicine without clear indication of origin.
Moreover, three other clinics including The Gioi ( World) general clinic at 646-648 Vo Van Kiet Street in district 5, Thang Long at 575 Su Van Hanh Street in district 10, Nguyen Trai clinic at 277 Nguyen Trai Street in district 1 had been fined many times for they relapsed into same violations.
Their violations are shortage of personnel for its activities, boasting its treatment methodologies in advertising and incomplete medical record of patients.
Besides, authority also imposed fines of VND85 million on Duong Thi Dung, owner of Anh Linh dental clinic at 57 Banh Van Tran Street in Tan Binh District and VND95 million on Trinh Cong Phi Huan at 95 Bau Cat 4 Street in Tan Binh District because both of them provided treatment service without permit and employed staff without practice license.

HCMC building modern bus station in downtown area

HCMC Public Passenger Transport Management and Operation Center yesterday said that it is building the new Ben Thanh bus operation station in Ham Nghi street, District 1.
 
The station is expected to cover an area of 5,700 square meters comprising 16 bus stops. It will be installed with electronic boards for passengers to look for information about bus routes, camera system and toilets.
Investment capital will total VND7 billion ($308,000).
The station is expected to be put into operation after two months of construction.
That is the first modern work serving public passenger transport by bus in the city, contributing in attracting residents to travel by buses to reduce traffic jam and accidents for a civilized, modern and humane city.

"Ciel Rouge" premiere in Vietnam scheduled for October 27

"Ciel Rouge" (Red Sky), a French movie telling a touching love story between a French soldier and a Vietnamese girl during the war, will officially be shown to the public across Vietnam on October 27.

Shot in Vietnam's northern mountainous areas from 2015, "Ciel Rouge" promises to present the audience with a different and unique perspective about the context of the Indochina war in 1946. The movie publisher recently released a new trailer for the film, revealing many impressive shots, and officially set a premiere date in Vietnam.

The film surrounds the tale of love between a Friend soldier, Phillipe, and a Vietnamese girl, Thi. During his mission in Vietnam, Phillipe is shocked as he is forced to torture Thi, but is then conquered by the girl's resilience. He decides to flee with her and the two cross the forests and hide in breath-taking surroundings, searching for a place for just the two of them.

"Ciel Rouge" is made by French director, Olivier Lorelle, who is a renowned screenwriter of 32 movies in French cinematography, notably "Indigènes (2006), Home (2008) and Omar m'a tuer (2011).

Phillipe is played by Cyril Descours, a male actor known to fans through the movies of Paris, je t'aime (2006), Complices (2009) and Le chant des sirènes (2011), while Thi is played by Audrey Giacomini, a Vietnamese French woman, who is known to the public through the films Mr. Nobody (2009) and Polaroid song (2012).

In the recently released trailer of "Ciel Rouge", the audience can witness the moments of affection between the two main characters. Together, they go through many thorns and bullets, and escape pursuit in order to find a "paradise on earth" for them alone. There, Phillipe and Thi find themselves and are faced by the questions as to whether they can hide forever and what they must do to maintain their ever-lasting love.

ICAV – friendship bridge between Argentina and Vietnam

The Argentina-Vietnam Culture Institute (ICAV) has well performed its role as a bridge for the friendship between the two countries since it was established 20 years ago.

Vietnamese Ambassador to Argentina Dang Xuan Dung made the remark at a ceremony in Buenos Aires on October 20 to mark the 20th founding anniversary of the institute (1997-2017).

The diplomat spoke highly of the ICAV's valuable contributions to promote the images of the Vietnamese land and people in Argentina.

Attending the event, former Vice President Truong My Hoa affirmed the Vietnamese people's gratitude to Argentinian friends for their valuable assistance given to Vietnam during the past struggles against foreign invaders as well as the current national renewal process.

She expressed her wish that the ICAV will continue diverse activities to help foster the friendship and solidarity between the two countries and their people.

ICAV President Poldi Sosa Schmidt affirmed the Argentinian people's good sentiments towards Vietnam. She said she admires the socio-economic achievements the Southeast Asian nation has made in recent time.

On the occasion, Ambassador Dung presented the Vietnam Union of Friendship Organisation (VUFO)'s certificate of merit to the ICAV and the "For Peace and Friendship among Nations" insignia to Schmidt.

Court hears appeal on Vietnam Pharma's cancer drug trial

The High-level People's Court in Ho Chi Minh City started hearing an appeal by pharmaceutical company VN Pharma on October 19, in the case related to the smuggling and forging of documents to import cancer drug.

The case involved former VN Pharma's chairman of the Board of Directors cum General Director Nguyen Manh Hung, former director of H&C International Marine Trade Company Vo Manh Cuong and seven other defendants.

In a trial in August, the HCM City People's Court sentenced Hung and Cuong to 12 years behind bars for smuggling. Cuong bought the drugs from an overseas source and later, sold them to VN Pharma. The other seven defendants were given sentences between 18 months and five years of imprisonment.

After the first trial hearing, Hung and Cuong appealed against the court's judgment, asking for a lighter sentence.

On September 22, the High-level People's Procuracy in HCM City protested the court's judgment, asking for clarification on Hung's charge, which should have been "smuggling" or "manufacturing and/or trading in fake goods claiming to be curative medicines, preventive medicines".

The People's Procuracy also asked for clarification on the alleged irresponsibility of the Drug Administration of Vietnam (DAV) under the Ministry of Health in allowing Hung and other defendants to import the alleged fake cancer drugs to Vietnam, while also giving commission to doctors to prescribe the drug to patients.

Earlier on August 29, Deputy Health Minister Nguyen Viet Tien issued a press release clarifying the ministry's responsibilities in connection with the licensing for VN Pharma to import 9,300 boxes of H-Capita 500mg in 2013. H-Capita 500mg contained capecitabine, which is mainly used to treat breast, gastric and colorectal cancers.

According to the press release, the DAV on October 16, 2013, received a request from VN Pharma to import the H-Capita drug manufactured by Helix Pharmaceuticals Inc of Canada.

The DAV approved the import request two months later on December 30, 2013.

"The DAV conducted the drug evaluation process with right order, right protocols and right regulations without any favouritism," the press release stated.

"According to the law, a drug import request must include the free sale certificate (FSC) and the certificate for good manufacturing practices (GMP).

VN Pharma had all the necessary papers. However, an investigation later uncovered that the papers were expertly forged and the fraud could not be detected with the naked eye," the release said.

The release stressed that the DAV, however, raised doubts about the drugs when it looked into VN Pharma's drug bidding price, which was suspiciously lower than that of the same type of drugs manufactured by other countries.

The DAV on July 31, 2014, asked VN Pharma to explain the gap, which it failed to do, prompting the DAV to suspend the import and distribution of H-Capita on August 1, 2014.

The DAV in August seized the drugs following an unusual inspection at VN Pharma and reported the case to the police after the Ministry of Foreign Affairs confirmed that the papers related to Helix Pharmaceutical, the drug manufacturer, were all fake.

National plan for Stockholm Convention implementation issued

The Prime Minister has issued a national plan for the implementation of the Stockholm Convention on Persistent Organic Pollutants (POP) by 2025 with a vision to 2030.

The Stockholm Convention on POP is a global treaty, effective from 2004, to protect human health, biodiversity and the environment from chemicals that remain intact in the environment for long periods.

Parties to the convention are required to prohibit and/or eliminate the production and use of the intentionally produced POPs, and reduce or eliminate releases from unintentionally produced POPs.

In compliance with the convention's Article 7, Vietnam shall develop a plan for the implementation of its obligations under the convention, review and update the plan on a periodic basis and transmit it to the Conference of the Parties.

The plan's overall objectives are to ensure strict safety lifecycle management and proper treatment of the POPs and to reduce disposal and eliminate the production and use of the POPs in Vietnam for the benefit of human health and the environment and towards the sustainable development.

According to the implementation plan, the government will work to improve institutional capacity and legal framework for the management and elimination of POPs. It will reinforce its expertise in monitoring, detecting and managing POPs and enhance awareness of the POPs and their harmful effects to the environment among involved parties. 

The convention will also be integrated into relevant environmental agreements in response to the UN Millennium Development Goals and the country's management of waste and chemical as well as sustainable development strategy.

Ministry, AstraZeneca cooperate to improve lung health in Vietnam

The Health Ministry and AstraZeneca have signed a cooperation pact to implement the "Healthy Lung" programme in Vietnam, funded by the multinational biopharmaceutical company.

The signing ceremony for the three-year programme took place in Hanoi on October 18.

The pact marked the health body's involvement in the 1-million-USD programme, which was launched last month by AstraZeneca, the Vietnam Medical Association, the Vietnam Respiratory Society and the Vietnam Association against Tuberculosis and Lung Diseases. 

"Healthy Lung", as part of an AstraZeneca global initiative, aims to enhance management and public awareness of asthma and chronic obstructive pulmonary disease (COPD), contributing to reducing cases and deaths. 

Under the programme, AstraZeneca will sponsor the building of 150 outpatient centres treating the diseases to facilitate early detection and treatment. The outpatient treatment network is expected to reduce economic and health care burdens for Vietnam.

Under the deal, the ministry will work with AstraZeneca and other partners to hold training courses and seminars, providing updated information for public health workers nationwide.

A national survey showed that about 4.2 percent of the Vietnamese population suffers from COPD, while many others are yet to be diagnosed and treated due to poor infrastructure, limited public awareness, and weak health sector capacity. The research said only 43.9 percent of polled Vietnamese doctors could name four COPD diagnosis criteria.

Vietnamese screenwriters attend Busan Film Fest

Young Vietnamese screenwriters have attended the Busan International Film Festival this week and exchanged ideas with international filmmakers.

Between October 14 and 19, they took part in a seminar of independent filmmakers entitled Voices of Asia, a talkshow with director Tom Stern on large format in cinema, and a workshop of the ARRI Group (a global supplier of motion picture film equipment) on programmes supporting international film projects. They also attended film screenings.

The screenwriters are winners of the Talented Screenwriters contest organised by CJ CGV Vietnam, a cinema and entertainment company.

Screenwriter Vo Thi Hoang Yen said the trip was a memorable experience, providing her with a chance to exchange speak with international filmmakers and encouraging her to improve her creativity.

VFF President congratulates Baha'i community on founder's birthday

President of the Vietnam Fatherland Front (VFF) Central Committee Tran Thanh Man has sent a letter of congratulations to the National Spiritual Assembly and local Spiritual Councils of the Baha'i and the whole Baha'i community in Vietnam on the occasion of the 200th birth anniversary of Baha'u'llah, the founder of the Faith.

In the letter, Man said on behalf of the VFF Central Committee, he wished the National Spiritual Assembly and local Spiritual Councils of the Baha'i and the whole Baha'i community in Vietnam good health and happiness.

"The VFF Central Committee recognises and highly values efforts made by Baha'i dignitaries and followers in Vietnam in strengthening the great national unity and observing the Party's guidelines and the State's policies and laws," he said.

The community has made practical contributions to the national development through activities to take care of the poor, improve people's knowledge, encourage scientific research and patriotic emulation movements, protect the environment and respond to climate change, he added.

Man expressed his belief that the Baha'i community in Vietnam will continue promoting the doctrine of unity and peace of Prophet Baha'u'llah to take more practical activities to foster understanding and solidarity among religions, significantly contributing to the country's comprehensive renewal cause.

The Baha'i Faith was introduced in Vietnam in 1954 by an Indian female follower. The Baha'i community now has nearly 7,000 followers in 45 cities and provinces nationwide.

It was officially recognised as a religious organisation in Vietnam in July 2008.

Vietnamese Embassy in Malaysia supports flood victims at home

The Embassy of Vietnam in Malaysia on October 21 raised funds for flood-hit residents in northern and central provinces of the home country. 

The fund-raising ceremony took place within the framework of a celebration of Vietnamese Women's Day (October 20). 

Speaking at the event, Tran Thi Chang, head of the Vietnamese Women's Club in Malaysia, said the Vietnamese community in Malaysia shared losses caused by the recent natural disasters in the homeland. 

She called on the Vietnamese in Malaysia to continue their support for the flood-affected residents, helping them overcome disaster consequences and stabilise their lives. 

Continuous downpours from October 10 triggered floods and landslides in Vietnam's northern and north central regions, causing huge losses in humans and property. 

Up to 75 people were killed, 38 injured and 28 others went missing. More than 2,600 households were forced to evacuate.

Central Highlands Dak Lak to cut poverty rate by 3 percent

The Central Highlands province of Dak Lak is making efforts to reduce the rate of poor households by 2.5-3 percent by 2020.

The percentage of impoverished households among the ethnic minority groups in the province is projected to contract by 4-4.5 percent each year according to the multidimensional approach. 

To that end, Dak Lak province has increased investments in socio-economic infrastructure in poor districts, border communes and localities in extremely difficult circumstances. 

All communes in the province are expected to have asphalt or concrete roads, standard health services, schools of different levels and community-based learning centres.  

Preferential credit loans will be given to 250,000 poor and near-poor households or those recently escaping from poverty, and other social policy beneficiaries, in order to support them in production, business, and employment. 

Poor households of the ethnic minority groups in underprivileged localities will be prioritized. 

Apart from organising training courses on farming techniques for more than 10,000 poor households, Dak Lak has provided free vocational training for ethnic minority labourers, poor and near poor households, while paying attention to health care, education-training, housing, legal assistance and health insurance for the poor. 

Dak Lak has more than 80,000 poor households, making up more than 19 percent of the total number of households in the province, mostly from the ethnic minority groups.

As many as 45 communes and 141 villages and hamlets in Dak Lak are facing extreme difficulties.
           
Ex-jail officers to be prosecuted after prisoners escape

The Supreme People's Procuracy on Friday decided to take legal proceedings against three former jail officers of the T16 detention centre in Hà Nội's Thanh Oai District.
The former officers will be prosecuted for their irresponsible actions that resulted in the escape of two death row prisoners from prison last month.
The ex-officers have been identified as Nguyễn Đức Kiên, Nguyễn Văn Thắng and Nguyễn Thái Hoàng. They will be prosecuted under Article 301 of the Penal Code, the Người Lao Động (Labourer) newspaper reported.
Following the incident, the ministry also suspended another 13 jail officers of the detention centre for negligence that led to the escape of the prisoners.
The prisoners, Lê Văn Thọ and Nguyễn Văn Tình, were being held in the same cell at the T16 detention centre and were awaiting execution.
Both were sentenced to death for involvement in narcotics and other crimes.
They were re-arrested by the police five days after their escape.
According to the initial investigation, the two prisoners broke their shackles while correctional officers weren't looking and tunneled their way out of the cell at midnight on September 10. 

Bình Thuận opens food festival

Twenty-two booths are introducing a variety of typical dishes from Việt Nam's South Central region at the Food Festival in the central province of Bình Thuận, which will end on Tuesday.

The Food Festival themed "Bình Thuận's delicious dishes", began on Friday on the Nguyễn Tất Thành Square in Phan Thiết City.

According to the festival's organisers, the exhibitions are owned by companies and agencies related to the tourism sector.

During the five-day festival, the booths display and sell special local foods from sea food to fruits, attracting a lot of visitors.

The annual festival creates an opportunity for locals to promote the typical cuisine culture, as well as introduce their tourism products to domestic visitors and foreigners.

Attending the event, visitors can enjoy several programmes, such as competitions for bartenders and cooks, the 6th Bình Thuận Tourism Singing Contest, performances of folk music, street music and many others.

The festival is also decorated by dozens of colourful mid-autumn lanterns in various sizes and shapes, which have been given awards at the country's biggest lantern parading festival, and made by students from local secondary and primary schools. 

It is part of the province's activities to mark the 22nd anniversary of Bình Thuận Tourism Day, which falls on October 24 every year.

Bình Thuận Province is planning to operate new tourism products and services, including sea sport tourism to attract visitors to stay longer and spend more.

It is expected to welcome around five million visitors and maintain a growth rate of total arrivals and tourism revenue.

By 2020, the province aims to become a national marine tourism and sport centre, and develop Mũi Né as a national tourist resort, Phú Quý Island as a national tourist destination and Phan Thiết as a tourist city.

In the first nine months of the year, the province welcomed about 436,000 international visitors and 3.9 million domesic visitors, up nearly 20 per cent from the same period last year. 

First Fashionology Festival opens in Ho Chi Minh City

The first Fashionology Festival kicked off on Nguyen Hue Walking Street in Ho Chi Minh City on October 20, promising to entertain visitors with attractive fashion shows which use the latest technologies.

During the three-day event, visitors are offered chances to see 450 collections by domestic designers and those from Singapore, Thailand, Malaysia, Indonesia, Cambodia and Laos.

In the first night, under the theme of "Ban sac Vien Dong" (Far Eastern Identity), audiences were reminded of the images of an old Sai Gon through traditional "ao dai" (long dress) collections and hippie and retro-style costumes made by 15 well-known Vietnamese designers.

On October 21, along with Vietnamese designer Lam Gia Khang's collection, collections of 14 famous names in Southeast Asia are introduced under the theme of "New Waves".

Meanwhile, in the last night themed "Future Stars", young designers and excellent students will introduce their outstanding collections.

All these performances offer the audience a unique fashion experience by using the latest technologies, such as 5D Mapping, Kinetic, and AR Magic Mirror.

Speaking at the opening ceremony, Deputy Director of the municipal Department of Tourism La Quoc Khanh said the city wants to create high-quality tourism products which are attractive to visitors.

The event is expected to welcome about 100,000 visitors.

Deputy PM asks to reduce traffic accidents by 5-10 percent

Deputy Prime Minister Truong Hoa Binh, who is Chairman of the National Committee for Traffic Safety, asked the ministries, agencies and local governments to make concerted efforts to reduce the number of traffic accidents by 5-10 percent in 2017 from the previous year. 

Deputy PM Binh made a requirement at an online meeting to review the traffic order in the first nine months and implement the mission for the fourth quarter. 
As per the National Committee for Traffic Safety, as many as 14,346 traffic accidents occurred nationwide in the first nine months, leaving 6,113 dead and 11,785 injured. Compared to the same period, traffic accidents dropped by 5 percent on the number of cases, the death toll and injuries.
Forty-three cities and provinces nationwide reported a reduction of traffic accidents and fifteen provinces had a surge of traffic accidents compared the same period of 2016. 
In the first nine months of 2017, traffic wardens handled nearly 3.5 million violations in roads, railway and river collecting fines of VND2 trillion and seized 535,934 vehicles.
Deputy PM said that the party and the government requested relevant agencies and local administration to adopt synchronous measures in both short and long-term to control traffic order. However, traffic accidents have still occurred causing huge loss and social concerns.
Worse, traffic accidents all related to passenger coaches, "black spot" or intersection between the road and railway… moreover, overloaded buses are increasing in everywhere; consequently, traffic gridlocks have seen in big cities especially in Hanoi and Ho Chi Minh City.
Deputy PM Binh highly praised the Mekong delta province of Ca Mau, the northern provinces of Cao Bang and Quang Ninh in which traffic accidents have fallen over 35 percent. The Ministry of Finance has submitted the traffic order spending planning on localities.
The deputy PM asked chairpersons of people's committees in cities and provinces such as the central provinces of Quang Binh, Khanh Hoa, Quang Tri, the northern provinces of Hai Phong, Tuyen Quang, Lai Chau, the Mekong delta city of Can Tho and with traffic death rate over 10 percent and two provinces with death-toll of over 40 percent.
He pointed out some localities issued license of sand exploitation in rivers but administrations neglected managements leading to illicit exploitation and erosion. 
Hanoi, Ho Chi Minh City and big cities should handle personal vehicles and take heed to develop public transportation to crack down congestion. He suggested Hanoi, Ho Chi Minh City and big cities to have plan to keep traffic orders and pavement order to facilitate pedestrians and public vehicles.
The Ministry of Transport was asked to complete the regulation and tackle " black spots" - road locations that have a record of large numbers of crashes.
Additionally, it must liaise with provincial people's committee to eliminate intersection between roads and railway. Furthermore, the Ministry should re-arrange operation and traffic order in BOT toll booths.
The Deputy PM requested localities to tighten inspections over vehicles' loading capacity in order to soon stop operations of overloaded vehicles.

Voters raise voice on six matters

President of the Viet Nam Fatherland Front (VFF) Tran Thanh Man presented a report on voters' concerns about six big issues to the fourth session of the 14th National Assembly that opened on October 23 in Ha Noi. 

President Man said that the VFF cooperated with the National Assembly Standing Committee to collect 3,320 feedback from voters and people nationwide.

The six big issues related to production, business, and life of people; healthcare and food safety; education, training, and vocational training; the combat of corruption and wastefulness, and personnel task; urban management and transport; the guaranteeing of social security, order, and safety. 

A large number of voters and people expressed their trust in the leadership of the Party and State; highly appreciated the Government's solutions to ensuring macro-economic stability, relative growth, and administrative reform, improvement of the business and investment climate, national competitiveness; business development; export, FDI attraction, and high international arrivals. 

The Party, State, VFF, ministers, local authorities attached due attention to social security, and caring for revolutionary people, the poor, and natural disaster victims. 

The foreign diplomacy and international cooperation have been accelerated and attained important outcomes, especially preparatory work for the Asian-Pacific Econmic Coopeation (APEC) Year in 2017. Voters and people hailed  the Government for successful organization of the conference on sustainable development in the Mekong Delta and coping with climate change. 

Regarding the matter on production, business, and life, voters recommended the Government direct ministers and agencies to speed up the reform; streamline the administrative procedures; ensure transparency; apply breakthrough policies on business facilitation and development, and international integration.

Regarding the health and food hygiene issue, voters expressed their concerns over the import and sale of low-quality medicines; the prolong dengue fever outbreak; over-crowding hospitals; and food safety. 

In terms of education and vocational training, they suggested the Government direct the Ministry of Education and Training to review and perfect regulations on university enrollment, education subsidies for local areas specially remote, far-reaching, and ethnic minority ones.

Regarding the fight against corruption, wastefulness, and staff organization task, voters and people expressed their strong confidence in the Party and State and called upon solutions to tackling prolonged and unprofitable projects.

YouthSpeak Forum 2017 discusses sustainable employment goal

The YouthSpeak Forum 2017 held in Hanoi on October 22 provided a platform for youngsters to discuss social issues and seek active actions towards the goal of sustainable economic growth and employment.

The target is part of the 17 United Nations sustainable development goals (SDGs) focusing on tackling three main problems of poverty, gender inequality and environmental pollution.

Pham Hoang Hai from the Vietnam Chamber of Commerce and Industry said that the youth plays an important role in the development of all fields, especially economic growth.

However, he said, the ratio of unemployment in youths remains high. By 2020, the fourth Industrial Revolution is forecast to make skills of millions of youngsters in Vietnam backward in only few years, he noted, stressing that the youth is most vulnerable to the change, requiring them to renovate for their global integration.

Tran Vu Hoai from the Unilever Vietnam said that in order to complete the goal, it is necessary to build sustainable targets for smaller products. He held that youngsters should update themselves with social rules, while setting specific targets and making practical actions for achieving personal, national and global goals.

At the same time, Dieu Linh from University of Fisheries said that she hopes the fulfillment of the SDGs will make positive influence on the maintenance of a stable and safe environment amidst climate change impacts.

The event was an annual project by the AIESEC, an independent non-governmental organization on youth leadership, which has been organised in 126 countries worldwide. This year, the forum attracted 500 delegates who are leaders of enterprises and social activists.

During the forum, they gave initiatives and measures to turn the ideas into reality, thus contributing to the implementation of the 17 UN MDGs, while discussing challenges facing the youth during the fourth Industrial Revolution.

Search on for missing crew after barge sinks

Maritime authorities are searching for three crew members of  a barge that is believed to have sunk in the waters off Bạch Long Vĩ Island near the port city of Hải Phòng on Saturday.

Early Saturday morning, the Việt Nam Maritime Search and Rescue Coordination Centre (VMRCC) was notified of a barge at the risk of sinking at about 18 nautical miles (33km) northwest of the island.

Local reports said water had seeped into the cargo of the 700-tonne barge, captained by Nguyễn Văn Quang, owing to bad weather, as it delivered construction materials from the city to the island.

The barge was not equipped with any communication devices, except for the crew's mobile phones. At about 8.30am, the VMRCC was unable to reach the crew on their phones.

Two marine rescue ships, one of the VMRCC and another of the National Committee for Search and Rescue, have been deployed to look for the barge. All ships and boats active in the area have been notified of the accident.

HCMC to build new bus terminal

HCM City Management and Operation Centre for Public Transport on October 20 announced that it has started construction on a new Bến Thành bus terminal on Hàm Nghi Street in District 1.

The new bus terminal will cover an area of 5,700 sq.m, featuring 16 bus stops, electronic screens for passengers to check bus route info and schedules, and a public restroom.

Total investment cost is VNĐ7 billion (US$300,000). The construction will be completed in two months.

Bến Thành bus terminal was built in 1956 and has since remained one of the most important transportation hubs in the city.

In April, it was relocated to Hàm Nghi street to give way for the construction of the city's first metro line.

According to the terminal's management centre, around 36 bus routes opertating 4,700 daily trips pass through Bến Thành main station, accounting for 30 per cent of the city's total bus traffic.

Its relocation has not affected bus operations as the new terminal is only 200 metres away.

Quảng Ninh beat Thanh Hóa in V.League

Quảng Ninh beat champion candidates Thanh Hóa 4-3 in the 22nd round of the V.League 1 at Cẩm Phả Stadium in Quảng Ninh Province yesterday.

Hosts Quảng Ninh put pressure on the visitors as soon as the referee blew his whistle. However, in the 30th minute, Lê Văn Thắng headed the ball into the net to open the score for Thanh Hóa.

In the 43rd minute, goalkeeper Nguyễn Thanh Thắng of FLC Thanh Hoá made a serious error. Thắng was keeping the ball in the penalty area, which he passed on to striker Rod Dyachenko of Quảng Ninh, who was standing in front of Thắng. Taking this chance, Dyachenko levelled the score at 1-1.

After the break, Nguyễn Văn Bakel of Thanh Hóa made a mistake with Dương Văn Hoa of Quảng Ninh in the penalty area. Patiyo Tambwe easily achieved his feat in the penalty spot, raising the score to 2-1 for the hosts.

In the 85th minute, Hải Huy helped the hosts take a lead of 3-1 after receiving a skillful pass from his teammate Nghiêm Xuân Tú.

Four minutes later, Tambwe destroyed Thanh Hóa's hopes with another goal.

However, in the extra time, Thắng and Pape Omar Feye narrowed the gap for Thanh Hóa making it 3-4.

In another match played yesterday, Long An tied with Sài Gòn 3-3.

On Saturday, Tam Kỳ Stadium in Quảng Nam Province welcomed a record of 15,000 fans to watch the match between hosts Quảng Nam FC and Hoàng Anh Gia Lai (HAGL). The game ended at 1-1.

"We are very excited because of the support of the fans. It was part of our good result in the rankings. We are No. 1 among 14 teams in the league. On the other hand, fans also love young talents HAGL. I hope that in the next matches, Quảng Nam will play better to draw fans," said coach Hoàng Văn Phúc of Quảng Nam.

Taking full advantage of playing on their home soil, Quảng Nam dominated the match but missed many chances to take the lead.

"HAGL played the attack and defence very closely. This way of playing was effective with the performance of midfielder Henrique Marcelino Motta. Quảng Nam had several chances to score goals in the first half, but we couldn't convert them into goals. In the second half, we landed in an impasse. We regret we gained only a point," said Phúc.

Meanwhile, HAGL ended their four losses in a row when they received a point at Tam Kỳ Stadium. However, their joy didn't last, as their key player, Nguyễn Công Phượng met with injury and was forced to leave the game after 10 minutes of competition.

It was also the first guidance match of HAGL's acting coach Dương Minh Ninh and South Korean technical director Chung Hae Song.

HAGL have signed a two-year contract with 59-year-old coach Chung, with the aim of improving their rankings. Chung was chief assistant coach of the South Korean national team at the Sydney Olympics in 2000. After that, Chung was assistant coach of Guus Hiddink's South Korea national team competing in the 2002 South Korea-Japan World Cup.

Elsewhere, Sanna Khánh Hòa BVN beat SHB Đà Nẵng 3-2, and HCM City tied with Becamex Bình Dương 1-1.

2017 Golden Lotus Bud Awards winners announced

The presentation ceremony for 2017 Golden Lotus Bud Awards, which honour budding film directors, in Hanoi on October 22 revealed winners of short films, teen-made films and documentaries.

"Lan" (forgetful), directed by Nguyen Ngoc Mai, made a loud victory after pocketing three lotus bud awards for the best documentary voted by viewers and judges and the best maiden documentary of a director.

In the short film category, Tran Huu Thanh won the best maiden film of a director with "Dem Giat Ui" (laundering night), while the panel and audiences voted to honour two best short films – "Muon" (late) by Ho Thanh Thao and "Chuyen Anh Hung" (heroic story) by Hoai Nam.

"The Unknown Game" by Nguyen Vu Huyen Linh became the best teen-made category picked by audiences, while "Tam Ve Cuoi Cung" (the last ticket) by Thao Linh was chosen by the jury in the category.

With this year's theme of Kaleidoscope, the awards respected the diversity in people's personalities and points of view. Oscar-winning director Mark Jonathan Harris, director Arnaud Soulier, actress-producer Hong Anh, and director Phan Dang Di were among judges. 

There were seven documentary, seven short-film and five teen-made film nominees selected from 83 documentaries, 25 short films and 18 films produced by secondary school students. Each film is 12-20 minutes long, with budget limits set at 5 million VND (250 USD).

The annual award has been organised by Assistance and Development of Movie Talents (TPD) since 2009.

APEC 2017: Medical work prepared thoroughly

The health sector has been ready to serve the APEC Economic Leaders' Week scheduled to take place in the central city of Da Nang from November 6-11.

The statement was made by Luong Ngoc Khue, head of the Health Ministry's Medical Examination and Treatment Department which is in charge of overseeing the medical work at the event.

Khue said around 500 medical workers, including high-profile doctors, nurses and technicians in such leading hospitals as Huu Nghi, Viet Duc, Bach Mai, Cho Ray and Vinmec Hanoi, have been called for the Week – the most important event of the APEC Year 2017 hosted by Vietnam.

Hospitals in the city and neighbouring localities have plans to assign their personnel to join in emergency tasks in case there are those who get sick or injured.

The sector has prepared two additional ambulances with sufficient equipment and medicine, Khue stated, adding that a plan to carry patients by helicopter for treatment in other places or abroad was also put on place.

Three working groups from the ministry have checked food safety and hygiene practices at 49 hotels assigned to serve the event, Khue said.

The APEC Economic Leaders' Week is expected to bring together heads of state and around 10,000 delegates from 21 APEC member economies.

Established in 1989, APEC comprises Australia, Brunei, Canada, Chile, China, Hong Kong (China), Indonesia, Japan, the Republic of Korea, Malaysia, Mexico, New Zealand, Papua New Guinea, Peru, the Philippines, Russia, Singapore, Chinese Taipei, Thailand, the US, and Vietnam.

Over 10,000 walk to end violence against women

More than 10,000 people in red T-shirt joined a walk along Hoan Kiem Lake in Hanoi on October 22 in support of a campaign to end domestic violence against women and girls.

According to latest statistics, nearly 60% of Vietnamese women have suffered physical, spiritual or sexual abuse at least once in their life and 90% of abused women became depressed and frightened, and got into a panic and sleep disorder.

Every two to three days, one Vietnamese person died due to domestic violence. Domestic violence and sexual abuse against girls have become an urgent and complicated social issue. Around 1,000 cases of sexual abuse of girls are reported annually.

At the launch ceremony, Pham Van Toi, chairman of the National Charity Club (NCC) and head of the organizing board of the event, said it is difficult to support victims of domestic violence as 87% of them are hesitant to seek support from their families, public services and community. 

This is the first year the NCC has held the program with a message that women need to be protected and loved, not to suffer from domestic violence.

The program attracted due attention from many people of different ages.

HCM City operates first wastewater treatment plant using solar energy

A company in Ho Chi Minh City has, for the first time ever, used solar energy to fuel the operation of a wastewater treatment plant.

Secretary of the municipal Party Committee Nguyen Thien Nhan October 21 led a delegation to visit and review the operation of the Tham Luong-Ben Cat wastewater treatment plant in An Phu Dong Ward, District 12.

According to Le Thanh, director of Phu Dien Construction Investment And Trading JSC, which carries out project, about 10,000 to 15,000 cubic meters of liquid waste is treated at the facility on a daily basis.

The factory's capacity is 131,000 cubic meters per day, Thanh added.

A solar power system with the capacity of between 1.25 and 1.3 megawatts has been used to supply energy to the treatment plant, he continued, adding that this is the first model to be applied in Vietnam.

Using the sequencing batch reactors (SBR) technology, the plant is able to properly treat nitrogen and phosphorus pollutants in wastewater without requiring a lot of space. 

During the first phase of the project, the factory covers an area of about 2.3 hectares, aimed at dealing with liquid waste in Go Vap District, and several parts of Binh Thanh District and District 12.

However, the plant has only been operating at 10 to 15% of its full capacity due to problems in the collection of wastewater.

Le Thanh Liem, deputy chairman of the Ho Chi Minh City People's Committee, hailed the efforts of Phu Dien Company and the positive results of the plant's operations.

Liem requested the municipal Department of Planning and Investment to coordinate with relevant agencies to deal with existing issues regarding the waste collection process.

The model can also be applied to other areas, he added.

According to Secretary Nhan, the new model and technology help minimize costs and space while maximizing the efficiency of the waste treatment process.

The official called on competent bodies to carry out relevant projects to help the factory reach its designed capacity.

All activities have been monitored by the city's Department of Natural Resources and Environment, Nhan said, adding that local residents are also allowed to join the supervision.

Virtual reality tour to Son Doong Cave amazes participants at Da Nang exhibition

People in the central Vietnamese city of Da Nang have had the opportunity to witness the magnificent Son Doong Cave through virtual reality glasses.

The activities were organized at a recent exhibition in the central hub, attracting over a thousand local residents, especially young people.

The event held by an organization named Save Son Doong was aimed at spreading the message of preserving the natural site.

During the exhibition, 20 virtual reality devices were prepared to provide participants with a unique experience.

They were able to observe the extraordinary beauty of the cave and listen to the sound of birds singing and streams flowing along with the voice of a tour guide.

The virtual trip was created from the photos taken by Swedish photographer Martin Edstrom during his previous visit to the cave.

The viewers could not stop complimenting on the scenery during their virtual exploration.

"It was absolutely amazing! It's like I was lost in a fairy tale," Doan Thi My Lai, 26, remarked after her 30-minute experience.

Lai stated that it was her first time witnessing the beauty of Son Doong Cave.

Despite having heard a lot about the famous destination, Lai had never had the chance to visit it due to time and money constraints.

According to Fictor Ferdinand, a tourist from Indonesia, he was overwhelmed from the beginning till the very end of the 'tour.'

Ferdinand considered Son Doong the most spectacular cave he has ever seen, adding that the raw and unspoiled beauty should be preserved.

A survey conducted at the event showed that 95 percent of the participants agreed that the original conditions of the cave should be maintained.

They also objected to the construction of a cable car and opposed the idea of turning the site into a mass tourist destination.  

"You have to personally witness the pristine beauty of Son Doong Cave to treasure its value as well as to understand our message," said 30-year-old Le Nguyen Thien Huong, leader of Save Son Doong.

The group, with its 30 volunteers, has been organizing various conferences and exhibitions on Son Doong Cave over the past three years to call on the preservation of the site.

Son Doong Cave, located in the heart of the Phong Nha-Ke Bang National Park in the north-central province of Quang Binh, became internationally known after a group of cavers from the British Cave Research Association conducted a survey of the area in April 2009. 

The cave has since become known as the largest cave passage cross-section in the world, according to National Geographic.

Earlier this month, Quang Binh authorities finally approved a plan to install a ladder inside Son Doong to facilitate tourism activities, despite widely objections that it may destroy the stalactites that are millions of years old inside the cave.

Thailand's Iron Chef Winner to Helm Kitchens at Metropole Hanoi

Sofitel Legend Metropole Hanoi has named Australian Paul Smart as the hotel's new executive chef. Prior to joining the landmark Hanoi property, Smart was the executive chef at SO Sofitel Bangkok for five years, where he was crowned winner of the Iron Chef Thailand TV program in 2012 and 2013.
 
As the hotel's new executive chef, Smart will oversee operations at the French restaurant, Le Beaulieu; Vietnamese restaurant, Spices Garden; Italian eatery, Angelina; and in the hotel's three bars, Bamboo Bar, La Terasse, and at the newly revamped, Le Club.
 
The Adelaide-native, who has worked in some of the world's top kitchens on three continents, brings more than two decades of culinary experience to the historical property.
 
"Food is not only my career, it's my passion," said 37-year-old Smart, who succeeds Nicholas Shadbolt as executive chef of the 364-room French colonial-style property. "I look forward to continuing my journey at the Metropole and collaborating with the team here to take the hotel's cuisine to new heights."
 
Smart began his career at Stamford Plaza Hotel in Australia, spending nearly eight years learning and developing within the group. In 2005, he moved to the UK to earn his chef stripes at The Ritz London, where he worked alongside Michelin-starred executive chef John Williams and head chef Fred Forrester.
 
During his time in the UK, Smart cooked for HRH Queen Elizabeth II, and won the UK Commis Chef of the Year award at the Academy of Culinary Arts in 2007. He also worked with the acclaimed chefs of El Bulli, which was voted Best Restaurant in the World, from 2006 until 2009. 
 
In 2007, Smart moved back to Australia to work as chef de cuisine at Sofitel Gold Coast, where he played a pivotal role in the multi-award-winning restaurant Room 81. While at Sofitel Gold Coast, he took home the gold medal no less than three times for the Gold Box Restaurant Challenge —  in 2007, 2008 and 2009.
 
In 2012, Smart relocated to Asia to command the kitchens at SO Sofitel Bangkok, where he was also featured twice, as a winning challenger on Iron Chef Thailand, in 2012 and 2013.

Vietnam's poverty reduction should focus on ethnic minorities

 Vietnam should continue accelerating poverty reduction among its poorest groups and communities, and the current poverty reduction programs for ethnic minorities (EM) must be among the top priority actions, according the United Nations Development Program (UNDP).
These programs should be aimed at improving access to education, health services, clean water and information for EM people, especially women and girls. It is necessary to develop infrastructure appropriate to the local context and increase climate change resilience, thus enhancing the connectivity of EM groups and communities to the mainstream development of the country, UNDP said in a recent report on poverty reduction in Vietnam.
Listening to EM people's views and acting together as well as empowering EM communities and local governments will help make the policies and programs more sensitive to their culture and traditions, thus increasing the impacts of the policies and programs, it commented.
According to the report, Vietnam's progress in poverty reduction at national level has been impressive. The country has reduced its poverty rate from 58.1% in 1993 to 13.5% in 2014, lifting some 30 million people out of poverty.
Despite impressive progress at national level, major challenges exist in uneven poverty reduction achievement across the population groups and regions in Vietnam. High levels of chronic poverty persist in EM communities and key population groups such as the elderly, malnourished children and non-registered migrants.
Poverty, including extreme poverty, remains prevalent among ethnic minority groups and areas. Accounting for just 15% of the total population, EM people comprise more than 50% of the country's income poor. Data from the 2015 socio-economic development survey among Vietnam's EM groups, show that these groups, especially women and children, are among the "left behind" in Vietnam's poverty reduction efforts.
It is noted that a high proportion of Vietnamese is just above the poverty line. Almost 75% of Vietnamese people are in the near poor and low middle income groups.
Furthermore, new forms of urban poverty have emerged among migrants and informal sector workers as a result of rapid urbanization and social change. These groups do not have sufficient access to social protection and social services as these are often provided based on residential registration.
UNDP also suggested enhancing capacity of the poorest to become equal business partners, encouraging private enterprises to invest more in the poorest areas. Doing business with the poorest could not only help generate more resources for poverty reduction but also enable solutions that are innovative, economically viable, socially and traditionally sensitive as well as environmentally sustainable.
Vietnam should accelerate the implementation of the newly approved Master Plan for Social Assistance for the period 2017-2025 with a vision till 2030, which envisages the expansion of social assistance based on the life-cycle and right-based approach. This expansion will certainly help not only the poorest group but also the vulnerable near poor and low middle-income groups to protect themselves from any shocks and have the security level necessary for investing in their future and further development, UNDP said.
Pork traders given more days to adhere to city's traceability rule
The management boards of Hoc Mon and Binh Dien wholesale markets have given pork traders a few more days to fully adhere to the traceability standards issued by the HCMC government, as traders said they need more time to smoothen out the whole process.
The management boards at a press conference organized on October 18 by the HCMC Department of Industry and Trade said they had approved proposals by traders to give them more time to integrate all required information into the traceability tags on pigs. Suppliers of pork to Hoc Mon Wholesale Market have time until this Friday to fully comply, while traders at Binh Dien Wholesale Market have to meet the requirement by Sunday.
The initial date of effect for the city's pork traceability rule was Monday.
Tsan A Sin, deputy director of the Binh Dien Market Management and Trade Company, said much of the pork there comes from the Mekong Delta provinces of Ben Tre, Vinh Long and Tien Giang whose farmers and traders are not good at using equipment and technology for the traceability program. Besides, their wi-fi systems are not of good quality, making it hard to activate and integrate information into the traceability tag.
He suggested the HCMC Department of Industry and Trade and the HCMC Hi-tech Association provide more training for traders and provincial slaughterhouse operators so that they can use software and embrace technical skills.
Earlier, the HCMC government instructed that traceability is a must for all pork on sale at the two markets. However, 100% of pork products at the Binh Dien wholesale market did not contain all necessary traceability details on the first day of the ban taking effect.
Each traceability tag must include information about pig farms and slaughterhouses mostly certified by veterinary staff and abattoir operators.
Data of the trade department showed the rate of pork products wearing approved traceability tags had risen from 30% on Monday to 59% on Wednesday.
The department's Deputy Director Nguyen Ngoc Hoa said the department and relevant agencies will strictly follow the instruction of the municipal government about the inspection of pork products at the two markets.
Balade en France to come back in town in early November

The French gastronomy fair "Balade en France," the biggest event of the year in Vietnam that promotes French gastronomy and wines, will return in its eighth edition at the Hotel Equatorial HCMC in District 5 on November 10-11.
Organized by Sopexa, the French agency for international marketing of food, wine and lifestyle, in collaboration with the Hotel Equatorial HCMC, the two-night event is expected to lure more than 2,000 guests, with 80% of them Vietnamese.
Speaking at a press conference last week at the French Consul General's residence in District 1, a representative of the organizing committee said one of the highlights of the forthcoming fair is a French Market which will be held on Sunday, November 12 from 9 a.m. to 3 p.m. where participants can feel free to browse for a variety of French wines and products with attractive prices. 
Visitors can grasp a special occasion to purchase tickets and coupons at the entrance to explore French culinary culture and enjoy French delicacies from popular brands like Annam Gourmet, Annam Fine Food, Astair, New Viet Wines, Celliers d'Asie, Da Loc and The Warehouse.
Especially, Vietnamese singers Quang Vinh and Dong Lan, and French singer Beatrice di Carlo will be present at the event to entertain visitors.
Inspired by the annual Fête de la musique street music festival, the fair will feature renowned French music bands which are promising to stage traditional French Cancan dance moves to entertain domestic guests and the French community in the city.
Young kids will be pampered with fantastic experiences and amazing games at the event thanks to the active participation and kind support from Poussieres de Vie, an organization which has been active in the country since 2002 with a mandate to support poor children in Vietnam.
Furthermore, guests will have a chance to join a lucky draw to take home gifts such as a seven-day tour to Europe and extravagant wines.
Pre-sale tickets are priced at VND150,000 per adult and VND80,000 per child. Tickets at the gate cost VND250,000 per adult and VND150,000 per child (under 14 years old). Children under six years old can enter the event at no charge.
Meanwhile, coupons which are priced at VND20,000 each will be on sale at the booths of those participating brands.
The event, under the patronage of the French Ministry for Agrofood, Agriculture and Forestry and the French Consulate General in HCMC, will take place at the five-star Hotel Equatorial at 242 Tran Binh Trong Street, District 5 from 6 p.m. to 11 p.m.
Vietnam Airlines, HCMC launch contest for students

Vietnam Airlines and the HCMC Department of Education and Training have launched the seventh annual "Cung non song cat canh" contest at Nguyen Du High School in District 10, HCMC.
With around 130 teams from high schools and continuing education centers in the city taking part, the competition is designed to encourage young people to nurture national pride and the love for their homeland.
Aside from Vietnam Airlines, this year's event has received sponsorships from low-cost airline Jetstar Pacific and the Vietnam Aviation Academy.
The competition lasting from now until November 11 comes with five rounds in which contestants will have to demonstrate great knowledge of history, geography and culture. The theme of each round will require the contestants to explore a region of the country, spanning from the north to the south and seas and islands of the nation.
Ngo Thi Thu Hien, deputy director of the southern branch of Vietnam Airlines, said in a statement that the contest has received huge investment in terms of quantity and quality since its debut in 2011, and created a healthy playground for students to improve knowledge and cultivate patriotism and national pride.
Those teams securing a ticket to the final round will have the opportunity to take a tour of Hue, Hoi An and Danang to learn more about historical relics and visit scenic sea attractions as well as experience high-end services of the national flag carrier.
In addition, the organizing committee will host a competition round between the winning team of the final round in HCMC and other teams from seven southeast provinces including Tay Ninh, Binh Duong, Binh Phuoc, Dong Nai, Ba Ria-Vung Tau, Long An and Tien Giang to expand the contest to all students in southern provinces.
The contest is part of an agreement on socio-economic development cooperation between Vietnam Airlines and the HCMC People's Committee in the 2017-2021 period.
HCMC busy with model of HIV treatment

31 out of 41,000 HIV infected people in Ho Chi Minh City are receiving treatment in clinics under the management of 24 medical centers in districts citiwide.  
The information was released at a meeting to implement treatment guideline for HIV people through insurance company organized by the municipal Department of Health yesterday.
When foreign organizations slashed their aid for HIV control, people living with HIV are struggling to afford life-saving antiretroviral (ARV) drugs through health insurance as a result of dwindling foreign aid.
Consequently, medical clinics are busy with finding out new model of HIV treatment.
Many clinics have introduced different models to ensure HIV treatment mission such as setting up medical clinics which contracted with the insurance company to provide treatment to HIV infected people as their first choice, or setting up HIV department in medical centers.
In addition, patients living with HIV have various choices such as they can transfer to other medical infirmaries. Deputy head of the social insurance company Luu Thi Thanh Huyen said that small clinics should establish HIV department as medical centers because not all HIV infected people are city locals.
At present, medical insurance regulation allows these special patients to be able to receive treatment at any centers of their choice because insurance company will cover all treatment fee. 
Deputy director of the Department of Health Nguyen Huu Hung said ARV drugs from foreign aid will be used until the end of 2018. Health insurance company will pay from January 1, 2019.
Accordingly, medical centers have to complete new model of treatment before July 31, 2018 to have code of health insurance and centers can distribute ARV drug in November, 2018.
Localities must choose a model of treatment for these patients depending on the real condition of each with the aim to help HIV infected people to receive drug without hiatus.

HIV treatment interruptions are still considered to be potentially dangerous because it leads to drug- resistance and transmission in the community, said Nguyen Huu Hung.

Man-made calamity

Flashfloods and landslides in recent days have claimed huge losses of human lives, with over 100 people reported dead or missing, let alone a great extent of property damages amounting to trillions of Vietnam dong. 
Unprecedented rainfalls triggered by climate change, measuring up to 500mm in some northern mountainous provinces within just a couple of days, has been pinpointed as the reason behind the great destruction, but the root cause that has aggravated the losses, as highlighted in local media, is man-made. It is deforestation.

"Deforestation is a major painful issue," admits Tran Quang Hoai, head of the Department for Disaster Prevention and Fighting under the Ministry of Agriculture and Rural Development. "We are paying a high price and this will still go on for many more years," Hoai is quoted by Tuoi Tre as saying.

The tenth tropical storm last month seen by local flood and storm control agencies as the most ferocious in recent years, but the loss of human lives was much lighter compared to the tropical low that induced downpours this month. Six were killed in the storm but over 70 lost their lives in the flashfloods and landslides, plus scores still missing, according to the newspaper.

The point made by Tran Quang Hoai is echoed by Nguyen Van Tue, head of the Climate Change Department under the Ministry of Natural Resources and Environment. "Climate change has caused landslides and flooding. But, it must be emphasized that such devastation is aggravated by man. Watershed forests are chopped down, and primitive forests replaced by plantations of short-term crops," Tue is quoted as saying in Dai Doan Ket.

As a reminder, flashfloods and landslides in three northern mountainous provinces – Son La, Yen Bai and Dien Bien – two months earlier also inflicted huge losses, with 34 people reported killed and missing, according to Dai Doan Ket.

Hundreds of media outlets have pointedly named deforestation as the main culprit behind the grave devastation. Dan Tri reports that vast areas of thick jungle in Son La Province in the past have now become barren hills, which gives way to flashfloods upon heavy rains.

According to Vietnamnet, primitive forests with thick layers of foliage used to cover large swathes of areas from the north to the south, acting as an effective shield against flashfloods. However, the green-covered land now has become barren hills as forests have been destroyed, and the consequences are unavoidable.

Deforestation has continued lately, despite repeated calls from the Government as well as the society to protect nature. This year alone, as many as 1,700 cases of illegal logging have been reported in the country, especially in the Central Highlands, despite an order by the Government to close all natural forests, according to Thoi bao Kinh te Sai Gon. Such a situation mirrors a fact that the Government's instruction has been rendered ineffective.

Consequences from deforestation, says Thanh Nien, have been reported, and stern warnings have been raised, but in many provinces across the country, forests are still shrinking.

Referring to the 1,700 cases of deforestation that have been reported this year, Thanh Nien says such illegal logging cases have been made possible due to the loose management and even collusion of local leaders. Many provincial leaders have ignored public protests and the Government's order by licensing or legalizing economic projects encroaching on natural forests.

"There is a race (among economic entities), so to say, to destroy forests in the name of economic development. In reality, many provinces without comparative strength in tourism have still awarded licenses for enterprises to develop resorts right in the forest," says the newspaper.

Prime Minister Nguyen Xuan Phuc, at a teleconference last week on forest protection, vented his anger at the continued deforestation nationwide on the excuse of economic growth. "In some localities, local leaders still allow for transforming vast areas of forest without observing the law. There are even cases of extensive deforestation for some hydropower projects that have not been licensed," the Government leader is quoted by Dan Tri as saying at the conference. The Prime Minister also pointed out that small-scale hydropower projects are killing forests the fastest. 

As the Government has ordered the closure of all forests, any violations must be strictly dealt with now, according to Vietnamnet. "As the Government has ordered that forests be closed, any single log of wood transported out of the forest must be seen as illegal. And as the Government has ordered forest closure, there are no legal grounds for considering any new projects that have impacts on the forest," says the online newspaper.

The country's forest coverage is now some 41.2%, with 14.3 million hectares, an increase of a mere 0.35% over 2015, according to data from the conference. However, of this total area, replanted forests account for nearly one-third, at over 4 million hectares, while natural forests continue to face depletion. In the Central Highlands, for example, last year saw over 11,000 hectares of natural forest wiped out.

Citing data from the World Bank, Doanh Nhan Sai Gon Cuoi Tuan says that the forest coverage in Vietnam is among the lowest in the world, at a mere 0.14 hectare per capita compared to the global average of 0.97 hectare.

Commenting on the tragedy occurring to the people, especially ethnic minorities, in the northern upland region, Vietnamnet says the people there day in day out have to witness forestry products, especially timber, flowing downstream, leaving behind poverty and backwardness, and now the destructive calamity.

The calamity, though induced by climate change, primarily stems from deforestation, which in itself is also a root cause leading to climate change. It is the man-made calamity.