VietNamNet Bridge – Viet Nam is developing an integrated database and early warning system for diseases related to climate change, Do Manh Cuong of the Ministry of Health said on Thursday (October 19).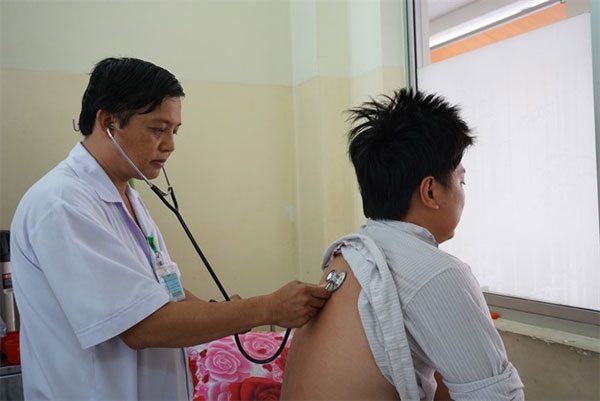 A patient with dengue fever being treated at HCM City Hospital for Tropical Diseases. — VNS Photo 
At a meeting held in HCM City, Cuong, an official with the ministry's Health Environmental Management Agency, said the ministry was developing a health adaptation plan to climate change for the 2017-21 period.
The World Health Organisation and Centres for Disease Control and Prevention have warned that extreme weather conditions have affected access to healthcare and increased communicable and non-communicable diseases.
There are now "more storms with strong intensity" in Viet Nam, Cuong said, adding that the storm season is now longer, increasing the risk of injuries and fatalities.
Drought and saline intrusion last year affected 22 south central coastal provinces and Mekong River Delta provinces, causing a shortage of clean water in 17 hospitals, 483 health stations, and 424,099 households.
Many residents there had to use unclean water in rivers, ponds, lakes and canals.
Last year, severe acute malnutrition indicators at six seriously affected provinces increased to 1.9 per cent-2.1 per cent from 1.3 per cent -1.8 per cent in 2015, according to the Ministry of Health.
Increased incidences of diarrhoea are significantly associated with high temperatures and high cumulative rainfall, Cuong said.
A one Celsius degree rise has increased the risk of diarrhoea incidences by 1.1-1.5 per cent and risk of dengue fever infections by 7-11 per cent. And a one-per cent rise in humidity has increased the risk of dengue fever by 0.9 per cent, while a one-millimetre increase in rainfall raises dengue risk by 0.1 per cent.
Change of climatic factors also raises the risk of hand-foot-mouth disease, with a one Celsius degree increase in average temperature leading to increased disease risk of 5.6 per cent.
Cuong said higher temperatures also raise the risk of hospitalisation among the elderly and children. A one-Celsius degree rise in temperature can increase the number of hospitalised children by 3.4 per cent to 4.6 per cent.
During heat waves, the number of hospitalised elderly due to cardiovascular disease can increase by 13 per cent.
A representative of the United Nations Development Programme said that climate change affect clean air, safe drinking water, sufficient food and secure shelter.
Between 2030 and 2050, climate change is expected to cause 250,000 additional deaths per year globally due to malnutrition, malaria, diarrhoea and heat stress, she said.
"Areas with weak health infrastructure will be the least able to cope," she added.
Viet Nam's grassroots health system has not responded adequately to climate change; and many health staff as well as the general public are unaware of the impact on health.
There is also a shortage of funds in the country's health sector for climate-change response.
Dr Phung Duc Nhat, deputy head of HCM City's Institute of Public Health, said that it was possible to co-operate with domestic and foreign organisations, NGOs and others to raise funds.
A communications workforce composed of a volunteer network and health station staff should be developed, Nhat said.
"Hospitals should be provided with resources to implement an annual climate change response plan," he added.
VNS