VietNamNet Bridge – Cameras designed to tackle rampant traffic violations in Viet Nam are sowing confusion among drivers suddenly confronted with fines without being aware of any wrongdoing on their part.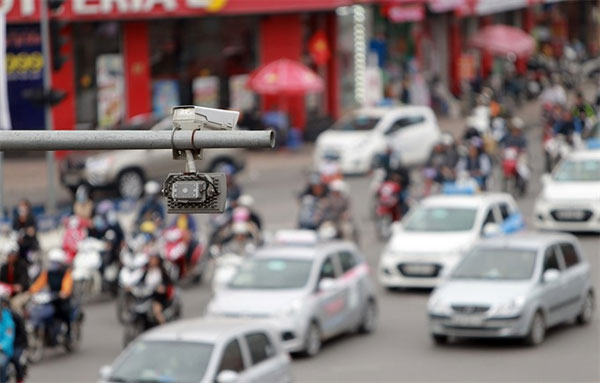 A traffic camera in Ha Noi.-- VNA/VNS Photo
Drivers expect violations to be handled on the spot by traffic police. Most do not take into account the technological developments that enable cameras to snap the license plates of their vehicles, convey the information to software that identifies them and generates a fine, with no police presence.
Many drivers only found out they had racked up a considerable number of fines when they looked up their names on the traffic police website.
V.N.T., an Uber driver from Thu Duc District in HCM City, told Nguoi Lao Dong (Labourers) newspaper that he is the owner of a car worth VND350 million (US$15,400), and was shocked when he looked up his violations on the website and saw he had accumulated fines for 49 speeding tickets reaching nearly VND150 million, or $6,600.
"The fines were almost half the value of my car, and I did not get any notification about them from the traffic police," T. said.
With three months left before his registration renewal, and faced with this penalty, T. decided to sell his car.
Similarly, Nguyen Hoc Lap, owner of a car rental business, looked up one of the cars he rented out and was surprised to see eight tickets – speeding and parking in restricted areas. Lap said rental fees for each day are VND700,000 ($31), but the fines for each violation can amount to VND1-3 million ($44-$132).
"This is like January commits the fault and May bears the blame, I didn't commit any of these violations, why should I be the one to pay the fines?" Lap said. Many other cars he owns have also racked up violations without his knowledge.
Nguyen Van Quoc from Binh Tan District also had an issue with a traffic camera. On September 18, Quoc received a citation for speeding at the Sai Gon River Tunnel on August 2. However, Quoc contested the fine, saying his newly registered car's "black box" showed he was driving within the allowed limit.
He said he would bring the case to court if the authorities do not cancel this wrongful citation.
Careful verification
According to Lieutenant Colonel Nguyen Van Binh, head of HCM City traffic police, violators flagged by traffic cameras are notified and their violations are verified by the local police where the vehicles are registered.
Local police is charged with ensuring traffic citations are sent to the offenders each time they commit a violation. "Accumulating citations and then sending them all at once to the offender is not how it's supposed to be done," Binh said.
Responding to the complaint of the rental cars' owner, Nguyen Hoc Lap, Lieutenant Colonel Binh explained, "If a business leases their car to someone who commits a violation, then that business can go to the police and present the lease contract. We have measures to demand fines from the right violators."
However, if violations are committed by those driving company cars or trucks, police will hand the citations to the business, which will then have to demand their drivers pay the fines.
HCM City police said the handling traffic violations via enforcement cameras has not been smooth due to lack of awareness and cooperation between vehicle users and traffic police.
Despite the fact that some violators pay their fines, there are still a large number of others who refused to comply even when citations are delivered.
From October 2016 to early August this year, HCM City PC67 issued notices of 33,403 violations – 32,922 cases involving cars, the remaining 481 involving motorbikes. However, only 14,411 violators have responded by paying or disputing the fine.
To improve the effectiveness of traffic enforcement cameras, when citations have already been sent but the violators fail to show up and pay the fines, the database unit will inform the patrolling unit so they can find and stop the vehicles, issue tickets directly and ask the owners or users to come to the police station. 
After a violation is detected, enforcement authorities will send citations three times – once every seven days – asking the violators to come to the police station for verification then filling administrative fine records.
Should violators fail to show up after the three citations have been sent, the traffic police would send the licence plate of the violating vehicle or its owner's driving licence to the Viet Nam Register department for further measures.
Vehicle users can go to Viet Nam Road Administration's website http://dichvucong.gplx.gov.vn/default.aspx, fill in the driving licence numbers, and get details regarding the number of violations, types, times and dates. HCM City traffic police have also published images and information about such vehicles on their website.
Those living in Da Nang City can look up traffic violations on the city traffic police's website http://www.catp.danang.gov.vn:8001/thongtinvipham/ that provides details of suspected violations, including photographic evidence. 
VNS