VietNamNet Bridge – KOTO restaurant has been operating in Hanoi for nearly 20 years. Most people know about it as a place which attracts foreign tourists and expats who come for dining and exploring Vietnamese culture through culinary arts. 

The Know One, Teach One story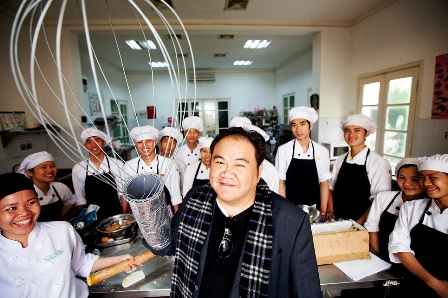 KOTO has had over 600 trainees graduate to date, with training centres and training restaurants in Hanoi and Ho Chi Minh City. (Photo: koto.com.au)
KOTO stands for "Know One, Teach One", which is a reflection of its owner Jimmy Pham's belief that "if you're in a position where you can help someone less fortunate, then you should help them; and the greatest thanks you can receive is seeing that person doing the same thing for someone else."
Jimmy was born in Vietnam in 1972 and moved to Australia as a young child with his mother and siblings.
The idea of setting up a restaurant came to him during his first trip to Vietnam as a tour operator in the 1990s.
While taking a walk on the street of Saigon at night, the young Vietnamese Australian man came across some street kidswho were wearing dirty and ragged clothes, with blisters on their legs.
Jimmy did not hesitate to approach the kids and soon discovered that these little friends could not get access to a proper washing facility, so on the next day, he decided to organise the small group to have a proper wash.
In the next two weeks, he continued his kind acts by paying for 60 of the poor young people's washing and dining.
The concept of KOTO was triggered when Jimmy asked some of these youngsters what they wanted out of life. They simply replied, "We need skills so we can find stable jobs."
Jimmy then decided that he wanted to come back to Vietnam on a long-term basis and make a difference.
That's how Know One Teach One (KOTO) was born in 1999, as a sandwich shop.
It then grew into a restaurant serving both Vietnamese and Western dishes, and has been providing vocational training for disadvantaged youth.
KOTO has been using a social enterprise business model, in which the revenue from their restaurants funds the teaching of hospitality, English and life skills to trainees.
In KOTO, the staff is not only working, but more importantly, they receive training, growing from timid, shy teenagers into young adults who are not only sought-after hospitality professionals, but also well-rounded, responsible community-minded citizens, ready to embrace challenges that lie ahead. 
Jimmy Pham's philosophy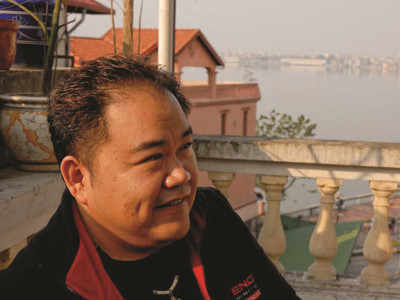 "Perseverance. If ten people tell you that it's a really bad idea, then you are on the right track," said Jimmy
Jimmy Pham, the founder of KOTO, has been awarded with various prestigious titles and awards including the World Economic Forum's Young Global Leader and the ZERO award from UNICEF.
Australia Plus: had an interview with Jimmy, which follows:
As a child, what did you dream of doing?
"As the child of an immigrant and part of a large working family in Australia, I was conditioned to do something that made a difference and had a lasting impact. I can remember knocking on doors and selling chocolates, going on [World Vision's] 40 hour famine and other charity activities."
You work with kids and youth in Vietnam. How would you describe yourself as a kid - growing up in Sydney?
"Up until high school, I was a 'straight A' student. And then I rebelled. I think all kids should grow up and have that as part of their childhood. I was lucky to have a mother who loved me, a roof over my head and food on the table. That's a lot of things that the kids we help at KOTO don't have."
How did you decide to return to Vietnam - to establish KOTO? Why did you choose to specialize in the hospitality industry?

"I started working in tourism, specializing in Indochina. In 1996, they sent me on assignment to Vietnam for the first time. This is when I first met street kids. I was in Vietnam for four months, had $200 in my pocket and realized I wanted to be that change I wanted to see in the world. I spent the next four years paying for street kids to go to schools across Vietnam and looking after about 60 kids across Indochina."
"The kids in Hanoi were the ones that told us that this wasn't going to help them. That's when the KOTO model was born. KOTO aims to empower disadvantaged and at‐risk youth by giving them the tools to not only help themselves, but also help others. It is about positive permanent change through the transformative power of social enterprise."
What has been surprising about working with disadvantaged kids and youth in Vietnam?
"The most surprising thing is people's loyalty. In 2000, I ran out of money, and had 20 street kids with me. We got through the day together by eating banh mi (Vietnamese baguette). They never left me, and to this day they share in that joy. When they get married, they still want you to be a part of it. The reciprocal benefit is so much more than you can hope for."
What would be your advice to your 15 year old self?
"Look after yourself better! Be active at sports and the outdoors. You will pay the price later. And be completely alive to the full experience of life."
Advice for those who are interested in social enterprise?
"Perseverance. If 10 people tell you that it's a really bad idea, then you are on the right track."
VNF/VNN