VietNamNet Bridge - For many years, teaching and learning Vietnamese abroad has been the concern of many generations of overseas Vietnamese as well as managers.Despite difficulties, there are still many bright spots thanks to efforts of teachers and overseas compatriots.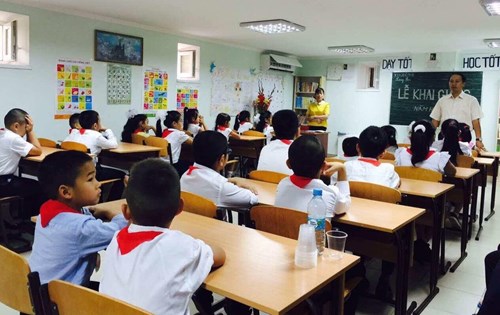 Opening ceremony of the 2016-2017 school year for Vietnamese children at Sen Village, Odessa, Ukraine
Ukraine
The Vietnamese community in Ukraine lives mostly in three cities: Kharkiv, Kiev, and Odessa. 
Ms Hoang Thi Van, a Vietnamese teacher in Odessa, said teaching and learning Vietnamese for overseas Vietnamese is difficult because they are mostly born and raised abroad. They use Russian and consider Vietnamese aforeign language. 
Although they are taught to read and write, it's still hard for them to understand each word and sentence and Vietnamese grammar. 
However, the teaching and learning of Vietnamese in Odessa has been maintained for more than a decade thanks to enthusiasm of overseas Vietnamese parents and the Embassy of Vietnam in Ukraine.
Books are brought from Vietnam so their bookcasesare quite diverse. With love for children, Van enthusiastically sticks to the class, constantly finding new teaching methods. 
To date, 34 of her students including 18 in Grade 1, 11 in Grade 2, and 5 in Grade 3 are all at a good level. 
Japan 
Like Hoang Thi Van, Ms Bui Thi Oanh,a Vietnamese language teacher in Japan and her colleagues, have paid the rent for the classroom by themselves. 
She organized the first Vietnamese class in Japan with the participation of 30 students. Despite many difficulties and shortages, her class still maintains a regular session per week.
France
There are about 300,000 Vietnamese living, studying and working in France. Nguyen Thi Song Huong, a Vietnamese language teacher in France, is pleased too see that some schools in France now offer Vietnamese language classes. 
Vietnamese in France, despite regular contact with French culture, still preserve traditional Vietnamese culture. They are interested in the transmission and development of Vietnamese culture and language.
In Thailand, Nguyen Thi Thanh Son, a teacher of Vietnamese in Nakhon Phanom province, said that the third and fourth-generation Vietnamese in Thailand hardly speak Vietnamese. 
However, with the motto"Tiếng Việt còn thì người Việt còn", for many years, the movement of teaching and learning Vietnamese has been responded to enthusiastically and deeply in provinces and cities.
Many training courses are available for Vietnamese language teachers
According to Nguyen Cong Hinh, head of the Department of Continuing Education at MoET, besides the successful compilation of two books "Tiếng Việt vui" and "Quê Việt", the government approved the project "Improving the effectiveness of teaching and learning Vietnamese for overseas Vietnamese". 
To make teaching and learning Vietnamese abroad more effective, in the coming time, MoET will develop the Vietnamese language curriculum at six levels, and at the same time compile teaching materials on Vietnamese to overseas Vietnamese; and continue fostering teachers and volunteers for teaching Vietnamese to overseas Vietnamese.
Luong Thanh Nghi, deputy director of the State Committee for Overseas Vietnamese, said that the committee will strengthen its activities to encourage overseas teachers and students. 
For some disadvantaged areas, the committee will directly support and mobilize localities, organizations and enterprises to finance the construction or repair or renovation of schools and classrooms.
VNF/VNN