VietNamNet Bridge – With traditional medicine still popular in Viet Nam, many breast cancer patients use unscientific and useless herbal cures to fight tumours, leaving them with more dangerous cancer and often severe side effects, according to doctors.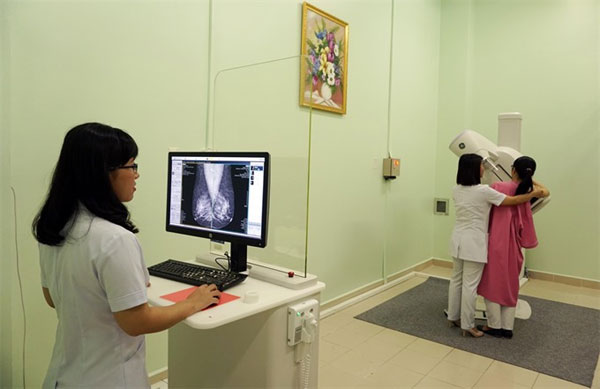 A technician prepares to conduct an X-ray rest for breast cancer in HCM City's Hung Vuong Hospital. Doctors have warned against relying on traditional medicines to treat breast cancer. 
Recently, the Ha Noi Oncology Hospital received a female patient with swollen breasts covered in ulcers, which had begun to pus and bleed.
The 52-year-old patient from Ha Noi's Son Tay District had earlier been diagnosed with second stage breast cancer.
Doctors had advised her that in this stage, she was likely to recover if she followed their treatment regime strictly. Instead, the woman refused and went to a herbal doctor on the advice of her neighbours.
After applying the herbs the doctor provided, she found her breasts were hot and hurt, but believed that the herbs were effective.
She only went to hospital when her condition became more serious.
Doctors at the Ha Noi Oncology Hospital said that she suffered from a serious infection caused by the herbs. The infection spread to her armpit, forcing doctors to remove all the infected skin. Her tumour also spread to different organs, with her cancer in the final stages.
Doctor Le Hong Quang, head of the Breast Ward under the National Hospital for Cancer Diseases, said that he had seen many similar cases.
"The treatment is very difficult because at that time their skin and flesh decomposes," he said.
Doctor Quang added that as well as women in impoverished, rural areas, educated women in the capital city also lack knowledge about cancer.
They often refuse to be treated with scientific methods, but think herbs will remove tumours naturally, he said.
"As a result, their condition gets worse quickly, their cancer moves to later stages, causing a lot of problems for treatment, and even they face death," he said.
Every year, the Breast Ward of the National Hospital for Cancer Diseases treats 1,800-2,000 patients. The average age of the patients is 45-55 whereas the average age of European female cancer patients is 55-70.
More than 80 per cent of the patients have to have one or both of their breasts removed.
Associate professor Tran Van Thuan, director of the National Hospital for Cancer Diseases, said that women over 40 years old should regularly check their breasts for lumps and have periodic health checks to discover the disease early.
With early discovery, the rate of recovery can reach 80-90 per cent, he said.
VNS